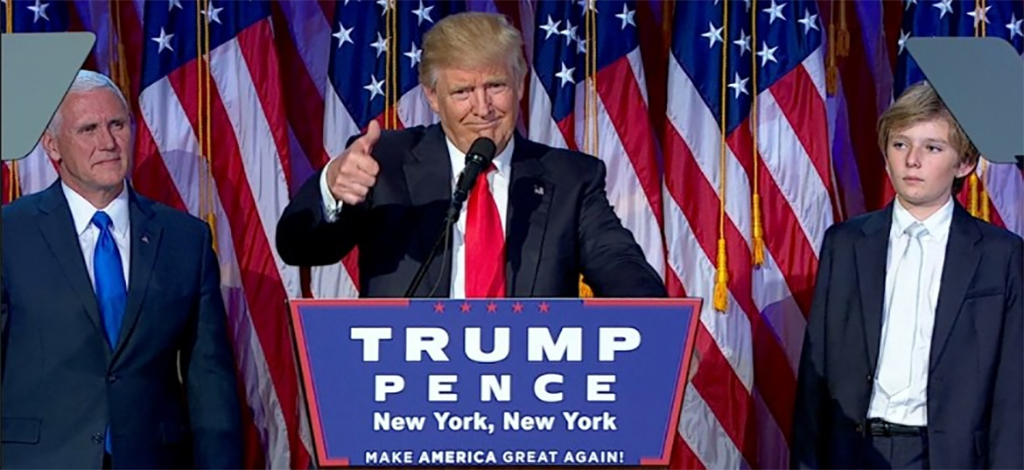 Hello all, reposting this from Facebook, with a few minor edits and embedded links.
Ok, so, we're five days out from this election now, and two months before Trump takes office, and here's where we are.
This morning, the president-elect took to Twitter to attack the press (again), and then told an easily-disprovable lie about his stance on nukes, one that even Breitbart, run by his blatantly anti-Semitic campaign head — now his chief strategist — wrote about.
As of this writing, he has also said nothing about the emboldened hate attacks happening all over America now. Speaker Paul Ryan, when asked by Jake Tapper about them, just shrugged and said those aren't Republicans doing those. (Ryan, for his part, is busy plotting the end of Medicare.)
Meanwhile, the President-Elect has tried to move the trial on his fraudulent business practices at Trump University, because being president-elect is too hard. (Spoiler: the job gets harder after January.)
Despite this apparent busy-ness, the President-Elect *has* taken the time to openly complain about protestors, so that's speech, press, and assembly — three of your five first amendment freedoms, already getting challenged.
In the first five days.
When asked about the President-Elect's many ethical conflicts-of-interest at the moment, Rudy Giuliani, who's apparently up for Attorney General, said "Those laws don't apply to the president."
(Note: Giuliani also wants to "fix" cybersecurity — trust me, that's not going to be in the direction of your privacy.)
Newt — yes, he's back too — is calling for a new House Un-American Affairs Committee. Yes. HUAC. You're not reading that wrong.
Trump campaign manager Kellyanne Conway today, when asked about Harry Reid's rightfully angry press release about the new president, said the former Senate Majority Leader should "be very careful about characterizing someone in a legal sense." In other words, she threatened to sue and/or imprison the political opposition.
Across the pond, Putin is telling Trump to withdraw NATO forces from Eastern Europe, while Britain is putting more long-range missiles there to protect it. However you feel about Russia or NATO — I would think Republicans are very divided on this point at the moment — this is the type of situation where things can very quickly spiral out of control if a steady hand is not at the till.
A steady hand is not at the till.
All of which is to say, we have to start recognizing what is happening here, and plan accordingly. People my age have had a good run, but the shit has finally arrived.
There are many good articles floating around right now about the election. One of the best, imho, is this one. Step one: Believe the autocrat.
It doesn't do any good to hope Trump somehow turns out to be a closet lefty, or is just content to play Don the Builder and invests massively in infrastructure. That'd be great (tho' his version of infrastructure — prisons, pipelines, walls — may not be your version.) I hope so too – that'd be the best case scenario at this point. But there's also a lot of bargaining going on, and we're all going to have push through the steps here and get to action.
I don't want to tell you how to get involved, donate, volunteer, or organize — that's up to you. Some of us are more privileged than others in that regard. But make a list of the things you are going to do to stand against what's coming, because it sure does seem to be coming.
A few other thoughts on the inter-Dem recrimination happening at the moment, which I think is good and necessary to move forward. As others have pointed out, in the UK after a losing election, the party leadership usually quits. We need strong Dem leaders right now in the field. But we also need the people who failed here to be held accountable. No more failing upward or pundit tenure.
There's obviously a lot of back and forth right now about whether Clinton lost because of racism or sexism or economic anxiety, Comey or WikiLeaks or just a terribly run campaign. The answer here to me seems to be…yes? Many of these things are not at all mutually exclusive. She lost the Electoral College in a handful of places, and a lot of things could've changed that — no Comey, or more money/visits in Wisconsin, or a media that wasn't disastrously bad at figuring out what stories merit continuous coverage, or a message that better resonated with working white people.
I will say that I helped write a book with Bill Press this past January, Buyers Remorse, about how Barack Obama failed progressives in many ways, and I think it definitely holds up now. If his administration had addressed the foreclosure crisis in a way that was less banker-friendly and more people-friendly, or if he hadn't continued building out Dubya's extra-constitutional foreign policy of surveillance and kill-strikes, we'd be in a better place right now.
That being said, and as others have pointed out, Obama in 2012 also ran much better on the Rust Belt front, aggressively pointing out that Romney and Bain Capital were giant hypocrites that hated the auto bailout and took people's jobs. (Mike Pence, FWIW, was against the auto bailout too.) Clinton did some of this with Trump's outsourcing and whatnot, but the overarching message of the campaign was "he's a deplorable human being." Which he is, but clearly that didn't matter for a lot of people.
In any event, Trump pulled his voters and Clinton didn't pull hers. That was the difference. There was no massive white surge to Trump. He got the people who would vote for any Republican, and enough in a select few states in the middle who were angry about how things are going. That's it. This isn't a Reagan landslide. It was a close election with terrible turnout where many people disliked both candidates, and Republicans, as always, were more motivated to show up.
There's been a lot of talk about how Dems need to pop their elitist bubble and talk to white working class people again. This is definitely true to an extent. But, by all that is good and holy, that doesn't mean turning Trump voters into some sort of exotic Heartland "real Mur'ican." Nor does it mean meeting fools halfway on the racist, sexist nonsense. I grew up with a lot of these folks — they don't think they're racists and get offended when you call them thus, but then go on to say and post deeply racist things.
As @theshrillest pointed out on Twitter, saying Clinton lost solely because of racism/sexism is like saying a plane crashed because of gravity. Both are real and pervasive, especially in the 99% white enclaves that went for Trump, and that's how it is.
So for God's sake let's not lose our nerve on these issues and look for a Jim Webb type to save us. Let's do a better job of conveying the true story about who the real villains are here — not poor people of color, struggling every single day, but the rich white assholes who now control every single facet of the federal government, and will use it as a trough.
Bernie clearly was much better at this sort of thing, and as someone who supported him, I'm more than a little annoyed that various people on our side were telling us to ignore what the polls were telling us back then. But that is water under the bridge, and we have a tsunami right in front of us.
Let's get it sorted, let's hold the people who failed our party accountable, and let's get ready to fight. Because, again, the shit is here. This is not a drill.