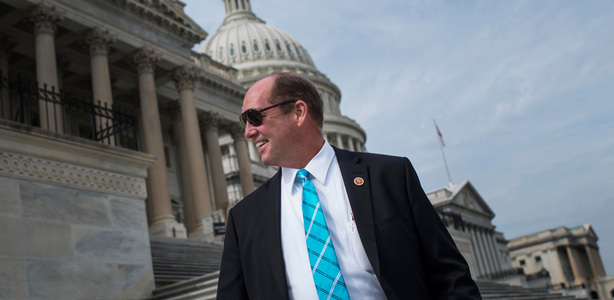 "The power rests with Ted Yoho because the American political system has tolerated carefully cultivated ignorance and carefully tailored bigotry for far too long. Ted Yoho has been coming for years…The Republican party reveled in all the forces that are now tearing it apart. The Democratic party was criminally negligent and abdicated its profound responsibility to fight against those forces; indeed, it spent the better part of the 1980's and 1990's trying to surf the wave itself…"
"A great portion of the courtier press that now expresses horror at what is going on now went gleefully along for the ride as it became inevitable…This means all of you who went along for the ride on torture, and on Iraq, and who hid under the bed after 9/11. This is how the power came to rest with Ted Yoho, who is a fool and a know-nothing. This is how historical inevitability is created. This is how its momentum becomes unstoppable. This is how the wreckage piles up."
With the government shutdown and threat of default receding — until January — Charlie Pierce names names for how we got to this sorry point. "'Government is the problem,' said Saint Reagan in his first inaugural. And everybody, all of you sorry bastards, cheered, and made completely predictable the moment in which the power of the government would come to reside in…Ted fking Yoho."
What he said. I'd only add that, while the media moves on to other things (until we lurch into the next crisis a few months hence), all the GOP crazies who sent us over the cliff three weeks ago are still here. They're still in power. They're still making mischief. The budget is still underfunded. And this administration still seems all-too-inclined to give them a social insurance-slashing "Grand Bargain" for their troubles. This is not over.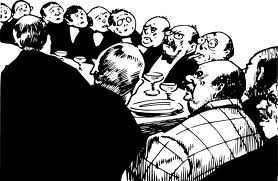 "The obvious medicine for a slump due to inadequate private-sector demand is to run government deficits large enough to restore the economy back to its potential. The private sector isn't going to increase demand on its own, no matter how much we profess our love for job creators. That is the simple reality. But instead of preaching what the textbooks prescribe, much of the economics profession has become enamored of numerology, telling us that all hell will break loose if the debt-to-GDP ratio crosses some magical number."
CEPR's Dean Baker, one of the only economists to anticipate the collapse of the housing bubble, calls out his many colleagues currently collaborating in the deficit witchhunt. [Y]oung people today can expect many more years of dire labor market conditions, because the remedies that could turn around their job situations have been blocked by nonsense spewing from economists. Incidentally, this situation works out very nicely for those on top, who are enjoying the benefits of record-high profit shares, which have also helped to fuel a soaring stock market."
Along very similar lines, here's James K. Galbraith on the state of economics in 2002:
"Leading active members of today's economics profession, the generation presently in their 40s and 50s, have joined together into a kind of politburo for correct economic thinking. As a general rule — as one might expect from a gentleman's club — this has placed them on the wrong side of every important policy issue, and not just recently but for decades. They predict disaster where none occurs. They deny the possibility of events that then happen. They offer a "rape is like the weather" fatalism about an "inevitable" problem (pay inequality) that then starts to recede. They oppose the most basic, decent, and sensible reforms, while offering placebos instead. They are always surprised when something untoward (like a recession) actually occurs.

And when finally they sense that some position cannot be sustained, they do not re-examine their ideas. Instead, they simply change the subject. No one loses face, in this club, for having been wrong. No one is disinvited from presenting papers at later annual meetings. And still less is anyone from the outside invited in. Only the occasional top-insider-turned-dissident — this year the admirable Stiglitz — can reliably count on getting a hearing.
So, after more hours than I'd like to admit, I've made it through the first Movable Type year (2002-2003) of
recategorizing and retagging the GitM archives
. Among the things I've learned so far:
Paul Rudd will be playing Batman or Superman, against Christian Bale, in Wolfgang Petersen's World's Finest. Unless it's Jude Law.
"Blue laser DVDs" are expected in the market by 2005…all models will be retro-compatible with red-laser DVD's.
I had forgotten how this "pick-a-card" website could read my mind and had to figure it out all over again.
Lifetime's Cinema Sequence is still quite a fun web game.
Over the past decade, GitM has gone from being worth nothing to $43,000 on the now-defunct Blogshares. Woot.
The Washington Post and Boston Globe have changed their link structures, so many old posts referencing their content are now dead ends.
I used to care more about deficits than I do now. (And, conversely, Republicans used to care much less.) In the parlance of the Beltway, "my views have evolved" on this subject.

Part of the reason for the shift is the good versus bad spending dichotomy I talked about in 2010. But, more to the point, I've since read up on Modern Monetary Theory (MMT). (See also: Warren Mosler's Seven Deadly Innocent Frauds of Economic Policy.)

Basically, I was parroting the conventional wisdom on "fiscal responsibility" back then, and didn't know what I was talking about.