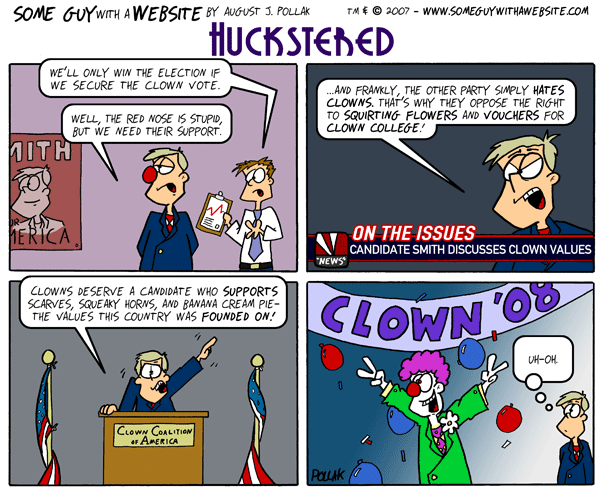 As
this prescient August J. Pollak cartoon
predicted way back in 2007, it seems that months if not years
of stirring the crazy pot
has
finally caught up to the GOP
. The most recent case in point: Tea partier
Christine O'Donnell's upset win over Mike Castle
in Delaware last night, which capped a
series of Tea Party upsets in the GOP primaries
. Sorry, y'all — You play with matches, you get burned.
Still, the Republicans' recent intemperate rhetoric aside, one could argue we're seeing the slow-motion devolution of a movement that began over a half-century ago, with Goldwater in 1964. Since then, Nixon notwithstanding, the Republicans have moved continually to the right, engaging in putsch after putsch to retain the purity of their conservatism (to say nothing of the precious bodily fluids.) Even the much-beloved Ronald Reagan, pretty far right for his day, would be considered a pinko by the standards of the contemporary Tea Partier, as would, in many corners, the Muslim-coddling Dubya.
And so, here we are at the end of the rainbow. The snake is eating itself. Not for nothing is Newt Gingrich, once the Robespierre of this particular Revolution, now frantically swimming right to save his own head — He doesn't want to end up like Rove. (Speaking of which, Presidents Collins and Snowe, take note: There is no room for you at this table anymore.)
As for the evening's big winner, well, obviously I think O'Donnell is frighteningly wrong on just about everything, from creationism to onanism, and she'd be an absolute disaster in the Senate. (Good thing she seems unelectable.) Still, however much we disagree, I have to confess a soft spot for anyone who takes their Tolkien seriously.