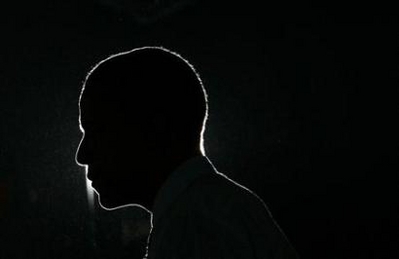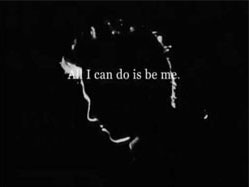 (Obama silhouette pic via a friend/colleague at Peasants Under Glass, where we talked about some of the following in the comments.)
Something is happening here, but you don't know what it is, do you, Mr. Jones? Let's go back a few days to Friday, just after Iowa, at the 100 Club Dinner in Milford, NH: "What you need to understand about the dinner and the venue is this: it was supposed to be a Clinton room." The Clinton advance people had secured the best tables at the front, so all the formidable Granite State luminaries who've backed Hillary could show their strength, and show the Iowa upstart how things work in "independent" New Hampshire. Meanwhile, the Obama voters had been shunted to the back of the room, far away from the podium, the cameras, and the action. All well and good…except it didn't work out that way. The legions of Obama voters surged to the front just before his speech and, by most accounts, blew the Clinton operation out of the room. "'I'm really worried about him,' said [Beverly] Hollingworth, a member of the state's Executive Council and a former state senator, as she headed for the door. 'Other people have been working their whole life for change, and have made good progress. This is just rhetoric.'" And you know something is happening here, but you don't know what it is. Do you, Mrs. Hollingworth?
Fast forward to this morning, where George Stephanopoulos held his usual This Week roundtable at the site of last night's Manchester debate: Sam Donaldson, Cokie Roberts, George Will, and Donna Brazile. For his part, Will seems to be among the "national greatness," "Morning in America" civic conservatives — such as Peggy Noonan and particularly Andrew Sullivan — who've responded to Obama's candidacy, and see elements of their beloved Reagan in his crossover appeal. (No doubt anti-Hillary schadenfreude is playing a considerable part too.) Brazile, who worked the comment desks at CNN on Iowa night, had already said her piece last Thursday, and didn't add much this Sunday morning.
But those venerable dinosaurs of the Beltway punditariat, Cokie Roberts and Sam Donaldson, were virtually beside themselves that the Insider candidate seemed to be going down in flames, and soon proved themselves absurdly in the tank for Clinton. Cokie sneered at the constancy of Obama's youth appeal: "Young people, as much as we'd like to see them active in politics, are notorious for not showing up when you need them." She then went on to parrot Clinton's most recent talking points. (Consider "It's a lot of talk, when the reality is, change will happen," or "She embodies change just by being the first woman who might be elected president.")
Donaldson, meanwhile, got bogged down in a wish-fulfillment metaphor about the old champ wearing down the young hotshot (i.e. The Hustler, with Obama as Fast Eddie and Clinton as Minnesota Fats) and huffed and puffed with aggrieved authority, "I agree with Bill Richardson, experience is not a leper!…She's the only one who brought up the economy, did you notice? Anyone could've said look, we may go into a recession here, there's hard times. Only Senator Clinton — with her experience, if you will — managed to bring it up!" (You heard it here first, folks. Obama is too inexperienced to have considered the possibility of a recession.) "We're always looking for the non-candidate, the non-politician, and we'd think that'd be great, Donaldson intoned. "But, George, when you have a toothache, most of the people here go to the dentist that's drilled teeth for a long time, I think that's where the country could turn out." (Note here that it's Edwards, not Obama, running the standard outsider-against-the-Washington-ramparts campaign that Donaldson is decrying.)
Now, on one hand, who cares what Sam Donaldson and Cokie Roberts think? Not only are they so completely invested in the Beltway power structure that it's in their very marrow, but they've been living the sheltered life of the television Green Room for decades now. (So, it seems, has ABC's Charlie Gibson, who showed last night during the Manchester debate that he thinks a two-academic family makes $200,000 a year. Uh, Charlie, try $3,000 a class.) As I know from considerable personal experience, the higher echelons in Washington invariably turn up their noses at candidates with outside-the-Beltway appeal, and tend to view them as interlopers worthy of ridicule (or, if they catch a spark, vitriol. At its most extreme, this is how you get Senator Clinton angrily exclaiming in 2000 that killing Ralph Nader "might not be a bad idea.") In short, Sam and Cokie, like countless other members of the Washington media machine, see themselves as bastions of the Beltway order, keepers of the flame, and they don't like any provincial outsiders upsetting the established status quo. All the more reason why Obama is causing them great consternation: "You've been with the professors and they all like your looks. With great lawyers, you have discussed lepers and crooks. You've been through all of F. Scott's Fitzgerald's books. You're very well-read, it's well known. But, something is happening here, and you don't know what it is…"
On the other hand, if we peel away their affronted Beltway dismay about Obama's upstart candidacy, Sam, Cokie, and Mrs. Holllingworth's views speak to arguably the biggest open question about the Illinois Senator's broad-based appeal, and the one demographic factor that most threatens his winning New Hampshire, and the nomination: the generation gap. Pulling up the Iowa numbers again: "Among all caucus-goers under age 45, a smashing 50 percent supported Obama, compared with just 17 percent for Edwards and 16 percent for Clinton. Among those under 30, Obama went even higher, to 57 percent. Among seniors, by contrast — nearly a quarter of participants — it was Clinton 45 percent, Edwards 22, Obama 18." Obama pulled young voters out in droves in Iowa, and I think he shows every indication that he can do it again in New Hampshire and beyond. Still, as Cokie snarkily reminded us, older voters are consistent voters. And, allowing that individuals mostly defy easy groupings and follow the dictates of their conscience, the Boomers as a generation are clearly not sold on Obama just yet. So, what's going on here?
Part of it, I think, was explained by Andrew Sullivan a few months ago in the Atlantic Monthly: "Obama's candidacy in this sense is a potentially transformational one. Unlike any of the other candidates, he could take America — finally — past the debilitating, self-perpetuating family quarrel of the Baby Boom generation that has long engulfed all of us…If you are an American who yearns to finally get beyond the symbolic battles of the Boomer generation and face today's actual problems, Obama may be your man." Senator Obama has since furthered this line of argument himself, telling Newsweek's Joe Klein that he aims to move past "the dorm fights of the '60s." To younger voters, the culture wars that raged from the sixties to the nineties just don't resonate. They seem like ancient history. To older voters, who lived through the experience and witnessed time and time again how low today's GOP will sink in their pursuit of power, this past isn't dead. It isn't even past.
This is why, Sullivan continued in the Monthly, Clinton's methodical (some might say calculating) persona and incrementalist approach doesn't seem to rankle older voters nearly as much as it does those under 45. "[S]he has internalized what most Democrats of her generation have internalized: They suspect that the majority is not with them, and so some quotient of discretion, fear, or plain deception is required if they are to advance their objectives. And so the less-adept ones seem deceptive, and the more-practiced ones, like Clinton, exhibit the plastic-ness and inauthenticity that still plague her candidacy. She's hiding her true feelings. We know it, she knows we know it, and there is no way out of it." To many older liberals and progressives, who've experienced one dismal setback after another since the heydays of the New Frontier and Great Society, the Clintonian brand of cautious pragmatism often seems the only viable approach to moving the country forward. Put simply, you get burned enough times, you stop using the stove. This time, irony isn't the shackles of youth, but of their parents.
The sheer fact of Clinton and Obama's presidential candidacies, I think, also plays a part in the wide generation gap. The great liberal and progressive victory of the Boomers, one that merits them the moniker "greatest generation" just as readily as fighting WWII does their parents, is the sweeping and (for the most part) successful cultural transformation of race and gender in American life. This is not to say that racism and sexism don't continue to fester in America, both individually and institutionally — Of course they do, and they're all the harder to root out for having gone underground. But, thanks to the civil rights revolutions of the 1960s and 1970s, younger people tend to view race, gender, and other issues of identity as much more fluid concepts than most Boomers do. While many older voters still possess vividly etched memories of separate drinking fountains, grotesque sexism in the workplace, and fire hoses trained on children, Generations X, Y, and Z grew up sharing a multiracial consumer culture of MTV, The Cosby Show, hip-hop, Tiger Woods, Eminem, etc. Similarly, I think it's safe to say that people under 50 are much more likely to have had a female boss at one point or another. (Counting 'em up, I've worked under more women than men, and I doubt I'm in a slim minority on that point.)
Put simply, and while being careful not to overstate the case, categories like race and sex just don't seem as defining to the youth of today. Boomers fashioned this new world through blood, sweat, tears, and sacrifice, but — like Moses at the Promised Land — they can't enter it as readily as their children and grandchildren. This is part of the reason, I think, why, anecdotally speaking, older columnists seemed so much more taken aback by Obama's victory in lily-white Iowa. This also partly explains why Clinton seems to enjoy the strong support of older women. They remember a considerably lower and less permeable glass ceiling — and the considerable struggle it required to break it — while many younger women seem to more readily presume (as I do) that sex isn't really a barrier to the presidency anymore.
Now, the response to an older Clinton voter to all of these arguments thus far might be something along the lines of "Just you wait…We know better than you, sonny. Obama may seem like a rock star, but we can see there's no substance to him." But, it doesn't do any dishonor to older voters to suggest in return that maybe this is the moment to forsake a lifetime of dashed hopes and bet on the possibility that the time for a new, expanded progressive coalition has finally come. This is not an easy thing to do. As accomplished and dedicated a reformer as Jane Addams, part of a progressive generation for which I have great empathy, couldn't bring herself to vote for Franklin Roosevelt in 1932, and she was not alone.
Still, there's something strikingly dismaying about watching Clinton and other members of her generation dismiss Obama's message as merely "false hope" (a particularly vicious phrasing) and empty rhetoric. This is the same generation who recoiled from the tested, experienced establishment candidate in 1960, despite his considerable national security credentials, and flocked to the young, hopeful standard of Camelot. This is the same generation who, buoyed by the words of Dr. King, swelled the ranks of the civil rights movement, and who — disgusted by the continuance of a badly thought-out war overseas — was inspired by the moving oratory and surprising crossover appeal of Robert Kennedy.
Those leaders were all tragically taken from us, of course, two of them forty years ago this spring and summer. It's maddening to think of how the past four decades might've played out had we the opportunity of their continuing leadership and inspiration. And it's been a long time, far too long, since we've seen anyone on the left who can be mentioned in the same breath as those fallen leaders without hyperbole. But, look at those Iowa numbers again. Maybe, just maybe, that wheel has finally come full circle. Maybe, Senator Barack Hussein Obama is the real deal. Maybe he's the candidate who can transcend the sad political paradigm we've been operating under since 1980 and bring about that long overdue progressive realignment. We've only seen one caucus, of course, but the game moves fast in 2008, and all the indicators seem to suggest he's got "it." If you're not going to stake a chance on him now, what, then, are you waiting for?
I started this entry with a Bob Dylan song. I'll end with another, one I listened to on Friday for the 1,000th time and "heard" like it's the first time. (It sounds completely different when unburdened for a few moments by the ironic punchline of the years after 1968.) If it seems like GitM has become all-Obama, all-the-time since last Thursday, well, there's a good reason for it. Right now, I truly believe we're standing at a crossroads moment, one that could all too easily become evanescent, another missed opportunity in a political lifetime that doesn't offer many of them. But if, on Tuesday, New Hampshire nurtures the spark set in Iowa last week, and Nevada and South Carolina kindle the blaze, we could be looking at a full-fledged progressive wildfire across the nation come SuperduperTuesday. So, to the older voters — and to any voters — who, for whatever reason, may be harboring doubts about Barack Obama, give him another look. We're at the first hinge of 2008, and what we do in the next few days and weeks will echo profoundly throughout the next several years of our governance. The old road is rapidly agin', y'all. So please get out of the new one if you can't lend your hand, for the times, they could be a-changin'.