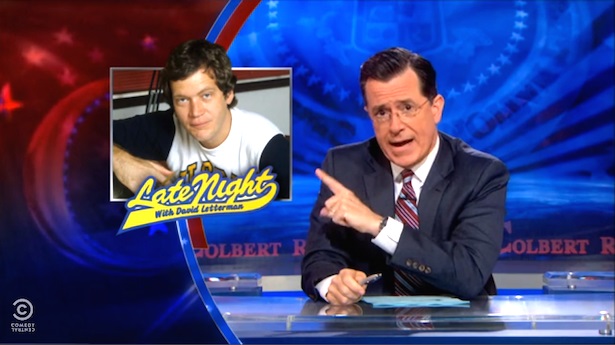 "'I learned more from watching Dave than I did from going to my classes — especially the ones I did not go to because I had stayed up until 1:30 watching Dave,' Colbert said."
Old news by now, but worth noting for posterity nonetheless: The inimitable Stephen Colbert —
not "Stephen Colbert"
— will be replacing David Letterman
as the host of Late Show
, and while I'll be sad to see "Colbert" go, I can't think of a better choice. Onward and upward.
"Letterman's deconstructionist, at times borderline Cubist style made you laugh by mocking the very idea of a stranger needing to make you laugh…[his] sensibility had its roots in a post-World War II school of university-educated smartass comedy, which also birthed such institutions as Mad magazine, Monty Python, Second City, National Lampoon, Saturday Night Live, the 1970s meta-comedy movement that gave us Andy Kaufman and Albert Brooks, and pretty much every moment of Bill Murray's early career."
In very related news, Matt Zoller Seitz looks over Letterman's long and storied late-night tenure. I don't watch talk shows much anymore, but I'm just old enough to remember how formative Letterman's NBC run was for the rest of late-night television back in the day. (It helped that I had a well-worn copy of Late Night with David Letterman: The Book as a kid, which re-printed classic gags like Dave's Voyagers after-school special.)
Also, an excellent point made in the comments of Seitz's article: "One thing I've always respected Dave for is the fact that he really loves music, and when the show is presenting a variety of lesser-known bands, he honestly seems to enjoy them. It kind of offsets the 'grumpy curmudgeon' vibe at which he excels, and it feels genuine and enthusiastic to me." True, that: Take, for example, his many visits with Tom Waits, who's given some amazing and indelible performances on Dave's show over the years.