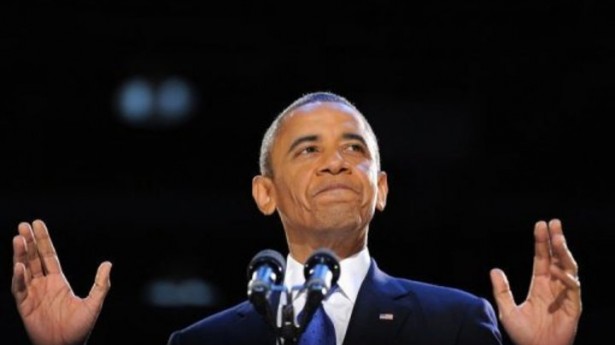 So, how about that Election Night? Once you factor in that
the ridiculous gerry-mandering of 2010
, coupled with Obama's terrible, coattail-cutting
first debate performance
, killed any chance of Democrats retaking the House, Tuesday night went about as well as it possibly could. Every swing state except North Carolina swung blue. The Senate kept some of its best progressives (Sanders, Brown) and added a few more very promising contenders (Warren, Baldwin). Gay marriage and marijuana decriminalization both made important footholds. California
moved to end Howard Jarvis' Tax Revolt
, now in its fourth decade. And the Republicans — again, the House notwithstanding — were routed, and their
cruel Ayn Rand-inflected ideology
decisively repudiated at the polls.
All things considered, it was a great night, and all the more for what it portended about elections to come. Ever-growing in recent years, the Rising American Electorate — unmarried women, people under 30, people of color — showed its power on Tuesday night, displaying its centrality as the backbone of our new Democratic coalition and sending Karl Rove, Bill O'Reilly, and other White Men of a Certain Age into very public paroxysms of despair. (Good times. Enjoy that 2004 experience, y'all.) And while the Republican base is looking long in the tooth these days, our Democratic coalition is only continuing to grow.
As I noted in 2010, even despite the dismal showing then, demography is destiny, and the rest of the country is and will continue to experience Californication. Today we got the first taste of what a really multicultural America will be like at the polls. See also David Simon of The Wire and Treme on this: "A man of color is president for the second time, and this happened despite a struggling economic climate and a national spirit of general discontent. He has been returned to office over the specific objections of the mass of white men. He has instead been re-elected by women, by people of color, by homosexuals, by people of varying religions or no religion whatsoever. Behold the New Jerusalem. Not that there's anything wrong with being a white man, of course. There's nothing wrong with being anything. That's the point."
So, all in all, 2012 was a great victory for we progressives, and things are suddenly looking up. But, of course, we've been here before.
I really hope President Obama and his closest advisors are looking at the same demographic realities as the rest of us, and that he decides to spend his second term governing closer to what he promised back in 2008. But I trusted in hope last time around, and, needless to say, that didn't get it done.
The fact of the matter is our Democratic standard-bearer, at least up to this point, is behaving and governing in a fashion that is clearly to the right of the growing Democratic base that got him elected and now re-elected. No more benefit of the doubt: It is up to us to put pressure on this administration to make sure they hold to the promises they've made. That work has to begin right now.
We all know what's coming up first, and Glenn Greenwald already laid out the dismal pattern we can expect — and need to break — on the Grand Bargain front. True to form, Peter Orszag — and what does it say about our president's priorities that he staffed up his first administration with this kind of jackass? — has already sent out the let's-fiddle-with-social-security trial balloon. Erskine Bowles' name has been aggressively floated as the new SecTreas and High Inquisitor in the matter of the Deficit Witches. By all accounts, President Obama seems to think he can play Nixon-in-China on Social Security and Medicare. But this is not at all why voters gave him a Democratic mandate, and that's exactly the sort of wrong-headed notion, coupled with Katrina, that turned the electorate against Dubya in 2005.
In his victory speech on Tuesday night, President Obama continued his recent turn toward the progressive rhetoric of citizenship and self-government. He said: "The role of citizens in our Democracy does not end with your vote. America's never been about what can be done for us. It's about what can be done by us together through the hard and frustrating, but necessary work of self-government. That's the principle we were founded on."
On one hand, I should be overjoyed that the President has taken this rhetorical turn, since it's something I've been pushing for here for as long as GitM has been running. At the same time, President Obama has shown over the years an irritating penchant for co-opting progressive rhetoric only to serve centrist, corporatist, and/or neoliberal ends. It would be a shame if we let that happen again.
A presidency really concerned with fostering civic responsibility and self-government would look quite different than the one we have experienced up to this point. In the strictest and most literal sense, it would acknowledge, sometime before the second-term election night, that both our voting and campaign finance systems have been broken for decades, and require a significant overhaul. But, even more than that, a philosophy of encouraging citizenship and self-government presupposes different priorities and different policies.
First and foremost, to paraphrase Franklin Roosevelt, it would recognize that necessitous men and women are not free men and women, and work harder to ensure everyone has the basic economic liberty to choose their own path through life. It would not, to take just one example, make the center of their housing reform a foreclosure program designed to help banks rather than homeowners.
An administration advocating citizenship and self-government would do more to emphasize the fundamental importance of education at all levels, and invest mightily not just in schools and teachers but in after-school programs, early childhood education, anti-poverty and anti-hunger initiatives, and all the other efforts that can help alleviate the various and persistent environmental factors limiting children's potential in America. That requires a significantly different and more comprehensive approach to the education issue than simply competitive grants that reward grant-writing skills and teaching to the test.
It would mean emphasizing a conception of citizenship that is broader and richer than just a world of workers, consumers, and automatons — one that, as per Walt Whitman, Ralph Waldo Emerson and Herbert Croly, encourages introspection, critical thinking, and self-exploration. This is a hard nut to crack, of course. But at the very least we could fight to give more men and women freedom from the necessities of work to do whatever it is they want to do. We are not just our jobs, or at least we shouldn't be, unless that's what we want. That means pushing for a higher minimum wage, equal pay for men and women holding the same job, increasing access to affordable child care, more worker protections, and a shorter work week.
Emphasizing self-government only works if the political system remains accountable to its citizens. That means, along with voting and campaign finance reform, working to break the hold of any particular special interest over the political process — namely, corporate power. But as Matt Stoller, Glenn Greenwald, and others have noted, this administration has perpetuated and even accelerated a two-tiered system of political and economic justice in America. The losses of bankers and corporate elites have been subsidized by the public, even when they clearly broke the law. Meanwhile, the average homeowner and debtor has been disparaged and left on their own underneath a crushing burden — so much so that inequality has actually increased over the last four years. Similarly, the Bush-era torture regime has been swept under the rug, while whistleblowers have been aggressively prosecuted. This will not do.
Meanwhile, even though Obama himself has been a user of illcit drugs, as have the last several presidents, there has been no attempt at all by this administration to undo the drug war destroying communities and putting so many in jail — Quite the contrary, in fact. Nor has this administration done anything to stop the reprehensible practice of private prisons selling their "workforce" as forced labor.
Citizenship is a bond — Being a citizen means that one is part of a larger community and has a stake in it, a sense that we're all in it together. So emphasizing citizenship means investing in big projects and big ideas that bring the American community together in larger purpose, from a massive rebuilding of America's infrastructure to a re-energized space program to a WWII-sized response to the climate change crisis. Instead, this administration has trafficked in deficit hysteria for several years, and clearly plans to bring another dose of it in the months and years to come. Meanwhile, the biggest project we have been involved with as a people in recent years is expending blood and treasure on remaking Afghanistan and Iraq. This, it is now clear, has been not just a considerable waste of public resources, but a policy that has resulted in thousands and thousands of lives lost around the world.
Especially in America, where we are tied together not by blood but by an idea, being a citizen also means agreeing on a story — a shared narrative that ties the members of the community together. Because our connection is a story — even a fiction, some might say — it is all the more important that our government uphold the founding values of that story. (As Charles Pierce eloquently argues here, this is why Obama's re-election is important independent of everything else — it reaffirms our conviction that race is no longer any barrier to the highest office in the land.) But, quite obviously, this administration has not lived up to our founding ideals in many ways, especially with regard to how it has prosecuted the War on Terror. As Mark Danner says in the piece I just linked, "President Obama has taken a position so strongly in favor of unremitting military violence that he has left his Republican rival, struggle though he may to shoulder his way past him, no place to stand." And let's be honest: As a party, we Democrats utterly failed to call the president out on this.
So, yes, an emphasis on citizenship and self-government could very well be the basis of a new progressive politics. But, unless he makes a marked shift from his first term, I fear this president is just going to use these words as a new rhetorical toolbox to push for more half-assed, neo-liberal Third Wayisms and lousy Republican ideas from the mid-80's. We face dire problems in this country, and yet this administration is somehow afraid to even consider the time-tested New Deal ideas, from public works to the HOLC, that worked in the past.
The only way President Obama will make that progressive shift, it is now clear, is if the American people push him in that direction. In this, what Obama said on election night is absolutely correct. No matter what the president has said on the campaign trail, we can no longer hope this administration will bring change we can believe in. He is going to have to be forced into it by a Democratic electorate that refuses to accept anything less. It's not a coincidence that the two progressive reforms Obama finally embraced this year — same-sex marriage and the DREAM Act — were ones that had passionate, vocal, and uncompromising reform movements behind them.
The election results showed that progressives are and can be ascendant in America. But we need to be much tougher on this administration than we have been in the past. Lip service to good intentions and progressive ideals is no longer satisfactory. And that hard work of keeping this administration in line has to begin right now, before the tentpoles of our current social insurance system are chipped away at by way of Grand Bargain.
Democrats just elected this president for a second time, and we don't want to see any more compromising with and capitulating to economic terrorists. It is past time for this president and this administration to do right by us.