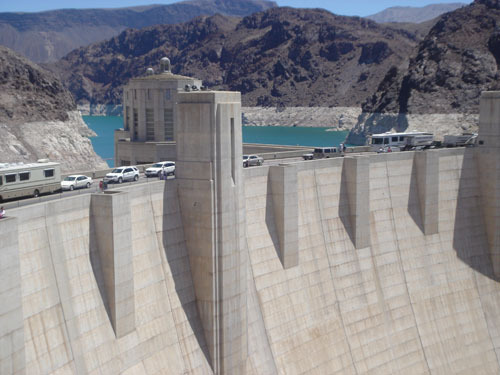 "
There is a dignity in the Hoover Dam, a massiveness that speaks to a grand national purpose. A country — our country — decided to build it…Great works of infrastructure provided jobs and returned an incredible social investment. It is inconceivable to imagine the modern economy without the vast investments in infrastructure made by preceding generations — everything from rural electrification to developing the Internet.
"
Ex-Grayson staffer (and friend) Matt Stoller dissects the lack of political will for infrastructure reinvestment in today's political climate. "Ultimately, of course, we will have no choice but to rebuild our infrastructure or risk social collapse…Meanwhile, the ideological fight is not over whether to spend more on infrastructure. It's whether we should privatize what's left."
Proving Matt's point is this thoroughly sad column by ex-Biden Chief of Staff Ron Klain, a man who until very recently was a senior advisor to the president. (Now, he works for a "private investment firm," natch.). Says Klain: "Hoover Dam nostalgia is misguided…[I]t's time to let go of the idea that a handful of marquee construction projects, even majestic and lasting ones, can solve our employment problem. Such endeavors alone didn't bring us out of the Depression in the 1930s, and they won't end our current predicament."
Uh, is anyone actually saying that we should only do "a handful of marquee construction projects"? No, no, they're not. They're saying we should build big things, build small things, rebuild and repair things big and small, and otherwise put people back to work in any way possible. Where's the vision? It's going to take something a mite bigger and more audacious to get the economy moving again than an employer-side payroll tax cut.