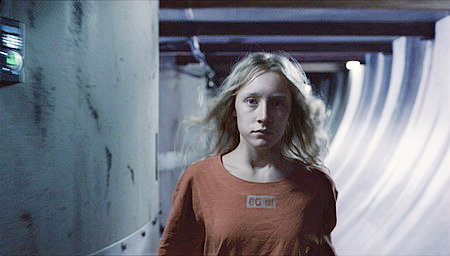 I know one couldn't tell from ole GitM here, which continues in its recent state of languish — hopefully not for much longer! — but the Easter holidays (and accompanying congressional recess) have finally given me a chance to catch up on some of the movies I've missed in recent weeks. First on the block, Joe Wright's stylish spy thriller Hanna, a reasonably entertaining cross between Run Lola Run and one of the Bourne movies, with a splash of True Grit.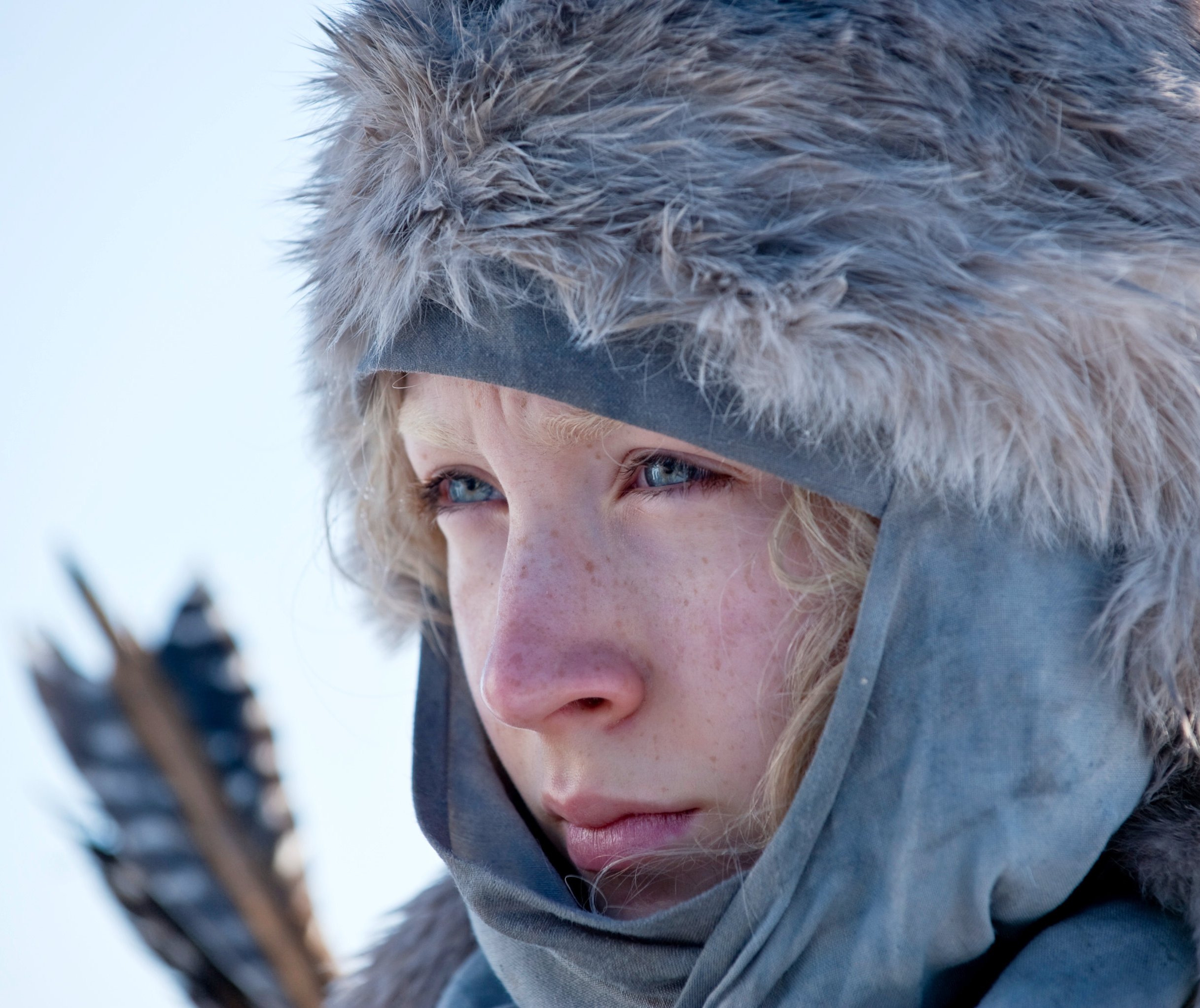 Hanna has some pacing issues for sure — The film peaks in its first forty minutes, and the middle hour, in which our young, ninjafied protagonist makes nice with a free-spirited family on European holiday, even flirts with boring at times. But the movie still has the benefit of some solid action setpieces, a soulful anchoring performance by Saiorse Ronan, fun (if sometimes over-the-top) character work by some real pros (Eric Bana, Cate Blanchett, Tom Hollander) and a catchy kinetic groove supplied by the Chemical Brothers. As with last April's vaguely similar tale of father-daugher mayhem, Kick-Ass, Hanna makes for a smarter and more engaging thrill ride than we usually see this time of year.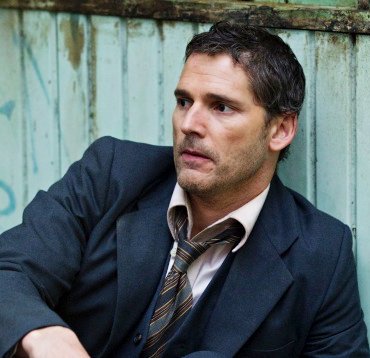 Perhaps the main reason Hanna seems to lag out in its middle hour is that its opening moves so fast. We begin in a snowy wilderness, and a pale young girl (Ronan) is hunting an elk with a bow and arrow. As soon as she makes the kill, she is set upon by another stalker, who proceeds to pummel her for being unwary. That would be her father (Bana), who through a combination of warrior training, tough love, and choice encyclopedia-readings is instructing his daughter in the ways of the Super-Spy. Apparently, we soon discover, these two have been living hand-to-mouth and off the grid, somewhere near the Arctic Circle, since Hanna was an infant. But, now, her Jedi training is close to complete — girl, you'll be a ninja soon — and it's time for young Hanna to be released back into civilization, with a very specific target in mind.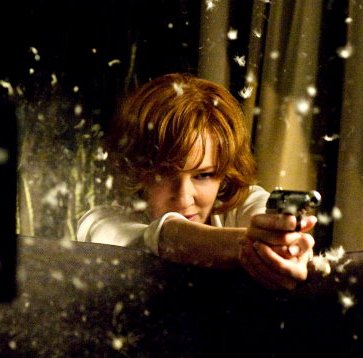 That target: Marissa Wiegler (Blanchett, reprising her southern drawl from The Gift), a CIA hand with longstanding connections to the feral father and daughter duo. And so, pretending to be a guileless innocent, Hanna gets herself taken into CIA custody to meet her quarry. Alas, she misses her first shot at the ruthlessly efficient Wiegler, and soon all of the parties are engaged in a cat-and-mouse chase from Morocco to Berlin. But who's the cat and who are the mice? The film helps clarify roles by having Wiegler enlist a creepy assassin (Hollander in a ridiculous tracksuit) to find her quarry, while Hanna falls in with a family caravan of innocents (headed by Olivia Williams and Jason Flemyng.) Unfortunately, Dad never got around to explaining collateral damage…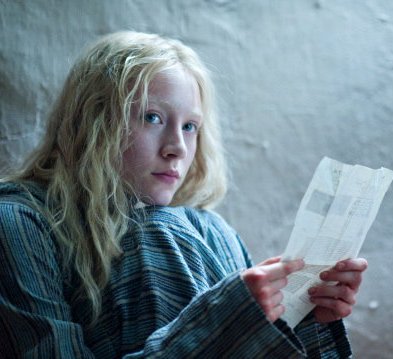 It's this middle section of Hanna — in which our heroine makes her first friend, has her first kiss, etc — where the impressive energy established in the early going begins to leak out of the picture, and the film never really gets it back. It is not helped in this regard by the clunky decision of the writers to have Hanna channel Data from Star Trek: TNG and/or Arnold Schwarzenegger in the second Terminator whenever she's confronted with the vagaries of modern life. (For example, Hanna's reaction to having a boy lean in for a kiss: "Kissing requires thirty-four muscles in the face" or somesuch.) Nor, given what we see of her skill set, does it even make much sense for Hanna to be running half the time regardless — The question of whether she is going to fight or flight her way out of any situation seems to be completely arbitrary and script-driven.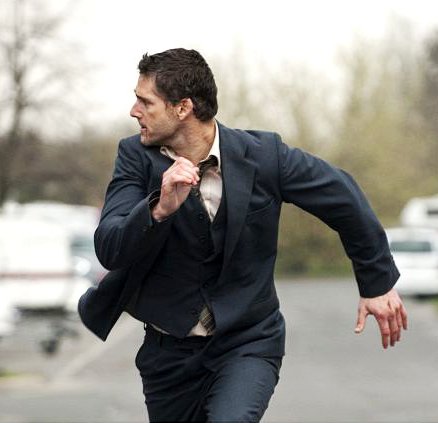 That being said, Hanna does have its share of bravura action moments. Even if it makes no sense for an underground secret CIA lair to have sequentially-flashing nightclub strobelights, I dug the heck out of an early, Chemical-Brothers-driven sequence when Hanna unleashes carnage and then makes a run for it. Later on, there's a pretty great Batman Begins-ish reversal — the hunters becoming the hunted — in a nighttime chase scene through a container park. And, while I complained about a needlessly flashy and distracting stunt take at Dunkirk in his adaptation of Atonement, Joe Wright tries something similar here — when Bana runs into some trouble at the train station — to much better effect.
It helps that, its occasional Brothers Grimm pretensions notwithstanding, Hanna really has no subtext to live up to. If the title card (introduced with a bullet) didn't give it away, this is a well-made genre exercise, no more, no less, and it's really just about having fun. (It seemed like Blanchett and Hollander, the villains of this fairy tale, were especially having a blast.) Taken for what it is, and allowing for its sagging middle hour, this film mostly delivers. If you watched one movie about a young woman kicking ass and taking names while on a grand adventure this past month, I sure hope it was Hanna.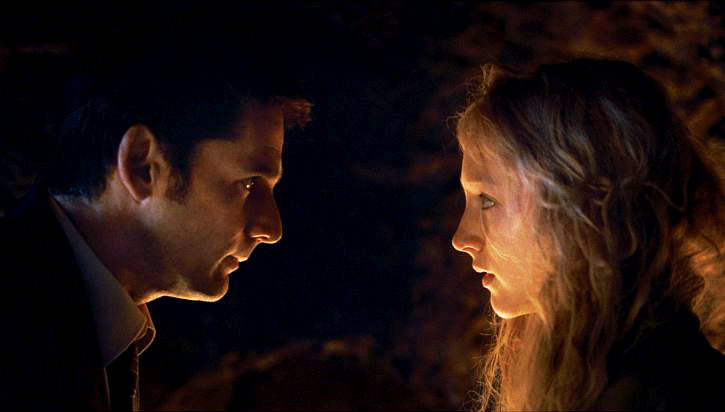 Hello again, and a happy New Year's Eve to you and yours. Well, I thought this Best of the Decade would end up being four parts, but now it's looking like five. The recaps for this last twenty-five got so long that MT seems to be consuming the bottom of the entry as I write.
So, with that in mind, here's #'s 25-11 for the Oughts, with the top ten of the decade to follow in due course. If you're new to this overview, be sure to check out part 1, part 2, and part 3 before moving on to the…
Top 100 Films of the Decade: Part IV: 25-11
[The Rest of the List: 100-76 | 75-51 | 50-26 | 25-11 | 10-1]
[2000/2001/2002/2003/2004/2005/2006/2007/2008/2009]
25.
Donnie Darko
(2001)
From the original review: "All in all, this is a marvelously genre-bending film with wonderful anchoring performances by the Gyllenhaals. I think I liked this movie much more for not knowing a lot about it going in, so I won't mention the particulars here. But it's definitely worth seeing. Extra points for the soundtrack, which with 'Head over Heels,' 'Love will Tear Us Apart,' and 'Under the Milky Way'…reminded me more of my own high school experience than any other film I can remember. (The Dukakis era setting helped, since that was my own eighth grade year.)"
I almost took this movie out of the top 25 on account of its association with Southland Tales and The Box, and even the director's cut of this film, which snuffs out a lot of this movie's weird magic by slathering it in needless Midichlorian-style exposition. As I said in my recent review of The Box, Donnie Darko seems to be a clear and undeniable case where studio intervention saved a movie.
Nevertheless, part Philip K. Dick, part John Hughes, Darko was a touching coming-of-age story (thanks in good part to Mary McDonnell and Holmes Osborne as Donnie's cranky but loving parents), a decently funny satire about the vagaries of small-town life (think Sparkle Motion, "sleep-golfing," and the Love-Fear axis), and a trippy sci-fi/psychological thriller. (Was Donnie really talking to a demon-rabbit from the future, or was he just off his meds? The original version muddles this question a lot better than the Kelly cut.)
Whether or not Richard Kelly just got struck by lightning here, everyone else involved clearly brought their A-game to this production. Two Gyllenhaals got on the Hollywood board with this flick, although Maggie would have to wait for Secretary to really break out. The Michael Andrews score contributed mightily to the proceedings, as did the Gary Jules cover of "Mad World," which got a lot of run in the Oughts, from Gears of War to American Idol. And there are plenty of quality performances in the margins, from the late Patrick Swayze riffing on his image, to Beth Grant typecasting herself for the decade, to Katharine Ross coming back for one more curtain call. Fluke or not, the original version of Donnie Darko was one strange and memorable bunny, alright.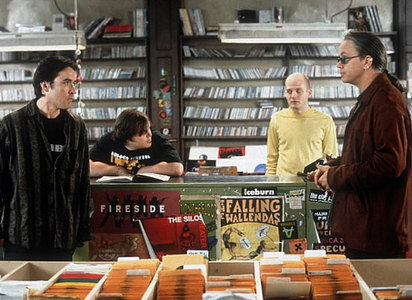 24.
High Fidelity
(2000)
From the year-end list: "An excellent adaptation of a great book, even if I preferred the Elvis Costello britrock emphasis of Hornby's tome to the indie Subpop scene of the movie."
"Charlie, you f**king b**ch! Let's work it out!" Arguably John Cusack's finest hour (although 1999's Being John Malkovich is right up there, and I know many might cite the Lloyd Dobler of old), Stephen Frears' adaptation of Nick Hornby's High Fidelity has continued to grow on me over the years. If it counts as one of David Denby's slacker-striver romances (see the discussion of Knocked Up at #40), it's definitely the one that hits closest to home for me.
The first thing people usually remember about this movie is all the Jack Black/Todd Louiso banter in the record store. ("It's a Cosssssby sweater!") And it's true — All of that stuff is both really funny and all too telling about the elitism and obsessiveness inherent to the fanboy mentality — "Don't tell anyone you don't own 'Blonde on Blonde'! It's gonna be okay." Besides, let's face it, this entire end-of-the-decade list is really just an extended High Fidelity-style Top 5 (and I had a great time back in July organizing my history books chronologically, a la Rob's record collection.)
Still, as with the book, High Fidelity's killer app is really the dispatches filed from Rob's romantic life, as he ponders what went wrong with his Top 5 Crushes gone awry. ("We were frightened of being left alone for the rest of our lives. Only people of a certain disposition are frightened of being alone for the rest of their lives at the age of 26, and we were of that disposition.") There's a lot of truthiness throughout High Fidelity, from Rob's catastrophic hang-up on Charlie (Catherine Zeta Jones) to his eff-the-world rebound with an equally besotted Sarah (Lili Taylor), to his single-minded infatuation about whether his ex, Laura (Iben Hjejle), has slept with the loathsome new boyfriend, Ian (fellow Tapehead Tim Robbins in a great cameo) yet.
In short, I'd argue High Fidelity gets the inner-male monologue closer to right than any flick this side of Annie Hall. In the immortal words of Homer J. Simpson, it's funny because it's true.
23.
In the Mood for Love
(2000) /
2046
(2004)
From the original review: "Since I spent Friday evening watching In the Mood for Love — a tale of a romance-that-almost-was, told in furtive hallway glances — and 2046 — a broader and more diffuse disquisition on love and heartache — back-to-back, here's an