Lots of scores to settle and cold dishes served in the trailer bin of late…
Antebellum musician Solomon Northrup (Chiwetel Ejiofor) finds himself way down on the wrong side of the Mason-Dixon line in our first look at Steve McQueen's 12 Years a Slave, also with Benedict Cumberbatch, Paul Dano, Michael Fassbender, Paul Giamatti, Lupita Nyong'o, Sarah Paulson, Brad Pitt, and Alfre Woodard.
Some strange musical cues here, including the themes from Pearl Harbor and The Wolfman (the latter used to better effect in the original, still-creepy Tinker Tailor teaser). In any case, I liked Hunger and Shame less than most, but I'd be up to give this a go.
Please Hammer Don't Hurt 'Em: Josh Brolin discovers to his dismay that he can check in but never leave in the red-band trailer for Spike Lee's remake of Park Chan-wook's Oldboy, also with Elizabeth Olsen, Sharlto Copley, Samuel L. Jackson, Michael Imperioli, Lance Reddick, and James Ransone. I'm still trying to un-watch the original — some things involving octopi and tongues I wish I never saw in that there film.
One good remake deserves another: Deserve's still got nothing to do with it as Ken Watanabe fills Clint Eastwood's shoes for Sang-il Lee's Yurusarezaru mono, the Japanese remake of Unforgiven, also with Akira Emoto, Koichi Sato, and Yuya Yagira. From The Seven Samurai to The Magnificent Seven, there's a long and fertile history for this sort of cultural exchange, so I'd watch it.
What I likely won't be watching is Sergei Bodrov's fantasy epic Seventh Son, based on a series I haven't heard of called The Wardstone Chronicles, even if it does have Jeff and Maude Lebowski operating on opposite sides of the ball. (Between this and R.I.P.D., Bridges seems to be in full "paying for an extension to my house" mode these days.)
I thought at first this might be based on Susan Cooper's The Dark is Rising, but then I remembered they already made a lousy adaptation of that a few years ago. In any case, also along for the ride: Ben Barnes, Kit Harington, Alicia Vikander, Djimon Hounsou, Jason Scott Lee, and Antje Traue.
When bad things happen to his brother (Casey Affleck), Christian Bale goes vigilante to take down the local ne'er-do-well (Woody Harrelson) in the first trailer for Scott Cooper's Out of the Furnace, also with Zoe Saldana, Willem Dafoe, Forrest Whitaker, and Sam Shepard. (TL;DR: Bale meets Death Wish meets Winter's Bone.) Alrighty then.
When bad things happen to his brother (Matt Barnes), Ryan Gosling goes vigilante to take down the local ne'er-do-well (Vithaya Pansringarm) in the newest trailer for Nicholas Winding Refn's Only God Forgives.
Along with presumably another hyper-catchy soundtrack like Refn and Gosling's Drive, this also has the added benefit of Kristin Scott Thomas apparently doing her "Ben Kingsley in Sexy Beast/Ralph Fiennes in In Bruges" turn. As with Oldboy, I expect this to be hyper-violent, tho'.
And finally Wong Kar-Wai, Yuen Woo Ping, Tony Leung, and Zhang Ziyi band together to tell the story of Ip Man (again) in the newest trailer for The Grandmaster. This still looks to me like an unnecessary remake of the third Matrix movie, but you can't fault the pedigree involved.
Update: One more down the pike today: Benedict Cumberbatch channels Julian Assange, and has some Social Network-style angst with his partner Daniel Bruhl, in the first trailer for Bill Condon's The Fifth Estate, with Anthony Mackie, David Thewlis, Alicia Vikander, Peter Capaldi, Carice van Houten, Dan Stevens, Stanley Tucci and Laura Linney. Linney's smarmy "truth, justice, and the American way" line is wince-inducing, but otherwise this could be promising.
Update 2: Blanchett, meet Blanche DuBois? After Madoff-y husband Alec Baldwin becomes only the second person in America to be prosecuted for misdealings during the financial crisis, Cate Blanchett learns how the other half lives in the first trailer for Woody Allen's Blue Jasmine, with Sally Hawkins, Bobby Cannavale, Andrew Dice Clay(?), Michael Stuhlbarg, and (hopefully) the Woodster's new best friend, Louis C.K.
Hello all. So, yes, it's been quiet again, and the movie reviews I'm behind on are piling up (I'm three back now, going on five.) In the excuse department, work has been even busier than usual, of late, and, obviously, the political scene has been depressing. So there's that.
Anyway, in partial recompense, here's my first entry of a fun meme I saw at Cryptonaut-in-Exile a few weeks ago: "100 Things I Love About My Favorite Movies. The rest will follow in a leisurely fashion at some future point.
Here's the rules: "Rather than posting your 100 favorite films (which has been done and overdone), you simply post your favorite things about movies…[I]nstead of obsessing over whether the films you put on a list are 'objectively good enough' to put on said list, you simply jot down 100 moments/lines/visuals that have made a lasting impression on you or sneak their way into running gags between you and your friends."
And, so, without further ado and in no particular order:
1. Sam Rockwell in Galaxy Quest
: I'm starting off with this one because I'm borrowing it from
Jonathan Hardesty
, from where cdogzilla saw this meme. Sam Rockwell is pretty consistently the best thing about a lot of so-so movies (most recent case-in-point,
Cowboys and Aliens
), but here he has the distinction of shining bright in a very funny movie regardless.
2. Out of Sight — Timeout at the Bar
: "
By that time I had been thinking about you a lot, and just wondering what it would be like if we met, if we could take a time-out.
" This was on
Cryptonaut
's list, and for good reason. One of the sultriest seduction scenes ever filmed.
3. He Got Game — Opening Homage to Basketball
: The last scene of
The 25th Hour
might well make it into one of the other 80 slots. But for now, I really love this Aaron Copeland-scored opening montage to
He Got Game
, which makes the case for basketball being the real Great American Pastime.
4. Citizen Kane — News on the March!
— "
Then, suddenly, less than one week before election, defeat. Shameful, ignominious. Defeat that set back for 20 years the cause of reform in the US!
" Like
Casablanca
,
Citizen Kane
is one of those movies I originally put in to study up on film history, and left amazed at how powerful it remained. This movie still feels like it could've been made yesterday.
5. Big Trouble in Little China – Elevator Scene
: "'
I feel pretty good! I'm not scared at all! I feel kind of invincible.' 'Me too! I've got a very positive attitude about all this!
'" Sure, this is a goofy movie regardless. But I dig how
Big Trouble
just takes a break for a few moments here to lets its characters get their chill on.
6. Annie Hall — Final scene
: "
After that it got pretty late, and we both had to go, but it was great seeing Annie again. I realized what a terrific person she was, and how much fun it was just knowing her; and I thought of that old joke, y'know…
" The
Marshall McLuhan scene
is a keeper too, obviously, but this funny and poignant close is Woody's relationship movies condensed into 30 seconds. (Fun film fact: The scene right before this, where Alvy runs into Annie at
The Sorrow and the Pity
is Sigourney Weaver's first movie appearance.)
7. The Shining — The Twins
: "
Come play with us, Danny. Forever and ever and ever.
" I talked about this scene
here
. Nowadays, when I watch
The Shining
, I'm frightened by the Gods-eye-view in the opening moments, the shower scene, and Jack Torrance's insanity-inducing writer's block. But, when I was a kid, it was the twins. Definitely the twins.
8. In the Loop — Malcom visits the White House
: "
I'm sorry, I don't… This situation here is… Is this it? No offence, son, but you look like you should still be at school with your head down a f**ing toilet…Don't get sarcastic with me, son. We burned this tight-arsed city to the ground in 1814. And I'm all for doing it again, starting with you, you frat f**k.
" Arguably the funniest scene in a very funny film, although it's always hard to pick a favorite moment from this comedy classic. And doesn't it seem like the WH is really like this these days?
9. Batman Begins — Batman gets the drop
: "
WHERE ARE YOU?!" "Here."
" The bat-man that preys on the wicked — This is the Dark Knight in a nutshell.
10. Tom Reagan in Miller's Crossing
: This along, with
Brazil
and the next film in this list, have been my three favorite movies for awhile now. I was looking for the scene where Tom drunkenly crashes the powder room at Leo's club ("
Close your eyes, ladies! I'm coming through!
") to chat with Verna. ("
I bet you think you raised Hell." "When I've raised Hell, sister, you'll know it.
") But it's not online, and since I love the whole film anyway, here's the trailer instead.
11. Amadeus — Don Giovanni
. "
And now…the madness began in me. The madness of the man splitting in half…As I stood there understanding how that bitter old man was still possessing his poor son even from beyond the grave. I began to see a way, a terrible way, I could finally triumph…over God.
" A lot of great scenes here too. Here, the patron saint of mediocrity conjures up his master plan.
12. The Fellowship of the Ring — Frodo and Sam first look upon Mordor
: "
Mordor…I hope the others find a safer route…I don't suppose we'll ever see them again." "We may yet, Mr. Frodo. We may.
" Obviously, it's hard to pick one scene from the trilogy, but the closing seconds of
FotR
, when Frodo and Sam look out at Mordor from afar just before entering the Emyn Muil, is high up there. It's the entire journey, distilled in one perfect moment.
13. Menace II Society — Interrogation Scene
: "So you bought the bottle of beer — definitely at 12:15? Now you see something, you done f**ked up, you know that, right?" The Hughes brothers' breakout movie is underappreciated, imho, and also eminently quotable. ("
Snaps for the petrol!
") This is where it seems like the jaws are snapping shut on Caine — They should use this technique on
Take the Money and Run
…then it might be watchable.
14. Blade — Opening Rave
With all due respect to Guillermo del Toro's
Aliens
-style
Blade 2
, the
Blade
franchise peaked in the first ten minutes of the first film, when a fratty
B&T'er
finds himself in the wrong club in the meat-packing district. Special bonus for the pulse-pounding Pump Panel remix of New Order's "Confusion."
15. I'm Not There — Riddle and "Going to Acapulco"
: Another film that's hard to pick one scene from, but this is one of the loveliest musical numbers in the movie, in a town that literally recreates,
per Greil Marcus
, Dylan's "Invisible Republic."
16. The Charlie story in High Fidelity
: "
Charlie, you f**king b**ch! Let's work it out!
" A lot of funny, painfully-on-point scenes in this movie, and Rob's scenes with ex-girlfriends #2 and #4 (Lili Taylor) are equally memorable. Still, great self-deprecating cameo by Catherine Zeta-Jones here, and this film is definitely Cusack's post-teenage peak.
17. X2 — Nightcrawler at the White House
: Bamf! As I said in my
original review
, it's really a toss-up between this and
Magneto's escape
for the best scene in Bryan Singer's second X-flick. But this moment, kicking off the movie as it does, illustrates how much more fun the second film in comic-book franchises can be, once all the origin-story throat-clearing is out of the way.
18. Carter Burwell's score for Being John Malkovich
: Burwell has done a lot of great work for the Coen brothers over the years, but this is one of his best. It's hard to imagine the film's out-of-left-field conceit working as well without the low-key, yearning sadness of the score.
19. Hudson in Aliens
: "
Maybe you haven't been keeping up on current events, but we just got our asses kicked, man!
" Ah, Hudson. This all-time action film, with a great slow-burn first act, is obviously another very quotable movie, and Bill Paxton has more gems than anybody. "
Maybe we've got 'em demoralized!
"
20. 28 Weeks Later: Robert Carlyle runs like hell
: Another great and memorable opening scene that quickly establishes the grim moral economy at work in this surprisingly good sequel. Some folks think of
Trainspotting
's Begbie when they see Carlyle — I always think of this.
Hello again, and a happy New Year's Eve to you and yours. Well, I thought this Best of the Decade would end up being four parts, but now it's looking like five. The recaps for this last twenty-five got so long that MT seems to be consuming the bottom of the entry as I write.
So, with that in mind, here's #'s 25-11 for the Oughts, with the top ten of the decade to follow in due course. If you're new to this overview, be sure to check out part 1, part 2, and part 3 before moving on to the…
Top 100 Films of the Decade: Part IV: 25-11
[The Rest of the List: 100-76 | 75-51 | 50-26 | 25-11 | 10-1]
[2000/2001/2002/2003/2004/2005/2006/2007/2008/2009]
25.
Donnie Darko
(2001)
From the original review: "All in all, this is a marvelously genre-bending film with wonderful anchoring performances by the Gyllenhaals. I think I liked this movie much more for not knowing a lot about it going in, so I won't mention the particulars here. But it's definitely worth seeing. Extra points for the soundtrack, which with 'Head over Heels,' 'Love will Tear Us Apart,' and 'Under the Milky Way'…reminded me more of my own high school experience than any other film I can remember. (The Dukakis era setting helped, since that was my own eighth grade year.)"
I almost took this movie out of the top 25 on account of its association with Southland Tales and The Box, and even the director's cut of this film, which snuffs out a lot of this movie's weird magic by slathering it in needless Midichlorian-style exposition. As I said in my recent review of The Box, Donnie Darko seems to be a clear and undeniable case where studio intervention saved a movie.
Nevertheless, part Philip K. Dick, part John Hughes, Darko was a touching coming-of-age story (thanks in good part to Mary McDonnell and Holmes Osborne as Donnie's cranky but loving parents), a decently funny satire about the vagaries of small-town life (think Sparkle Motion, "sleep-golfing," and the Love-Fear axis), and a trippy sci-fi/psychological thriller. (Was Donnie really talking to a demon-rabbit from the future, or was he just off his meds? The original version muddles this question a lot better than the Kelly cut.)
Whether or not Richard Kelly just got struck by lightning here, everyone else involved clearly brought their A-game to this production. Two Gyllenhaals got on the Hollywood board with this flick, although Maggie would have to wait for Secretary to really break out. The Michael Andrews score contributed mightily to the proceedings, as did the Gary Jules cover of "Mad World," which got a lot of run in the Oughts, from Gears of War to American Idol. And there are plenty of quality performances in the margins, from the late Patrick Swayze riffing on his image, to Beth Grant typecasting herself for the decade, to Katharine Ross coming back for one more curtain call. Fluke or not, the original version of Donnie Darko was one strange and memorable bunny, alright.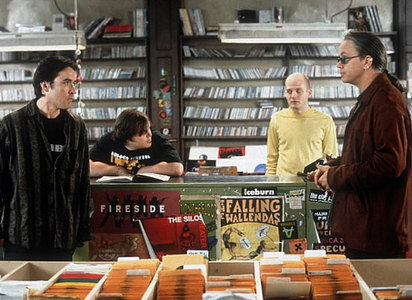 24.
High Fidelity
(2000)
From the year-end list: "An excellent adaptation of a great book, even if I preferred the Elvis Costello britrock emphasis of Hornby's tome to the indie Subpop scene of the movie."
"Charlie, you f**king b**ch! Let's work it out!" Arguably John Cusack's finest hour (although 1999's Being John Malkovich is right up there, and I know many might cite the Lloyd Dobler of old), Stephen Frears' adaptation of Nick Hornby's High Fidelity has continued to grow on me over the years. If it counts as one of David Denby's slacker-striver romances (see the discussion of Knocked Up at #40), it's definitely the one that hits closest to home for me.
The first thing people usually remember about this movie is all the Jack Black/Todd Louiso banter in the record store. ("It's a Cosssssby sweater!") And it's true — All of that stuff is both really funny and all too telling about the elitism and obsessiveness inherent to the fanboy mentality — "Don't tell anyone you don't own 'Blonde on Blonde'! It's gonna be okay." Besides, let's face it, this entire end-of-the-decade list is really just an extended High Fidelity-style Top 5 (and I had a great time back in July organizing my history books chronologically, a la Rob's record collection.)
Still, as with the book, High Fidelity's killer app is really the dispatches filed from Rob's romantic life, as he ponders what went wrong with his Top 5 Crushes gone awry. ("We were frightened of being left alone for the rest of our lives. Only people of a certain disposition are frightened of being alone for the rest of their lives at the age of 26, and we were of that disposition.") There's a lot of truthiness throughout High Fidelity, from Rob's catastrophic hang-up on Charlie (Catherine Zeta Jones) to his eff-the-world rebound with an equally besotted Sarah (Lili Taylor), to his single-minded infatuation about whether his ex, Laura (Iben Hjejle), has slept with the loathsome new boyfriend, Ian (fellow Tapehead Tim Robbins in a great cameo) yet.
In short, I'd argue High Fidelity gets the inner-male monologue closer to right than any flick this side of Annie Hall. In the immortal words of Homer J. Simpson, it's funny because it's true.
23.
In the Mood for Love
(2000) /
2046
(2004)
From the original review: "Since I spent Friday evening watching In the Mood for Love — a tale of a romance-that-almost-was, told in furtive hallway glances — and 2046 — a broader and more diffuse disquisition on love and heartache — back-to-back, here's an