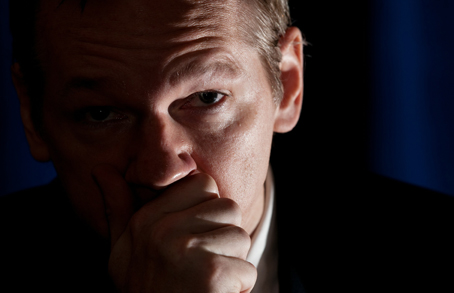 "'
To the extent there are gaps in our laws,' Holder continued, 'we will move to close those gaps, which is not to say…that anybody at this point, because of their citizenship or their residence, is not a target or a subject of an investigation that's ongoing.
"
After another embarrassing document dump by Wikileaks — this time diplomatic cables, next time Bank of America? — Attorney General Holder threatens the prosecution of Julian Assange, an Australian citizen — most likely under the Espionage Act, the same catch-all 1917 law used to lock up Eugene Debs back in the day.
First of all, Gawker's John Cook has already explained why this attempted line of prosecution doesn't work. However docile the "nation's watchdogs" remain on any other given day, the newspapers that published these leaks would have to be considered co-conspirators in any Espionage Act-related indictment. "We think its fairly obvious that the Department of Justice won't go after the Times or any of the other papers involved in the story. But if it doesn't, that's just evidence that its attempt to use the Espionage Act to go after Assange isn't about enforcing laws: It's about retribution, harassment, and rattling sabers."
Secondly, if Assange wants to avoid federal prosecution, perhaps he should just…I dunno…torture somebody? Or maybe rip off the American people for trillions of dollars? Or how 'bout just spying on Americans via warrantless wiretap? Apparently, disclosing those kinds of secrets is one of those look-forward-not-backward kinda things.
Let's get real here. There's no threat to our troops in these leaks — Even the Pentagon admits that. (A more overlooked problem, as a friend pointed out, is what this leak might mean for human rights workers.) Wikleaks' methods are of the blunderbuss variety, yes. (That probably speaks in their favor: They don't seem to tailor their leaks to suit a predetermined spin. They just dump data. And, hey, somebody should be doing the media's job.) And, sure, Assange comes off as more than a bit pretentious, but what of it? If being a jackass were a crime, our prison system in this country would be completely broken…oh wait, it already is.
In the end, as Glenn Greenwald well put it, "our government and political culture is so far toward the extreme pole of excessive, improper secrecy that that is clearly the far more significant threat." You'd think an administration that ran on unparalleled transparency in government might feel the same way. But, sadly, like its predecessor, the only crime this administration really seems to hate is whistleblowing.