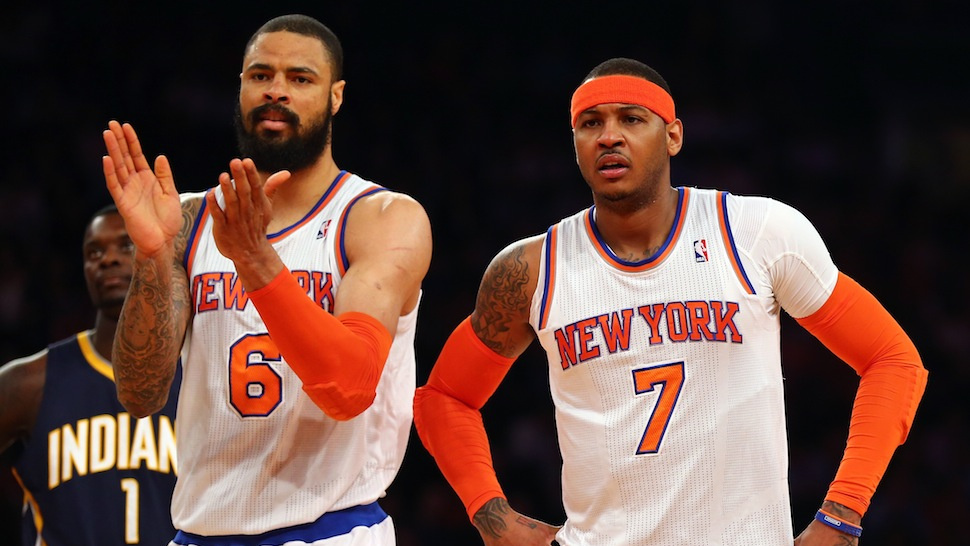 "'It's tough to go out this way,' coach Mike Woodson said. 'I didn't make it happen for us and that's what's disappointing.'"
Well, that's that then. After
the most promising season in a decade
, the
Knicks go down in six to the Pacers
in the second round, not even getting a chance to trade blows with the reigning champion Miami Heat.
Well, we went out earlier than hoped, but I still feel pretty good about this season. For one, even though we had at least two key players — J.R. Smith and Jason Kidd — go ice-cold this series, the Knicks still contended against a big, physical team that may well give the Heat serious problems. (It likely didn't help that both Melo and JR played hurt.)
For another, I like Mike Woodson as a coach, but his decision-making in this series was…not good. Chris Copeland should have gotten more run — a 3-shooting big man is exactly what was needed to offset the Hibbert factor — and Smith, Kidd, and Amare should all have been benched earlier on. Similarly, I know Steve Novak is a defensive liability, but he should've gotten a few of those minutes too. If he gets hot and makes a few threes, it spreads the floor, forces the Pacers to guard the perimeter, and allows Felton, Melo et al to penetrate. It was worth a try, given that JR was throwing up more bricks than the Stonecutters in the first few games.
In any case, Mike Vaccaro's analogy of the Knicks being an 18 on a blackjack table is a pretty good one. The Knicks are a talented jump-shooting team, and, on the bright side, Iman Shumpert is clearly evolving into a high-impact player. But we need either a consistent second scorer or some sort of inside presence — preferably both — to really contend moving forward. Tyson Chandler is a defensive anchor, but his offense is all tip-ins and Felton alley-oops, and Marcus Camby, Kenyon Martin, and the recently departed Kurt Thomas are all aging in dog years at this point.
Which brings us back to the Amare question — Can he be the player he once was, while co-existing with Melo? — The spacing never looked right when they were both healthy on the floor the past two years. To be continued, next November.