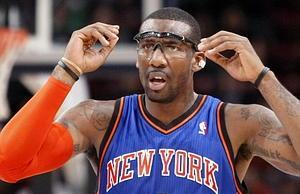 "
I've been waiting for this for a long time,' Stoudemire said of opening night. 'The time is finally here. I can't wait.
'" Start spreading the news: The new-look
Knickerbockers kick off the season today
across the border
against the Bosh-less Toronto Raptors
. "'
The fans are ready just as well as we are,' Stoudemire said.
"
True, that. Still, even after the Amar'e signing, the Knicks are looking like a seventh or eighth seed at best at the moment. And with potential X-factor Anthony Randolph starting the season hobbled, Gallinari and Felton playing inconsistently in the pre-season, and Stanford second-rounder Landry Fields starting at SG, I fear it's not going to take too many games before we're all just waiting for Melo all season.
(But, hey, at least right now we have a better record than the hated 0-1 Heat, who looked terrible last night against the Celtics. Booyah.)