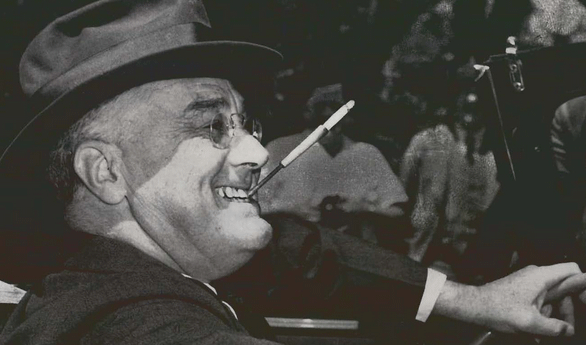 "Does this rollout failure discredit the core goals of a liberal project, including that of a mixed economy, a regulatory state, and social insurance? Conservatives in particular think this website has broad implications for liberalism as a philosophical and political project. I think it does, but for the exact opposite reasons: it highlights the problems inherent in the move to a neoliberal form of a governance and social insurance, while demonstrating the superiorities in the older, New Deal form of liberalism."
Assessing the failure of the healthcare.gov rollout, Mike Konczal makes the case for returning to the old ways. "[T]he Category B grouping, which we associate with the New Deal and the Great Society…creates a universal floor so that individuals don't experience basic welfare goods as commodities to buy and sell themselves…My man Franklin Delano Roosevelt may not have known about JavaScript and agile programming, but he knew a few things about the public provisioning of social insurance, and he realized the second category, while conceptually more work for the government, can eliminate a lot of unnecessary administrative problems."
Of course, Social Security had rollout problems too. And progressives at the time definitely lamented the concessions that were made as Social Security evolved from bill to law, including the exclusion of agricultural and domestic laborers [re: African-Americans] from the law. (Frances Perkins: "The whole thing has been chiseled down to a conservative pattern.")
That being said, I think it's important to keep this in mind every time the right starts complaining about byzantine complexities in the Affordable Care Act: We could've avoided many of these issues if this change-bringing administration hadn't immediately ruled out the obvious progressive solution to the health care problem — a single-payer system of Medicare-for-all, like most other advanced industrialized nations enjoy, perhaps phased in with an immediate voluntary buy-in and a gradual lowering of the coverage age.
Instead, we adopted the Republicans' proposal, the marketplace/exchanges plan originally conceived by the Heritage Foundation and enacted by Mitt Romney, without even including a public option to keep the insurers honest. And what'd we get for this ginormous unforced concession to the right? Nothing. Republicans still didn't support the health care law in 2010, and they've screamed holy hell that it's tyrannical government socialism for the past three-odd years — even though it was their plan to begin with.
Now, they're deliberately sabotaging implementation of the ACA and trying to pin every misstep, including this rather sad website #fail, as a failure of the liberal project. As Konczal aptly points out, what's failing here is the NEO-liberal project — the desire to embrace public-private, technocratic conservative ideas of a generation ago (see also: cap & trade), in the hopes that today's conservatives will somehow be intellectually honest enough to support them too. That is a sucker's bet every time.
One other important takeaway from this article: "[I]f all the problems are driven by means-testing, state-level decisions and privatization of social insurance, the fact that the core conservative plan for social insurance is focused like a laser beam on means-testing, block-granting and privatization is a rather large problem. As Ezra Klein notes, 'Paul Ryan's health-care plan — and his Medicare plan — would also require the government to run online insurance marketplaces.'"
In other words, here again conservatives are decrying exactly what they ostensibly espouse. Perhaps a better way forward on fundamental pieces of legislation, instead of playing Lucy and the football with the Republicans, is to try to enact our own ideas from now on.
Update: In Foreign Affairs, Kimberly Morgan makes much the same argument: "The real source of Obamacare's current problems lies in the law's complexity. A straightforward way to assure coverage would have been to extend an existing, well-worn program to more people…In the United States, [due to] political antipathy to government programs…policymakers regularly rig up complex public-private, and often federal-state, arrangements that are opaque to the public, difficult to administer, and inefficient in their operation."