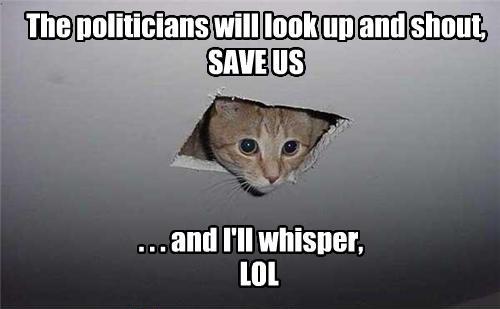 "
What fiscal crisis? The great unasked question in this summer of sound-and-fury is 'why?' The United States has many problems at the moment: a high-and-stubborn unemployment rate, a foreclosure catastrophe, a slowing economy that has not recovered and will not recover…and the ongoing challenges of infrastructure, energy and climate change. Fiscal crisis? The entire thing is a figment, made up of wise-men's warnings repeated endlessly.
"
James K. Galbraith, who warned of the deficit witchhunt a year ago, weighs in on the debt ceiling endgame currently playing out in Washington, as well as Obama's role in it:
"[W]hat do we have, from a President who claims to be a member of the Democratic Party? First, there is the claim that we face a fiscal crisis, which is a big untruth. Second, a concession in principle that we should deal with that crisis by enacting massive cuts in public services on one hand and in vital social insurance programs on the other. This is an arbitrary cruelty. Third, a refusal to stand on the strong ground of the Constitution, against those whose open and declared purpose is tear that document and the public credit to shreds."
Yep, that's about it. When it became clear that Obama had fully inhaled voodoo economics and was once again going to give away the store in these needless negotiations, I said on Twitter: ""I'll take [Boehner/Cantor/Lannisters/Littlefinger] at his word!" I just realized: Obama negotiates like Ned Stark. Now, winter is coming."
But, really, that gives this president too much credit. He's not a nobly deluded sap. He's getting exactly what he wants: a Third Way-approved Grand Bargain that takes money out of a sputtering economy and needlessly slashes our social insurance system, all in response to a problem that is basically imaginary.
But, of course, the chatterers and the Serious People™ will applaud this bargain as being wise, centrist, and independent no matter what damage it causes — hey, only Nixon can go to China! And all the while the economy and labor market will continue to tank. What a fucking fiasco. [Rorschcat via here.]