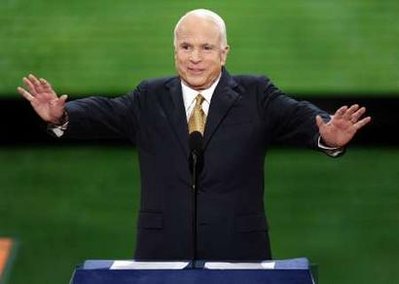 "I'm not running for president because I think I'm blessed with such personal greatness that history has anointed me to save our country in its hour of need. My country saved me. My country saved me, and I cannot forget it. And I will fight for her for as long as I draw breath, so help me God." Wait…John McCain was a POW? Who knew? (And how big of him to run the first completely selfless and ego-free presidential campaign in American History. A true patriot, he.)
I suppose I should've gotten my post up about McCain's speech some time yesterday…but, really, what's the rush? However well-watched, John McCain's nomination address to the nation on Thursday night felt like a virtual political non-event. [Transcript.] I mean, c'mon now: I sat through three days of mind-numbing inanity and blatant falsehoods, distasteful 9/11 videos and endless surge talk, for this? (By the way, memo to Lindsey Graham, Tom Ridge, and anyone who happens to buy into the oft-repeated line of argument that "McCain was right in Iraq because of the surge." Our recent involvement there began several years earlier, with McCain cheering on Dubya's idiotic invasion and boasting of an easy victory. Remember that?)
Now I don't think the speech was as woefully terrible as some — it was probably better than his last greenscreen speech, for example. (I am struck by the fact that today's decaying GOP is so sickly it can't even manage to exploit veterans for political gain properly anymore. What happened to you guys?) But, to my mind, Sen. McCain's remarks definitely didn't get the job done, unless — like me — you think the job that needs doing right now is getting Barack Obama elected to the Oval Office.
The most affecting moments of McCain's speech were, naturally, in his discussion of his POW experience, and if the Republicans hadn't beaten this point into the ground over the past few days, his retelling of those dark days might've packed a real emotional wollop. ("After I turned down their offer, they worked me over harder than they ever had before. For a long time. And they broke me. ") But, after all the reveling of late in McCain's horrible stay in the Hanoi Hilton, and all the attendant plaudits to military heroism and sacrifice, country first etc. etc. served up as sides by the GOP during thus, McCain's humdrum delivery of an otherwise subpar nomination address reminded me of nothing so much as another praiseworthy war hero wounded in his nation's service: Bob Dole.
Of course, it wouldn't be a nomination address in today's GOP without some highly dubious propositions therein:
"A word to Sen. Obama and his supporters. We'll go at it over the next two months. That's the nature of these contests, and there are big differences between us. But you have my respect and admiration." Oh, really? After several days of throwing chum in the water to get the fundies fired up, particularly on Wednesday night, this hail-fellow-well-met bow to the opposition felt ludicrous. You can't have it both ways, y'all.
"And let me offer an advance warning to the old, big spending, do nothing, me first, country second Washington crowd: Change is coming." As you know, and as Sen. Obama noted last week, McCain voted with Dubya a whopping 95% of the time. That's not change we can believe in. And just because the president's name went unmentioned over the past few days doesn't mean we all just up and forgot about his awfulness.
"I've fought corruption, and it didn't matter if the culprits were Democrats or Republicans." Uh, unless those Dems and Republicans were doing business with Charles Keating. Ok, that may be a bit under the belt, but the fact remains: His opposition to pork barrel spending aside, McCain was mostly AWOL in the recent fights against GOP corruption that marked DC during Boss DeLay's rule. His campaign is veritably drowning in lobbyists. Like so much else that once made McCain a relatively appealing figure, even his well-known advocacy of campaign finance reform has been thrown under the bus of late. And derailing the Alaskan probe into Palin's illegal firings for electoral purposes is emphatically not fighting corruption.

And so on. I'd spend more time picking McCain's address apart if I thought it had been in any way effective. But, the POW-section notwithstanding, it felt rote as written and rote as delivered, and — in opposition just as in support — it was a hard speech to get all that fired up about. With Sen. Obama up in the states he needs and Dems mobilizing new voters all across the board, McCain needed a real gamechanger Thursday night. (Imho, the automatic dispenser of lousy headlines that is Sarah Palin is just going to keep backfiring, and the party of Lincoln continues to toy with the disgusting "Uppity Sambo" card at their peril.) In short, he didn't get it.

There'll be a bump — there always is. But, to my mind, John McCain's climb just got a whole a lot steeper. Barring some monumental revelation, egregious debate flub, or international incident over the next two months, it's hard to see McCain getting any closer to victory in 2008 than he is right now. And over the next eight weeks, I would nevertheless expect a lot of Republicans and GOP-leaning independents, perhaps momentarily flush with good feeling for McCain, to think it over, remember the past seven years, look over at Sarah Palin in the veep slot, and decide to put their country first…by voting for Sen. Barack Obama for president.