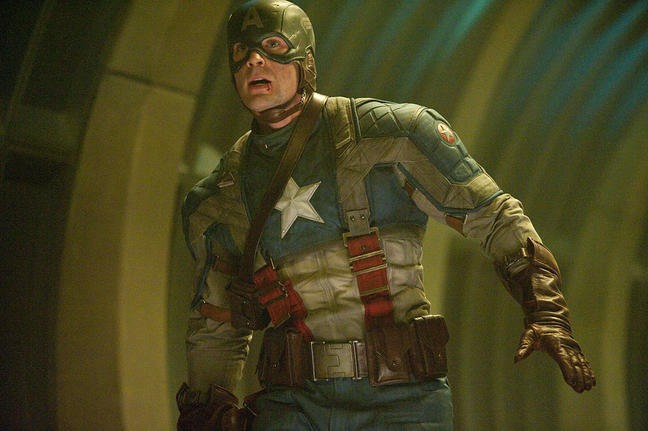 When
Hal Jordan took a bullet
for Steve Rogers by being the inevitable middling comic book movie of the season, the path was open for Marvel to go three-for-three this year. And, hey, they pulled it off!
Matthew Vaughn's X-Men: First Class
is still the most fun and self-assured of this year's comic book crop, but
Joe Johnston's Captain America: The First Avenger
is another solidly entertaining summer outing, and as good a Cap movie as
Thor
was a Thor movie. In the end, I probably preferred this film of the latter two, both for its four-color propaganda poster flavor and because I just prefer Cap to the Asgardian — but it's really a toss-up.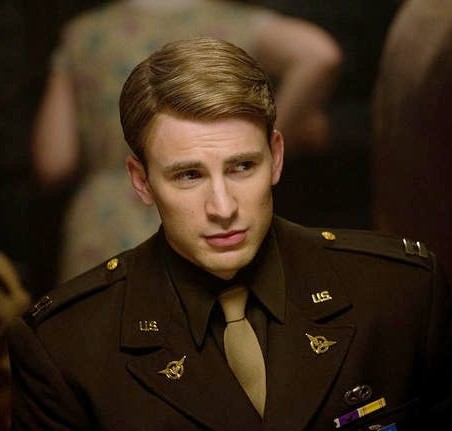 If anything, The First Avenger is more faithful to its titular character, since Johnston, unlike Branagh in Thor, plays this period piece straight, without the likes of Kat Dennings and Clark Gregg providing a security blanket of 21st century irony. Speaking of which, Chris Evans has already shown he exudes star presence in movies like Sunshine and Scott Pilgrim, and he was easily the best thing about otherwise bland comic-book flicks like Fantastic Four and The Losers. But, in the past, he's always skated by on his snark, and I was worried Steve Rogers might be turned into a self-aware, wisecracking Spiderman sort to accommodate that. But, no, Captain America here is noble, earnest, and maybe a tiny bit dull — exactly as he should be.
In this incarnation as in the original comic, Steve Rogers is a puny kid from Brooklyn whose spirit is willing and flesh is weak: Even as his best friend James "Bucky" Barnes (Sebastian Stans), and seemingly every other able-bodied American male in the borough, head off to fight Hitler and Japan in the Big W-W-I-I, Rogers is rejected from one recruiting office after another for being a tiny, wimpy asthmatic. That is, until a German emigre named Dr. Abraham Erskine (Stanley Tucci) overhears Rogers again trying to serve his country for the umpteenth time. Perhaps, Erskine decides, this brave little man might be the perfect candidate for America's top-secret Super Soldier program, conveniently headquartered in New York City. (Not to be confused with the Manhattan Project.)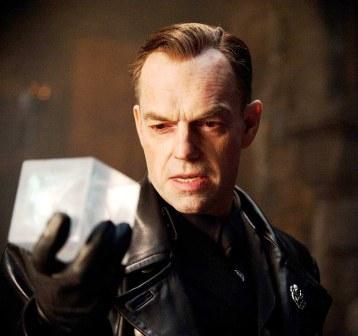 It had better work, since Nazi Germany already has a Super Soldier of its own. That would be Johann Schmidt (Hugo Weaving), a.k.a. The Red Skull, head of Hitler's deep-science division HYDRA. And, while Hitler wastes time "digging around in the desert" (heh), Schmidt has located the all-powerful Cosmic Cube in Eastern Europe, where it had been under guard by Mr Filch/Walder Frey. Now, with his right-hand man Arnim Zola (Toby Jones), Schmidt threatens to use this powerful device to (wait for it, wait for it) take over the entire world. Can anyone stop his dastardly plan? Anyone, anyone? Rogers?
So, ya, pretty standard set-up, of course. Along the hero's journey, Captain America suffers through boot camp (led by Tommy Lee Jones, who's phoning it in but who at least isn't doing his Two-Face schtick.) He gains a costume, a shield, a squad (the Howling Commandoes), and the attentions of a plucky and beautiful British agent, Peggy Carter (Hayley Atwell of Cassandra's Dream.) And he learns, more than once, that war isn't a USO show, and that with great power comes great sacrifice…but let's save those spoilers for The Avengers.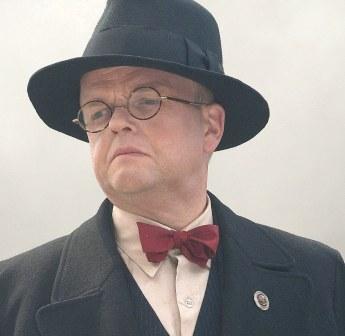 Speaking of that forthcoming super-team, there's plenty of chum in the water in The First Avenger for Marvel fans, from Howard Stark (Dominic Cooper here, not Roger Sterling) to the aforementioned Cosmic Cube to a great first shot of Jones' Zola, which pays homage to his four-color incarnation. When it comes to real, not comic-book, history, however, The First Avenger is obviously a bit fast and loose with the era. Several years before Truman desegregates, the Howling Commandoes are a multiracial brigade, and in fact the entire US Army seems integrated. And while Peggy has to put up with some macho bravado, she still seems unencumbered by the sexism of the period.
Still, given that this is a movie about a guy wrapped in Old Glory who continually punches Hitler in the face, the rose-tinted ahistoricism didn't bother me all that much. Captain America is a propaganda vehicle by design — arguably the best section in the movie has him being taken on a Flags of our Fathers-style USO tour. And like Superman's commitment to truth, justice, and the American Way, Cappy has always been more about who we as a nation should be than who we actually are, so I found myself more willing than usual to forgive the film some well-intentioned anachronisms. If anything, I'm glad The First Avenger didn't choose to make Cap an overly militaristic hero. Instead, he's a unassuming kid from Brooklyn, given great power, whose patriotism mainly consists of just trying to do the right thing.