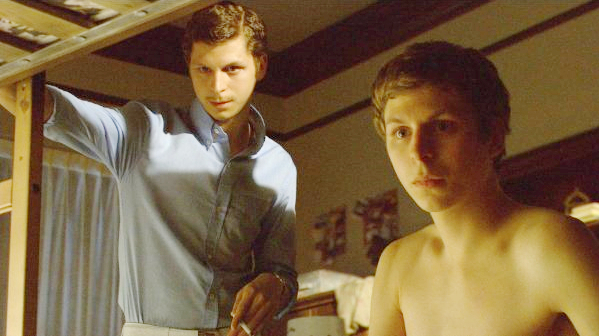 And now to
the third
and final
film of last Friday's quality triple-feature,
Miguel Arteta's solidly entertaining Youth in Revolt
, based on the novel by C.D. Payne. (I haven't read this book, but judging
from its Wikipedia entry
and a la
A Single Man
last week, it sounds quite different.)
As I said back over in the Daybreakers review, my view of all three of these back-to-back-to-back movies is pretty similar — Each accomplishes what it aspires to do pretty well. If you like clever, gory, unabashed B-movies, you'll enjoy Daybreakers. If you warm to the tics (and foibles) of Terry Gilliam unleashed, you'll probably like The Imaginarium of Dr. Parnassus. And if you find Michael Cera and his awkward attempts to score inherently amusing, you'll probably dig Youth in Revolt.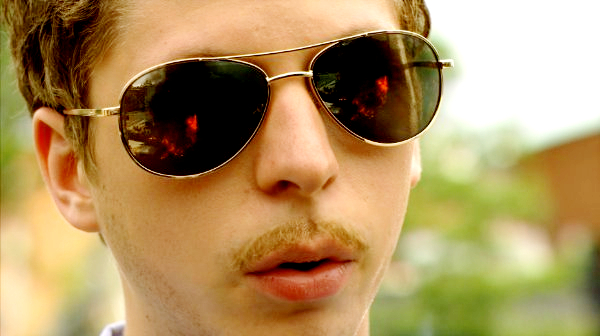 So, yes, this is another film in a long line of them where Cera, deeply uncomfortable in his own skin as usual, is trying to figure out What Women Want. (And, by that, I mean that, as in Superbad, he's frantically trying to lose his virginity once more, and, as in Juno, he may or may not succeed.) The wrinkle this time is that Cera has willfully concocted his own Tyler Durden to help him out — a lascivious, mustachioed, (creepily) blue-eyed Frenchman named Francois Dillinger. In other words, imagine Cera playing both his and the Jonah Hill role in Superbad. Or, to go back to the source, just pretend George Michael had another cousin other than Maeby, and he was Gob's kid.
So that's the basic gist. Cera's Nick Twisp has a few other hurdles to navigate — his mom (Jean Smart)'s worthless trucker boyfriend (Zach Galifanakis), his dad (Steve Buscemi)'s refusal to fund him, his neighbor (Fred Willard)'s general strangeness, his increasing problems with the law (as represented by cop-for-life Ray Liotta). But, mainly, he's just trying to get to know his new girlfriend Sheeni (Portia Doubleday) a bit better. And, to do that, he'll have to get past her uber-Christian parents (M. Emmet Walsh and Mary Kay Place), the considerable shroom collection of her older brother (Justin Long), the many impressive qualities of her other squeeze, Trent (Jonathan B. Wright), and all the long-distance problems involved. At least Nick has Francois aiding and abetting him in his shenanigans and providing that alpha-male tang when needed. But, as Nick fast discovers, there's a reason the real Dillinger died in a hail of lead.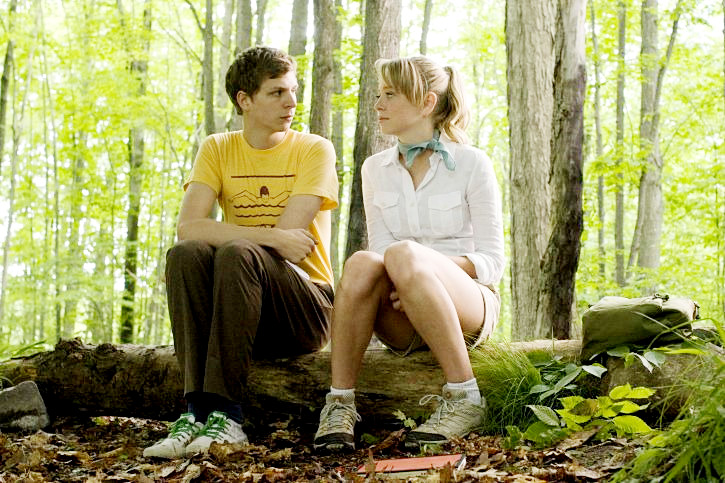 I know Michael Cera is verging on over-exposed right now, and I've also heard from several corners that people are tiring of him. Ok, fair enough. I kinda felt the same way going in, and I even skipped Nick & Nora's Infinite Playlist and Year One. But it didn't take long before Cera won me over again. The guy's got impeccable comic timing, and nobody — not even Anthony Michael Hall in his prime — does awkward teen quite as well. Scott Pilgrim vs. the World aside, I'm not sure how much longer he'll be able to milk this character — he's getting a bit long in the tooth at this point — but he's darn good at it. And, at least with Francois, he gets to play outside his usual sandbox for awhile.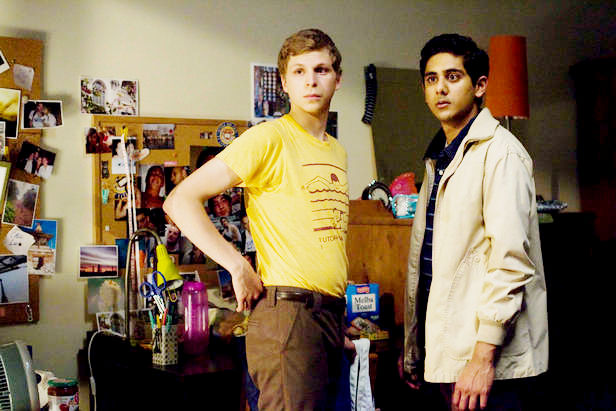 In the end, the occasionally bawdy, mostly good-natured Youth in Revolt reminded me less of Superbad or Juno than it did the John Cusack/Savage Steve Holland teen-classics of the '80s, Better Off Dead and One Crazy Summer. (This may be partly because, like the former, Youth in Revolt goes for the hand-drawn animated credit sequence.) And, you know what, Cusack pretty much always played the same guy back then too — you could argue he's still doing it now. So let's cut Cera a break already. After all, if we keep pushing him, he may up and pull a Francois and burn down the banana stand again later this year…