Hello all. Before I head out to pick up a rental car and drive down to the family compound for the holiday, here's part 2 of the top 100 list for your enjoyment. In case you missed the beginning of the party, read this entry first. And if you're all caught up to speed, let's get back to it:
Top 100 Films of the Decade:
Part II: 75-51
[The Rest of the List: 100-76 | 75-51 | 50-26 | 25-11 | 10-1]
[2000/2001/2002/2003/2004/2005/2006/2007/2008/2009]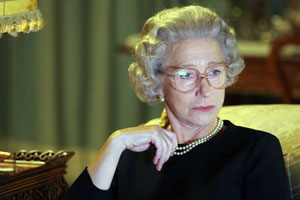 75.
The Queen
(2006)
From the original review: "Less a paean to 'the people's princess' than a sharp-witted rumination on changing social values and the effect of global 'Oprahization' on contemporary politics, The Queen is an intelligent, discerning and enjoyable slice-of-life that's well worth catching."

From the year-end list: "A movie I shied away from when it first came out, The Queen is a canny look at contemporary politics anchored by Helen Mirren's sterling performance as the fastidious, reserved, and ever-so-slightly downcast monarch in question…[It's] the type of movie I wish we saw more often: a small, tightly focused film about a very specific moment in recent history."
Unfortunately, this movie came out in 2006, so we don't get to see Elizabeth II here with her Wii (and a gold-plated one at that.) That aside, Peter Morgan, Stephen Frears, Michael Sheen, and particularly Helen Mirren made The Queen a memorable and multi-faceted disquisition on changing social mores and their respective political impact on the residents of Buckingham Palace and 10 Downing St. Morgan and Sheen would continue to expose the real stories behind various famous television interviews throughout the rest of the decade, in 2008's Frost/Nixon and 2009's The Damned United. All three are worthwhile films, but The Queen is probably the best of the lot.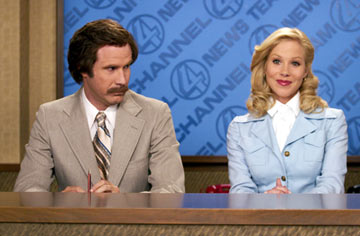 74.
Anchorman: The Legend of Ron Burgundy
(2004)
Boy, that escalated quickly…I didn't quote from the original review on this one, because, basically, I whiffed it. I originally saw Anchorman one afternoon in the summer of 2004, soon after a recent dumping, and I clearly wasn't in the mood for it — Funny is a fragile thing.
That being said, catching it on cable a few years later when not in Debbie Downer mode, Anchorman really came into its own for me. Basically, it's a movie that will try just about anything to make you laugh, and you have to sorta admire its ambition to leave no joke untried. While I know Talladega Nights has its defenders, this eventually ended up being my favorite Will Ferrell movie of the decade. What can I say? 60% of the time, it works every time.
73.
U2 3D
(2008)
From the original review: "Anyone who's ever thrown in The Joshua Tree — that's millions of people, obviously — and listened to the thrilling opening strands of "Where the Streets Have No Name" can probably imagine the potential of U2 filtered through an IMAX sound system and projected in multiple dimensions. All I can say, it's pretty darned cool…U2 3D really feels like the future in concert films. As a music experience, it's better than having the best seats in the house (and the drunk girl on her boyfriend's shoulders in front of you — while in 3D — never actually obscures your vision."

From the year-end list: "U2 3D was both a decently rousing concert performance by Dublin's fab four, and — more importantly — an experimental film which played with an entirely new cinema syntax. Just as students look back on D.W. Griffith films of a century ago as the beginnings of 2D-movie expression, so too might future generations look at this lowly U2 concert and see, in its layering of unrelated images onto one field of vision, when the language of 3D really began to take off. At which point someone might also say, 'Man, I wish they'd played 'So Cruel' instead of some of these tired old dogs.'"
Of course, your enjoyment of this concert film will depend a great deal on how much you like U2 — For my part, they're not in my personal top tier, but I've always had a solid appreciation for them. Nonetheless, as I said above, U23D — even more than the beautiful but ultimately pretty conventional Avatar — still feels like a significant step forward for the art of movie-making. It's the only film I've ever seen that uses 3D-technology as a new visual language rather than just a gimmick. And, rather than another umpteen variations on "OMG that arrow is coming right at me!", I'd really like to see more filmmakers play with the 3D syntax tested out here in the decade to come.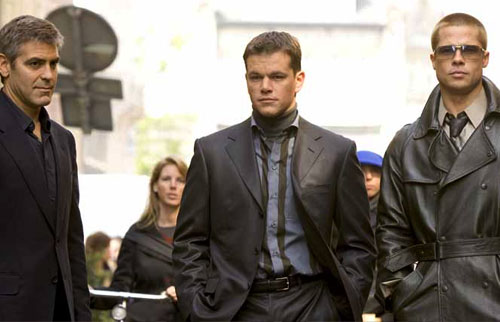 72.
Ocean's Twelve
(2004)
From the original review: "Nonsensical, self-indulgent, and occasionally even a tad smarmy, Steven Soderbergh's much-hyped Ocean's Twelve is also, I'm happy to report, just plain fun…Twelve turned out to be what Soderbergh tried and failed to do with Full Frontal…As much a riff on stars and stardom as the heist movie we were all expecting, it's probably the most sheerly pleasurable film experience you're going to find this side of The Incredibles."

From the year-end list: "Two swollen hours of Soderberghian glamour and inside baseball. Not everyone's cup of tea, I know, but I found it an agreeable improvement on Ocean's 11."
I'm betting this will be another contested choice, as I've even seen Ocean's Twelve on a few worst-of-decade lists. But while the other two Ocean films are basically just standard-issue heist flicks, I thought this one aimed a little more outside the box, instead trying to amplify the "hanging with the Rat Pack" aspect of the original 1960 film. In short, I just love the sprawling movie metaness of Ocean's 12: the characters talking about Miller's Crossing; Topher Grace "totally phoning in that Dennis Quaid movie"; Eddie Izzard's cliched hot secretary; the gymnast getting lost in the luggage. And, yes, the Julia Roberts-Bruce Willis bit.
Sorta like Grant Heslov's The Men Who Stare at Goats, Ocean's 12 just feels like a Hollywood lark, one in which the ultra-glamorous movie stars in tow have kindly allowed us to come along for the ride, maybe play a few hands. I guess a lot of people didn't vibe into Twelve like I did, but I found its jaunty, devil-may-care sense of fun contagious.
71.
In the Valley of Elah
(2007)
From the original review: "I went in expecting not much more than an over-the-top 'message movie' schmaltzfest, or at best a harmless helping of mediocre, inert Oscar Bait like Cinderella Man or A Beautiful Mind. But [Elah] turned out to be quite a bit better than I expected…[It's] a melancholy rumination on the hidden casualties of (any) war and a somber inquiry into the heavy toll exacted on the wives, parents, and children of military men…And, biblical parallels aside, the film showcases the best work Tommy Lee Jones has done in years."

From the year-end list: "Paul Haggis' surprisingly unsentimentalized depiction of the hidden costs of war for the homefront, Elah benefits greatly from Tommy Lee Jones' slow burn as a military father who's lost his last son to a horrific murder…There was something quintessentially America-in-2007 about Jones this year. In every crease and furrow of this grizzled Texan's visage, we can see the wounds and weariness of recent times, the mask of dignity and good humor beginning to slip in the face of tragic events and colossal stupidity."
In the Valley of Elah wasn't the best TLJ movie of 2007 — that'll come later — but, surprisingly given Paul Haggis' involvement, it was a darned good one. Looking back, the key, I think, was that everyone here from Jones to Susan Sarandon, Charlize Theron, Jason Patric, and Josh Brolin in supporting roles underplayed the material, so that only a few in-your-face Haggisian elements rankle — that bizarre and plot-convenient van technician, for example, or the perhaps too-on-the-nose final shot of the movie. Otherwise, though, Elah cut deeper for staying free of the bombast that marked Paul Haggis' overwrought Crash, and it boasted arguably the best performance of 2007.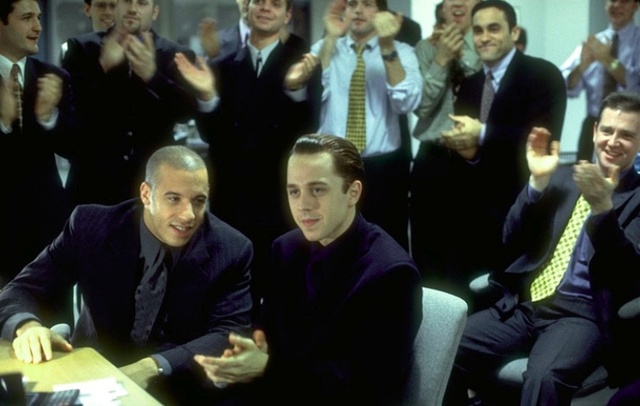 70.
Boiler Room
(2000)
From the year-end list: "Surprisingly good, not the least because of the charismatic Vin Diesel, Glengarry Glen Affleck, and the great Wall Street scene."
Wall Street for the DVD generation, Ben Younger's Boiler Room was another nice surprise. Ok, some of the father-son stuff with Giovanni Ribisi and Ron Rifkin is pretty well overcooked. But, as with Ocean's 12, I like the meta-ness involved here. The fact that all these chop shop Jersey Boys constantly and lovingly quote Wall Street and Glengarry Glen Ross throughout made the movie seem that much more realistic. And Boiler Room resonates tellingly in the details, like newly-minted millionaire Ben Affleck owning nothing but a McMansion, a giant TV, and a tanning bed. It's basically a B-movie, sure, but it's a much better one than you'd ever expect going in.
69.
Jackass
(2002)
From the original review: "If you've seen the ads, you probably already know whether or not this film will appeal to you: You're either going to find it hilarious or repellent (or probably both). I was sickened and disgusted, and there were times I was laughing so hard that Berkeley thought there was something wrong with me…Alligator Tightrope may just be the dumbest, most nightmarish and cringe-funny thing I've seen all year."
If you've been reading this list carefully, you may have noticed that I telegraphed this potentially contentious pick back with Borat at #97 (as well as with my caveat about Z-grade comedies in the original intro.) And all I can say is, s/he with the straight face cast the first stone. I know Jackass is barely a movie at all – it's television on a movie screen, and depraved, zero-budget television at that. It has little-to-no redeeming social value, it spawned a lot of worthless and sub-moronic imitations, and, in fact, it's mostly just ninety minutes of charismatic lunatics doing patently stupid things. But, lord help me, it is really, really funny at times.
I never saw the 2006 follow-up, so that one might've been even more hilarious or the well might've run dry by then. Nonetheless, the original Jackass had the uncanny ability to bypass all higher-order thought processes and send my reptile brain into giggling fits. It's like a shiny toy car, plunged straight into the comedy id.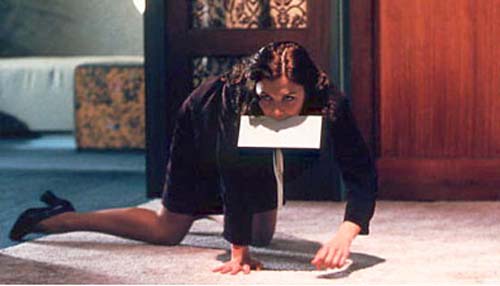 68.
Secretary
(2002)
From the year-end list: "A heart-warming romantic comedy about a boy, a girl, and the spankings that brought them together…A lot of the people I've spoken with had trouble with the ending, but I thought that it ended the only way it really could…any other way would've given the audience the out they wanted to condemn these people as sideshow freaks. By treating this bizarre couple as just another relationship in a weird wide world, Secretary offers a portrait of two people 'just right' for each other that is much more touching than the average, vanilla romantic comedy."
So, while I'm getting the sick-and-twisted choices out of the way, can I get a word in for Steven Shainberg's Secretary? Based on the Mary Gaitskill short story and the film that made Maggie Gyllenhaal a star, Secretary was in essence an attempt to test the boundaries of the rom-com format by seeing if it could accommodate a little BDSM kink. In fact, however naughty-minded at times, Secretary is actually pretty standard fare: Get past the cuffs and such, and what we here is a meet-cute between two people who are surprisingly perfect for each other, some not-insurmountable romantic turmoil along the way, and eventually a marriage and a happy ending — It's like J. Lo's The Wedding Planner or Maid in Manhattan, if J. Lo was still wearing her S&M get-ups from The Cell. (Now that I think about it, Secretary may not even be all that outside-the-norm. Let's remember 1990's Pretty Woman, a movie oddly considered romantic by tons of aficionados of the genre, is basically the story of Richard Gere up and buying himself a hooker.)
True, James Spader had already played a bizarro-perv way too often to be taken seriously here. And, in fact, you can see him slowly, inexorably turning into the Brundlefly version of William Shatner he would eventually become as the movie grinds along. Still, as far as rom-coms go, I thought Secretary went down more easily than most. Say what you will about the bondage on display here — I'd argue there are dozens of rom-coms out each year — say How to Lose a Guy in 10 Days or The Ugly Truth, to name just two — that are the real cruel and unusual punishment.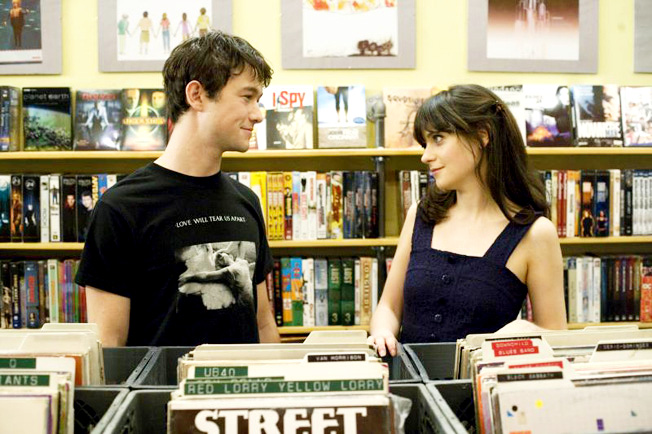 67.
(500) Days of Summer
(2009)
From the original review: "This won't be a film for everyone — It's often too cute or clever by half, and I'll concede that it probably reeks of forced Little Miss Sunshine or Juno-style indie cachet to people who don't roll with it…For me this definitely goes on the Garden State 'vaguely-guilty pleasure' pile…It'd be hard to sum up (500) Days better or more succinctly than the tagline: 'Boy meets girl. Boy falls in love. Girl doesn't.' If this has ever happened to you, and lordy has it happened to me, I suspect you'll enjoy [it] quite a bit as well."

From the year-end list: "Speaking of sad British pop music, here's a movie the early Elvis Costello would love. Sure, (500) Days is unabashedly for folks who've been on the wrong end of a break-up. But, even if it is ultimately Annie Hall-lite in a lot of ways, it had more truths to tell than most of the rom-coms out in any given year…combined."
Rough winds do shake the darling buds of May, and Summer's lease hath all too short a date…500 days, in fact. But, hey, at least we'll always have the memories. Despite the way it was sold, (500) Days of Summer is barely a love story at all, nor is it a dissection of how a particular romance — that of Tom (Joseph Gordon-Leavitt) and Summer (Zooey Deschanel) goes sour. It's more about how Tom is, despite himself, driven to romance in the first place (Hint: It's Morrissey's fault), and about how the desire to be in love can sometimes be mistakenly substituted for the real thing.
If that sounds a bit heavy, well, it's not — (500) Days also includes a musical number, a Han Solo cameo, lots of goofy shenanigans involving Geoffrey Arend (a.k.a. Mr. Christina Hendricks)…in short, there's a lot of sugar to help soothe all the break-up angst here. I doubt (500) Days makes for a very good date movie in the end, but it's a good one to cue up if and when that date goes south. (And since all early word seems to indicate that Matthew Vaughn's Kick-Ass will make a star of Chloe Moretz in 2010, let's remember she did the preternaturally mature pre-teen schtick here first.)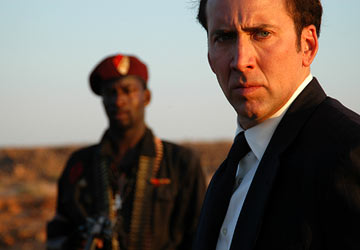 66.
Lord of War
(2005)
From the original review: "At once a character study of an amoral arms dealer, a bitter tirade againt third world exploitation, and a dark comedy that may run too sour for some tastes, Lord of War is an above-average entrant in the satirical muckraking tradition. And its occasional preachiness is leavened by Nicolas Cage's consistently-amusing and deftly-written performance, most of which is voiceover, at the center of the film."

From the year-end list: "Anchored by Nicholas Cage's wry voiceover, Andrew Niccol's sardonic expose of the arms trade was the funniest of this year's global message films (That is, if you like 'em served up cold.)"
Lord of War is one of those movies that's moved up in my estimation over the years, partly because later attempts at political satire, such as Jason Reitman's Thank You for Smoking, couldn't ever seem to find the delicate balance of this mordant and spirited tirade against the arms industry. There are some excellent performances here from the likes of Ian Holm and Eamonn Walker, but in the end this is Nic Cage's show, and, as with this year's Bad Lieutenant: Port of Call New Orleans, this film shows how good he can be when he's not just working for a paycheck. And like The Wire, Andrew Niccol's Lord of War is both very angry and very funny: Its sensitivity to obvious injustices in the world — "Thank God there are still legal ways to exploit developing countries" — fuels its dark brand of humor, and vice versa.
65.
Bamboozled
(2000)
Speaking of which, Spike Lee's overlooked and much-maligned Bamboozled works very similarly to Lord of War in its anger-to-humor quotient, and it is, possibly up until its last act, a very funny satire. (It also makes for a great double-feature with Kevin Wilmott's alternate history mockumentary CSA: The Confederate States of America, which Lee executive-produced.)
Most obviously, Bamboozled sheds a harsh light on aspects of America's pop-culture past that we still remain eerily silent about. But it's also a ruthless, equal-opportunity lampooner, calling out Michael Rappaport's white-boy sports fan ("I'm blacker than you, brother-man!") as mercilessly as Mos-Def's crew of would-be gangsta rappers, the Mau-Maus. (There's a devastating joke at the end of the movie involving the cops and "1/16th" (a.k.a. MC Serch of 3rd Bass), the "light-skinned" member of the Mau Maus: Everybody else gets shot, he — despite his best attempts — can only get arrested.)
Not even the main character, Damon Wayans' Pierre Delacroix, is safe from Lee's scouring here. A guy who for all intent and purposes lives his life in "whiteface," DeLa eventually gets his comeuppance from his dad, in a choice cameo by Paul Mooney. ("Boy, where the f**k did you get that accent?") More than just call out the old embarrassing traditions of blackface and minstrelsy, Bamboozled casts blame all around. It very plausibly suggests how blackface notions have remained alive in recent decades (Good Times, anyone?), while noting the artistry of the performers so often forced into such lowly affairs (in this case, Savion Glover, Tommy Davidson, and the Roots, who put on a good show despite the sordidness of it all.) Sure, Bamboozled gets a bit lost in the weeds in its final moments, but a lot of satires have a tendency to ride off the rails in the last act. Until then, Bamboozled will make you angry, it will make you laugh, and it will make you think.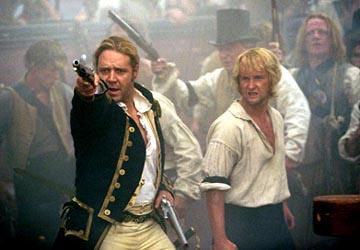 64.
Master and Commander: The Far Side of the World
(2003)
From the original review: "Like pretty much all of Weir's other films, Commander is an extremely competent piece of work, in some ways even masterful…[T]he historical details seemed right to my landlubber's eye, and I thought the languid, episodic pacing of the film…helped to convey the rhythm of life at sea in the Napoleonic era…kudos go out to Peter Weir & crew for making a picture as engrossing and transporting as this one."

From the year-end list: "It's a long title, it's a long movie. But a good kinda long…in fact, as I said in my initial review, it seemed to move to the langorous rhythms of a long sea voyage, one that I may not take again for awhile, but one that I still thoroughly enjoyed. And I'll say this for Russell Crowe…somewhere along the way in each of his films, I tend to forget that he's Russell Crowe. His Capt. Jack Aubrey was no exception."
I haven't watched Master and Commander since it first set sail in 2003, and I have a feeling I should probably give it another go. The movie seems to have floated to the higher echelons of a lot of other Best-of-Decade lists and, If nothing else, Weir's film made for the other quality Star Trek reboot we saw this decade. In fact, particularly given how sequel-crazed Hollywood tends to be these days, I'm sorta surprised we never saw any of the other Patrick O'Brien seafaring novels made into movies after this film, even if they had to recast Crowe and go with someone other than Weir to direct. (I assume Paul Bettany would still be game — the man did just make Legion, after all.) Who knows? Perhaps the studio suits got scared off by a Jonah somewhere along the line.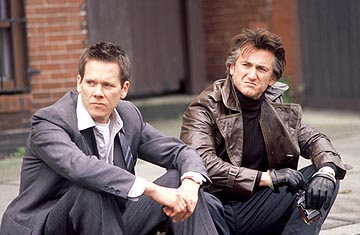 63.
Mystic River
(2003)
From the original review: "[W]ith its crisp, no-nonsense direction and a glut of extraordinary performances…it pretty much has to be considered an Oscar contender…To paraphrase the son of an altogether different neighborhood, sometimes the world is a monster, bad to swallow you whole."

From the year-end list: "The waters of the Charles are disturbed, something is rotten in the outskirts of Boston, and it's safe to say the Fates are wicked pissed…Mystic River is inhabited and propelled by a spirit of lumbering, impending, inexorable doom…what Legolas might call a 'sleepless malice.' It is that existential malice, rooted so strongly in local color, that gives this River its considerable power."
What with Scorsese's The Departed and Affleck's Gone Baby Gone, several crime sagas of the Oughts went to the Hub for their local color. (I guess the trend might've started with 1994's Blown Away, although I've tried to willfully forget that movie.) In any case, Clint Eastwood's Mystic River (like Gone, originally a novel by Dennis Lehane) was the best of the lot. There are some elements of the story that don't really work on film — Kevin Bacon's silent phone-stalker of an ex-wife, for example, or Laura Linney's Lady Macbeth routine near the end of the film. Nonetheless, most of Mystic River is very worthwhile.
In retrospect, it would have been that much nicer to see Bill Murray win the Oscar that year for Lost in Translation, given that Sean Penn ended up winning again for Milk later on. But Penn, as with the rest of the cast, is very good here. (Consider the scene of him breaking down on his Dorchester porch, in front of Tim Robbins.) Hard times in Beantown, alright.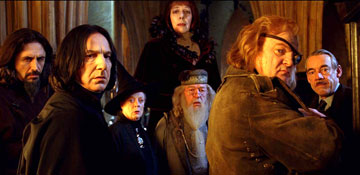 62.
Harry Potter and the Goblet of Fire
(2005)
From the original review: "Mike Newell's dark and delectable Goblet is brimming over with energy and suspense, and, to my surprise, it's probably the best Potter film so far. (And this is coming from someone who actually preferred Book III to Book IV on paper.)"

From the year-end list: "[G]ive Mike Newell credit: Harry's foray into Voldemortish gloom and teenage angst was easily the most compelling Potter film so far. Extra points to Gryffindor for Brendan Gleeson's more-than-slightly-bent Mad-Eye Moody, and to Slytherin for Ralph Fiennes' serpentine cameo as He-Who-Must-Not-Be-Named."
Beginning with 2001's Harry Potter and the Sorcerer's Stone, Young Mr. Potter had many filmed adventures over the course of this decade — six in all. And, while I know Alfonse Cuaron's Prisoner of Azkhaban has its supporters, I thought this fourth installment by Mike Newell was the closest the movie series ever came to capturing the magic of the (first several) books.
We've moved pretty far afield here from the flat, colorful, and thoroughly boring Hogwarts of the Chris Columbus iterations — In Goblet, Dumbledore's academy of magic possesses the menace and grandeur it was missing earlier on. Meanwhile, a lot of the original cast, most notably the kids, have found their groove by Act IV (as has Richard Harris' replacement, Michael Gambon), and they pick up some key reinforcements in Brendan Gleeson, Ralph Fiennes, Clemence Poesy, and even the Doctor himself, David Tennant. Throw in the ironic pre-Thatcher haircuts, an early sighting of Twilight's Robert Pattinson for the fangirls, and our first real interaction with He Who Must Not Be Named, and Goblet had a little something for everybody.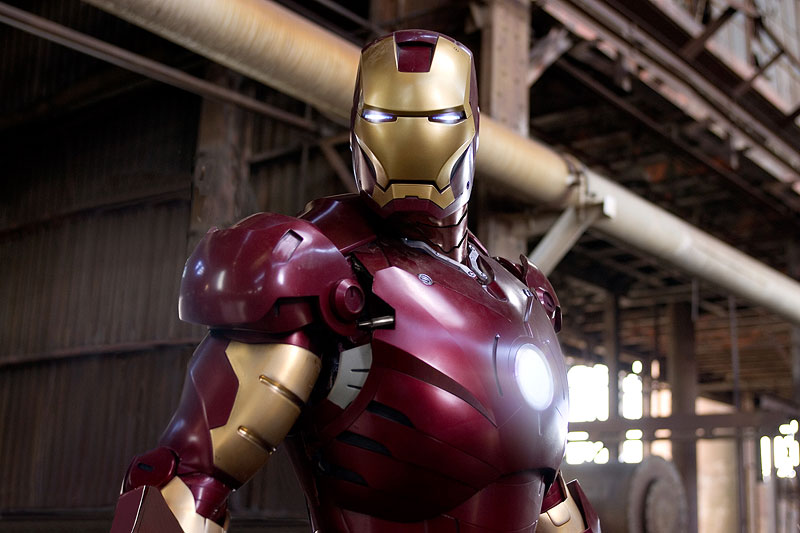 61.
Iron Man
(2008)
From the original review: "[G]iven I have no real reservoir of nostalgia for its titular hero, Jon Favreau's crisp, surprisingly fun Iron Man seems that much more of an achievement…As far as origin stories go, I'd say Iron Man can hold its helmet proudly alongside Batman Begins and the Donner Superman, thanks mainly to its superb cast (and inspired casting)…[I]f you allow for the constraints of the genre, Iron Man is basically everything you'd want in a summer-y superhero blockbuster."

From the year-end list: "Much better than I ever anticipated, Jon Favreau's (and Robert Downey Jr.'s) Iron Man kicked a summer of superheroes off in grand fashion. In the end, I preferred the gloomy stylings of Gotham in 2008, but there's definitely something to be said for this rousing, upbeat entrant in the comic movie canon. It delivered on its own terms, and it was a much better tech-fetishizing, boys-and-their-toys type-film than, say, 2007's Transformers or (I suspect) 2009's GI Joe."
"Heavy boots of lead fills his victims full of dread. Running as fast as they can, Iron Man lives again!" As, for that matter, does Robert Downey, Jr., who began his recent career reinvention as a box office A-lister (see also: Sherlock Holmes) with his turn here as alcoholic Marvel billionaire Tony Stark. Throw in a very enjoyable Jeff Bridges as the Big Bad and Jon Favreau keeping an admirably light touch in a summer of darkest knight, and you end up with a surprisingly fun comic book outing, one that largely sidestepped the "origin story" doldrums that mar a lot of films in the genre. Now, let's hope Mickey Rourke, Sam Rockwell, and Scarlett Johansson can take Iron Club up a notch in this summer's sequel.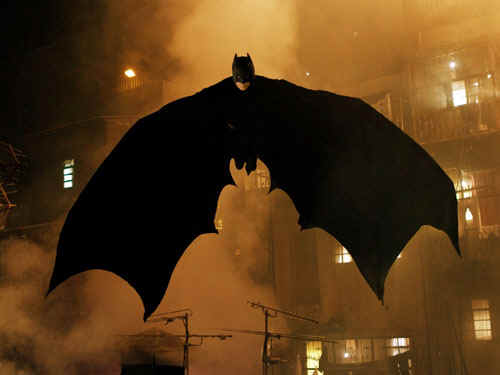 60.
Batman Begins
(2005)
From the original review: "I'm happy to report that, while Chris Nolan's Batman Begins has some minor problems — each character gets a few clunky lines and the final action sequence isn't all that memorable — this is the Batman movie that fans of the Dark Knight have been waiting for. There's no Schumacher statuary in this Gotham City, and nary a Burtonesque Batdance to be had. Nope, this is just straight-up Frank Miller-style Batman, scaring the bejeezus out of the underworld in his inimitable fashion."

From the year-end list: "The Dark Knight has returned. Yes, the samurai-filled first act ran a bit long and the third-act train derailing needed more oomph. Still, WB and DC's reboot of the latter's second biggest franchise was the Caped Crusader movie we've all been waiting for. With help from an A-list supporting cast…Chris Nolan and Christian Bale brought both Batman and Bruce Wayne to life as never before, and a Killing Joke-ish Batman 2 is now on the top of my want-to-see list."
"Without warning, it comes, crashing through the window of your study…and mine…I have seen it before somewhere…it frightened me as a boy…frightened me…Yes, Father. I shall become a bat." Speaking of the Dark Knight, 2005's Batman Begins was another very solid "origin-story" comic book film, one that long-suffering fans of the Caped Crusader had waited for for a good long while. Yes, Begins has some problems — there's probably too much "fear is the mindkiller"-type patter throughout, the elevated railcar climax is goofy, the villain's plan makes no sense (people, after all, are bags of mostly water — they'd be blowing up right along with the sewer mains), and Batman's farewell to Ras Al Ghul ("I won't kill you, but I don't have to save you") is totally and utterly out of character. (I blame co-screenwriter David Goyer, who should've known better.)
All that being said, you finally got the sense here that Batman was in the hands of a director who just wanted to figure out what makes a ridiculously rich guy want to dress up like a bat and fight crime. (Tim Burton is a good director, and I'm particularly fond of Batman Returns. But while Returns is a great Tim Burton movie, it's not a particularly good Batman flick, some of the Catwoman romance notwithstanding.) And if Nolan could get this close to capturing the spirit of Frank Miller's Batman: Year One, it just made you wonder what he could do once he got his hands on The Killing Joke…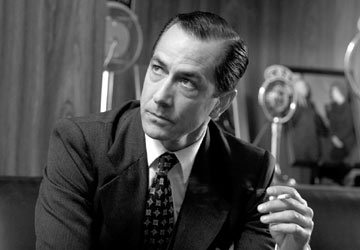 59.
Good Night, and Good Luck
(2005)
From the original review: "While perhaps a bit too black-and-white in terms of the history, George Clooney's Good Night, and Good Luck is nevertheless a somber and captivating paean to Edward R. Murrow, his televised expose of Joe McCarthy, and, by extension, the Pioneer Days of Television Journalism…[W]hat could have been an above-average History Channel documentary is instead a powerful and intelligent work of cinema that's easily one of the better films out this year."

From the year-end list: "A historical film that in other hands might have come off as dry, preachy edutainment, Good Night, and Good Luck instead seemed as fresh and relevant as the evening news…well, that is, if the news still functioned properly."
Enemy sighted, Enemy met — I'm addressing the realpolitik: In a decade that saw television journalism continue to devolve into a morass of apple-cheeked automatons doling out substance-less blather, George Clooney's Good Night, and Good Luck was both a refreshing tonic and a wistful remembrance of the days that were. Yes, folks, there was apparently a time when the Fourth Estate didn't necessarily act like court stenographers for the people in power. Although, as the black and white cinematography would suggest, that time seems like a million miles from now.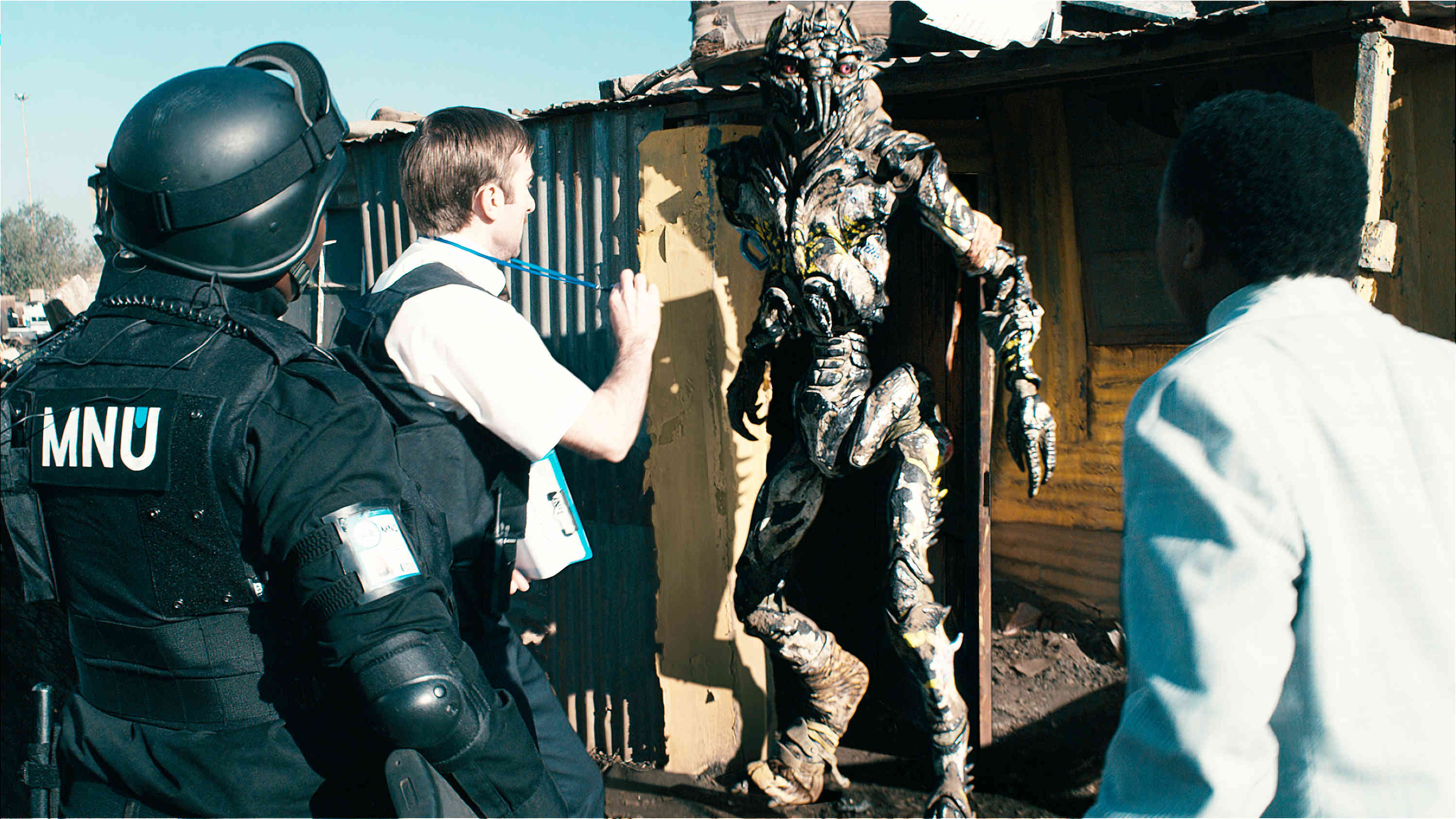 58.
District 9
(2009)
From the original review: "The head of the film, its first forty minutes or so, feels like a Paul Greengrass movie such as Bloody Sunday: a grim, gripping tale of social and political injustice…told in naturalistic, faux-documentary style. But the thorax of District 9 delves deeper into old-school David Cronenberg territory, with all the gooey orifices, transformational anxiety, and throbbing gristle that usually portends…And, by the time we get to the abdomen, we're suddenly watching a George Miller or Jim Cameron-style actioner, with more than enough visceral excitement to keep the antennae twitching. All stitched together, District 9 is quite a remarkable feat of summer sensation."

From the year-end list: "Neil Blomkamp's little (ok, $30 million) [film was the] South African indie that could. Alien Nation meets Cry Freedom with healthy dollops of Cronenberg body horror and old-school Peter Jackson viscera-splatter, District 9 came out as more than the sum of its parts, and…was one of the most purely enjoyable films of the summer."
Now that we've reached a stage where CGI can create pretty much anything, and for relatively cheap, it's good to know we'll still sometimes get unique and original sci-fi movies like District 9, in between the extended toy commercials and sequels based on board games. Neil Blomkamp's film is more than just Invictus with space bugs instead of rugby. It was a certifiably kick-ass sci-fi action film that never let its timely political parable get in the way of the entertainment at hand.
District 9 also works better than most thanks to Sharlto Copley's turn as one of the more memorably conflicted government bureaucrats in sci-fi since Sam Lowry of Information Retrieval. Let's hope Hollywood finds more to do with him than just Mad Dog Murdoch of The A-Team.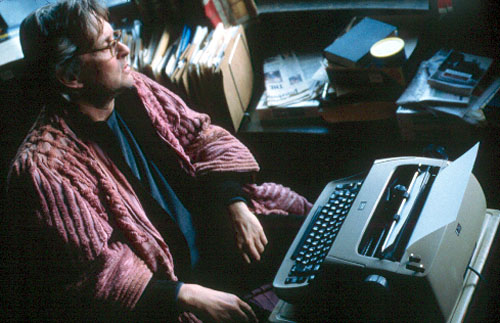 57.
Wonder Boys
(2000)
From the year-end list: "Perfectly captured the rhythms of campus life. The Dylan song didn't hurt either."
"I've been walking forty miles of bad road, if the bible is right, the world will explode. I've been trying to get as far away from myself as I can…" If nothing else, you could argue that Wonder Boys should be on this list just for helping Bob Dylan out of his two-decade rut, and delivering one of the best songs in his entire canon. But even "Things Have Changed" notwithstanding, Curtis Hanson's adaptation of Michael Chabon's novel has its merits. I haven't seen it since it first came out, but I remember thinking Wonder Boys got both the collegiate and the novelistic feel exactly right. At the same time, Hanson's movie felt like both wandering aimlessly around a campus (a diner, a kegger, a faculty party) and reading about someone doing as much. And I remember Michael Douglas and Frances McDormand both being particularly good here. I should probably see it again.
56.
The Man Who Wasn't There
(2001)
From the year-end list: "The Coen brothers stay in form with this beautifully shot film noir. "
With the definite exception of 2004's The Ladykillers (and, depending on your point of view, 2008's Burn after Reading), Joel and Ethan Coen had another banner decade in the Oughts — we're just starting to sing their praises on this list.
Their 2001 outing, The Man Who Wasn't There was one of three attempts by the brothers these past ten years to explore the rules that govern their existential universe, and it's arguably their least successful of the bunch. Nonetheless, it looks absolutely stunning, and, like all Coen movies, there's a lot of great stuff in and around the margins of the film, from Richard Jenkins' alcoholic attorney to Tony Shalhoub's Perry Mason-ish Freddy Riedenschneider.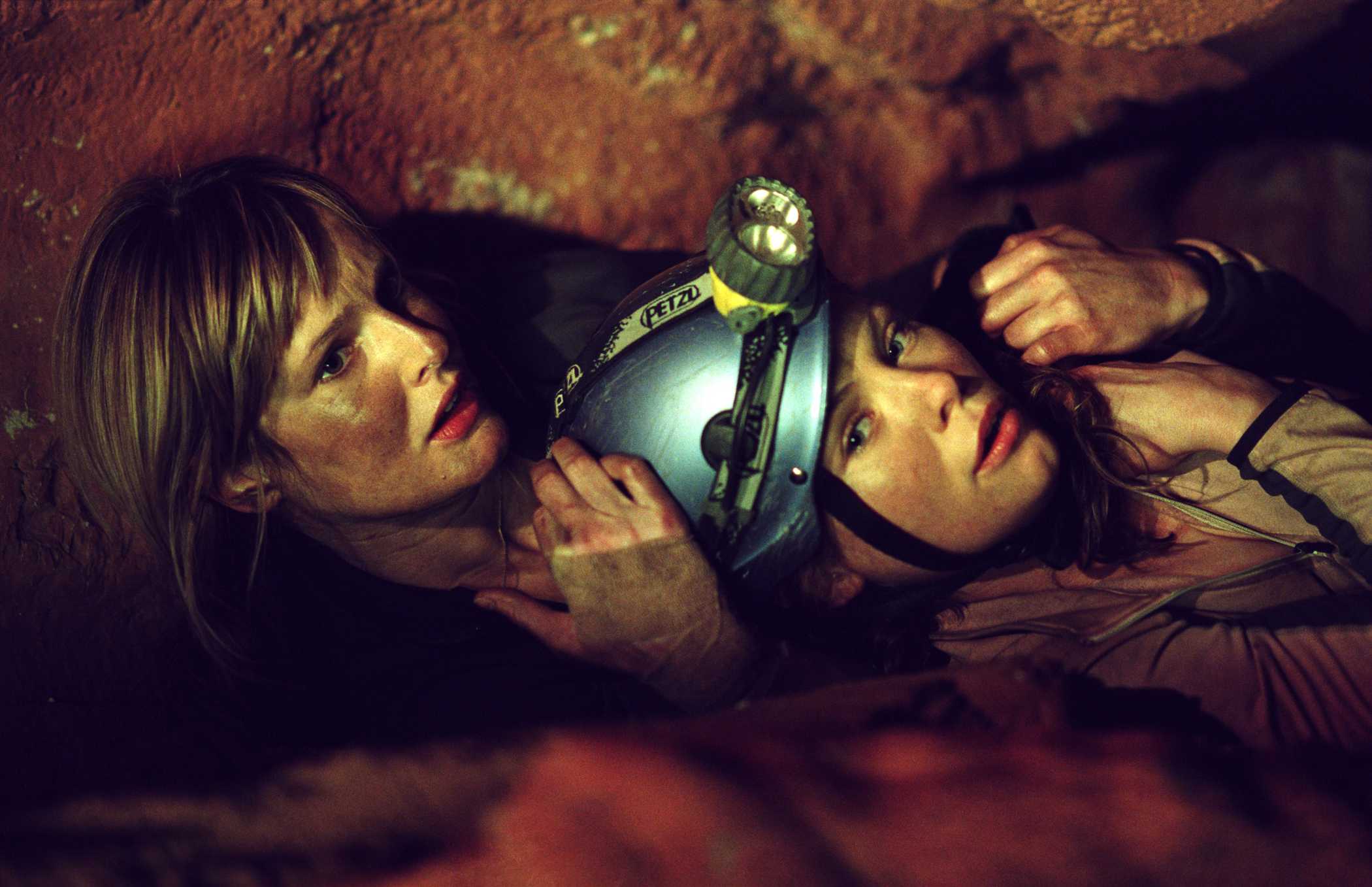 55.
The Descent
(2005)
Like District 9, Neil Marshall's satisfying B-grade horror flick The Descent has the good sense to grift from a lot of great movies. The mote-in-God's-eye opening through the mountains is basically lifted directly from The Shining, and there's more than a little Ripley and Vasquez to Shauna Macdonald and Natalie Jackson Mendoza's characters respectively.
Nonetheless, Marshall's film about an all-female spelunking trip gone horribly wrong eventually works on its own terms. Ok, the subterranean homesick rednecks are never particularly scary, and one of the endings works better than the other. But if you're in any way claustrophobic, some of the underground business in the caves will definitely set your teeth on edge.
I never saw 2002's Dog Soldiers or 2008's Doomsday, but have heard they're not as good. (There's also a straight-to-video sequel to this movie, which I presume is terrible.) Still, for most of its run, The Descent operates at about the level of a quality, old-school John Carpenter movie like Prince of Darkness, The Thing, or They Live! It's a hard groove to pull off decently, but with this film, Marshall nailed it.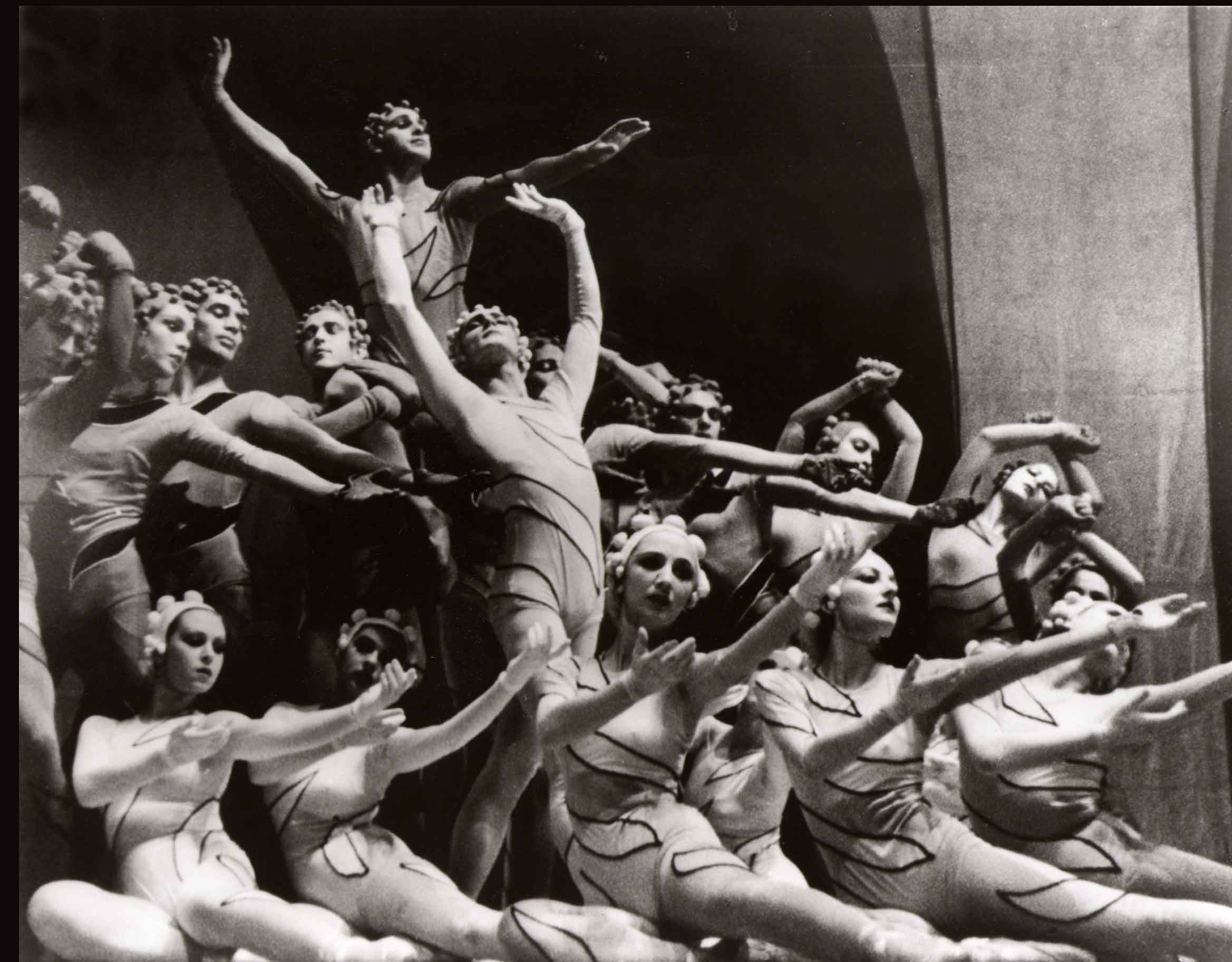 54.
Ballets Russes
(2005)
From the original review: "It's a stunning film, one that I'd even recommend to people who have little-to-no interest in ballet. Like the best documentaries — and this is the best I've seen in some time — Ballets Russes transcends its immediate topic to capture larger and more ephemeral truths…Like a perfectly executed ensemble piece, Ballets Russes can take your breath away."

From the year-end list: "Penguins and comedians, to the wings — The lively survivors of the Ballets Russes are now on center stage. Like the best in dance itself, this captivating, transporting documentary was at once of the moment and timeless."
Documentaries are almost assuredly under-appreciated on this list, mainly because I tend to miss a lot of the very well-reviewed ones, like No End in Sight and Taxi to the Dark Side. Dayna Goldfine and Dan Geller's Ballets Russes I did see, tho', and it's a definite keeper. As much about both the inexorable passage of time and the eternal joys of dance (note the Russian octogenarians reliving their old duets) as the story of how ballet became a widespread pastime in America, Ballets Russes feels like it manages to capture something elusive about the human condition during the course of its run. True, I have more of a connection to the ballet world than a lot of moviegoers, but I still think this film will strike a chord with almost anyone with an open mind and a tendency to tap their feet.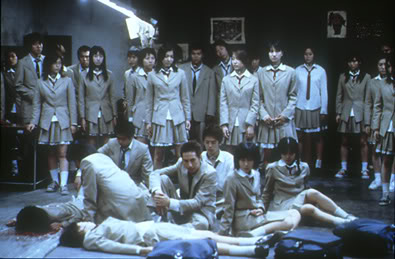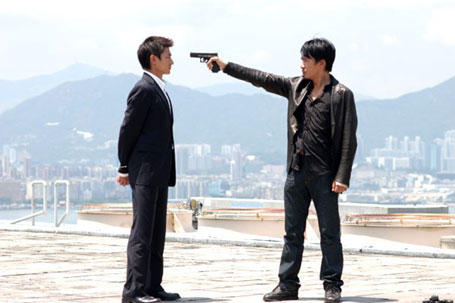 53.
Battle Royale
(2000) /
Infernal Affairs
(2002)
There can be only one. Those of you similarly disappointed with how Quentin Tarantino mishandled Go-Go-Yubari (a.k.a. a "homicidal Japanese schoolgirl with a tricked-up mace") in Kill Bill, Vol. I need only go back to the source: Battle Royale. If you've never heard of it, this 2000 film by Kinji Fukasaku involves dozens of schoolchildren forced into a death match by an evil government program and a ticked-off teacher, the villainous (and iconic) Takeshi "Beat" Kitano.
Ok, yes, the film may be in questionable taste here in the post-Columbine era, and it's spawned much concern about copycat behavior in Japan. (For those outraged by this film, I recommend Gus Van Sant's Elephant as a tonic.) Take it for what it is, tho', and Battle Royale is pretty solid entertainment, vaguely similar in a way to The Great Escape in wondering which characters are going to make it through the maelstrom. (The answer: Not many.)
Now, what does the Hong Kong "deep undercover" cops-and-robbers flick Infernal Affairs have to do with Battle Royale? Well, not much at all really, other than both being examples of quality Asian cinema (albeit from different nations.) But it occurred to me over the course of writing this second installment of the list that I'd forgotten about Infernal Affairs — I originally thought it came out in the 90's — and so I had to slot it in somewhere. (This isn't unprecedented. As you'll see, there are a couple of times in the final 50 where films share the same slot.)
In any event, Infernal Affairs in, in my opinion, a superior film to its much-vaunted 2006 American remake, The Departed. To put it crudely but effectively, Infernal Affairs is old-school Jack Nicholson. It's sharp and fast and lean and lethal. The Departed, on the other hand, was modern "Jack." It was bloated and hammy and self-mocking and probably should've been reined in a tad. IA also had the benefit of getting there first, of course. And, if nothing else, Infernal Affairs has one of the coolest men in the world in its favor in Tony Leung (in the eventual di Caprio role), which is no small thing.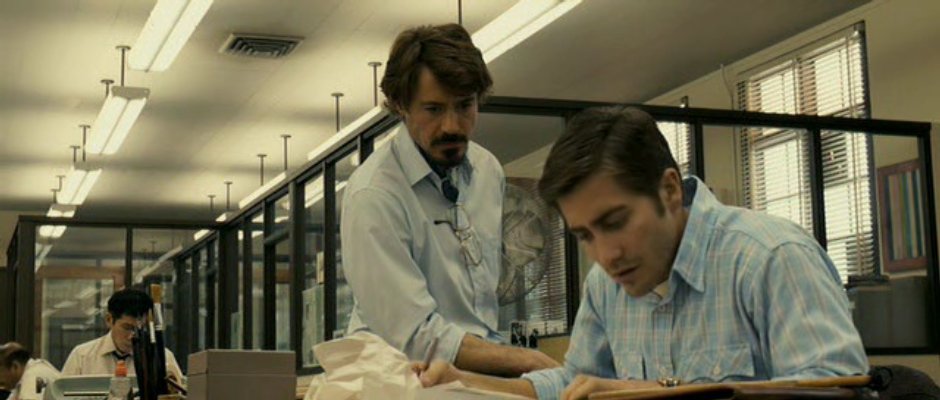 52.
Zodiac
(2007)
From the original review: "[A] somber and engaging character study of the cops, journalists, and suspects caught up in the hunt for San Francisco's most famous murderer, and a moody meditation on how, as months yield to years without a definitive answer, the long, tiring search for truth comes to haunt and drain their lives away…The film is kind enough to give the audience something of a sense of closure at the end, but Zodiac is most intriguing when it leaves all doors open, and lets its characters get thrown about in the bruising wind that ensues."

From the year-end list: "The best film of the spring. What at first looked to be another stylish David Fincher serial killer flick is instead a moody and haunting police procedural about the search for a seemingly unknowable truth…Reveling in the daily investigatory minutiae that also comprise much of The Wire and Law and Order, and arguably boasting the best ensemble cast of the year, Zodiac is a troubling and open-ended inquiry…Whatever Dirty Harry may suggest to the contrary, the Zodiac remains elusive."
(For what it's worth, this film and the next one were flicks I traded back-and-forth for awhile, and both moved in and out of the top fifty.) A movie that makes for a good double-feature with one of the forgotten gems of 1999, Spike Lee's Summer of Sam, David Fincher's Zodiac works best when it foregoes the Se7en-like machinations of the actual San Francisco murders and concentrates on the Grail-like quest for certainty in an uncertain world.
Over the course of a draining decade of looking for "The Truth," Jake Gyllenhaal, Robert Downey Jr., Mark Ruffalo, and the other cops and journalists on the trail all go slightly mad. The archives become a maze, the police records a bewildering thicket of potential clues and possible leads. In the real world, Zodiac suggests, Dirty Harry doesn't solve the case, and Sam Waterston and Jerry Orbach don't get to the bottom of it all in 48 minutes + commercials. In the real world, you never know…you just never know.
51.
28 Weeks Later
(2007)
From the original review: "One of the things I admired most about this very dark film is its sheer remorselessness. From its opening moments and throughout, it instills a visceral fight-or-flight dread in the audience and refuses to let us off the hook, inviting us less to tsk-tsk about the hubris of American military overreaching and more to ponder what measures — moral, immoral, amoral — we might take to ensure our own survival in this nightmarish universe. Time and time again in 28 Weeks Later, compassion is absolutely the wrong answer to the problem at hand, and…people surprise you with the decisions they choose to make with their backs to the wall."

From the year-end list: "Sir, we appear to have lost control of the Green Zone…Shall I send in the air support? Zombie flicks have been a choice staple for political allegory since the early days of Romero, but one of the strengths of Juan Carlos Fresnadillo's merciless 28 Weeks Later — perhaps the best horror sequel since James Cameron's Aliens — is that it foregoes the 1:1 sermonizing about failed reconstructions and American hubris whenever it gets in the way of the nightmare scenario at hand…There's little time for moralizing in the dark, wretched heart of 28 Weeks Later: In fact, the right thing to do is often suicide, or worse. You pretty much have only one viable option: run like hell.""
A considerable improvement over the uneven first installment by Danny Boyle and Alexa Garland, Juan Carlos Fresnadillo's 28 Weeks Later is an absolutely ruthless film. Beginning with Robert Carlyle's Hobson's choice in the English countryside (Well, what would you do? Really? Are you sure?), Fresnadillo's film thrusts you into several ghastly and viscerally immediate situations where morality isn't much of a guide. Is General String (Idris Elba) right to order the immediate death of Alice the found survivor (Catherine McCormack)? Should Sniper Jeremy Renner be shooting civilians or not? Should doctor Rose Byrne really be helping these two children, also potential carriers of the virus?
There are no easy solutions in 28 Weeks Later — That's part of what makes it so horrible (and the film so good). As with District 9, Fresnadillo doesn't let the political parable (here, the American reconstruction of Iraq) interfere with the story he wants to tell. And that story is very dark indeed.
Halfway there, folks. Part III to follow sometime on the other side of Santa…In fact, it's here!
Happy New Year, y'all…and I hope everyone had a safe and happy New Year's Eve. After a hectic past couple of days (which included spending most of my 28th birthday (12/29) driving up the East Coast in holiday traffic and entertaining some old DC friends for a pre-New Years get-together on the 30th), I decided to spend the evening with Berkeley, DoD, and a 4-pack of Guinness. All in all, I quite enjoyed 2002 (Year in Pics), even if the leadership deficit in Washington often seemed despairingly large this past year. But, at any rate, here's looking to a peaceful, fun-filled, and productive 2003 the world over.
Of course, as in the past two years, a 2003 post means it's now time for the 2002 Movie Roundup. (As per usual, movies I haven't seen yet aren't listed, which this year include The 25th Hour, About Schmidt, Bowling for Columbine, Bloody Sunday, Catch Me If You Can, Confessions of a Dangerous Mind, Far From Heaven, Frida, The Hours, Jackass, The Ring, and Chicago.) So without further ado, my
Top 20 Films of the Year:
1. Lord of the Rings: The Two Towers.
No surprise here. Although
Fellowship
may have delivered a bigger emotional impact,
Peter Jackson
and co. handled massive expectations with aplomb and deftly translated
J.R.R. Tolkien
's most unwieldy tome (
Silmarillion
notwithstanding) into the
action-epic of the year
. (Speaking of action-epics, given that both
Braveheart
and
Gladiator
actually
won
Best Picture,
TTT
deserves a nomination, if nothing else.) And the creation of
Gollum
as the first fully-realized digital character in motion picture history not only stands as an award-worthy breakthrough in bridging special effects and acting, but also as another sad reminder of the disrepute to which the
other fanboy/girl trilogy
has fallen. The bar has been raised…again.
2. In the Bedroom
. A hold-over from 2001 that I happened to see in the first weeks of 2002. I can't remember another film this year that resonated so strongly. While I think last year's award hoopla erred too far toward the histrionics of
Sissy Spacek
and away from the nuanced performance of
Tom Wilkinson
, the moral center of the film,
In the Bedroom
nevertheless powerfully depicts how ostensibly "good" people eventually find themselves contemplating and acting out evil deeds. Plenty of complex and memorable scenes throughout, such as Wilkinson watching the distracted guests at his son's funeral, or his pained attempt to forge a connection with
Marisa Tomei
, a woman he has nothing in common with except loss. A very, very good film that, if anyone has the stomach for a double dose of grief, bookends nicely with
Atom Egoyan
's
The Sweet Hereafter
.
3. About a Boy. A surprisingly good translation of Nick Hornby's third book. A bit fluffy, perhaps, and as I noted here I'm not sure how I feel about some of the underlying premises, but very well done nonetheless. After all, making both Hugh Grant and a precocious young British lad palatable at the same time is no easy task.
4. Secretary. A heart-warming romantic comedy about a boy, a girl, and the spankings that brought them together. Both James Spader and Maggie Gyllenhaal are great in this pic, although I'm getting kinda sick of Jeremy Davies (his overly mannered performance in Solaris was distracting too.) While critics are falling all over themselves about the admittedly good Y Tu Mama Tambien for its frank look at sex, I found Secretary the better, and sexier, film of the two. (I thought Y Tu Mama Tambien was more explicit than it was erotic, which is a small difference but a difference nonetheless.) A lot of the people I've spoken with had trouble with the ending, but I thought that it ended the only way it really could…any other way would've given the audience the out they wanted to condemn these people as sideshow freaks. By treating this bizarre couple as just another relationship in a weird wide world, Secretary offers a portrait of two people "just right" for each other that is much more touching than the average, vanilla romantic comedy.
5. Adaptation. Despite what the sidebar says, I sense this one slipping in my mind while Gangs of New York moves up. Nevertheless, Adaptation was an interesting and fun mind twister for the first two acts (worth the price of admission for the nut muffin reward monologue alone, not to mention Meryl Streep's stoned dial tone.) Like Secretary, I see how the movie had to end the way it did, but still…I think there's something to be said for Stephanie Zacharek's position that, in a year when some very good adaptations were made (2 of the top 3 here, for example), Kaufman's self-referential, Hollywood-hating story here is a trifle indulgent. But, for now, it holds the five spot.
6. Spiderman. Probably the second-best foray in yet another lousy crop of summer films (after Minority Report), but at first viewing much more fun than Spielberg's film. Spidey was a great movie for the first hour, but got a bit perfunctory in the second. On the plus side, I don't think you could have handled the origin story (or J. Jonah Jameson, for that matter) any better, but the Green Goblin still seems grossly misconceived. (Casting Willem DaFoe, who looks just like the Goblin without the mask on, and then fitting him with a static, sterile green faceplate, is just a mistake of monumental proportions.) And I'm still not too big on Kirsten Dunst as MJ – she screams Gwen Stacy at me. But, fanboy issues aside, Sam Raimi's movie was still probably the most satisfying summer film this year.
7. Gangs of New York. I find my thoughts dwelling on this one, so much so that I'm probably going to end up seeing it again. Ultimately, I think Gangs is an almost-great but deeply-flawed film. When you see Daniel Day-Lewis, Jim Broadbent, Liam Neeson, John C. Reilly, or the wonderful recreation of Five Points, you get a sense that this could be one for the ages. But then the film just flounders around for too long with no sense of purpose, other than a meager and barely compelling revenge story. Scorsese's beautiful tracking shot of Irish immigrants disembarking in NY harbor and promptly entering the Union army (as coffins are unloaded from nearby ships) gives you a sense of how amazing this film could have been. But, most of the time, you're just wondering how much longer it's going to take for Amsterdam DiCaprio to get his act together. And the draft riots issues have already been discussed at length here.
8. Solaris. Like GONY, this film feels like a missed opportunity (and like GONY, I would very much like to see the rumored 45-minute-longer cut.) I liked Solaris more than most people I've talked to, but in the end it seemed a bit narrowly conceived. It was a very interesting rumination on relationships and memory – you ultimately know and love the stylized people created in your head more than the actual persons in front of you – but after awhile, I felt like shaking George Clooney and saying "Look, I know it's weird to see your dead wife again and all, but there's an alien intelligence trying to communicate with you outside the ship." That sense of wonder that should have accompanied much of the film is lost by the time Clooney arrives on the space station. And like I said before, Jeremy Davies is distracting.
9. Minority Report. This film was probably the best of the summer movies, even if Spiderman was more satisfying. I liked the brooding atmosphere of this film – if anything, Spielberg's vision here makes AI look better too. But, sadly, the film completely falls apart at the end. As I said here, I'm of the school that everything that happens after Tom Cruise is placed in Tim Blake Nelson's jail is a Brazil-like vision. This view might explain the ending but, if the picture were better, it wouldn't need explaining.
10. Y Tu Mama Tambien. As noted above, I think this film is getting overrated in many critics' end-of-year lists, but it was still quite good. Like Secretary, the way sex is handled in the picture makes your realize how cartoonish it's become in most American films (where, as Ebert notes here, the closest thing one gets to mature handling of sexual themes is in throwaway garbage like American Pie.) And Maribel Verdu makes for a intriguing Mrs. Robinson of sorts. But, to me much of the voice-over throughout, and particularly in the "two years later" final scene, was hamhanded. For example, when our trio is driving through Mexico and pass a car wreck which is then contextualized by our Amelie-esque narrator, I was completely taken out of the picture. Good, but not as good as it's currently being made out to be.
11. Blade 2: Bloodhunt. A popcorn film that delivered on exactly the level I wanted it to, from iconic Reservoir Dogs-type shots of Blade and the Bloodpack to an Aliens-like "we're not all going to make it" rampage in the sewers of Prague. There's no scene in the movie as good as the meatpacking plant vampire rave that kicks off the first film, but that'd be a hard moment to top anyway. Well-done throughout as a bubble-gum, comic book movie.
12. Below. Speaking of popcorn flicks, David Twohy's Below got undeservedly buried by Dimension films when, at least for the first hour and a half, it was quite a spooky ghost story in the Twilight Zone tradition. Like Minority Report, it completely fell apart in the end, of course, but I always like to see Bruce Greenwood and Olivia Williams get some work, and Holt McCallany's scene in the mirror still gives me the shivers.
13. The Bourne Identity. Another surprise. While the new Bond flick only stayed intriguing for the first thirty minutes or so, this film managed to hold my interest throughout. Matt Damon is believable, Chris Cooper and Brian Cox do excellent character work here, and Franka Potente and Clive Owen help lend the film an authentic European flavor that's gone completely AWOL over in the Bond series. (Sadly, though, Columbia's own Julia Stiles seems grossly miscast.) If the first film's any indication, I'd rather see another Bourne than another Bond.
14. Undercover Brother. For that matter, I'd rather see another Brother than another Bond too. An Austin Powers ripoff, perhaps, but I found it funnier than Goldmember. The scene with Doogie testing Eddie Griffin's grasp of whiteness by asking him Friends trivia was a classic in and of itself.
15. Blue Crush. Laugh if you want, but Blue Crush was a surprisingly solid grrl power film, with appealing characters, realistic interactions, and beautiful Hawaii scenery. The 8 Mile for the X-Games set, Blue Crush was a much better film than I had expected, even if some of the CGI surfing effects are pretty lame. Extra points for the Blestenation hip-hop remix of Bananarama's "Cruel Summer," which really should have been the summer joint of 2002.
16. Insomnia. Like Minority Report and Below, Christopher Nolan's third effort starts well but peters out by the end. I liked it, but didn't find Al Pacino half as good as everyone made him out to be. As for Robin Williams, he's good in this, as he was in the rather stilted One Hour Photo, but you don't get points for simply not being zany. An ok film that falls in the rankings for the insipid ending and for wasting the lovely Maura Tierney.
17. 8 Mile. It's Rocky for skinny white guys! Flashdance without the welding! Yeah, this film is predictable, but like Curtis Hanson's earlier Wonder Boys, it evokes an air of authenticity that carries the picture through its rough spots. I particularly liked the banter between "Rabbit" and his friends, even if some of them, most notably Sol (Omar Miller, the big tubby playa) and DJ Iz (De'Angelo Wilson, the earnest black power guru) seem like direct lifts of Stacy and Sharif from the much-better Menace II Society. And, although he's pretty good in this film as himself, I still can't really see Eminem having much of a movie career, even if his name was being bandied about for Bruce Wayne in Batman: Year One.
18. Austin Powers in Goldmember. Goldmember wasn't bad, either. In fact, I liked it more than the second one and found the character of Goldmember inexplicably funny (must have been the youth in Belgium.) That being said, Mike Myers is still throwing the kitchen sink at you in these films. It'd be a better film if some of the unfunnier stuff was pared down.
19. Amelie. An interesting update on the romantic comedy and assuredly a better Jeunet film than Alien: Resurrection, but in the end it left me a bit cold. Would you really want this doe-eyed French girl interfering in your life the way she so often does? I doubt it. The "new" letter from the long-dead husband seems particularly jarring.
20. Red Dragon. A completely unnecessary film, tantamount to remaking Silence of the Lambs with Ed Norton as Clarisse. That being said, it was much better than Ridley Scott's bloated, boring Hannibal, and there is plenty of good character work here, particularly from Ralph Fiennes, Emily Watson, Harvey Keitel, and Phillip Seymour Hoffman.
Biggest Disappointments: Road to Perdition, Signs, and, yes, Star Wars Episode II: Attack of the Clones.
Most Annoying Phenomenon: My Big Fat Greek Wedding All I can say is, been there, done that.
Best Actor: Daniel Day Lewis, Gangs of New York. Runner-Up: Tom Wilkinson, In the Bedroom
Best Actress: Maggie Gyllenhaal, Secretary. Runner-up: Maribel Verdu, Y Tu Mama Tambien
Best Supporting Actor: Andy Serkis, LOTR: The Two Towers. Runner-Up: Jim Broadbent, Gangs of New York.
Best Supporting Actress: Meryl Streep, Adaptation. Runner-up: Toni Collette, About a Boy.
And, finally, here's to 2003, a year which will witness a Hulk, two Matrices, and hopefully the biggest baddest epic of them all, Lord of the Rings: Return of the King.