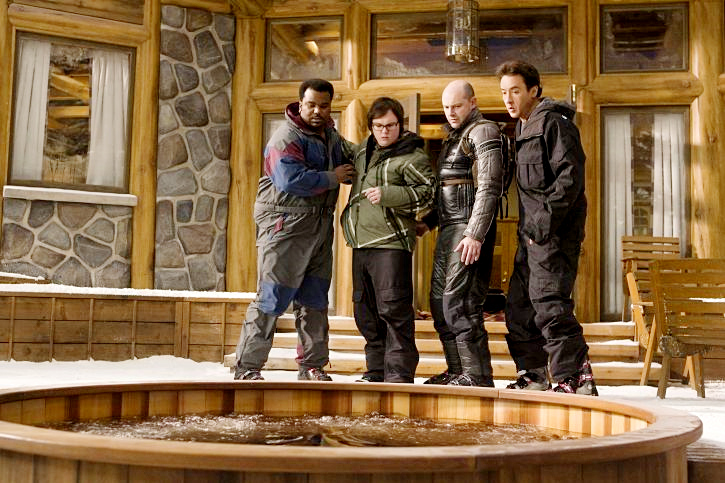 To get in the proper mood for
Steve Pink's '80s throwback (in more ways than one) Hot Tub Time Machine
after a long week at work, I made sure to sidle up to the bar just beforehand — conveniently located, at my "local" (Regal Gallery Place in DC's Chinatown), just below the theater — and knock down a shot-and-pint (of Jamesons and Guinness respectively, of course.) And my best advice for those of you still thinking about testing these bubbling, lurid, time-traveling waters: Better make that a double.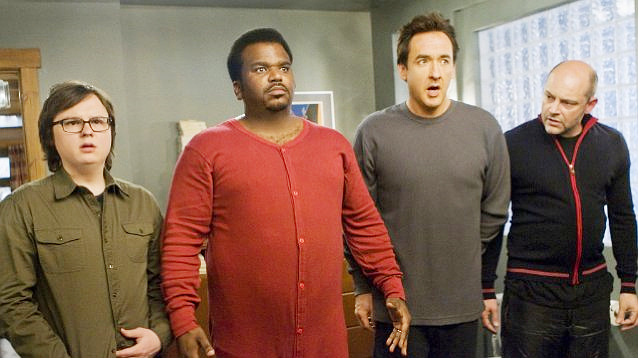 My feelings about Hot Tub Time Machine are pretty close to how I came down on The Hangover last summer. It's got some funny moments, sure, and I admire its throw-everything-and-see-what-sticks, Anchorman-y approach to humor. (This is vastly preferable to the "let's make the audience better people in three acts" schtick that was in comedy vogue for awhile — See, for example, Anger Management.) It's also sort of a kick to see John Cusack, after fighting it for decades, willingly slumming back to his Savage Steve Holland years, and, I'll concede, the "I want my two dollars" joke made me smile.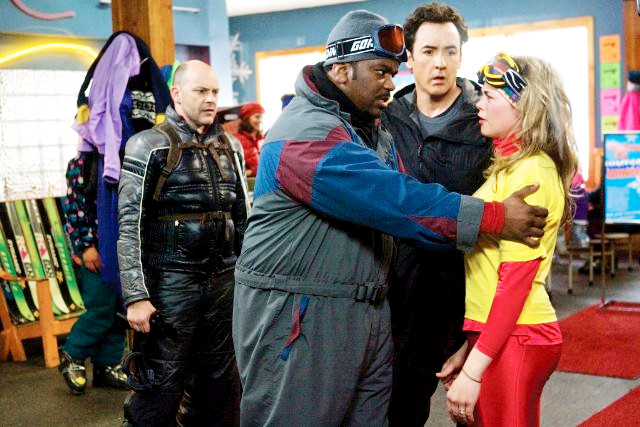 At the same time, and maybe even more than The Hangover (which is no small feat), Hot Tub Time Machine feels like it was penned by and for the Bill "Sportsguy" Simmons nation. You could argue its casual misogyny, homophobia, and dumb raunchiness-for-the-sake-of-it is all part of the return-to-the-'80's experience, but my guess is it's really all about catering to the army of 21st century mooks that enlist under the Sportsguy's standard. I mean, do you know the street value of that mountain? (As an aside, I actually think Simmons is a decent writer, and am crawling through his Book of Basketball at the moment. The problem isn't his talent or his bball savvy, but his judgment and his (lack of) taste. Nor do I blame him for creating mook culture — he's just one of its clearest expressions.)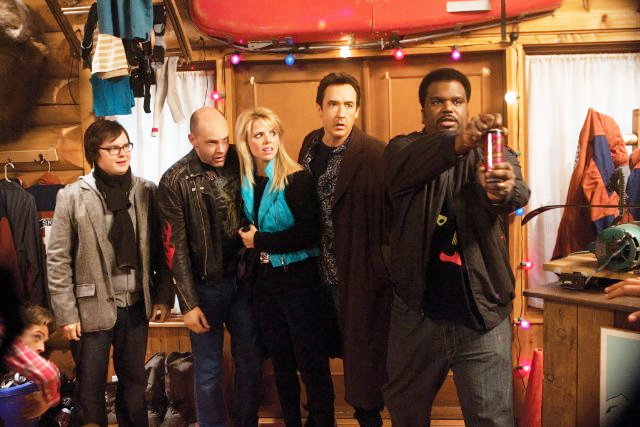 More on the mookness of it all in a bit, but, first, the high-concept gist: Just like The Hangover, we have three friends (Cusack, Rob Corddry, Craig Robinson) and a hanger-on (Clark Duke) trying to find themselves by taking a memorable, life-altering Lost Weekend — only this time, it's in The Past. Adam (Cusack) has just been dumped by his girlfriend and has his Second Life-addicted nephew (Duke) living in the basement. Nick (Robinson) is a once-promising singer who gave up his dreams for a girl and now spends his day as a personal trainer for dogs. (He touches poo. Ha. That's funny. Poo.) And Lou (Corddry), the Galifianakis of the bunch, is a perennial loser who may or may not have recently tried to kill himself. (A wasted Corddry plunking out '80's power-chords on his dashboard is funny, and one of the many ways he often rises above the material here.)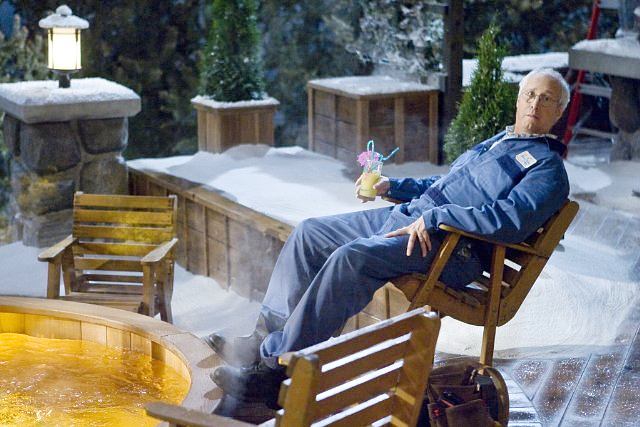 So, because of Lou's maybe-meltdown, this ungainly foursome head back to the ski resort idyll of their youth for some manly bonding. Problem is, the Great Recession has hit hard and the place has gone to hell — there'll be no skiing the K-12 here. And, just when the weekend seems like a total wash, our heroes stumble into the hot tub in question and stumble out 24 years earlier, in the year of our lord 1986 — Adam is still with the "Great White Buffalo" he never should've dumped, Nick is still rocking the Kid-'n'-Play-style hi-top, Lou is…well, still a loser, and Jacob the nephew shouldn't even exist, and thus has a phasing-in-and-out, Marty McFly in Back to the Future II problem. (And speaking of the McFlys, Crispin "George McFly" Glover is skulking around too, as is Chevy Chase.) Fire up the day-glo and the hair metal, y'all, 'cause it's time to partay like it's the MTV era…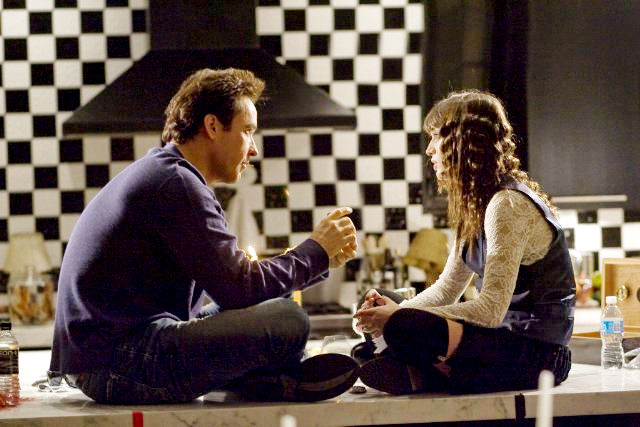 And so they do, meaning all the fashion faux-pas and Wang Chung-ish blasts from the past you might imagine from living in the Eighties. But, while there are still a few funny moments here and there, this Hot Tub loses steam and falls ever more flat the longer they spend in the Me Decade. I find legwarmers and Members Only jackets as ridiculous as the next guy, but there are only so many "lordy, the sartorial sense was terrible back then" jokes you can make over the course of two hours. And, other than that, the movie just meanders through its second half without much purpose, or even much sense. Cusack ingests enough shrooms to give the good doctor pause, and is playing Sixteen Candles kissy-face with Lizzy Caplan half an hour later.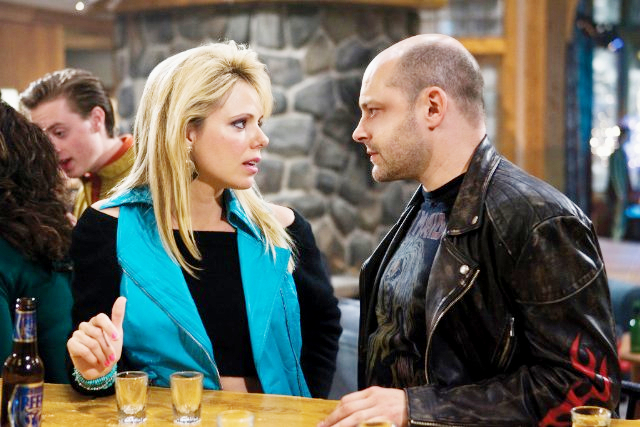 And then there're all the fratboyisms and mookish behavior. To be clear, I wasn't offended by Hot Tub, per se. (Case in point: I put Jackass in my top 100 films of last decade.) And, to be sure, the sensibilities were different back then in Ronald Reagan's America — just look at much of Police Academy or Revenge of the Nerds, or even the aforementioned Back to the Future, where, as @kellyoxford recently noted, George wins Marty's future mom's heart basically by stopping her from being date raped.
Still, by too often resorting in puerile shenanigans — look, Rob Corddry just got pee on his face! — and particularly in portraying every gal that comes along (Caplan aside) as a dim-witted sex toy, the movie just feels lazy, half-assed, and, well, mook. I don't want to be the Billy Zabka of this tale, but, while I'm all for nostalgifying the '80s for a few laughs, at some point, quite frankly, it's time to grow up.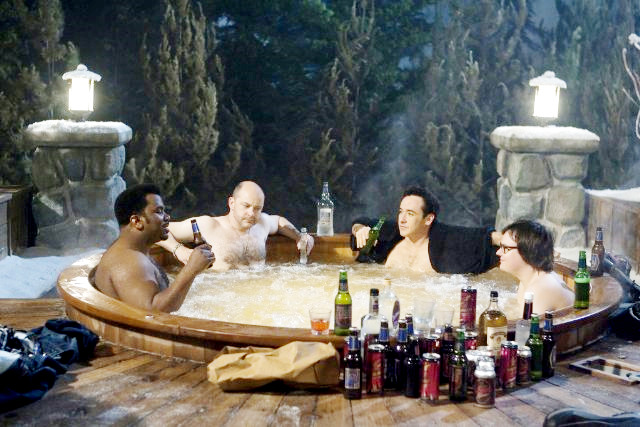 In the trailer bin, Russell Crowe grunts, growls, and generally looks very Maximus-ish in the new trailer for Ridley Scott's Robin Hood, also with William Hurt, Mark Strong, Max von Sydow, Oscar Isaac, and Cate Blanchett (nee Sienna Miller) as Maid Marian. And two colorful new trailers for Disney's Alice in Wonderland suggest Tim Burton might have gone pretty far afield from the original Lewis Carroll tome, and that Johnny Depp might get Willy Wonka-annoying here after awhile.
Update: But does he know the street value of that mountain? It's The Hangover meets Back to the Future as John Cusack, Rob Corddry, Craig Robinson, and Clark Duke travel back to 1986 in a Hot Tub Time Machine, also with Lizzy Caplan, Crispin Glover, and Chevy Chase. Um, yeah.