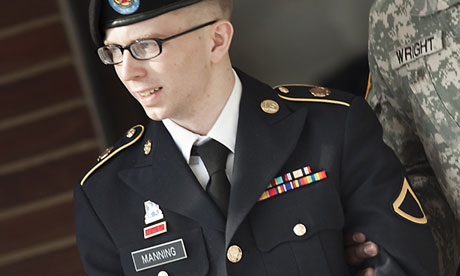 "The 'aiding the enemy; charge was so preposterous on its face, and so evil in its intent, that it tended to obscure how contrary to acceptable American jurisprudence the entire situation — from his detention to his trial — regarding Bradley Manning was. But it was in that charge that this administration — this Democratic administration, headed by a former professor of constitutional law — demonstrated its willingness, if not its eagerness — to elevate information into a tin god to whom we are all suppliants, and against whom we have no civil rights worthy of the name."
As the Bradley Manning trial moves to sentencing — I wrote about the case here in March — Esquire's Charlie Pierce wonders again how we got so far down the rabbit hole. Honestly, we should have a pretty good sense, at this late date, that prosecuting anyone under the godforsaken Espionage Act is generally a terrible idea.
Referring to the most venomous of the charges, which Manning thankfully escaped — that he was willfully "aiding the Enemy" by blowing the whistle on Army misdeeds — Pierce writes: "That anyone in this government thought this is a good idea is something worth studying. Manning's going to go to jail from now until Christ alone knows when. The people who thought this up are still going to have good government jobs. Something's not right with that." Amen.