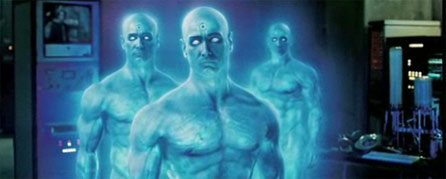 "The world will look up and shout, 'Save Us!,' and I will whisper, 'No.'" Forget midnight — the teaser for Zack Snyder's Watchmen has leaked. I must say, Dr. Manhattan looks better than I had anticipated (I like the money shot of him, the American Superpower, in 'Nam), Rorschach looks great, and the Comedian seems ok, but I have quibbles with Ozymandias (too young), Nite-Owl (too buff) and Silk Spectre (too vamp). Still, I'll reserve full judgment until I've watched it a few dozen more times. In the meantime, how weird is it that there's actually a trailer for Watchmen out? We seem to be living in the Golden Age of comic book movies. Update: Like most things in this world, it looks much better in HD.
Update 2: "Based on footage Snyder screened for EW, at least, the work seems to have been worth it. Multiple scenes — the Comedian's murder, Rorschach's introduction, Dr. Manhattan's origin, and a hypnotic title sequence that shutter-flies through the history of Watchmen America, set to Bob Dylan's 'The Times They Are A-Changin' — suggest a film that may capture more of Watchmen than anyone thought possible." Hrm. Watchmen makes the EW Comicon cover — see below — and their story includes the first pic of Carla Gugino as Sally Jupiter. Sadly, Ozy's still not looking so hot…maybe they should've gone with Jude Law of the Rorschach tattoo, since he was practically begging for the part. (And is it just me or does Crudup-Manhattan look eerily like Kevin Spacey?)
Update 3: Speaking of Sally Jupiter, AICN scores a pinup of the heroine, in the style of Alberto Vargas and in keeping with the WWII-era aesthetic of The Minutemen.