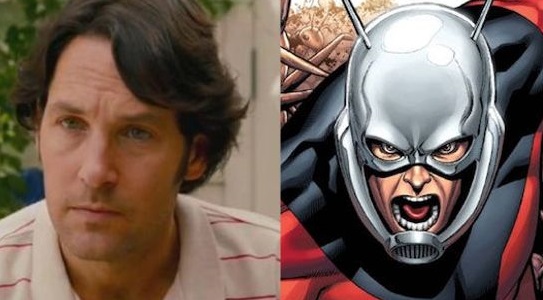 Continuing Marvel's trend of outside-the-box, tone-perfect casting,
Paul Rudd will play Ant-Man for Edgar Wright
, presumably as Scott Lang and not Henry Pym.
"Wright's original plans for the film called for both Pym and the later Ant-Man of the comics, Scott Lang, to appear in the feature…'[We] see Pym as Ant-Man in action in the 60's, in sort of "Tales to Astonish" mode basically, and then the contemporary, sort of flash-forward, is Scott Lang's story, and how he comes to acquire the suit, how he crosses paths with Henry Pym, and then, in an interesting sort of Machiavellian way, teams up with him.'"
Important to note, the casting of Paul Rudd means we now also have a teaser for Edgar Wright's ANT-MAN. (If that didn't make any sense to you, see this.) Also, word is Ant-Man's insectophile colleague, the Wasp, might well be played by Rashida Jones, Rudd's I Love You, Man co-star (and a college acquaintance of mine). Good choice!
Update: "I've been dying to do a Marvel picture for so long. The script is really fun, the director is really good." Ant-Man gets its Henry Pym in Michael Douglas.