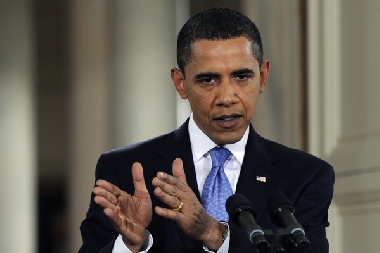 "I actually think that the state secret doctrine should be modified. I think right how it's over-broad. But keep in mind what happens is, we come into office, we're in for a week — and suddenly we've got a court filing that's coming up. And so we don't have the time to effectively think through what, exactly, should a overarching reform of that doctrine take. We've got to respond to the immediate case in front of us."
In case you missed it last night — I'll concede, I'd forgotten about the presser and was watching the NBA playoffs — President Obama was finally asked about his troubling continuation of Dubya's state secrets policy during his "100 Days" press conference last night. [Full transcript.] And his answer — basically, the justice department turns like a battleship, but we're on the case — is somewhat heartening, I guess, in that the president seems to concede anew that the privilege has been abused of late, even under his own administration. But, as Salon's Glenn Greenwald reminds us today, the Obama/Holder JD has done a good bit more than just "stay the course" on states' secrets since coming into office, and last night's excuse — well, despite our actions over 100 days, this isn't *really* our policy — isn't going to hold water for much longer.
Also last night, while sort of pressed into it by ABC News' Jake Tapper, President Obama said in no uncertain terms both that waterboarding is torture (correct) and that, as we all know, his predecessor's administration sanctioned it: "I believe that waterboarding was torture. And I think that the — whatever legal rationales were used, it was a mistake." Now, it isn't the president's call to move forward on an investigation and possible prosecutions at this point — that task falls to Attorney General Holder. Still, if what the president said last night is true, and it obviously is, then AG Holder has only one choice moving forward. It's time to get to the bottom of this.