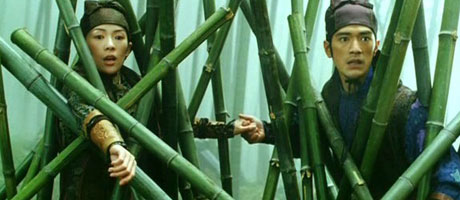 Going in to Zhang Yimou's
House of Flying Daggers
, I wasn't looking for much more than
Hero
without the scary uber-nationalist politics. Unfortunately, while the movie contains some similarly entrancing art direction and foregos any ruminations on leadership this time around,
Daggers
also falls behind
Hero
in the story and action department. Hardcore kung-fu fans will probably love this
House
, but to be honest I got kinda bored with it.
It's clear early on in House of Flying Daggers that Zhang isn't shooting for anything with the ambition and gravitas of Hero…Instead, we've got a plot strung together with a number of genre cliches, most notably the "deep" undercover cop (Takeshi Kaneshiro) questioning his motivation and the sixth-sense-laden blind girl (Zhang Zi Yi, lovely as always) who improbably kicks more ass than Rutger Hauer in Blind Fury. Hey, genre exercises are cool…let's get to the fighting. Alas, there seemed to be a lot of filler between the action setpieces, and I found myself hoping through several unmemorable meet-cute scenes that more low-level flunky guards would show up and be efficiently dispatched.
With that in mind, I know it's a little late to be complaining about the realism of kung-fu sequences. But the fights in House of Flying Daggers are so stylized and farfetched that I didn't find them all that engaging — there was no real sense of danger to be had. In Crouching Tiger, Hero and countless lesser kung-fu films, I never found myself thinking so much about the logistics of what's going on, but Daggers seems to beg questions like, "Where are these tree-flying policemen obtaining their inexhaustible supply of bamboo spears?" and "How straight and true could you throw a dagger if gravity was of absolutely no consequence?" Perhaps it's unfair to call out this House for its fantastical fight sequences, but for one reason or another my disbelief was suspended less than usual.
At any rate, not to give the whole game away, but the movie does eventually contain some unexpected twists in the middle going. That being said, the denouement of the film also suffers from one of the most egregious dead-"not dead" reverses I've seen in recent memory. If martial arts films are your bag, then you'll probably find House of Flying Daggers an operatic tale of love, passion, and betrayal. But, as for me, I kinda wish these two young lovers had spent less time being smitten and more time smoting.