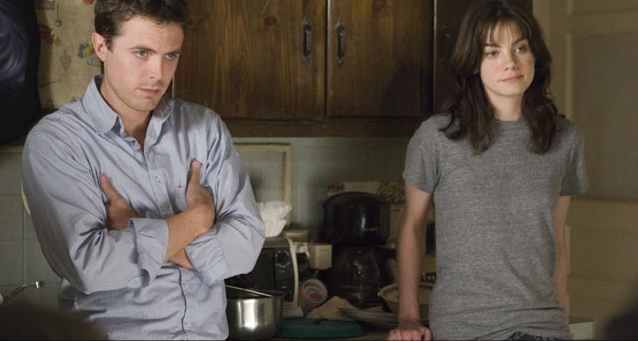 Wading into the same dark, turbid, and clannish Boston waters as
Mystic River
(also by author and
Wire
contributor
Dennis Lehane
)
Ben Affleck's Gone Baby Gone
is another wicked-smaht tale of horrible crimes and neighborhood secrets in and around the Hub, and marks a promising debut for Affleck as a director (and another step for brother Casey, after
The Assassination of Jesse James by the Coward Robert Ford
, towards leading-man status.) The last act unfolds a mite too slowly, I thought, but for the most part
Gone Baby Gone
— for its ruminations on the meaning (and inescapability) of place as much as its attention to Beantown detail — is an intelligent and gripping crime story that's worth catching. Affleck, Lehane, and co. are confident enough here to ask tough questions without definitive answers, and it's those uneasy ambiguities in
Gone Baby Gone
, as much as the local color, that ultimately sticks with you.
As another day dawns in Dorchester (one of what could be almost any of the white working-class neighborhoods surrounding Boston), Amanda McCready, age 4, is still missing, 72 hours after disappearing from her mother's unlocked second-floor apartment, and where she is now we can only guess. By this point, the press are having a field day with the abduction story, the police are starting to have doubts about the girl's survival, and Amanda's Aunt Bea (Amy Madigan) and Uncle Lionel (Titus Welliver, of Deadwood) are looking to bring flesh blood to the search, namely private investigators Patrick Kenzie (Affleck) and Angie Gennaro (Michelle Monaghan). Kenzie and Gennaro have doubts about taking the case — neither particularly wants to turn up a dead girl — but, as lifelong locals, they know they can find people and go places the badges can't. In the manner of films immemorial, the police officer in charge of the case (Morgan Freeman) doesn't take too kindly to these P.I. interlopers on his heels, but assigns them two ornery cop liaisons (Ed Harris and John Ashton) regardless. And, once Kenzie and Gennaro have re-interviewed Amanda's troubled, hard-partying mom, Helene McCready (The Wire's Amy Ryan, giving a Best Supporting Actress-worthy performance) and checked out some of her sketchier haunts, they — sure enough — turn up some new leads in the hunt. But the trail's growing colder by the minute, and as both P.I.'s know, few child abduction stories ever result in a happy ending — why would Amanda's be any different?
Dennis Lehane, Amy Ryan, Michael Williams (a.k.a. Omar) appears briefly here as a cop…if I keep making connections here to The Wire, it only speaks in Gone Baby Gone's favor. As with that show and Bal'more, this movie relishes its urban environment — this is a Boston story through and through, and that strong sense of place brings the film to life more than anything else. Also like The Wire, Affleck's film doesn't refrain from acknowledging that the world is often not a storybook place. (The second act of the movie is particularly dark, and while I thought Affleck perhaps overrelied on aerial establishing shots of Boston and images of "regular" people at times throughout, his delicate handling of this potentially explosive section of the film in particular suggests his potential as a director.)
True, much of what is excellent about Gone Baby Gone must be attributed to Lehane's book. But, there have been a lot of lousy movies made about excellent books over the years, and if nothing else, Affleck (and his co-screenwriter Aaron Stockhard) have brought Lehane's story to the screen without sacrificing any moral complexity or narrative momentum. As I said, I think the film lags slightly in the third act (and I do have some issues with Monaghan's character arc by the end, which I can't really discuss without giving the film away), but the quietly haunting coda at the end redeemed a lot of those issues for me. The occasional shocks and disruptions notwithstanding, it seems, people are what they are, and life goes on as ever in the old neighborhood.