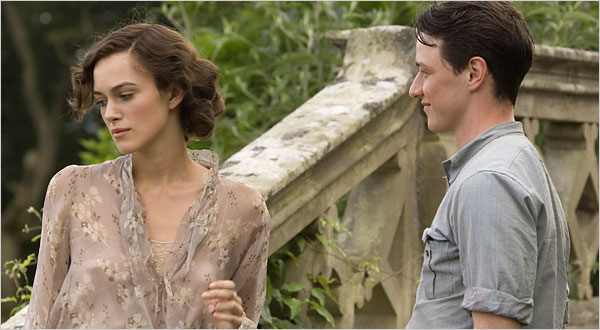 When I first saw
the trailer
for
Joe Wright's version of Ian McEwan's Atonement
, I figured I'd probably give it a pass — It had that staid period piece look to it that screams inert Oscar bait (see also
The English Patient
), and seemed far too dry and conventional to do justice to
Ian McEwan's powerful, absorbing novel
. But, having sat through it several more times, I got Dario Marianelli's pensive piano-and-typewriter score stuck in my head, and when the
reviews came back significantly better
than I expected (and, indeed, the film garnered 7 Globe nominations this morning), I figured I'd give it a go. And the verdict…well, it comes out somewhere in-between.
Atonement
is solid enough entertainment of the Merchant-Ivory sort, and it features break-out performances by
The Last King of Scotland
's James McAvoy (that whooshing sound you hear is all of Ewan MacGregor's old scripts getting remailed) and newcomer Romola Garai. But, although occasionally you can see director Joe Wright try to stick his head under the water, the movie sadly just skims along the surface of McEwan's book. And as an adaptation of said book, it must be considered a failure.
Now, admittedly, there's a pretty tough degree of difficulty here. I hesitate to think any book is inherently unfilmable — just this month we've had two excellent adaptations in No Country for Old Men and The Diving Bell and the Butterfly — but McEwan's dense tome, with its rich inner worlds, abrupt shifts in time, and philosophical musings on the power and moral dangers of writing and imagination, comes pretty darn close. Regardless, Atonement the film never plumbs the depths that McEwan's novel does, a fact that unfortunately becomes more and more unmistakable as the movie progresses. By the end, all the crisp British diction and sweeping long-takes can't disguise the fact that Atonement, however pretty, never captures the book's mordant pulse.
To the story: Atonement begins at an edenic English manor on one of the hottest days of 1935, where an ambitious, headstrong 12-year-old girl named Briony Tallis (Saoirse Roman, a find) has just completed her first full-length play, The Trials of Arabella. (Like many aspiring writers, myself included, Ms. Tallis just loves her some descriptive adjectives.) Young Briony is unsuccessfully trying to convince her bored cousins, visiting on account of a hush-hush impending divorce, to take her magnum opus seriously, when she sees something unexpected. Outside her window, Robbie the housekeeper's son (McAvoy) appears to be ogling Briony's soaking wet, nearly-naked sister Cecilia (Keira Knightley) with amusement and maybe even something darker…what's the word? As Briony tries to piece it together, we discover Cecilia and Robbie are Oxford classmates, although (by Cecilia's design as well as by class distinctions) they travel in rather different circles. Yet, something flickers between them, and Robbie, while mustering up the nerve to express his affection, types out several different drafts of a love note in his nearby cottage…one of which, composed as a bit of a joke, gets right to the point. (It uses the c-word, and alone gives the film an R-rating. Gasp!) Well, you can then guess which version of the letter mistakenly gets delivered, and by Briony no less, who takes it upon herself to examine it first. Her pre-adolescent confusion mounting, Briony is now seriously distressed by Robbie, on whom she once had a barely understood crush. And when further events that hot summer evening eventually take a turn towards tragedy, she — knowing full well now that he's a sex maniac — mounts a false accusation against him, one that changes irrevocably the lives of Robbie, Cecilia — and Briony — forever.
Wright's Atonement does alright by most of this, the first act of McEwan's book. He cleverly uses the Rashomon device of showing us the same scene several times, and always from Briony's limited perspective first. But, while Roman seems a gifted and composed actress for her age, the film never really gets across the crucially important fact about Briony: her constant flights of fancy. (It's not my movie, of course, but I kept thinking what Atonement needed here is something like what Peter Jackson does in Heavenly Creatures, a brief dramatization of her inner fantasy world.) This becomes a constant problem in the film, particularly as it moves on to the fields of Dunkirk and the hospitals of London just before the Blitz — the movie never does a particularly good job of getting into its characters' heads. As a result, it shows us what happens in the book, but it barely conveys why these events are important or meaningful for our story.
One of the most egregious example of this is an extremely long shot of the chaos at Dunkirk, rivaling the similar extended takes in Alfonso Cuaron's Children of Men last year: Wounded and dog-tired, Robbie and his two soldier mates wander around the beach, seeing all manner of wartime horror and tomfoolery. But, as it lingers on and on, the shot feels more and more like a stunt, completely dissociated from the tale we've theoretically been following. I guess it'd probably play great in a WWII epic that's actually about Dunkirk, but the important action at that moment for our story is happening within Robbie. Perhaps Wright was trying to make a similar point about film with that exasperating stunt-take as McEwan ultimately does about writing…but, if so, I missed it. (There are other, subtler moments where he comes closer, tho' — I quite liked Nurse Briony's red curtain (stage) entrance to her conversation with the French soldier.)
This inherent flaw of Wright's Atonement — its inability to depict the characters' interior lives — reaches its nadir in the final moments of the film, when it almost completely botches the final reveal. I won't give away what happens here, other than to say that, as Matt Zoller Seitz points out, what was a quietly devastating confession to the reader in the book now — because it is voiced in public — instead plays like a tacked-on mea culpa that offers a twist-ending, a saccharine moral, and a few moments of cinema apotheosis, all wrapped up in a Hollywood bow. (Again, not my movie, but having this reveal explained in voiceover over images of the character's last, lonely days, a la TLJ in No Country, would've made a lot more sense.) In a way, Atonement makes exactly the same misstep as Weitz's Golden Compass: The very last images of the movie are pitched right at the Titanic demographic (and I don't mean that as a sneer — I loved Titanic.) But they completely sidestep the inherent darkness of McEwan's ending, and even let the character in question off the hook. Atonement, in McEwan's world, was never so neat, or easy to come by.