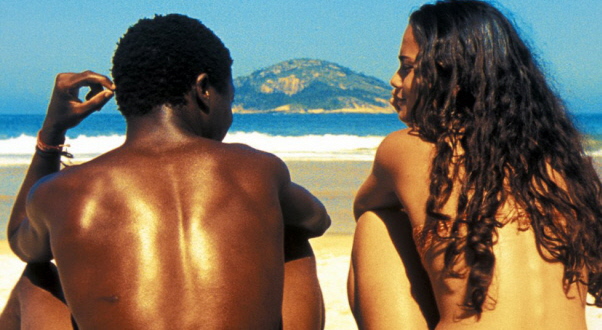 Bleak Week 2003 continued yesterday, when I finally got around to seeing the much-praised
City of God
. And while this fierce, hyperkinetic Brazilian film has some serious problems, it's a much better night at the movies than Sunday's foray into
21 Grams
.
From its very first scenes, in which our young photographer-protagonist finds himself trapped in the midst of a Mexican (ok, Brazilian) standoff between a street gang and the corrupt cops, City of God makes no bones about its debts to Scorsese and Tarantino. In fact, for much of the film, I was reminded of Guy Ritchie's Lock, Stock, and Two Smoking Barrels, which brought to London much of the same snappy, experimental camerawork, "funny" gunplay, and street gangster-chic that's on display here in Rio. But that metaphor only goes so far — this increasingly dark film ultimately feels very different than the breezy Lock Stock. In fact, while Scorsese, Tarantino, and Ritchie gangsters all generally find themselves on the wrong side of the law as a calling, the Brazilian youths here are born into it — crime, violence, and murder are an inescapable part of the Cidade de Deus.
Or is it? I know this movie is based on a novel based on real events, but at a certain point, right after the strobelight-marked murder of one of the film's most likable characters, City of God just gets lost in its own cycle of violence. When L'il Ze, the cruelest hoodlum we meet on our travels, brutally rapes the girlfriend of Knockout Ned (we never see her again — she's a plot point, not a character), a gang war ensues that drastically escalates the already considerable levels of death and carnage the audience has to deal with. In this final third, the film derails…it's just too much.(Ken Turan aptly summed it up as "overkill.") One goes from avidly following the travails of individual characters to watching most or all of them go down in a hail of gunfire.
Like I said, I know that much of this tale is based on a real gang war, and that the ridiculously high body count at the end of the film may have a solid grounding in fact. But at times City of God wants to have it both ways. When innocent bystanders are mowed down or child gangsters are forced to make extremely grisly life-and-death choices, we're shocked sullen by the events depicted here. But when L'il Ze blows away his stooge Tuba in a fit of frustration, it's a sight gag.
In sum, with swooping camerawork, great performances across the board, and a well-crafted narrative, City of God bridges the gap between Tarantino-cool gangsterism and shocking acts of violence reasonably well for its first two-thirds. Alas, it falters in the final act, and I found myself spending the last thirty-five minutes of a movie I'd quite enjoyed up til then keeping my head down and waiting for the last reports of gunfire to die away. Well worth seeing if you're a fan of the hyperkinetic gangster genre, but ultimately City of God just can't quite close the deal.