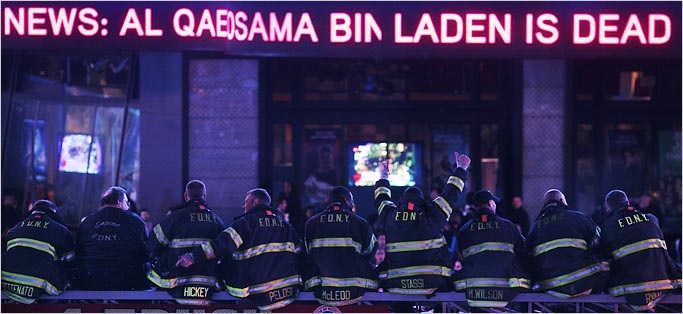 "
For over two decades, bin Laden has been al Qaeda's leader and symbol, and has continued to plot attacks against our country and our friends and allies. The death of bin Laden marks the most significant achievement to date in our nation's effort to defeat al Qaeda. Yet his death does not mark the end of our effort. There's no doubt that al Qaeda will continue to pursue attacks against us. We must — and we will — remain vigilant at home and abroad.
"
So, yes, as you may have heard, we finally found Osama Bin Laden, fulfilling a key promise President Obama made during the 2008 campaign. While I would have preferred to see the perpetrator of 9/11 captured alive and brought to trial — cause that's how we do justice here in the US of A — congrats to the president's team, the analysts who did the hard work, and the men and women who executed the operation, on finally getting their man.
All that being said, the second half of the president's statement above is troubling. The death of Bin Laden should mark the beginning of the end of the 9/11 decade. With the splinter finally removed, it is time to take a long hard look not just at our continuing war in Afghanistan — after all, Osama was eventually found in Pakistan, mainly through what the Bunk would call good po-lice work — but at all the questionable and/or extra-constitutional actions we have taken in the name of fighting the terr'ists since September 11th. (Newsflash: Torture had nothing to do with capturing OBL.) If the death of Bin Laden doesn't move us to this reconsideration, what then ever will?
Unfortunately (and of course), that doesn't seem to be what's happening. Instead, Congress is laying the foundation for a wider war: "Contained in the National Defense Authorization Act for 2012 is a new authorization to use military force that would grant the executive branch the power to 'address the continuing and evolving threat posed by these groups.' In practice, that means the president could use military force against any suspected terrorist across the globe — indefinitely."
Indefinite war? No thanks. There's been an eerie touch of Emmanuel Goldstein in the way Bin Laden was used to justify all manner of extraconstitutional actions and civil liberties violations under Dubya — actions that have been ratified and continued under Obama. Now that the Bogeyman is dead, it's time to stand down. It's time to start acting like America again.