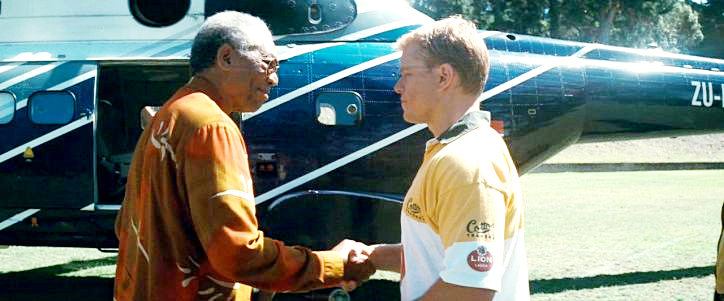 I've got bad news, folks. It's nothing personal, I'm sure, but Clint Eastwood apparently thinks we're stupid. That seems like the best way to account for the ridiculous redundancy built into
Invictus
, his well-meaning but over-broad account of South Africa's victory in the
1995 Rugby World Cup
. Sadly, this is the type of flick where characters keep intoning the obvious take-away message from the scene you just watched — "
This country's changed. We need to change as well!
," "
He's not a saint! He's a man, with a man's problems!
" — just in case you're, y'know, a little slow on the uptake. And every single point here gets hammered on three or four times, when once would've usually been quite enough, thanks much. In all honesty, I came out of
Invictus
feeling like I'd just been trying to guard
Jonah Lomu
for two hours. In a word, bludgeoned.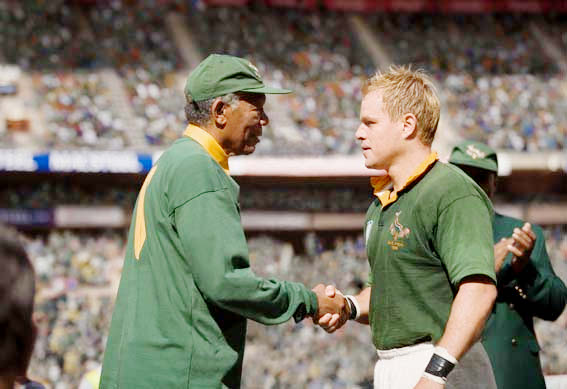 Don't get me wrong — The movie has its heart in the right place, and I wholeheartedly agree with many of its basic contentions. I too believe Nelson Mandela is a great man, and that he was just the right man to lead his nation at the delicate hour when apartheid finally fell. I believe that racism is a moral failing that must be overcome, and that forgiveness is a more enlightened path than revenge. (As A.O. Scott aptly pointed out in his more-positive review of this film, Invictus is as committed to examining the issue of vengeance, and its overcoming, as Unforgiven, Gran Torino, Mystic River, and countless other films in Eastwood's oeuvre.)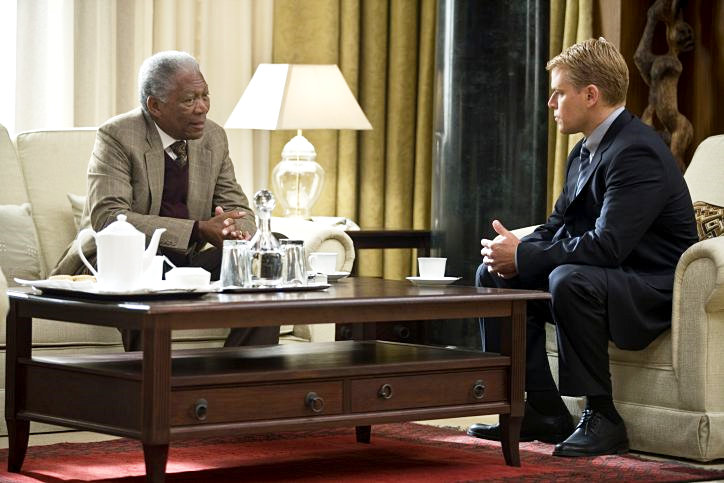 And I even think there's a sophisticated story to be told here about the role of symbols (the Springboks), iconography (green-and-gold), and sports teams in politics and nation-building. (Throughout much of Invictus, I was reminded of a book from gradual school days: In the Midst of Perpetual Fetes, historian David Waldstreicher's book on the early national period of the United States, when (as the title indicates) our Founders threw galas, parties, and festivities pretty much constantly to help engender a healthy nationalism in newly-minted Americans.)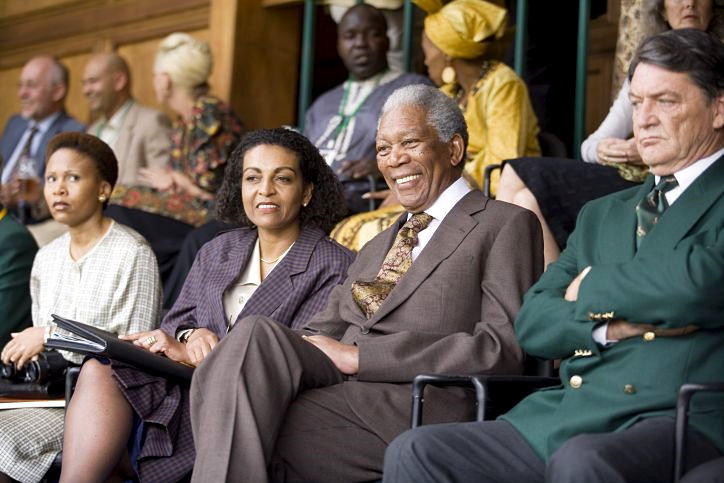 Both in terms of fostering forgiveness on both sides and as a sheer political play, the basic "human calculation" made here by President Mandela — getting behind a team loathed by blacks and beloved by whites in order to signal good-faith intentions to Afrikaners and to help forge a new national unity — is a very savvy one. (You might even say it's a Lincolnesque move, and in fact, there's a good bit of Lincoln's blend of folk wisdom, bonhomie, and ruthless, clear-eyed political calculation in Mandela as portrayed here.) And, of course, there's a great underdog sports tale at the actual Cup itself — South Africa versus the mighty All Blacks of New Zealand.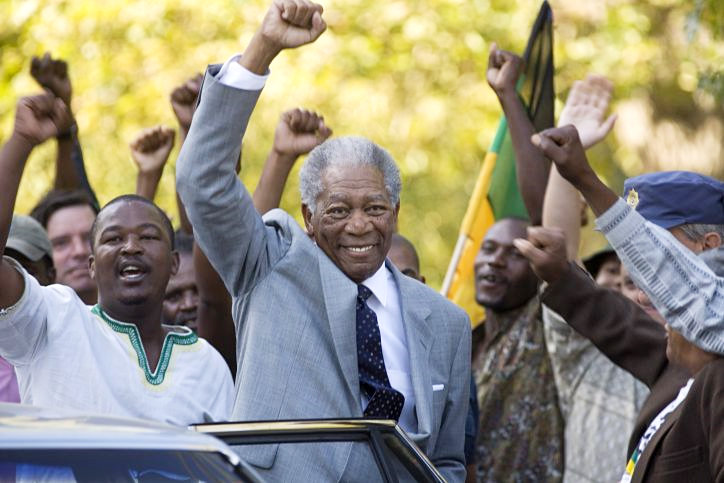 The point being, Eastwood had a lot of good raw material to work with here in Invictus…but the final product, alas, is not so good. The film is competently-made, sure, and everyone from Morgan Freeman (not just being himself) to Matt Damon (great job with the accent) on down does a solid job with what they're given. But the movie still ends up being more Flags of our Fathers than Letters from Iwo Jima: It's so ham-fisted so often that it hardly ever gets off the ground. And it just doesn't trust that the audience will pick up on anything unless it's spelled out for them and underlined a few times. (I presume this is Eastwood's fault rather than the source material, John Carlin's Playing the Enemy — One definitely gets the sense from Invictus that Clint may have watched Idiocracy recently.)
One example should explain the problem. In one scene in the middle going, the all-white Springboks (Chester Williams notwithstanding) venture to a run-down shantytown in Soweto to teach young black South Africans the sport of rugby. (In this case, Invictus is smart to spell one thing out to the audience — the basic rules of play.) The kids generally seem excited by the trip, some of the Afrikaner meatheads who were complaining before start smiling and getting into it, and everybody — white and black — is clearly having a good time. The basic point is obvious from the entire scene: The fun of the game and the day is bringing former adversaries together. But then Clint has to pan over to a sign saying something like "One Team One Nation" or somesuch, and right thereafter some not-very-good pop song blares over the soundtrack with hokey lines like "we are color blind." Ok, Clint, we get it.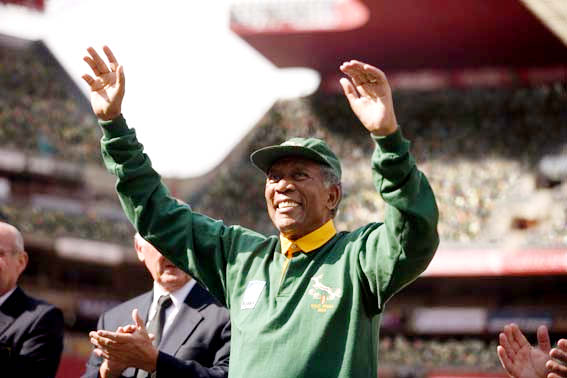 Invictus does this throughout its run. Just in case we somehow miss the racial-reconciliation-through-sport point of the entire movie, there are multiply-redundant systems built into the narrative. There's a divided Greek chorus of security guards that, like the Springboks, gradually come together as a team. There's the black maid of Matt Damon's somewhat haughty white family, who finally gets included as an equal. And there are even cuts to some random once-racist white cops and the black youths they would've undoubtedly spent the day harrassing, if it weren't for the healing benediction of rugby, all jumping up and down together and enjoying the Big Win. After awhile, it all gets to be overkill.
Put simply, Invictus has great and laudable intentions, and I guess I wouldn't call it an out-and-out fumble. But it definitely should've taken some lessons in subtlety from the real Nelson Mandela: Sometimes a quiet word in the right moment speaks louder than the mightiest of trumpets.