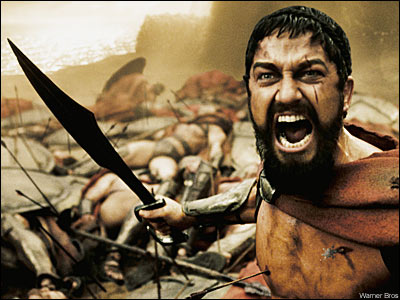 Ever since
The Matrix
came out of nowhere in March of 1999 and proved that genre audiences would pack the seats any time of year, not just in summertime, the February/March comic-book tentpole release has become a staple of the fanboy film calendar (Think
Blade II
,
Constantine
,
Sin City
,
V for Vendetta
.) This year, as you probably know, the big event was
Zack Snyder's adaptation of Frank Miller's 300
, which has been getting good buzz ever since its Comic-Con test footage and
very impressive (and still very watchable) trailer
last year. Well, I gotta say, I did everything I could to get all suitably double-Y aggro'ed for Snyder's trip to Sparta: I went to the midnight IMAX showing with the fanboy nation, had Greek food for dinner (ok, a coincidence) and downed a few beers beforehand, tossed out 600 sit-ups and randomly killed a hobo — but, even then,
300
turned out to be sadly underwhelming. It looks great, no doubt — with its carefully calibrated colors and artfully spurting viscera, it looks even more Frank Millerish than
Sin City
did, and there are definitely a couple of images that bypass all thought and directly engage the reptilian part of the brain. But, even taken on its own terms, there're too many groaners and too much filler here, and its attempts to be somber border on the laughable. I suspect
300
will sell a lot of HD-DVD players in the very near future, and for good reason, but it ultimately makes for a better music video than it does a movie.
The story is old, I know, but it goes on (usually in a David Wenham voiceover): In the ancient warrior city-state of Sparta, presided over by the robust, strapping King Leonidas (Gerard Butler), the men are men, the women are women, and those stunted weaklings born without a killer six-pack are picked off at a very early age. But, alas, this militarist utopia finds itself threatened by the global ambitions of the — clearly not manly enough — Persian God-King Xerxes (Rodrigo Santoro), who asks only that Leonidas and his people submit to his divine benevolence. Submission? You must be joking. So, while his beautiful Queen (Lena Headley) negotiates with the Spartan Senate in a number of insipid let's-take-a-meeting scenes straight out of The Phantom Menace, Leonidas takes 300 of his best, least-clad warriors to the Hot Gates, where he and his ilk must fight off — without benefit of armor, mind you — wave after wave of Xerxes' elite assassins: the fearsome Persian Immortals, known mainly by their grinning demon masks and matching Ahmadinejad windbreakers.
Ok, that gag aside, and despite what you may have heard, there's really not that much allegorical grist in 300. I mean, you could very easily call out the political and racial subtext of the film: very Anglo-Saxonish looking Greeks beating down evil brown and black folk, in order to defend Spartan freedom(?) against the "mysticism and tyranny" of the Asian hordes. (After all, writer Frank Miller is the same guy who felt it necessary to sic Batman on Al Qaeda.) Or, you could fault 300's unabashed reveling in blood, guts, and glory: Faramir won't shut up in this movie, and yet there's nothing at all here akin to his opening lines in his last crusade against Men of the East, The Two Towers: "His sense of duty was no less than yours, I deem. You wonder what his name is, where he came from, and if he was really evil at heart. What lies or threats led him on this long march from home. If he would not rather have stayed there in peace. War will make corpses of us all."
In short, to say 300 is the anti-Letters from Iwo Jima is an understatement.
But, really, all of that is basically beside the point: the movie is way too shallow to merit any deeper readings. The inimitable, foul-mouthed Neill Cumpston hit the nail on the head: 300 is in essence a video game, with waves of easy-to-dispatch bad-guy mobs punctuated by the occasional mini-boss. And, besides, let's be honest: All subtexts aside, I came to 300 — and if you saw the trailer, you did too — to chew gum and watch people kick ass, and I'm all out of gum. But, for every adrenaline-firing sequence of Leonidas and co. carving through baddies in slow-motion — one, you'll know it when you see it, is pitch-perfect Frank Miller — there are several others where the movie just grinds to a halt, and we're forced to watch Leonidas look angst-ridden or Queen Gargos engage in some cut-rate speechifying about freedom: "Freedom isn't free," "Freedom's just another word for nothing left to lose," etc. etc. ad nauseum. (And, alas, poor McNulty gets the shaft again: Dominic West gets a terribly-written, totally unnecessary part as a mustache-twirling politician/diplomat, which should tell you all you need to know about his role here — Like Sparta's intrepid warriors really need his cut-and-run, Hans Blix pansy-ass screwing things up on the homefront.)
Still, for all of 300 pacing woes, dialogue groaners, and two-dimensional characters, I have to admit — it does have its occasional moments…usually when it drops all pretense and just lets its "Tonight, we dine in Hell!" freak flag fly. A sinuous oracle in flimsy gauze writhes ecstatically through a soothsaying as if underwater. The God-King Xerxes, his voice booming with inhuman authority (nice job, sound editing guys), rests majestically on his obscenely large throne stairs, making Leonidas an offer he can't refuse. Persian ships are rent asunder by the stormy wrath of Poseidon, as Greece's warriors roar with approval in the rain. In these moments, and at others, such as when Xerxes unleashes his menagerie of rhinos and elephants against the 300, or when the Spartans first encounter the Asians' arcane magick of gunpowder, Zack Snyder's film settles into a big, dumb, loud, and rousingly enjoyable groove. Alas, 300 can only sustain that intensity for minutes at at time, and for the rest of the run, it's not so enjoyable. Too bad — I get the sense there's probably a really amazing half-hour short-film in here somewhere. As it is, 300 feels disappointing, and makes me wonder if Snyder has the wherewithal to do Alan Moore's The Watchmen justice.