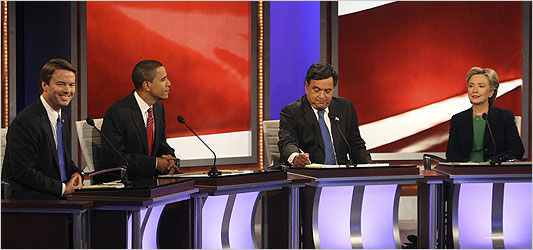 So, the debates.
Of course, every big show has an opening act, and the undercard tonight was the Republicans. I realize I've been slipping on the GOP coverage around these parts of late, and I apologize…I promise to catch up once the Dem side quiets down (As a show of good faith: hey, look! Romney won Cheney country.) Still, part of the reason I've been losing interest in the GOP's internecine disputes this cycle is because — even notwithstanding the moldering albatross that is Dubya — their candidates are all so lousy, and everyone knows it. (The Iowa attendance numbers, where the Dems outnumbered Republicans 2-1, tell most of the story.) Still, my main impressions of the GOP side tonight were thus:
Nobody likes Mitt Romney. At various points Huckabee, McCain, Thompson, and Giuliani were all cracking wise about his flip-flopping and such, and he's not even the frontrunner anymore. (McCain's up six.) I guess the rationale is a poor Romney showing in New Hampshire might knock him out early. That, and he's been throwing his money around in negative ads. Either way, Romney was the primary punching bag for the majority of the debate.

Fred Thompson seemed older, more slothful, and less presidential than I remember him. His lazy contributions basically involved making fun of Ron Paul every so often. No wonder he hasn't been catching fire.

Speaking of Ron Paul, he had the gleam of a true believer about him (the vaguely Gandalfian looks help), and it'd have been nice to see his brand of old-school, Robert Taft conservatism get a fairer hearing from his opponents, just so its more frightening aspects could be exposed. (Paul's libertarianism sounds refreshingly anti-imperialistic on the foreign policy side. But on the domestic front, it'd mean the Gilded Age all over again.) Still, I can see why he's drawing so many disgruntled young Republicans to his standard. And at least he's trafficking in the realm of ideas.

Perhaps the trail is getting to him, but John McCain seemed like he was on autopilot all night. Still, as George Stephanopoulos noted in the post-game, he spent the night touting his conservative bona fides rather than his maverick cred, which will hopefully pay dividends for Obama among undecided independents.

Rudy Giuliani stayed in typical 9/11 9/11 9/11 form, with the aid of Ron Paul's speaking of uncomfortable truths about our overseas involvements. Still, it seemed clear he's just biding his time until Florida. He barely went after frontrunner (and his most obvious rival) John McCain at all.

I actually thought Mike Huckabee displayed some impressive kung-fu, for the most part. I still think he's fundamentally unelectable (From his son's Frist-like murdering of a stray dog to the horrible Wayne Dumond case to the AIDS quarantines, Gov. Huckaboom's closet has more skeletons than Undercity.) Still, given his evangelical backing, his aw shucks delivery, and his wilier-than-you'd-first-expect responses, I could see him causing serious problems for his GOP competitors, and he gave the best answer to WMUR announcer Scott Spradling's Obama question.

Speaking of which — yes, in case you missed it, the Republican field was asked how they'd run against Senator Obama should he be the Democratic nominee. (Remember the earlier claims that Clinton was being treated unfairly in the Russert debate? Well, Obama got the exact same frontrunner treatment from Gibson and Spradling tonight in both debates, and, by and large, he handled it fine.) Anyway, in case you're wondering, Huckabee and Paul praised the Obama phenomenon, Romney tried to claim the mantle of change for himself, McCain touted his own experience, Thompson muttered some stale two-decade old tripe about "liberals," and Giuliani brought up…wait for it, wait for it…national security. (Obama's later response to all this: "I was going back and forth between the Republicans and football…[But] you know, we've seen this movie before. We know the Republican playbook.") The point being, none of these guys seemed to have anything close to an answer yet for the Obama phenomenon. (All they wanted to do was voice their tried-and-tested soundbites about Hillarycare.) Which brings us to:

The Democrats. First off, I should say — and I'm sure it's obvious by now anyway, judging by the content here the past few days — that I watched the debate not only as an Obama partisan but as someone profoundly irritated by Sen. Clinton for her lowball maneuvers of recent days. So, grab that shaker of salt and let's proceed…
I thought Barack Obama did a solid job overall, and was strongest in the first half of the debate. He seemed knowledgable, thoughtful, decisive, and, most importantly, electable. He showed an ability to discuss specifics about the issues on the table, kept his larger narrative about hope and change intact, and made no serious blunders that would impede his post-Iowa momentum, which is all he really had to do. Obama scored his best response to Senator Clinton's blunderbuss offense early on, when he calmly explained the differences between their two health plans and put the lie to her flip-flopping charges coolly and succinctly. For the most part, though, and as the evening progressed, he exercised his frontrunner privilege and stayed above the fray. Of course, he was aided in this strategy by… (Cue "Aunt Jackie": "If that's your man, then tag him in….")

John Edwards, who performed just as well as he usually does. Clearly, the Edwards team made the tactical decision to try and knock out Clinton now and get it to a race between he and Obama. Thus: "'Any time you speak out powerfully for change, the forces of status quo attack. He [Obama] believes deeply in change, and I believe deeply in change. And any time you're fighting for that, I mean, I didn't hear these kinds of attacks from Senator Clinton when she was ahead.'" (The NYT is casting this as "Two Rivals Go After Defiant Clinton," but that's not in fact correct. Clinton went after Obama, expecting help from Edwards, who instead returned fire at Clinton. At that point, Clinton boiled over and Obama — recognizing Edwards would be an ally for the night rather than an adversary — magnanimously withdrew from the field. He didn't "go after" anybody, and, as the frontrunner, why should he?)

At any rate, Edwards' decision to go after Clinton rather than Obama may seem like "ganging up," but I can see the sense of it. For one, it's clear to all now that Obama's tapped in to a yearning for change that transcends the usual political categories, and, Edwards has decided he might be able to win the populism versus progressivism discussion between two "change" candidates if Clinton's out of the picture. (It'd be a fascinating debate.) For another, I've been reading a lot of online coverage about the election post-Iowa, and it seems pretty clear that Edwards supporters are livid that he's still considered the forgotten man in the race. Given that he bested Clinton in Iowa and is still being treated as an also-ran, he has a legitimate axe to grind with her.
Bill Richardson was there too.
Her back to the wall, Hillary Clinton was more combative than we've seen in any previous debate, calling Obama a flip-flopper right out of the box and not letting up much thereafter. (Obama's jujitsu was solid, though, and he deftly deflected most of her attacks with specifics and a smile, until Edwards took over the fight. His only misstep may have been not playing along nicely enough with Clinton's "I'm just a girl" act, although given everything Clinton's been throwing at him in recent days, I'd say it's a forgivable sin.)

The Senator's attack-mode, to my admittedly jaundiced eye, was unseemly. For one, this was the first time I can remember Clinton playing the "first woman president" card so flagrantly, and it reeked of desperation. (To his credit, Obama didn't feel the need to return the wallowing in identity politics.) For another, her anger blazed through at certain moments, particularly after Edwards showed he wasn't going to be her friend tonight, and I doubt it played very well to New Hampshire's undecided. (But again, I'm not a good judge of this sort of thing by now. Lines like "We don't need to be raising the false hopes of our country about what can be delivered" just drive me to distraction.)

Speaking of which, one of the more intriguing volleys between Clinton and Obama happened late in the game, when Clinton once again tried to push the "false prophet" angle against Obama. Said Clinton: "So you know, words are not actions. And as beautifully presented and passionately felt as they are, they are not action. What we've got to do is translate talk into action and feeling into reality." Obama's response: "There have been periods of time in our history where a president inspired the American people to do better. And I think we're in one of those moments right now. I think the American people are hungry for something different and can be mobilized around big changes; not incremental changes, not small changes…The truth is actually words do inspire. Words do help people get involved. Don't discount that power, because when the American people are determined that something is going to happen, then it happens. And if they are disaffected and cynical and fearful and told that it can't be done, then it doesn't. I'm running for president because I want to tell them, yes, we can. And that's why I think they're responding in such large numbers." That sums up a good deal of Obama's oratorical appeal, and explains why Clinton, no matter what she says to the contrary, could never be the candidate of change. She just doesn't get it. As I said in my progressivism post of a few weeks ago: Without vision, the people perish. America's left is plumb sick of the poll-driven, over-triangulated brand of GOP-lite policy wonk Clinton represents. Put aside the V-Chips and school uniforms: We are looking to dream big again.