"For a transitory enchanted moment man must have held his breath in the presence of this continent, compelled into an aesthetic contemplation he neither understood nor desired, face to face for the last time in history with something commensurate to his capacity for wonder." – F. Scott Fitzgerald, The Great Gatsby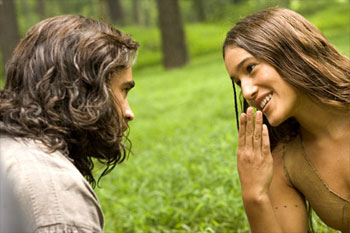 Well, that's that — the 2005 round-up is out-of-date. If you've ever seen a Terence Malick flick (Badlands, Days of Heaven, The Thin Red Line), you can guess the contours of The New World — a Fall of Eden motif, a languid, dreamlike pace, resonant images of natural splendor, conflicted characters wrapped up in voiceover self-reflection, all punctuated with the occasional underwater swimming cam and chaotic sortie of Man against Man. (At my sparsely attended afternoon show, the guy to my left fell asleep, and the woman to my right walked out.) That being said, I thought this movie was the perfect match of director and material, and one of the most transporting and beautiful films I've seen in years. Sure, it has some serious historical issues, and sometimes dabbles dangerously with the noble savage schtick, one of Malick's favorite tropes. But as a work of cinema, I think it may just be a masterpiece.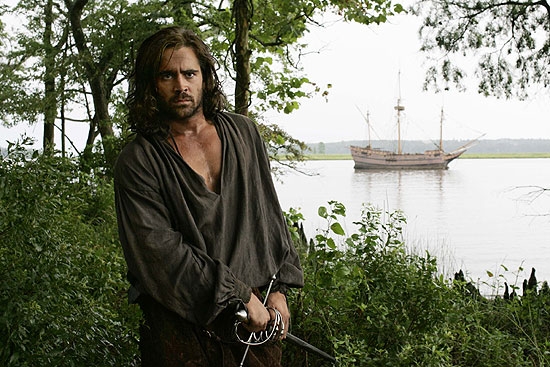 The year is 1607, and — with Capt. Christopher Newport (Christopher Plummer) at the helm and Capt. John Smith (Colin Farrell) in the brig — three English ships put to in a sun-dappled marshland, recently named after their late Virgin Queen. Short of food and enthusiasm after their exhausting Atlantic crossing, these new arrivals to the New World convey a tense hello to the "naturals," construct a fort, plant a few token crops, and then begin frantically panning for gold and silver. When it soon becomes clear that the survival of the fledgling settlement will require both the forbearance and the trade of the nearby Powhatans, Smith is sent to visit the tribe in hopes of striking a deal. There, he is saved from a grisly death in the longhouse by the love, compassion, and curiosity of young Pocahontas (a radiant Q'Orianka Kilcher), daughter of the chief. (Lucky for Smith, and as the story goes, he gives her fever.)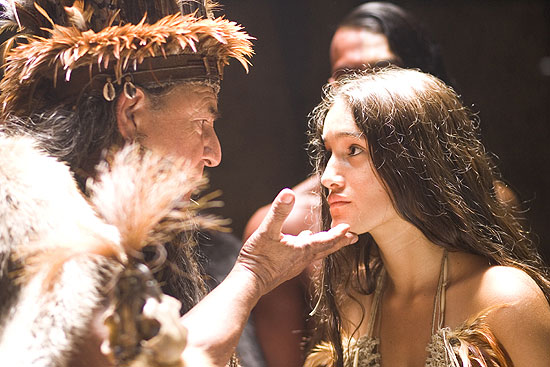 Here is where some historical purists might start checking out (if they haven't already), as the much-written-about romance between John Smith and Pocahontas, however enthroned in our overly happy tales of early Native American contact, probably didn't happen. (The tale of his being saved may well be true, but it was probably an elaborate but traditional tribal ritual, one in which Chief Powhatan displayed his magnanimity to a potential rival by having a family member spare his life.) Similarly, the later relationship between Pocahontas and John Rolfe, America's first (white) tobacco entrepreneur (Christian Bale, so that's how Batman made his money) had less to do with the chastened love story shown here than with an attempt to keep the peace — In Rolfe's own words, he married "for the good of this plantation, for the honour of our countrie, for the glory of God, for my owne salvation, and for the converting to the true knowledge of God and Jesus Christ, an unbeleeving creature, namely Pokahuntas," in that order.
Some other details rankle too. I'm not a colonial historian, but I highly doubt the brief reign of Capt. Wingfield (David Thewlis) ended exactly as it's shown here. (Speaking of Thewlis and a la Thin Red Line, there are a number of recognizable actors skulking about Jamestown, including Ben Chaplin and Noah Taylor, and one film-fan cameo presiding over the Court of King James.)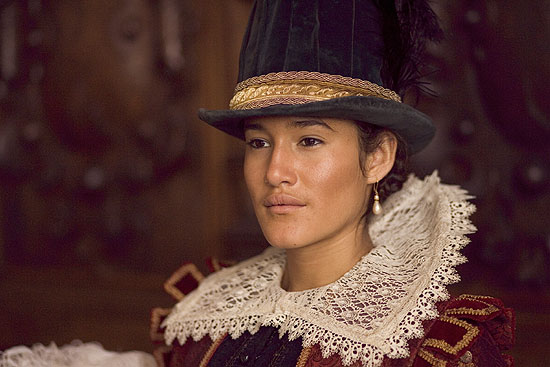 But, really. To get too hung up on the history here is — quite literally — missing the forest for the trees. Like other Malick films, The New World is about impressions and evocations more than plot mechanics, and in that sense it's a revelation. Through both natural sights and wondrous sound editing, the film does a stunning job of conveying the sublime strangeness of the other, and the magic and terror of an unfamiliar environment. In fact, the movie does it twice — Wes Studi has some powerfully haunting scenes in the third act, when, as an envoy of Powhatan, he is dumbfounded by the starkly manicured gardens of Europe. After the overgrown wilderness of Virginia, he — and we — might as well be on Mars. (Along those lines, I can't remember the last time a film altered my perspective so much on the way out. After two and a half hours in this World, the Upper West Side seemed a bizarrely cluttered and unnatural realm for the rest of the evening.)
Terence Malick's The New World is a masterfully crafted tale of discovery and transformation, passion and misunderstanding, intimacy and heartbreak, love and loss, and worlds Old and New. In short, it's the best film of 2005 (and well-worth seeing on a big screen.)