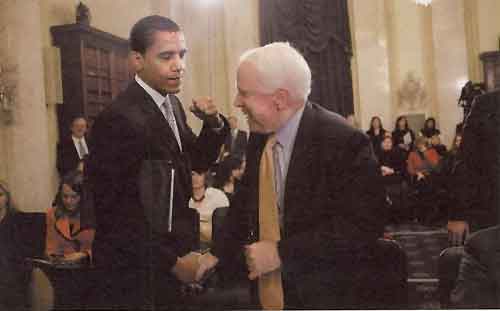 "John, you like to pretend like the war started in 2007. The war started in 2003…You said we knew where the weapons of mass destruction were. You were wrong. You said that we were going to be greeted as liberators. You were wrong. You said that there was no history of violence between Shia and Sunni. And you were wrong."
I doubt y'all missed it (even if the ratings were surprisingly low.) Nonetheless, Senators Obama and McCain held their first of three debates Friday night in Mississippi, ostensibly on foreign policy matters (although the economic situation on Wall Street took up the first half-hour.) [Transcript.] And the verdict? Well, to no one's surprise, I'm going to go with Obama on this one. I'm just not going to pretend to be as fair and balanced as John King, David Gergen, and the other seemingly randomly selected poobahs of our Fourth Estate (who was the Aussie guy holding court next to Christine Amanpour?), who went out of their way on CNN to convince me that McCain seemed knowledgable, spry, and at ease during this event. Nope, I think I'll side with the polls, which have a cool, level-headed, and magnanimous Sen. Obama winning the event handily.
The thing is, even more than with Sen. Hillary Clinton, whom I agreed with most of the time on the issues even when I disagreed completely with her GOP-lite campaign tactics, I just can't take John McCain at all seriously at this point, and particularly after both Palin and the non-suspension suspension. So, when McCain tries to tout a career ostensibly spent in the service of congressional ethics, my inelastic brain just keeps thinking "Uh…Keating 5?" Anybody watching the past few years knows that McCain was as AWOL in the fight against Boss DeLay as he has been in countering Dubya these past two terms. And, whatever happened to McCain since 2000, speaking-truth-to-power is not something that comes readily to him anymore, if it ever did. So most of his early "I'm a proven maverick" speel Friday night fell on deaf ears from jump street in this household, and thus I can't speak to how it might've played to those still-undecideds out there willing to buy into his craven sham.
That being said, I had a sense while watching — and the polls seem to bear this out — that McCain was making a critical error with his oft-repeated "Sen. Obama doesn't understand" routine. That might've worked if Obama had seemed greener up there next to McCain, or if Obama was as inarticulate and incompetent as, say, Sarah Palin. But as it was, Sen. Obama came across as unruffled, competent, and conversant on all the issues the mythical maverick tried to paint him as naive on (and/or lie about.) And thus the strategy (or was it a tactic?), imho, backfired massively. Instead, McCain — missing the soft touch of Ronald Reagan, who turned age to his advantage against Mondale in 1984 with a joke and a smile — basically came across as a cantankerous old coot, dripping with undeserved contempt toward that damn whippersnapper in his yard.
It's mainly for this reason that I think, however much the debate is being painted as a draw by the punditariat, Obama came out the clear victor: Sen. Obama did not seem callow or inexperienced in the slightest, but lordy did McCain — squinting, smirking, and drowning in derision — come across as aged. And I may be wrong about this, but I just don't think the Old Man Withers strategy plays with the undecides. I know that many lefties out there wanted to see a more forceful Obama on the attack Friday night, but I don't think that was his mission: It was more important that he, like Kennedy in 1960, seemed presidential, level-headed, and the very opposite of the risky gamble that the McCain folks would try to make him seem. In that, I think, he succeeded, particularly in contrast to the snarky old man standing across from him. Advantage Obama.