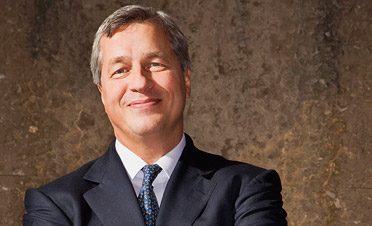 "Look at the numbers. Of the $410 million, $125 million represents the disgorgement of illicit profits from Morgan's scheme — money the bank wouldn't have collected at all if it operated within the law. (The sum is supposed to be returned to ratepayers.) So that doesn't count. The real punishment is the balance of $285 million. How badly will that hurt JPMorgan Chase? Well, the big bank collected $97 billion in net revenue last year, so it represents a little more than a single day of intake.

Ask yourself: If you could steal $125 million, with the only downside being that if you got caught you might have to give the money back and lose a single day's income, would you give it a go? Me too."
On the announcement
that J.P. Morgan will be paying a pittance
for
engaging in massive Enron-style energy fraud
, the
L.A. Times
' Michael Hiltzik
calls out the regulatory sham for what it is
.
"Our top regulators actually think they've gotten the better of a huge illegal enterprise, which is a good sign that they're delusional. They didn't even get Morgan to admit that it had done anything wrong."
It's tempting to hate on FERC for agreeing to this sucker's deal, but let's face it, this type of wink-and-a-nod, Potemkin oversight is endemic across our supposed regulatory agencies. (See also: the (lack of) fallout from JP Morgan's Whale Trade.)
It used to be, not even all that long ago, people and companies who engaged in systemic energy and financial fraud went to prison. Now…not so much. Today, they not only continue to be treated as esteemed citizens by the highest levels of government — They even have the temerity to complain they're being over regulated.
Meanwhile, our ostensibly progressive administration spends much of its days trying to prosecute whistleblowers and poor people to the fullest extent of the law. Some system. Honestly, if you're not disgusted at this point, you're not paying attention.