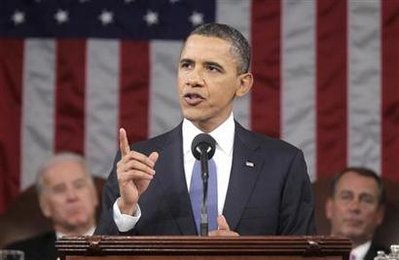 "
We know what it takes to compete for the jobs and industries of our time. We need to out-innovate, out-educate, and out-build the rest of the world. We have to make America the best place on Earth to do business. We need to take responsibility for our deficit and reform our government. That's how our people will prosper. That's how we'll win the future.
"
The best place to do business? Um…how about the best place to live, create, raise a family, be a community? Ah well, Win the Future!™ At this point, my thoughts on the the president's State of the Union address probably don't matter much, since I pretty clearly wasn't the intended audience, and the intended audience apparently dug it quite a bit. But, as for myself: Suffice to say, the "fetal position fallacy" that characterized the 2010 SotU seems to now be in full bloom. This speech, highly reminiscent of Dubya's 2006 address, basically made Barack Obama seem like the best Republican president we've had in years.
It wasn't just the bland corporate seminar tagline — Win the Future!™ — that rankled. Here we have a Democratic president — the great hope of the left only two short years ago, imploring us all to clap harder for a five-year budget freeze (only in non-defense, discretionary spending, of course, and still not enough for the GOP), a promise to review regulations that put an "unnecessary burden on businesses," and a lower corporate tax rate. WTF, indeed.
Now, there's nothing inherently wrong with national goals like increasing competitiveness and doubling exports (provided you aren't suppressing wages to do it), and I've speculated here on getting rid of corporate taxes in the past. (10/12/00 — Arguably, they're redundant.) But, really, what a thin gruel to offer the American people at this hour. Is there no other way to answer the challenges of the future than a Tony Robbins slogan and generous heapings of business seminar pablum? Have things gotten so bad for the Left that we're supposed to applaud a president simply for not explicitly threatening Social Security?
Alas, it looks like that may be the case. In his address, the president made sure to make obeisance once again to the deficit witchhunt: "Every day, families sacrifice to live within their means. They deserve a government that does the same." What you didn't hear was any attempt to explain that family and government budgets are not the same, or that cutting spending in the midst of a fragile economic recovery is actually a terrible idea. It's like Keynesianism never existed.
This administration — and all of Washington, really — is now so prisoner to Republican message-framing that "bring[ing] discretionary spending to the lowest share of our economy since Dwight Eisenhower was President" is somehow considered a great thing. Woohoo! Austerity we can believe in! It's not the most inspiring peg to hang your hat on, to be sure.
Speaking of Ike, Obama also tried to inject some historical cachet into the speech by talking of one of the Eisenhower Era's signature events: "This is our generation's Sputnik moment," he said, and it probably is.
But, as Fred Kaplan (and others) has well pointed out: "The lesson from the 1950s is that it takes more than private enterprise to revive American innovation. It takes lots of government spending." And I'm not seeing how the president is going to be able to pull that off anymore, now that he's willingly enclosed himself — and all of us — in the Republicans' deficit-scare paddock. To really Win the Future!™, it's going to take a lot more from this administration than a zippy corporate rebranding and a string of hoary, Third Way cliches.