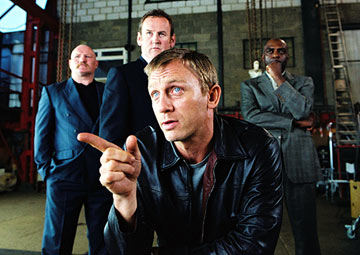 Disgruntled supporters of mutantkind, take heart: X3 is in very good hands. I caught Matthew Vaughn's Layer Cake this afternoon, and it's a smart, stylish, and sublimely smooth British crime film that does Guy Ritchie's Lock, Stock, and Two Smoking Barrels and Snatch one better. Well, ok, Layer Cake isn't as laugh-out-loud funny as Lock Stock can be at times, but it's much cleverer than Snatch and, frankly, better-made. And, for that matter, it takes less joy in violence for its own sake than Ritchie's oeuvre (one grisly scene set to Duran Duran's "Ordinary World" notwithstanding.) In fact, in terms of tone, Cake is probably more akin to Jonathan Glazer's Sexy Beast.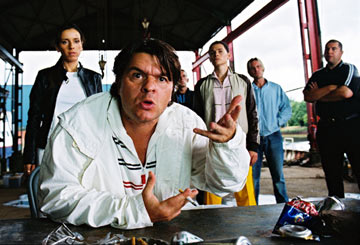 Layer Cake centers on cocaine dealer Daniel Craig (burnishing his possible Bond credentials), a consummate smooth operator who treats his criminal enterprise like a business and, as per the usual, is just looking forward to an early retirement around the corner. But his best-laid plans are interrupted by two ugly developments: 1) His boss Jimmy (Kenneth Cranham) enlists him to track down the junkie daughter of even bigger crime-lord Eddie Temple (Michael Gambon, relishing the dark side), and 2) a loose cannon flunky known as the Duke (Jamie Foreman of I'll Sleep When I'm Dead and Roman Polanski's forthcoming Oliver Twist) has just rolled in from Amsterdam trying to unload a million doses of Ecstasy (a drug haul with a nefarious history of its own.)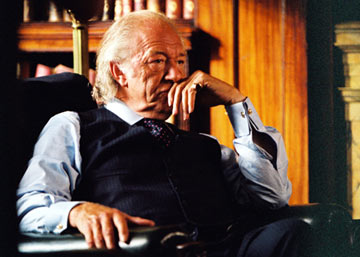 The rest of the movie consists of Craig trying to navigate the increasingly narrow straits between these two troubles, with the occasional aid of muscle Colm Meaney, middle-man George Harris, and a host of other ne'er-do-wells. Essentially, you know the drill — this is a puzzle film in which you'll have to listen carefully and learn to distinguish between various delinquents with names like Tiptoes, Kinky, Slasher and Shanks. And, while the final few grifts just get a bit too big to be believable, for the most part the story holds together with intelligence and verve, in no small part to Daniel Craig, who's a magnetic presence here, and Matthew Vaughn, who displays a crisp, confident direction that's all the more impressive for being showy without ever seeming flashy. To him, his X-Men.