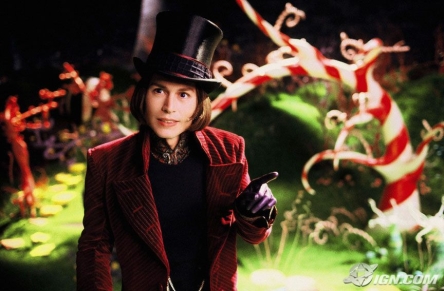 Before
Berk
and I head off to procure a Golden Ticket
back to Hogwarts
, some thoughts on Tim Burton's
Charlie and the Chocolate Factory
. Well, for the most part, I dug it — it definitely didn't feel as throwaway as Burton's recent
Planet of the Apes
(or
Big Fish
, for that matter.) In fact, dare I say, it seemed more subversively
Dahl
-esque to me than the much beloved Gene Wilder version. That being said, I also thought the film grew forced as it went along — The most magical moments happen before Charlie even ventures onto the factory grounds. Alas, as with many Wonka delicacies, that initial rush doesn't last, and the film grows less absorbing and more sickly-sweet as the children meander through the Land of Chocolate.
Speaking of the kids, though, they're all pitch-perfect — it's hard to imagine a more Charlie-ish Charlie than Freddie Highmore, a more Veruca-ish Veruca than Julia Winter, and so on through the Starting Five. I also found most of the modern tweaks they'd given the contestants quite clever (Mike Teavee as a gamehead, Violet Beaureguard's mom as an Atlanta suburbanite Showbiz Mom, Violet herself as a kung-fu master.) As for the other denizens of Wonkaland, I frankly grew a bit tired of the Oompa-Loompas' antics after awhile, although it's nice to see a journeyman fanboy stalwart like Deep Roy get his moment(s) in the spotlight.
And Depp? Well, he's weird, and — I'll give him credit — weird in a totally non-Hunter S. Thompson-ish way. Even with the added-on humanizing backstory and somewhat unnecessary character arc, this Wonka is much more akin to the one the UN should be inspecting than the avuncular, approachable Wilder. To be honest, I can't really figure out if his performance — part-Batman villain, part-gleeful-pre-teen, part-Rainbow Randolph-style TV host (Depp says he had Capt. Kangaroo types in mind) — is brilliantly off-putting or aggravatingly one-note. I do know that I probably wouldn't want to sit through a Charlie and the Great Glass Elevator if Depp kept this up…Too much just makes ya sick.
Still, Depp, Burton, & co. deserve points for pushing Wonka in a completely different direction than did Wilder in the 1971 version. And that, in the end, is this Charlie's big plus: Unlike entirely too many unnecessary remakes of late, the film seems to have a reason for being other than audience nostalgia, and can co-exist happily with both the Dahl book and the Wilder film without doing dishonor to the memory of either. Just consider it the Sourz or Wild Berry version.