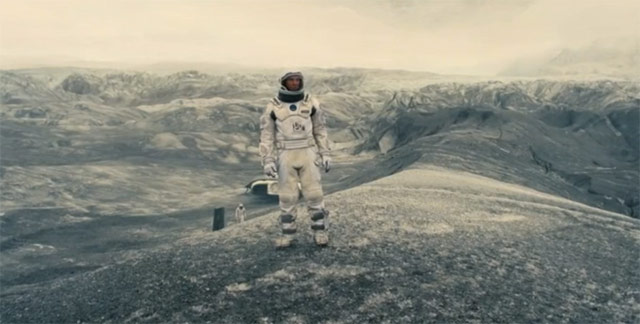 "We used to look up in the sky and wonder at our place in the stars. Now we just look down and worry about our place in the dirt."
Those True Detective pun titles keep on givin': Matthew McConaughey goes asking our intergalactic neighbors for water in the newest trailer for Christopher Nolan's Interstellar, also with Anne Hathaway, Jessica Chastain, Bill Irwin, Ellen Burstyn, Michael Caine, Matt Damon, Casey Affleck, Topher Grace, John Lithgow, David Gyasi, Wes Bentley, and David Oyelowo.
As before, I like the space case being made here, but remain worried about the apparent Gravity-levels of schmaltz being used to fuel this probe. We'll see, this November.