If you're going to see only one movie about 9/11, see Paul Greengrass' United 93, far and away the best movie of the year. If you're going to see two movies about 9/11, see United 93 and Spike Lee's The 25th Hour, still the best film I've seen about the day's aftermath here in Gotham. And, if you're going to see three movies about 9/11…hmm, now that's a tough one. Maybe add the first hour of Steven Spielberg's War of the Worlds and the first half-hour of Oliver Stone's surprisingly rote World Trade Center? While much better than the godawful Alexander or the misfiring Any Given Sunday, World Trade Center nevertheless suggests that Stone is still somewhat off his game. The movie has some moments of genuine power, particularly in its first act (as it would have to given the potency of its source material), but it's hard to believe the director of JFK, Platoon, Natural Born Killers, and Nixon would make such a staid and conventional Lifetime movie-of-the-week from the defining tragedy of our decade. (Even more unStonelike, aside from an indirect dig at the blathering television newsmedia, who continuously recycle the morning's events well past everyone's endurance, WTC is also resolutely apolitical and uncontroversial.) In sum, World Trade Center is crisply-made and at times affecting, but nowhere near as interesting or eventful a movie as you might expect. As EW's Owen Gleiberman aptly summed it up, "World Trade Center isn't a great Stone film; it's more like a decent Ron Howard film."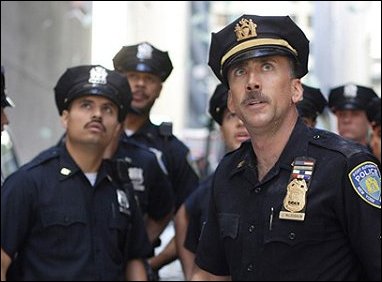 Much like United 93, World Trade Center begins in the wee morning hours of Tuesday, September 11, 2001 (3:29 am, to be exact), as some of New York City's earliest risers — and, indeed, the City itself — wake up to face another day. Among the bleary-eyed morning commuters are two of the Port Authority's finest, family men Sgt. John McLoughlin (Nicolas Cage) and rookie officer Will Jimeno (Michael Pena). We follow McLoughlin and Jimeno through the beginnings of their usual routine — walking the beat at the Port Authority bus terminal — until the shadow of a jet zooms overhead, and the horrors of the day start to unfold. An expert on the World Trade Center since before the 1993 bombing, McLoughlin quickly leads a busload of anxious Port Authority cops down to what will soon become known as Ground Zero, where he and a small team (including Jimeno), after choking back their awe and fear, enter the mall concourse between the towers. As metal coughs, creaks, and grinds onimously in the background, these first responders gather up their gear and prepare for their trek up Tower 1. But, just when McLoughlin gets wind that there may be something wrong in Tower 2 (news which Jimeno heard on the way down), a terrible Wrath-of-God rumbling begins, and the World caves in. Having barely made a desperate sprint to the elevator shaft, which McLoughlin — thankfully — had known was the strongest part of the building, the surviving members of his team find themselves entombed (and partially crushed) amid a hellish morass of concrete and twisted steel. Then — although they have no clue what's going on — the other Tower falls, and McLoughlin and Jimeno are left alone in the dark, hopelessly pinned underneath the smoldering wreckage of the two towers.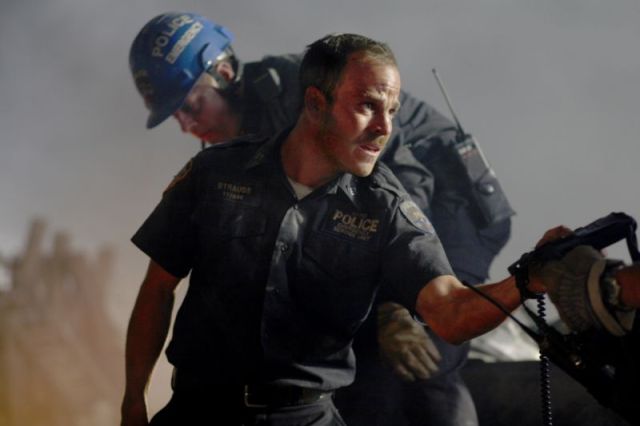 Up to this point, Stone's movie is almost completely riveting, and the scenes in the doomed (and painstakingly recreated) WTC concourse in particular have a horrifying "I can't believe I'm seeing this" feel to them…Unfortunately, we're only about thirty minutes into the film. For the next ninety minutes, WTC switches back and forth between these two dying peace officers and the anxious pacing of their confused and griefsick wives, Donna McLoughlin (Maria Bello, wearing really distracting blue contacts that make her look Fremen) and a pregnant Allison Jimeno (Maggie Gyllenhaal). Alas, horror yields to hokum, and the film pretty much wallows in melodramatic platitudes for the remainder of its run. This is not to say that the rest of World Trade Center is terrible — It's competently made and, given the human drama at stake here, even moving at times. But it's also breathtakingly conventional, with Stone (and WTC's writer Andrea Berloff) pulling every single disaster-movie-tearjerker cliche out of the book by the end: flashbacks to happier times, ghostly visions of loved ones (as well as a faceless Jesus, which is the closest Stone gets to his usual obligatory shaman cameo), the kid who won't accept the situation at face value, the musing over last words spoken, etc. (The bromides also extend to the brief and not very realistic characterizations of some of the post-collapse rescuers, which include Stephen Dorff, Frank Whaley, and Michael Shannon.)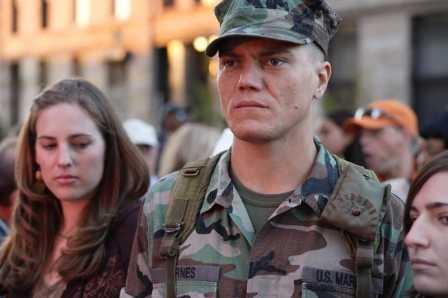 Along those lines, I don't want to make it sound like I'm criticizing the true story of McLoughlin and Jimeno — their story is a miracle, and one of the few small beacons of cheer from that terrible morning. But, when a movie called World Trade Center ends up focusing so narrowly on these two survivors and — big spoiler, but it's in the poster — ends with happy reunions and two families getting unexpectedly wonderful news, something seems off. Unlike United 93 which managed to recapture both the primal nightmare and unexpected heroism of that day and did so unblinkingly, without sugar-coating the fate of the fallen, WTC instead transmutes the stark emotions of 9/11 into saccharine, easy-to-swallow caplets of Hollywood sentiment. Some people may like this alchemy better, I suppose, but, in all honesty, to me it felt like an overly-sanitized cop-out (or two cops-out, in this case.) World Trade Center means well and is a decent film in every sense of the word. But the first half-hour notwithstanding, it also feels superfluous — which, given the confluence of director and material here, is somewhat surprising.