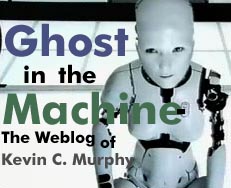 Way back in the last millennium,
when I started GitM
, things were different. America had
never had a black president
. We had no clue that
there was water on the moon
. Everybody agreed, and knew in their bones,
that torture was immoral
. The Knicks were actually
considered a pretty good basketball team
. Weblogs were still counted in the thousands.
And, after two-to-three years of building out a website on Geocities, mostly consisting of rinky-dink book reviews, I decided one day to embark on an experiment. I had tried several times over my first twenty-five years to keep a journal, and had given up each time. The product mostly came out as navel-gazing, self-indulgent whining, and, frankly, it bored me to write it. But, I realized after discovering sites like Megnut, Saturn, and Barbelith one day, what if I wrote that journal on the Internet? A public forum would help rein in the Gaelic melancholy, it would focus my thinking on the issues I cared about, and it would structure the many hours I spent dinking around online already…
Ten years ago today, Ghost in the Machine was born. [0, 1, 2, 3, 4, 5, 6, 7, 8, 9.] (FWIW, I chose the name for a lot of reasons, none of them really having to do with Arthur Koestler or the Police — It was a callback to one of my triumvirate of favorite movies (along with Amadeus and Miller's Crossing): Terry Gilliam's Brazil. ("Ere I am, J.H…") It was already the name of my coxing column for Rowersworld, because it describes almost perfectly what a good coxswain is. And, given that I was working as a DC ghostwriter at the time, it seemed appropriate in that way too.)
At any rate, the very first post included a movie review (Being John Malkovich — I liked it!) and some primary 2000 coverage (as old-school visitors may remember, I was very, very pro-Bradley and anti-Gore that year), and those are the twin axes GitM has mostly revolved around ever since. (You could argue the spinoff content 'round here has done better, tho' — The Leaky Cauldron ended up becoming one of the premiere Harry Potter sites on the web (no thanks to me), and, on any given day, the part of this site that gets by far the most hits are my American History orals summaries, mostly undergrads looking for Cliff Notes, I presume.)
And so, ten years passed. There was 2000 and 2004 and 2008. There was 9/11 and Afghanistan and Iraq. There was orals and the interminable, continuing dissertation. There was Spin This and Bush Must Go and HTRSC and Trainwreck (and soon, Toxic Talk.) There was Casino Jack and Boss DeLay. There was Geocities and Movable Type. There was DC and New York and then DC again. There was New Zealand and Hawaii (often). There was Vegas and the West Coast, the DR and Denver. There was Elaine and Jen and Amanda. As of May 2000, there was and is my trusty sheltie sidekick, l'il Berkeley. There was a lot of thinking about progressivism. And there were movies…lots and lots of movies. If they keep making 'em, I'll keep watching 'em.
Now, a decade later, I am back where I began — in DC, working as a speechwriter. And that's fine…more than fine, actually. At least for now, I feel like this is where I belong. As for the blog, well, after ten years of doing this, I don't ever expect GitM to be well-read anymore — the stats peaked six or seven years ago, and, quite frankly and by all indications, this now seems like a reasonably dead corner of the web. Nonetheless, I expect GitM will continue.
So, here's to the first ten years, and fate-willing, here's to many more. And if you've been coming by here for a day, a month, a year, or a decade, thanks, as always, for dropping by. It is much appreciated.