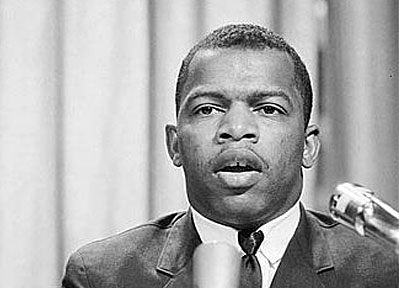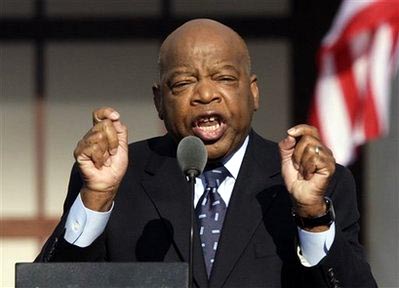 I was there that day when Dr. King delivered his historic speech before an audience of more than 250,000. I am the last remaining speaker from the March on Washington, and I was there when Dr. King urged this nation to lay down the burden of discrimination and segregation and move toward the creation of a more perfect union…

[W]ith the nomination of Senator Barack Obama tonight, the man who will lead the Democratic Party in its march toward the White House, we are making a major down payment on the fulfillment of that dream. We prove that a dream still burns in the hearts of every American, that this dream was too right, too necessary, too noble to ever die.

But this night is not an ending. It is not even a beginning. It is the continuation of a struggle that began centuries ago in Lexington and Concord, in Gettysburg and Appomattox, in Farmville, Virginia, and Topeka, Kansas, in Philadelphia, Mississippi, and Selma, Alabama.

Democracy is not a state. It is an act. It is a series of actions we must take to build what Martin Luther King Jr. called the beloved community – a society based on simple justice that values the dignity and the worth of every human being.

We've come a long way, but we still have a distance to go. We've come a long way, but we must march again. On November 4th, we must march in every state, in every city, in every village, in every hamlet; we must march to the ballot box. We must march like we have never marched before to elect the next President of the United States, Senator Barack Obama.

For those of us who stood on the steps of the Lincoln Memorial, or who in the years that followed may have lost hope, this moment is a testament to the power and vision of Martin Luther King Jr. It is a testament to the ability of a committed and determined people to make a difference in our society. It is a testament to the promise of America.
I'm not sure if it made it to the networks, but Rep. John Lewis' introduction to the MLK tribute was easily the most spine-tingling and moving moment of the day outside of Obama's nomination speech. When Lewis spoke, it was still a bright, sunny afternoon in Denver, and it was easy to imagine — and even almost feel the tangible presence of — that August day in Washington forty-five years ago.
I'm fully aware that this is just an illusion, that the two events were quite different in feel and tone, and that the former will always remain unknowable to me, outside of book-learning. But, as Lewis spoke with such emotion and conviction Thursday afternoon, it was a very powerful feeling, as if the space-time of American history was folding around us to fashion bookends, forty-five years apart. I felt extraordinarily lucky to be there to witness and experience it. "'We've had disappointments since then, but if someone told me I would be here' Mr. Lewis said, shaking [his] head. 'When people say nothing has changed, I feel like saying, "Come walk in my shoes."'"