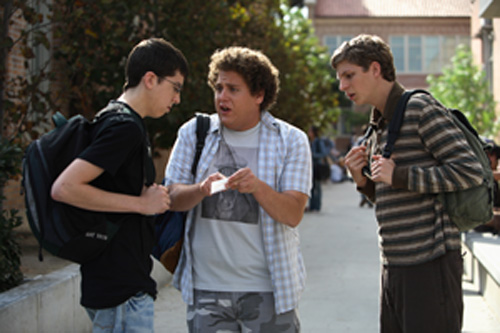 True love? Well, first things first. With hormones raging and graduation imminent, all the gaggle of adenoidal misfits at the heart of Superbad want to do is just get on the board. I caught Greg Mottola, Seth Rogen and Evan Goldberg's ode to teenage fraternity and the exquisite misery of high school celibacy two weeks ago, as a follow-up to The Invasion. And, while I could see how it might not be everybody's cup of tea (and assuredly plays better to the Y-chromosomed among us), I logged enough time as a nerdy, oversexed high schooler back in the day to dig the film considerably…or at least its first hour or so. I frankly never get tired of Arrested Development's Michael Cera — nobody does teenage awkward anxiety better — and newcomer Christopher Mintz-Plasse was a real find. But Superbad's two skewed peace officers — Rogen and SNL impressionist Bill Hader — reallly overstay their welcome. They should've been a one-sequence joke, but they linger on and on here, like the mortifying memory of a drunken mistake.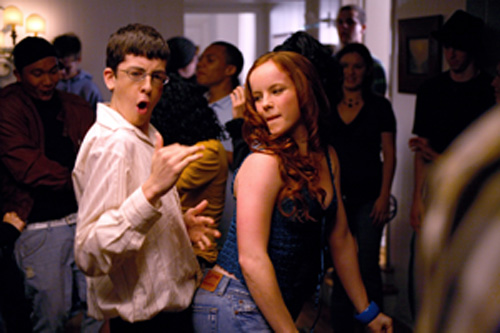 The story? It's as old as the hills and as common as puberty. Basically, portly wiseass Seth (Jonah Hill of Knocked Up) and nebbishy dreamer Evan (Cera) are not only high school BFFs about to go their separate ways in college but interminably horny boys on the threshold of manhood. In fact, they're willing to do just about anything to hasten their crossing of that threshold, sexually speaking, including procuring copious amounts of alcohol for an end-of-school party they've miraculously been invited to (thanks to some smoother-than-usual maneuvers by Seth in Home Ec one day.) But, their visions of easy, liquor-soaked seduction go awry when they discover their even nerdier partner-in-crime, Fogel (Mintz-Plasse), has inexplicably reinvented himself as a 25-year-old Hawaiian named "McLovin" on his fake I.D. And, when "McLovin" gets (inadvertently) apprehended by two local cops (Rogen, Hader) after a "bad buy," Seth and Evan must attempt more drastic maneuvers to obtain the demon rum, or remain high school virgins for time immemorial…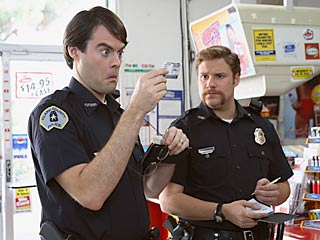 So, yeah, in other words it's Porkys, or Revenge of the Nerds, or any of a hundred other movies that center around quirky (male) adolescents frantically trying to get laid. But the play is the thing, and as an example of the genre Superbad is both pretty darn funny at times and altogether plausible, at least for its first few reels. In conversations both profane (types of porn, inadvertent erections) and profound (the tragedy of Orson Welles), Seth and Evan exhibit a wide-ranging, free-association friendship that feels honest and lived-in. In fact, that's ultimately half the joke…the duo in Superbad constantly assert their heterosexuality as way of expressing their homosociality. ("P.S. I love you", indeed.) Admittedly, the film does drag some as it goes along, particularly during all the interminable cop shenanigans (or when Seth voices — over and over again — his abject Freudian horror at menstrual blood.) But watching Cera squirm through another uncomfortable conversation — or seeing Fogel groovin' in that swanky vest — makes Superbad feel like a funky, sweet throwback to those high-school days of yore.