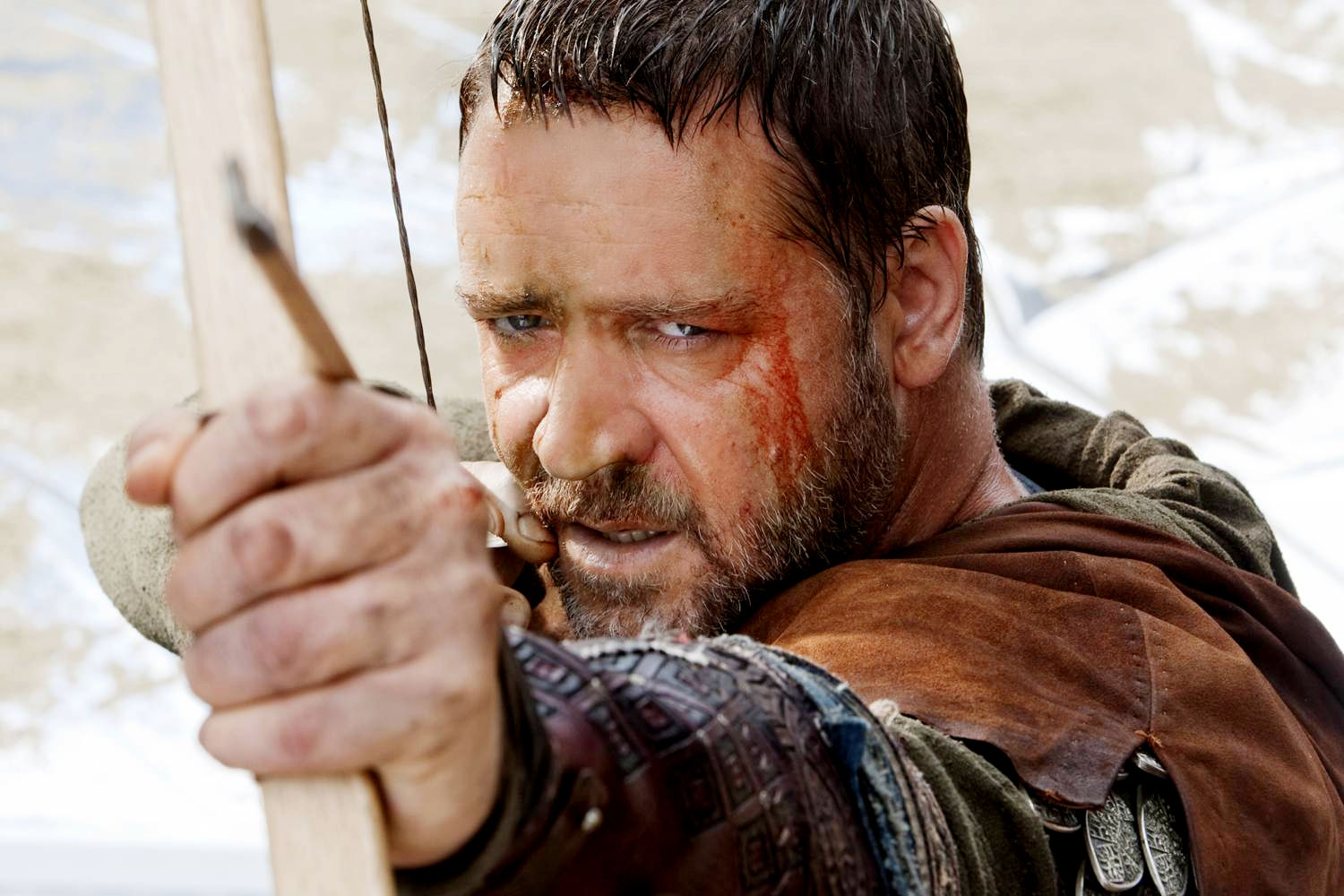 I'll give it this:
Ridley Scott's high-minded, lavish, and more-than-a-little-dull take on Robin Hood
, which I sense slipping from memory less than a week after I saw it, was actually
better than I had expected
going in. In fact, if you go for medieval sieges and Anglo-French intrigue and whatnot, the movie is even vaguely pleasant for most of its run, in a well-made-but-snoozy, BBC-production sort of way. But, with the possible exception of seeing another late-career turn by Max Von Sydow (who has more to do here than in
Shutter Island
) I just can't find a reason to recommend spending two-plus hours of precious life watching this film.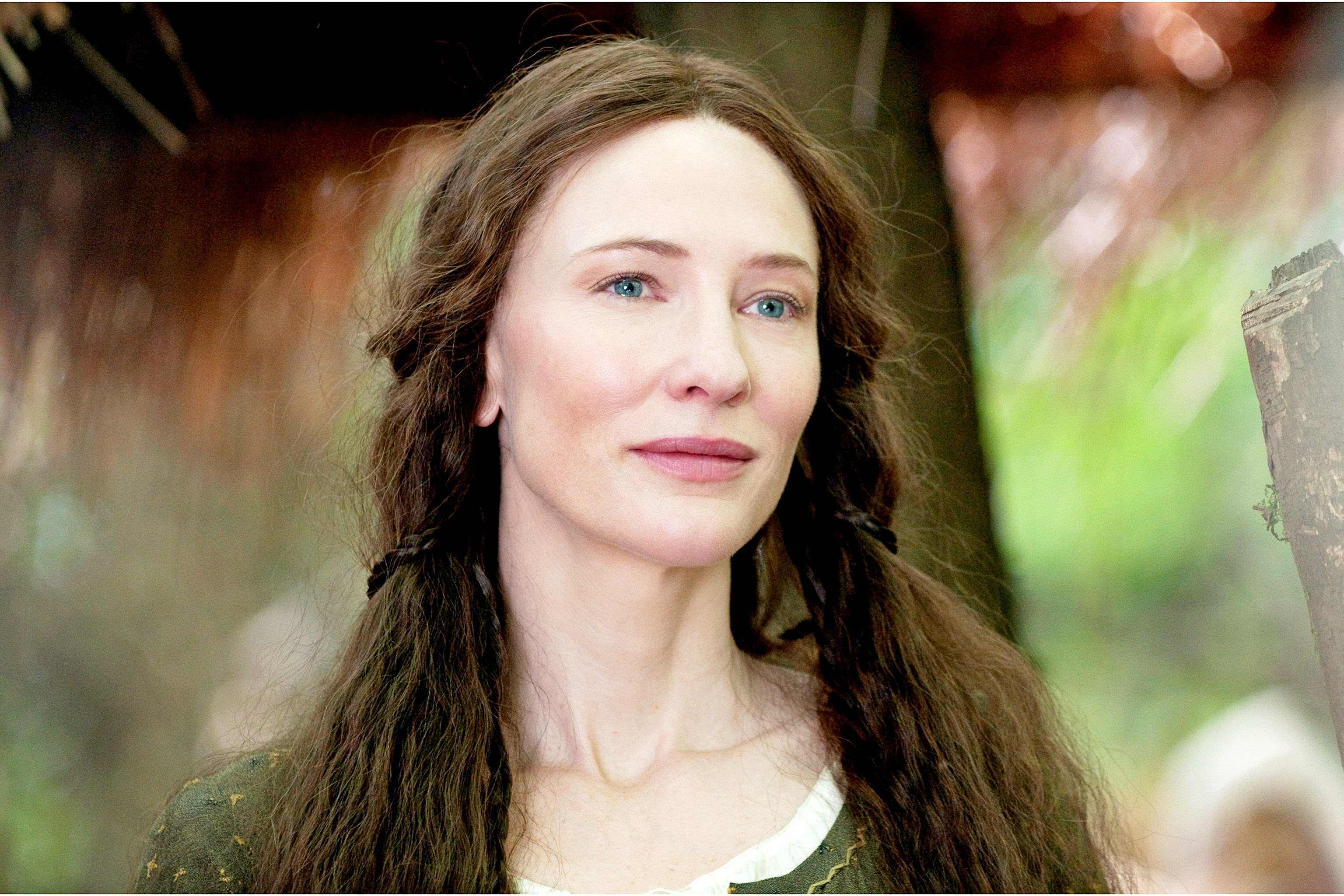 For that matter, I can't figure out the point of making this sort of Robin Hood in the first place. On its face, what we have here is one part superhero origin-story, a la Batman Begins and Casino Royale, and three-parts "the real story behind the legend," like Troy and King Arthur. To which I say yet again, why not go Liberty Valance with it and just print the Legend? Sure, when it comes to actual, honest-to-goodness events like The Alamo, I prefer the historical approach. But this is Robin Hood — wHy sO sEriOUs? Do we really need all these grim, earnestly realistic, edutainmenty muckrakes through the fiction and folklore of the past? Who enjoys them?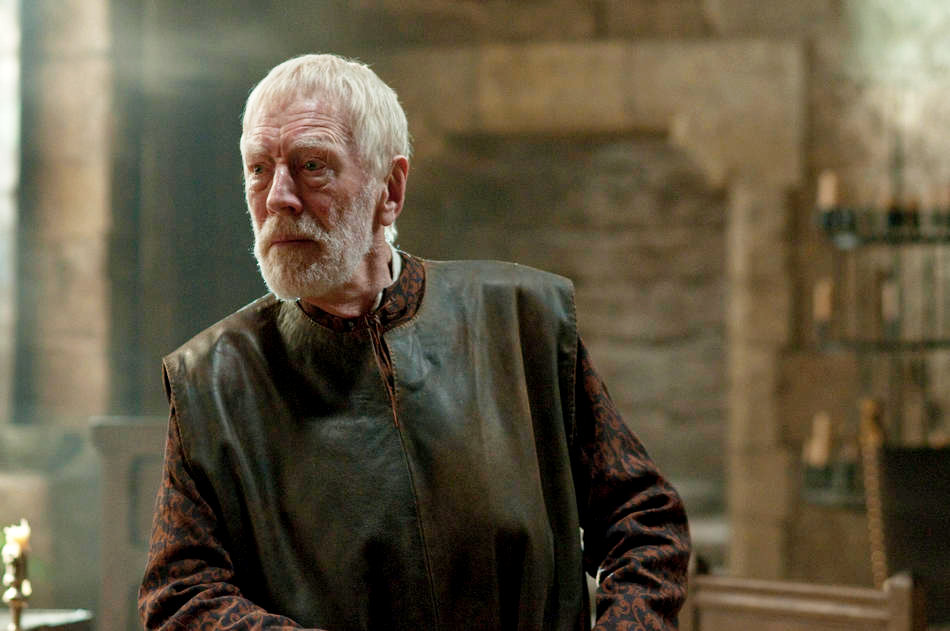 In its favor, Robin Hood doesn't feel as notably bereft of its legend-y elements as Troy-without-Gods and King Arthur-without-wizards did. Still, the movie is so committed to its Serious Purpose of telling-the-untold-story that, even with occasional flashes of Chaucerian ribaldry — like Von Sydow happily noting his rare "tumescent glow" and Little John (Kevin Durand) insisting he's "proportionate" — the tale feels mostly robbed of its usual vagabond charm. Simply put, these Men are not Merry. As such, this iteration of Robin Hood ends up feeling a lot like Ridley Scott's last well-intentioned-but-plodding historical-siege epic with high production values, a cast of hundreds, and no pulse: Kingdom of Heaven. (FWIW, I've never seen the much-hyped director's cut of Kingdom — I saw the deeply boring "Two Towers-knockoff" theatrical version.)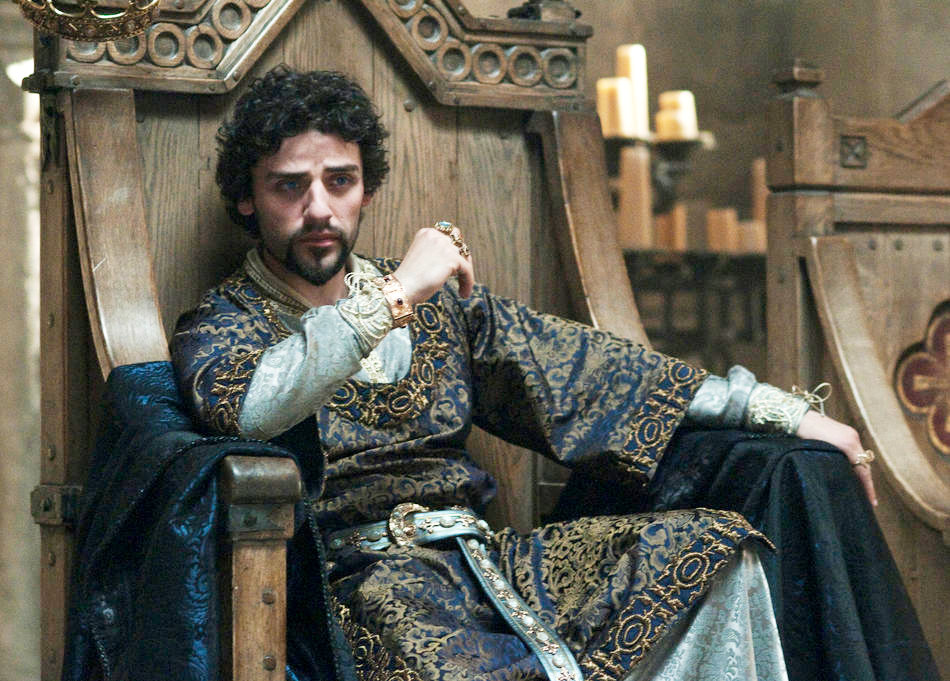 To be fair, the tendency of Robin Hood to read 21st-century mores back into medieval Christendom works better than the exact same failing did in Kingdom. (For one, Robin Hood always was a wealth-redistributor and subverter of authority, albeit not a teabagger. For another, Robin's nemesis King John really did sign and renounce the Magna Carta. As for Maid Marian turning into Eowyn…well, Joan of Arc's only a few centuries down the road, I guess.) But otherwise, Kingdom and Robin Hood are pretty much two peas in a pod — Both are well-made, well-meaning, historically-minded bores.
Given the general lack of inspiration here, one has to wonder what happened to Nottingham, the Robin Hood film Ridley Scott and Russell Crowe said they were making, where the famous tale would be told from the Sheriff of Nottingham's point-of-view (and where Crowe would be playing both Robin and the Sheriff.) Not only does that sound like a more intriguing project, but, let's face it, Crowe is more of a Sheriff-of-Nottingham kinda guy. As it is, he's too grim and lumbering to bring much magic to this Sherwood Forest (and, yes, his accent is all over the place.) Yes, Crowe can be a very good actor at times, but he's just miscast here. (Fwiw, the Sheriff is now a foppish, throwaway character in this telling, played for laughs by the most recent Mr. Darcy, Matthew MacFadyen.)
Still, others fare better. As Marian, Cate Blanchett handles some really clunky writing with her accustomed grace. Mark Strong, late of Sherlock Holmes and Kick-Ass, adds yet another rogue to his gallery as French-loving mini-boss Sir Godfrey and, while his motivations don't make much sense, he's still a presence onscreen. I thought Oscar Isaac (who with Strong is a Ridley Scott veteran from the under-appreciated Body of Lies) was particularly solid as the spoiled but not entirely clueless King John.
And, along with the aforementioned Max Von Sydow, the venerable Dame Eileen Atkins is on hand as Eleanor of Aquitaine to give Robin Hood a further touch of class. (In the debit column, Mark Addy is actually fine as Friar Tuck, but, every time he showed up, he made me wish I was watching Red Riding instead. And, for whatever reason, I just can't take William Hurt seriously anymore. He's hammier than Walken to me.)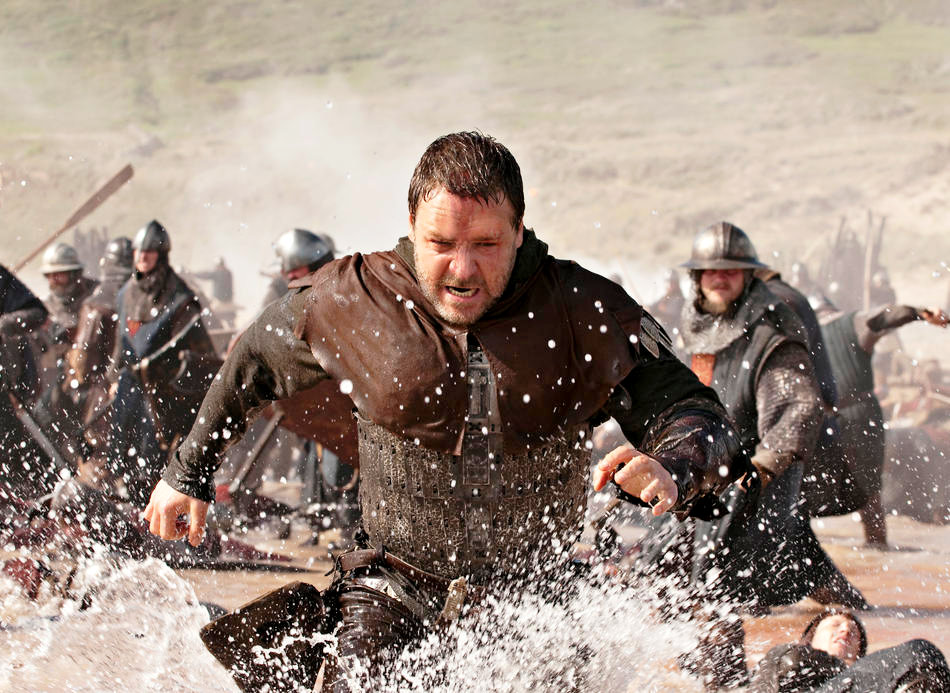 Still, the acting here can't deflect attention away from the fact that Ridley Scott's Robin Hood is misconceived in fundamental ways. To take another example, the movie begins and ends with two large battle setpieces. First, a French castle is besieged by Robin and the army of King Richard the Lionheart (the seemingly ubiquitous Danny Huston — hey, he does gravitas for cheap!) on the way back from the Crusades. And, in the final reel, Robin and varied English forces try to repel a French invasion in a big and rather nonsensical beach battle. (Question: Why have Robin — an archer — lead a cavalry charge right into the thick of the battle, particularly when the English were already busy decimating the Gauls from the high ground with arrows? Ah, yes, for movie purposes.)
Sure, both of these battles are well-shot and well-executed, as one would come to expect from the director of Gladiator and Black Hawk Down. But why are they even part of this story? When did the tale of Robin Hood ever involve large-scale warmaking, or, for that matter, the 13th century version of Saving Private Ryan? Here's the thread: Bandit steals from rich, gives to poor, makes merry, meets Marian. Rinse, repeat. That's all you gotta do, people. The story of Robin Hood has endured for centuries now — You don't have to improve on it or muckrake it to death. Just tell the darned thing well.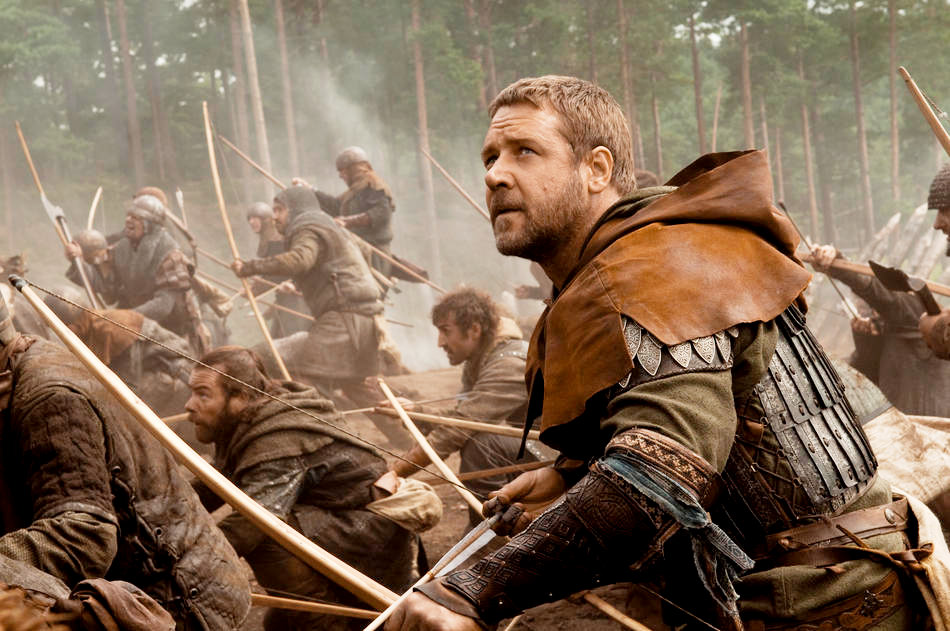 In the trailer bin this morning, Russell Crowe grimaces once more for Ridley Scott as the titular character in his take on Robin Hood, also with Cate Blanchett (Maid Marian), Mark Strong (Evil Henchman), Max von Sydow (Pa Marian), Mark Addy (Friar Tuck), Kevin Durand (Little John), Oscar Isaac (King John), Danny Huston (Richard the Lionheart), and William Hurt (William Marshall).
Well…ok. But how many times have we seen this movie now? (Not the Robin Hood tale, but the King Arthur-ish "story behind the story" period war epic.) For that matter, how many times has Ridley Scott made this movie now? As such, it's hard to get too excited about this.
Hello again, and a happy New Year's Eve to you and yours. Well, I thought this Best of the Decade would end up being four parts, but now it's looking like five. The recaps for this last twenty-five got so long that MT seems to be consuming the bottom of the entry as I write.
So, with that in mind, here's #'s 25-11 for the Oughts, with the top ten of the decade to follow in due course. If you're new to this overview, be sure to check out part 1, part 2, and part 3 before moving on to the…
Top 100 Films of the Decade: Part IV: 25-11
[The Rest of the List: 100-76 | 75-51 | 50-26 | 25-11 | 10-1]
[2000/2001/2002/2003/2004/2005/2006/2007/2008/2009]
25.
Donnie Darko
(2001)
From the original review: "All in all, this is a marvelously genre-bending film with wonderful anchoring performances by the Gyllenhaals. I think I liked this movie much more for not knowing a lot about it going in, so I won't mention the particulars here. But it's definitely worth seeing. Extra points for the soundtrack, which with 'Head over Heels,' 'Love will Tear Us Apart,' and 'Under the Milky Way'…reminded me more of my own high school experience than any other film I can remember. (The Dukakis era setting helped, since that was my own eighth grade year.)"
I almost took this movie out of the top 25 on account of its association with Southland Tales and The Box, and even the director's cut of this film, which snuffs out a lot of this movie's weird magic by slathering it in needless Midichlorian-style exposition. As I said in my recent review of The Box, Donnie Darko seems to be a clear and undeniable case where studio intervention saved a movie.
Nevertheless, part Philip K. Dick, part John Hughes, Darko was a touching coming-of-age story (thanks in good part to Mary McDonnell and Holmes Osborne as Donnie's cranky but loving parents), a decently funny satire about the vagaries of small-town life (think Sparkle Motion, "sleep-golfing," and the Love-Fear axis), and a trippy sci-fi/psychological thriller. (Was Donnie really talking to a demon-rabbit from the future, or was he just off his meds? The original version muddles this question a lot better than the Kelly cut.)
Whether or not Richard Kelly just got struck by lightning here, everyone else involved clearly brought their A-game to this production. Two Gyllenhaals got on the Hollywood board with this flick, although Maggie would have to wait for Secretary to really break out. The Michael Andrews score contributed mightily to the proceedings, as did the Gary Jules cover of "Mad World," which got a lot of run in the Oughts, from Gears of War to American Idol. And there are plenty of quality performances in the margins, from the late Patrick Swayze riffing on his image, to Beth Grant typecasting herself for the decade, to Katharine Ross coming back for one more curtain call. Fluke or not, the original version of Donnie Darko was one strange and memorable bunny, alright.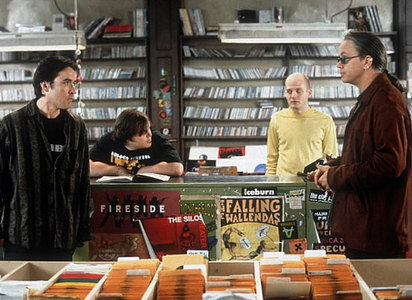 24.
High Fidelity
(2000)
From the year-end list: "An excellent adaptation of a great book, even if I preferred the Elvis Costello britrock emphasis of Hornby's tome to the indie Subpop scene of the movie."
"Charlie, you f**king b**ch! Let's work it out!" Arguably John Cusack's finest hour (although 1999's Being John Malkovich is right up there, and I know many might cite the Lloyd Dobler of old), Stephen Frears' adaptation of Nick Hornby's High Fidelity has continued to grow on me over the years. If it counts as one of David Denby's slacker-striver romances (see the discussion of Knocked Up at #40), it's definitely the one that hits closest to home for me.
The first thing people usually remember about this movie is all the Jack Black/Todd Louiso banter in the record store. ("It's a Cosssssby sweater!") And it's true — All of that stuff is both really funny and all too telling about the elitism and obsessiveness inherent to the fanboy mentality — "Don't tell anyone you don't own 'Blonde on Blonde'! It's gonna be okay." Besides, let's face it, this entire end-of-the-decade list is really just an extended High Fidelity-style Top 5 (and I had a great time back in July organizing my history books chronologically, a la Rob's record collection.)
Still, as with the book, High Fidelity's killer app is really the dispatches filed from Rob's romantic life, as he ponders what went wrong with his Top 5 Crushes gone awry. ("We were frightened of being left alone for the rest of our lives. Only people of a certain disposition are frightened of being alone for the rest of their lives at the age of 26, and we were of that disposition.") There's a lot of truthiness throughout High Fidelity, from Rob's catastrophic hang-up on Charlie (Catherine Zeta Jones) to his eff-the-world rebound with an equally besotted Sarah (Lili Taylor), to his single-minded infatuation about whether his ex, Laura (Iben Hjejle), has slept with the loathsome new boyfriend, Ian (fellow Tapehead Tim Robbins in a great cameo) yet.
In short, I'd argue High Fidelity gets the inner-male monologue closer to right than any flick this side of Annie Hall. In the immortal words of Homer J. Simpson, it's funny because it's true.
23.
In the Mood for Love
(2000) /
2046
(2004)
From the original review: "Since I spent Friday evening watching In the Mood for Love — a tale of a romance-that-almost-was, told in furtive hallway glances — and 2046 — a broader and more diffuse disquisition on love and heartache — back-to-back, here's an