Hey all. So, this has turned out to be a rather massive undertaking, one that's had to be split up into five parts so as not to destroy Movable Type. And, while the 2009 list hasn't yet been posted (although I have written it, pending a few more films I expect to see in the next week, such as Sherlock Holmes and The Lovely Bones), I thought I'd go ahead and throw out the first installment of my promised Best-of-Decade list right now. A few caveats before I start:
1) This is my list, obviously. Meaning these are the movies I enjoyed, cherished, or otherwise been entertained by over the past decade. So, if you vehemently disagree, that's cool, but that's just like your opinion, (wo)man.
2) Movies are being judged — in part — on how well they succeed on their own terms. So, to take an example below, am I really saying that Drag Me to Hell (#79) is a better film than Brokeback Mountain (#80)? And I'm saying yes, it's either [a] more entertaining or [b] to my mind, accomplishes better what it sets out to do.This way, a really funny Z-grade comedy might just beat out an expensively manicured piece of Oscar bait. Ya never know.
3) Since I've already posted extensive reviews of most of the movies here, I've gone ahead and included excerpts from those in the gray boxes for each film. Feel free to re-read or ignore these as you see fit.
4) Speaking of those reviews, some of the movies below may do better or worse than they did in their respective end-of-year lists. Some move up, some move down, such is the passage of time.
5) Finally, before we begin and in alphabetical order, some honorable mentions that didn't quite make the top 100 list, with brief explanations:
The Almosts (in Alphabetical Order)

















And now, the real list. Here we go…
Top 100 Films of the Decade:
Part I: 100-76
[The Rest of the List: 100-76 | 75-51 | 50-26 | 25-11 | 10-1]
[2000/2001/2002/2003/2004/2005/2006/2007/2008/2009]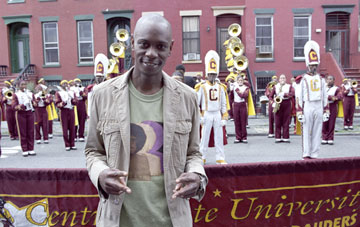 100.
Dave Chappelle's Block Party
(2006)
From the original review: "[I]t's hard to come up with a better 'first-day-of-spring' movie than th[is] wickedly funny, rousingly optimistic hip-hop concert flick…Block Party bounces with cool, infectious verve and power-to-the-people, DIY exhilaration…Chappelle's wry irreverence and broad, encompassing good humor are contagious. Often, it seems, he can't believe his luck at becoming the jester-king of Brooklyn for a day, and he grounds and permeates the film with his antic enthusiasm and sardonic, puckish charm."

From the year-end list: "With performances by some of the most innovative and inspired players in current hip-hop (Kanye, Mos Def, The Roots, The Fugees, Erykah Badu), and presided over by the impish, unsinkable Chappelle, Block Party was one of the best concert films in recent memory, and simply more fun than you can shake a stick at."
A case could be made that Michel Gondry's Dave Chappelle's Block Party should be even higher on this list — Few movie experiences of the decade were as out-and-out pleasurable as my spring afternoon viewing of this flick. That being said, Block Party seemed like a good way to kick off this best-of-decade list — It's just a happy, goofy, groovy, fun movie, teeming with great music, optimism, and the open possibilities of any given day. Particularly if you have any affinity for hip-hop, give it a whirl.
99.
Star Wars Episode III: Revenge of the Sith
(2005)
From the original review: "Well, that was a happy surprise. Star Wars Episode III: Revenge of the Sith is by no means a perfect film. But, the reviews are right — this one's miles above the other two prequels, and definitely can be considered in the same breath as Jedi. Sure, there's a bad movie occasionally lingering in the shadows like a Sith, but for the most part this entry manages to capture some of that ole Star Wars feel."

From the year-end list: "Thank the Force for small kindnesses: George Lucas put the Star Wars universe to bed with far and away his best outing of the prequels. The film flirts dangerously with the Dark Side, particularly in the 'let's take a meeting' second act, but for the most part Sith felt — finally — like a return to that galaxy long ago and far, far away."
How George got his groove back. In a perfect world, the Star Wars prequels would've carried some of the vim and verve of Peter Jackson's LotR trilogy or the first Matrix. Alas, as you all know, that didn't happen. Like many SW fans of my generation, I walked out of 1999's middling The Phantom Menace confused about where George Lucas was intending to go with all this, and desperately trying to convince myself that, Jar Jar Binks, midichlorians, and pod racing notwithstanding, I'd just sat through a really good movie. (The still-very-good Maul/Obi-Wan/Qui-Gon duel helped a good bit with the denial.)
Alas, the atrocious Attack of the Clones of 2002, the pre-Clone Wars nadir of the Star Wars franchise (Holiday Special notwithstanding), put that reverie to bed. Something terrible had happened — disastrous, even. All across America, millions of fanboy and fangirl voices suddenly cried out in terror and were suddenly silenced.
But, with expectations suitably lowered, then came Sith in 2005, which at least carried some small glimmers of the old magic. I won't try to defend the film's many faults — they're there, all right. But every so often during Sith, you could feel something, as if Lucas had finally managed to take his first step back into a larger world.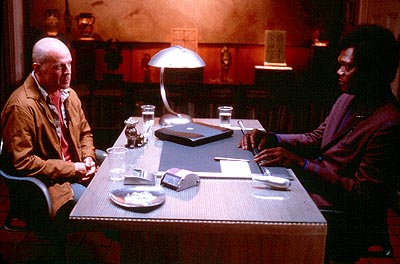 98.
Unbreakable
(2000)
From the year-end list: "A little slower than I would have liked, and it had no second act, but this languid, contemplative film spoke to the comic fan in me."
It seems weird from the perspective of 2009, after drek like Signs and The Village. (I didn't see Lady in the Water or The Happening, but…I've heard bad things). Nonetheless, back in 2000, M. Night Shyamalan still seemed like he had the potential to be a first-rate genre filmmaker, maybe even the new Spielberg. True, 1999's The Sixth Sense ended up being massively overhyped — Due mainly to box office, one presumes, it even bypassed The Matrix, Being John Malkovich, Three Kings, and Fight Club for an Oscar nod. But it still came out of nowhere to make for a surprising and unsettling ghost story that year.
And, belying the usual curse (that would come later, in spades), Shyamalan turned out a quality sophomore follow-up in Unbreakable. I haven't seen the movie since it came out, but I still remember it as a unique take on the superhero origin story in a decade that would be full of them. True, the Mr. Glass monologuing at the end should have telegraphed to us Shyamalan's overreliance on the 11th-hour plot twist. But that wouldn't really come to seem a problem until later films. As it was, Unbreakable showed that M. Night wasn't afraid to follow-up a box-office monster with a movie that felt quite different in tone, and it suggested — probably wrongly, it turns out — that he might have a few more tricks up his sleeve after "I see Dead People."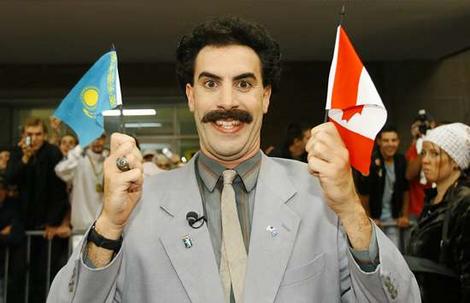 97.
Borat: Cultural Learnings of America for Make Benefit Glorious Nation of Kazakhstan
(2006)
From the original review: "I don't really feel the inclination to write the usual three-paragraph review for Borat…so I'll just leave it at this: It's really funny…[U]nless you're offended by ridiculously over-the-top anti-semitism or have a problem with truly grotesque displays of male nudity, you should find it verrry nice. (But leave the gypsys at home.)"

From the year-end list: "True, the frighteningly talented Sasha Baron Cohen spends a lot of time in this movie shooting fish in a barrel, and I wish he'd spent a little more time eviscerating subtler flaws in the American character than just knuckle-dragging racists and fratboy sexists. Still, the journeys of Borat Sagdiyev through the Bible Buckle and beyond made for far and away the funniest movie of the year."
The Cotton Kingdom of the Dubya era. I had this quite a bit further up the list at first, but decided to switch it out with one of its memorable antecedents. (More on that demented travesty later.)
I missed Bruno this year, so I don't know how it compares. Still, Borat has slipped quite a bit from its 2006 ranking, if only because [a] I'm not sure a lot of the comedy holds up on repeat viewings, and [b] I still think Cohen went for mostly easy targets here. In its picking off the low-hanging fruit in the Red States — bible-thumpers, rednecks, and whatnot — the movie also feels very much an artifact of the post-2004 election grimness. Although, now that I think about it, a strong case could be made that Cohen was just prepping us for the teabagger vanguard.
96.
The Quiet American
(2002)
From the original review: "All in all, very well done, and a battered, despairing Michael Caine deserves an Oscar for this much more than he ever did for his turn in the schlocky Cider House Rules."

From the year-end list: "A bit by-the-numbers, perhaps, but Phillip Noyce's take on Graham Greene's novel was blessed with timeliness and two great performances by Michael Caine and Brendan Fraser, both of whom expertly exemplified their homelands' diplomatic tendencies without becoming overly tendentious."
I watched about half an hour of The Quiet American again a few weeks ago while flipping through the channels, and I still think it has a bit too much of an austere, "from-the-classic-novel" feel to it, the sort of movie one might be forced to watch in a high school class (be it English or History). Still, it's very well-done, Caine and Fraser are both exceedingly well cast, and you could do worse as a quality intro to our blundering in Vietnam than Graham Greene's ripe and pungent allegory here.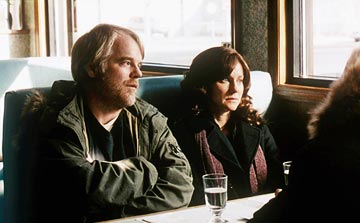 95.
The Savages
(2007)
From the original review: "[W]hat Six Feet Under is to dying, The Savages is to the final stages of aging. It's something we don't really want to think about, but it's there, somewhere over the last ridge. If we're going to dwell on this subject, it's probably best to confront that fact with the mordant humor of [this film] (while keeping in mind that, however inevitable that final end, it's never too late to teach an old dog some new tricks.)"

From the year-end list: "[F]ew other movie endings this year hit me in the gut quite like this one…[T]his comedy about an ornery lion in winter, and the battling cubs who have to come to his aid, is a worthwhile one, and particularly if you're in the mood for some rather black humor. As Lenny the senescent and slipping paterfamilias, Philip Bosco gives a standout performance, as does Hoffman as the miserable Bertholdt Brecht scholar trapped in deepest, darkest Buffalo."
Tamara Jenkins' The Savages is an uneven film, and at times it gets overwhelmed by its televisionish tendencies (be they sitcom or Lifetime movie-of-the-week-oriented.) But when it's on, it's on, and it's a film that's stuck with me in the two years since I caught it on the back-end of an Angelika double-bill (along with another mortality-drenched movie further down the list.) I still have some issues with its Bagger Vancing of The Wire's Gbenga Akinnagbe, but in its depictions of siblings, senescence, and seriously bummed-out academics, The Savages rings true.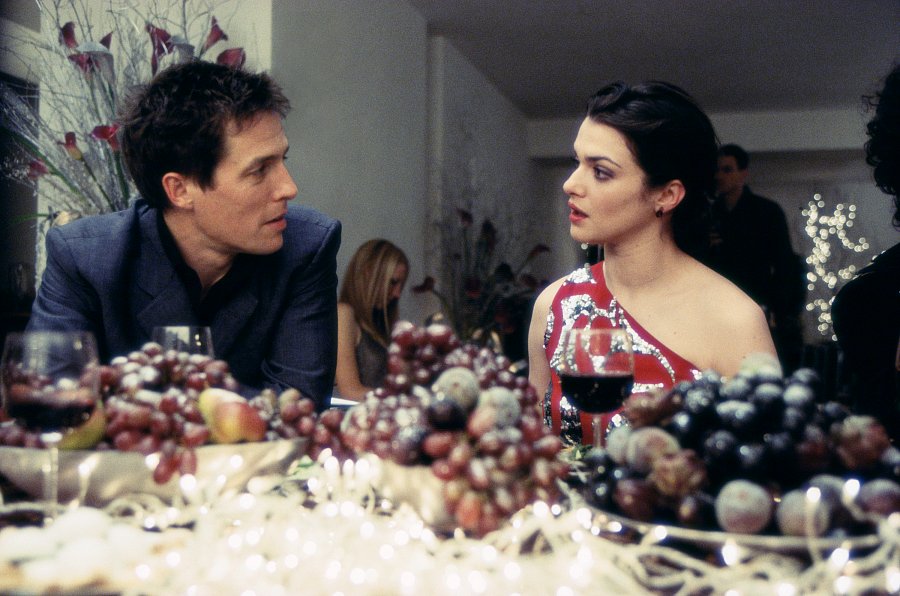 94.
About a Boy
(2002)
From the original review: "[W]hile it was quite good for its genre (and Hugh Grant was surprisingly palatable), I do have some problems with its underlying premises…Since when is one's identity primarily formed by holding down a job you hate?…I don't remember the protagonist of Hornby's book being nearly so shattered by his presumed nothingness."

From the year-end list: "A surprisingly good translation of Nick Hornby's third book. A bit fluffy, perhaps, and…I'm not sure how I feel about some of the underlying premises, but very well done nonetheless. After all, making both Hugh Grant and a precocious young British lad palatable at the same time is no easy task."
Now this one to me is almost exactly the opposite of The Savages, in that — more than any other film on this list — I can barely remember About a Boy at all, other than Toni Collette being very good, the kid (Nicholas Hoult, soon of A Single Man and Clash of the Titans) also being quite solid, and Hugh Grant singing acapella, drinking a lot of Red Bull, and somehow magically not getting on my nerves. And because of this memory hole, I came very close to putting another very similar-feeling Weitz production, In Good Company, here instead. But just because the high has mostly evaporated doesn't mean the initial experience wasn't grand. So I'm trusting my notes here somewhat (which had About a Boy at #3 for 2002) and putting it here at #94. Hopefully, I know what I'm talking about.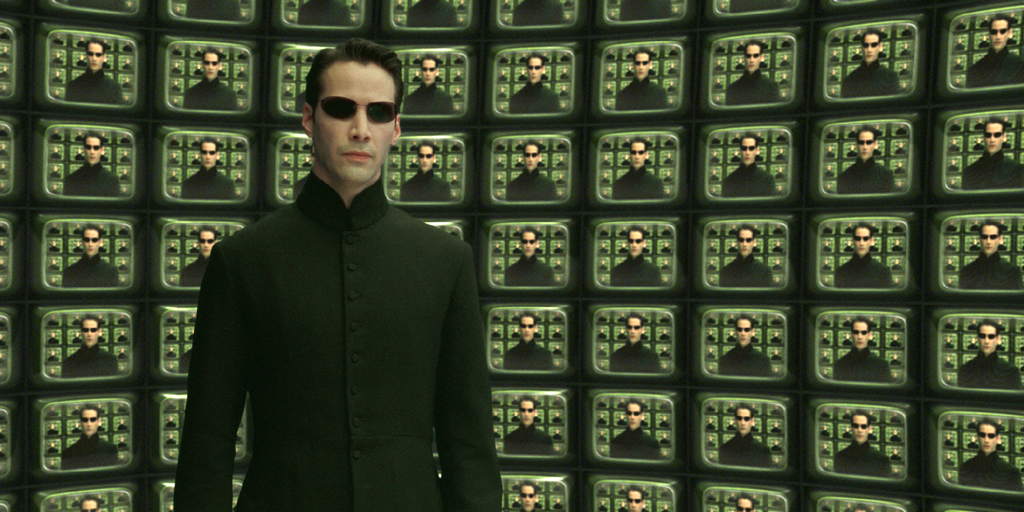 93.
The Matrix: Reloaded
(2003)
From the original review: "To be sure, the first forty minutes of the film, including everything that takes place in Zion, is almost unwatchable…But, right about the time Neo gets a call from the Oracle and reenters the Matrix in Chinatown…the film finally starts to find its rhythm…Alas, Neo and Trinity still don't really work as an onscreen couple, but most of the action setpieces are breathtaking (particularly the highway chase and truck fight…in the midst of all the new characters showing up, it's nice to see the Agents still getting their due.) And as expected, Hugo Weaving is just wicked good fun as Agents Smith…they steal every scene they're in."

From the year-end list: "I won't defend the first forty-five minutes or the ridiculous rave scene. But, right about the time Hugo Weaving showed up to do what he does best, Revolutions found a new gear that it maintained right up until the arc-twisting Architect monologues at the end. And, as far as action sequences go, it's hard to beat the visceral thrill of the 14-minute highway chase."
I can envision getting some grief for this one, but what I said in these two reviews stand. As a whole, this first sequel to 1999's The Matrix has serious problems in its first hour — I'm looking at you, Bacardi-Benetton rave. But once you get to the (now rather dated looking) "Burly Brawl," (i.e. Neo vs. a legion of Smiths) The Matrix: Reloaded kicks it up a notch.
Sure, nothing could match the initial shock of seeing Neo wake up in that gooey biopod in the first movie — That was the first indicator that the heretofore unknown Wachowski brothers (Bound notwithstanding) were really playing on a broad canvas here. But from the Burly Brawl on — through the Merovingian and Swiss Chalet stuff, the albino Milli Vanilli twins, the highway chase, and on to the Architect's rambling in the final moments, Reloaded is easily as propulsive and occasionally mind-bending as the second half of the first film. (And, without a doubt, it's far better than the woeful Matrix: Revolutions, out later that year.)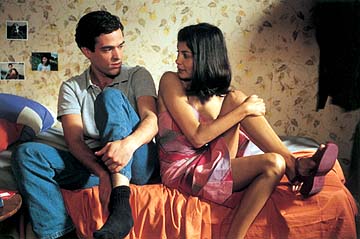 92.
L'Auberge Espagnole
(2003)
From the original review: "L'Auberge was funnier, sexier, and more intelligent than any of the assorted American Pies or their ilk…This movie seems to understand that it's possible to capture the joys of youth and friendship without resorting to a constant stream of lame, mostly unfunny gross-out jokes."

From the year-end list: "[W]hile Lost in Translation trafficked in existential detachment, L'Auberge Espagnole showed the fun Scarlett Johannson could've been having, if she'd just lighten up and get out of the hotel once in awhile. This paean to the pan-Continental culture of the EU captured the excitement and possibilities of youth in a way that was both sexier and funnier than any of the teen shock-schlock emanating from our own side of the pond. Road Trippers, take a gander."
Now, having roundly derided domestic gross-out comedies, I should say that I just came very close to pulling an audible and putting the very funny Harold & Kumar Go to White Castle in this spot. (Sorry guys, you got screwed. A few Sliders should help ease the pain.) Nonetheless, L'Auberge Espagnole is a jaunty European escapade that matched the sexy frankness of Y Tu Mama Tambien (minus its existential pretensions — remember that goofy car crash?) with the joy and possibility of foreign travel you find in, say, Before Sunrise. I remember seeing this flick on a dismal Match.com date, and even that couldn't diminish the experience. Salut.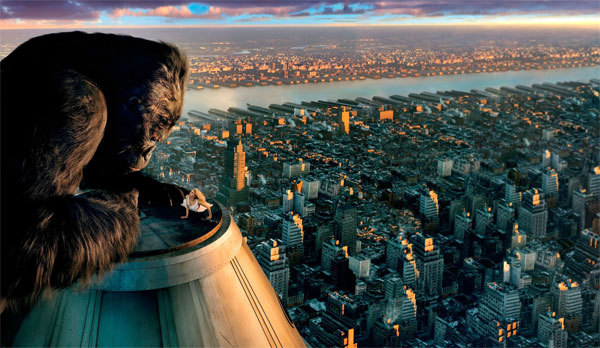 91.
King Kong
(2005)
From the original review: "In essence PJ's King Kong is the Mother of All B-Films — the Skull Island action sequences are spectacular, Kong's adventures in New York seem appropriately mythic, the special effects throughout (particularly the Great Ape himself) are mind-blowing…[But] the film has some serious pacing problems, particularly in the first hour, and at times I thought it seemed almost too reverent of its source material. At the very least, Kong, while definitely a Wonder of the World and no mistake, could have benefited from some minor grooming."

From the year-end list: "I had this film as high as #2 for awhile, and there are visual marvels therein that no other movie this year came close to offering, most notably Kong loose in Depression-Era New York City. But, there's no way around it — even given all the B-movie thrills and great-ape-empathizing that PJ offers in the last 120 minutes, the first hour is close to terrible, which has to knock the gorilla down a few notches."
Yep, that about covers it. Like The Matrix: Reloaded a few spots ago, King Kong is an eye-popping visual feast that ultimately falls several steps shy of greatness thanks to all the excess baggage on the front end. I don't have much of an attachment to the 1933 version (or the 1976 Jeff Bridges/Jessica Lange/Charles Grodin version for that matter, although Lange looks stunning in it), but almost all of the Kong-in-NYC stuff in PJ's version is marvelous, give or take the ice-skating, and feels like something ripped from the pages of myth.
That being said, it feels like we're on Skull Island for a really long time in this Kong, and that doesn't even get into all the deadly dull happenings before they even reach the King's domain. For all its strengths, this Kong is too self-indulgent to go down as one of the decade's greats. It's clearly a labor of love by PJ (and he earned it after knocking LotR out of the park), but the movie would've benefited from quite a bit more tough love at some point in the process.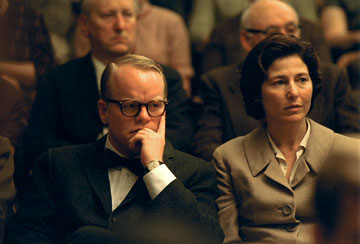 90.
Capote
(2005)
From the original review: "[A] somber and compelling character study of the eponymous author…Hoffman's Capote cuts a complex and striking figure that's hard to take your eyes from — He's at once vainglorious and needy, extroverted and remote, compassionate and manipulative, convivial and detestable."

From the year-end list: "I think it'd be awhile before I want to watch this movie again, but, still, it was a dark, memorable trip into bleeding Kansas and the writerly id."
"Every artist is a cannibal. Every poet is a thief. All kill their inspiration and sing about their grief." In fact, I haven't seen Capote since it came out in 2005 (nor did I ever see Infamous, with the Trumanesque Toby Jones.) But the moral darkness of this film lingers, as does Clifton Collins, Jr.'s haunting portrayal of Perry Edward Smith, who, to Capote, is both the Spider and the Fly.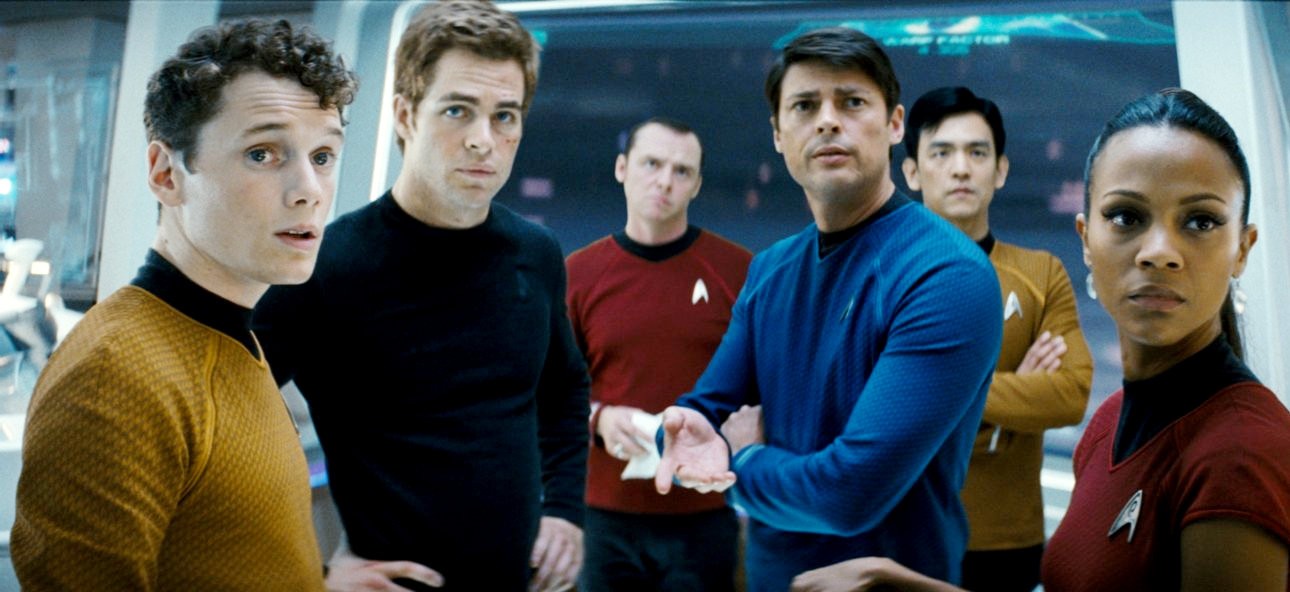 89.
Star Trek
(2009)
From the original review: "Blessed with a charismatic and appealing cast that smooths over much of the choppy writing turbulence therein, Abrams' Trek reboot isn't only a rousing, over-the-top, sometimes patently absurd space opera that borrows as much from Lucas' original trilogy as it does from its erstwhile source material — It's also probably the best of the Star Wars prequels. The more I've thought about it over the past few days, the less sense the movie makes, and the more and more shamelessly derivative Trek seems. But darned if I didn't have a good time during the Big Show itself, which, of course, is what really matters in the end."

From the year-end list: "There was admittedly a whole lotta stupid in J.J. Abrams' Star Warsy revamp of the Star Trek franchise — Once exposed to the light, the movie's basic premises completely fall apart. But, like the stomachache that accompanies eating too much candy, those regrets come later. In the moment, Star Trek was more fun than you can shake a stick at, and as solid and entertaining a franchise reboot as 2006's Casino Royale."
Sure, it's a cotton candy movie, but, like I said, Star Trek had more of that Star Wars magic than any of the prequels, including Sith. I haven't seen Trek again since that first time in the theater, and it's entirely possible a lot of the general dumbness of the movie — Spock hanging 'round the ice cave, all the nonsensical red matter/black hole stuff — will weigh everything down more on a second viewing. Still, it was definitely fun that first go. Bring on Javier Bardem as Khan.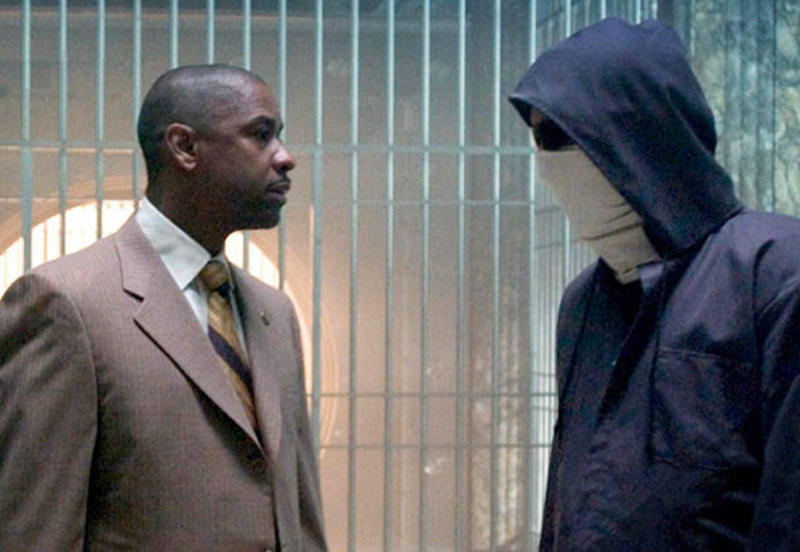 88.
Inside Man
(2006)
From the original review: "Hearkening to the halcyon days of Dog Day Afternoon and Serpico, Spike Lee's Inside Man is a clever contraption indeed — a sleek, intelligent, well-acted NYC heist flick whose central scheme is more about subterfuge, cunning, and misdirection than technical gimmickry. (In too many films in the genre — The Score, or Ocean's 11, for example — the robbers seem to be spending more on state-of-the-art equipment than they'd actually make in the grift.)…True, some of the plot mechanics in Inside Man could be considered contrived, but, Jodie Foster's corporate ninja notwithstanding, at least here the people seem real."

From the year-end list: "[A] fun, expertly-made crime procedural, as good in its own way as the much more heavily-touted Departed. It was also, without wearing it on its sleeve, the film Crash should have been — a savvy look at contemporary race relations that showed there are many more varied and interesting interactions between people of different ethnicities than simply 'crashing' into each other. (But perhaps that's how y'all roll over in car-culture LA.)…Inside Man is a rousing New York-centric cops-and-robbers pic in the manner of Dog Day Afternoon or The Taking of the Pelham One Two Three, and it's definitely one of the more enjoyable movie experiences of the year."
I love it when a plan comes together. In a decade that sometimes seemed full of them, Spike Lee's crisp, no-nonsense Inside Man was one of the most purely entertaining heist movies of the oughts. And with primo talent like Willem DeFoe and Chiwetel Ejiofor working as support, you know you have an A-list cast on your hands.
To be honest, his von Trapp roots notwithstanding, Christopher Plummer seemed a bit young to be plausible as a ex-Nazi in the 21st century. (Max Von Sydow might've worked, I guess, but he also was born in 1929.) But take that — and Foster's Fixer — with a grain of salt, and Inside Man made for a great afternoon at the movies. It was a seventies cop yarn set in 21st-century Gotham, expertly assembled by one of NYC's great directors.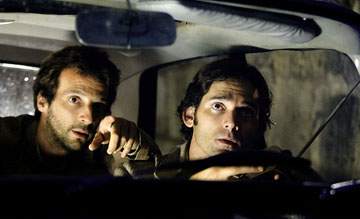 87.
Munich
(2005)
From the original review: "Munich is a movie well worth-seeing, the rare thriller that's not afraid to grapple with today's thorniest political questions, and without insulting the audience's intelligence by giving easy, simple-minded answers to seemingly insoluble problems. The film may at best be a long triple, but, to his credit, at least Spielberg is swinging for the fences."
True, Steven Spielberg's Munich includes some major missteps. I still wince when I remember Eric Bana and a pregnant Ayelet Zurer trysting while the Munich kidnappings go south. (The only equally terrible sex scene I can think of offhand would be Patrick Wilson, Malin Ackerman, and Leonard Cohen's "Hallelujah" in Watchmen.) Nonetheless, Munich was a decently compelling thriller with its heart in the right place and an important message to convey in these dark times: An eye for an eye makes the whole world blind.
The memorable last shot of the film, with the World Trade Center in the background, suggested that Munich was also intended as a pointed response to our foreign policy, post-9/11. But, of course, given how we ended up in Iraq soon after 9/11, a closer movie parallel would have shown Israel responding to the 1972 Olympics massacre by killing a bunch of random Belgians.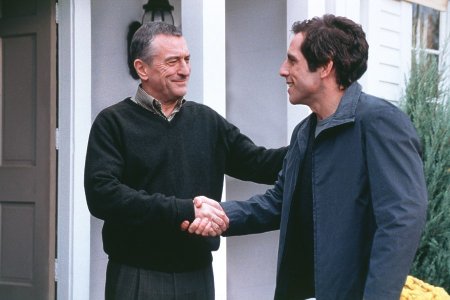 86.
Meet the Parents
(2000)
From the year-end list: "[S]urprisingly good. I expected schlock, and got a genuinely funny fall film."
I didn't see the sequel (Meet the Fockers), and definitely don't plan to see the threequel (Little Fockers), which is on the dock for next year. But I remember Meet the Parents being a pretty quality time at the movies, all in all. (FWIW, other than Robert DeNiro generally hamming it up by trading in on his Taxi Driver cachet, the scene that first comes to mind these days is the water polo scene involving Owen Wilson and a slow-motion spike.) Maybe Noah Baumbach can give him a lift in next year's Greenberg, but, as it is, this was also as funny as Ben Stiller got all decade.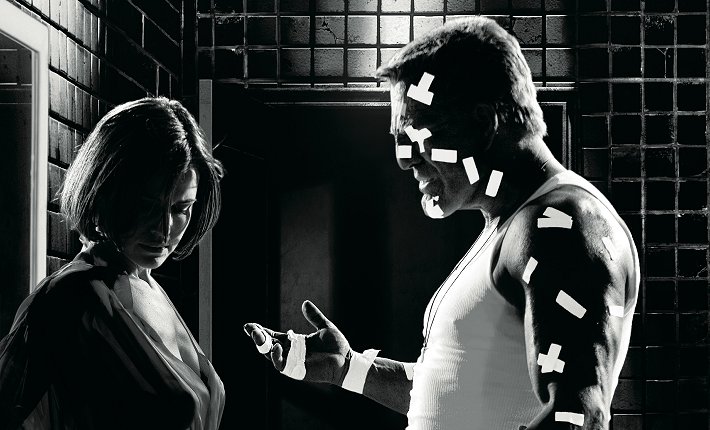 85.
Sin City
(2005)
From the original review: "Forgive me, Father, for I have sinned…and, whatsmore, I liked it. Without a shred of redeeming social value, Frank Miller and Robert Rodriguez's Sin City is a film very noir. It's a sick, depraved, and smutty ride into a crime-ridden hellhole of a metropolis, exactly as it should be…Sin City turned out to be a visual marvel and easily Rodriguez' best film since El Mariachi."

From the year-end list: "One of the most faithful comic-to-film adaptations on celluloid also made for one of the more engaging and visually arresting cinematic trips this year. I don't know if the look and feel of Sin City can sustain a bona fide franchise, but this first outing was a surprisingly worthwhile film experience (with particular kudos for Mickey Rourke's Marv.)"
The movie that anticipated Mickey Rourke's later Wrestler resurgence, Sin City was a crazy-sexy-cool stylistic experiment that remains the best thing Robert Rodriguez has ever been involved with. I missed The Spirit, which obviously went for a very similar look, and from everything I hear that was probably for the best. But in a perfect world, this is what Warren Beatty's Dick Tracy would have looked like back in 1990.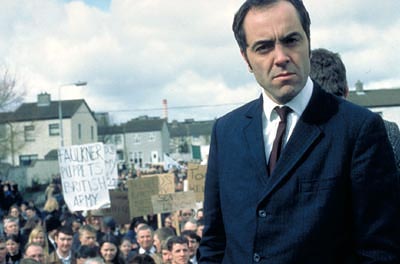 84.
Bloody Sunday
(2002)
Bloody Sunday was the first of many great movies made by Paul Greengrass in the Oughts, and it ably showed off the hyperreal, you-are-there documentary style he'd use to such great effect throughout the decade. True, it's as yet unclear whether Greengrass has any other trick in his stylebook: Both of his forthcoming movies — Green Zone (Bourne IV, basically) and They Marched in Sunlight (on Vietnam-era protests) — sound very close to his previous projects, in terms of lending themselves to this hi-def documentarian conceit. Still, it's a neat trick alright, and one I never grew tired of from Bloody Sunday on.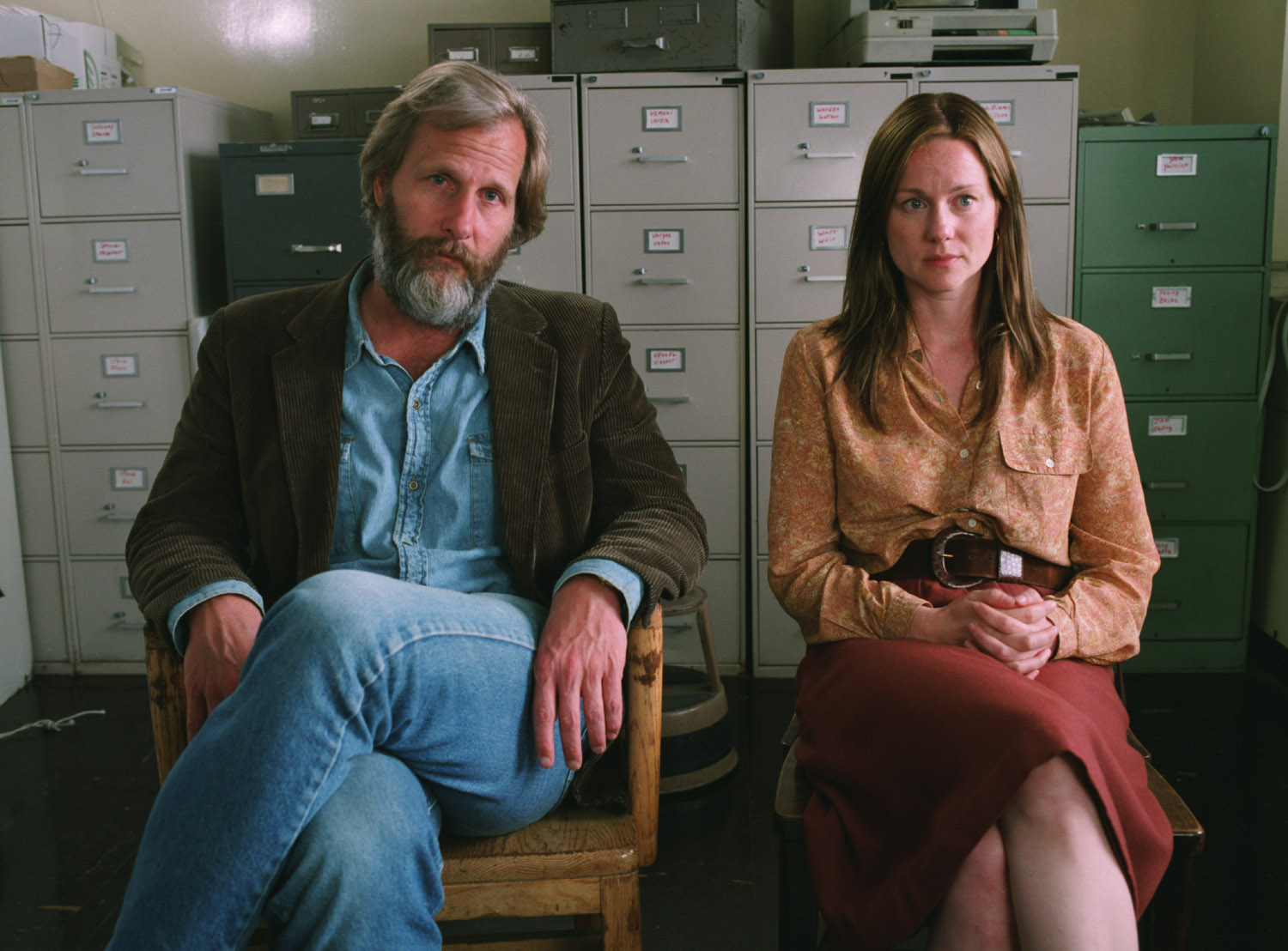 83.
The Squid and the Whale
(2005)
From the original review: "The movie is mostly episodic vignettes in the life of a broken family and at times suggests a more misanthropic Me, You, and Everyone We Know. But it also feels scarily authentic and is probably one of the most convincing — and wryly funny — depictions of divorce I've ever seen on film, with particular kudos going to Jeff Daniels as the sad sack father in this outfit."

From the year-end list: "The Squid and the Whale made ugly, embittered divorce about as funny as ever it's likely to get, thanks to Jeff Daniels' turn as the pretentious, haunted Bernard Berkman."
He went off the rails a bit with 2007's Margot at the Wedding, but Noah Baumbach (also the co-writer of The Fantastic Mr. Fox and a few other Wes Anderson projects) struck inky black gold with The Squid and the Whale, loosely based on his semi-famous parents' smash-up. Squid is a bit broad at times — I'm thinking of Billy Baldwin's tennis instructor in particular — but Jeff Daniels' Oscar-overlooked performance as the poster child for pretentious (and miserable) academics makes up for a lot of mistakes.
82.
Primer
(2004)
From the original review: "We never really understand what's going on, and I could see some folks getting frustrated with this film — usually, incomprehensibility is not a strong suit in movies. Still, for some reason, Primer works as a heady sci-fi tone poem about the cryptic (and dire) consequences of mucking about with the timestream. Mostly unfathomable, sure, but if you're a fan of the genre, it's definitely worth catching sometime…perhaps yesterday."

From the year-end list: "A completely inscrutable sci-fi tone poem on the perils of time travel. Kevin and I saw it twice and still have very little clue as to what's going most of the time — but I (we?) mean that in the best way possible"
2009's Paranormal Activity made the bigger box-office splash this decade, but Shane Carruth's Primer was the original no-budget movie that could. A weird and trippy little number alright, Primer once again proved that smart ideas usually trump expensive FX when it comes to memorable sci-fi, even when those ideas are devilishly complicated. Who knows? If I ever write one, it might make my best of the Nineties list too.
81.
American Psycho
(2000)
Before Christian Bale was the Dark Knight, he made his (adult) name as another deeply nutty rich fella. Mary Harron's jet-black satire of '80s yuppie-dom, American Psycho, is one of those rare adaptations that improves on the source material (in this case, a rather lousy book by Bret Easton Ellis) in pretty much every way. It's ultimately a slasher flick, sure, but from disquisitions on the Huey Lewis back-catalog to the high-stakes status war of business card fonts, there's a lot of humor to be had amid the slaughter. And to his credit Bale, displaying the intensity he'd henceforth be known for both on-screen and off-, just goes for it, naked chainsawing and all.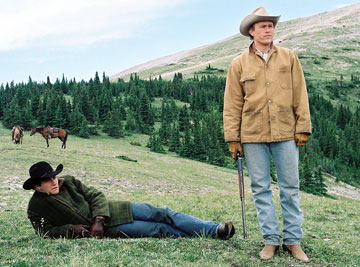 80.
Brokeback Mountain
(2005)
From the original review: "Heath Ledger's performance is engrossing, in part because you spend much of the film just trying to figure out what he's thinking. At times, his character is taciturn to the point of being inarticulate. This speaks in favor of the film's realism, I suppose — Ennis's whole life after Brokeback is about caution, misdirection, and concealment….At the same time, though, Ledger seems like he's underplaying an underwritten character…And that's ultimately the modest problem with Brokeback Mountain, which is otherwise an excellent film — at times, it feels as somber, restrained, and delicate as Kabuki theater. Particularly in a film that warns of the dangers of bottling up passion, it'd be nice to have seen less Big Sky Country pageantry and more emotion from all the characters on-screen. If that wouldn't have played in Peoria, so be it."

From the year-end list: "A beautifully shot and beautifully told love story, although admittedly Ang Lee's staid Brokeback at times feels like transparent Oscar bait."
If "the Batman" broke out of the Newsies ghetto with American Psycho, the portrayer of his eventual arch-nemesis moved into the A-list with this Ang Lee romance. With its breathtaking Wyoming vistas, Brokeback looks amazing, and it has moments of real grace (like the haunting closing moment.) But, as J. Hoberman so well put it, this was also the "straightest love story since Titanic" Even more than Jonathan Demme's Philadelphia, Brokeback seems like it won't age very well. And, even if bottled-up passion is Ang Lee's usual m.o., the movie's demureness seems less an artistic choice than a product of its time, particularly when put up against Gus Van Sant's more vibrant Milk, made only a few years later.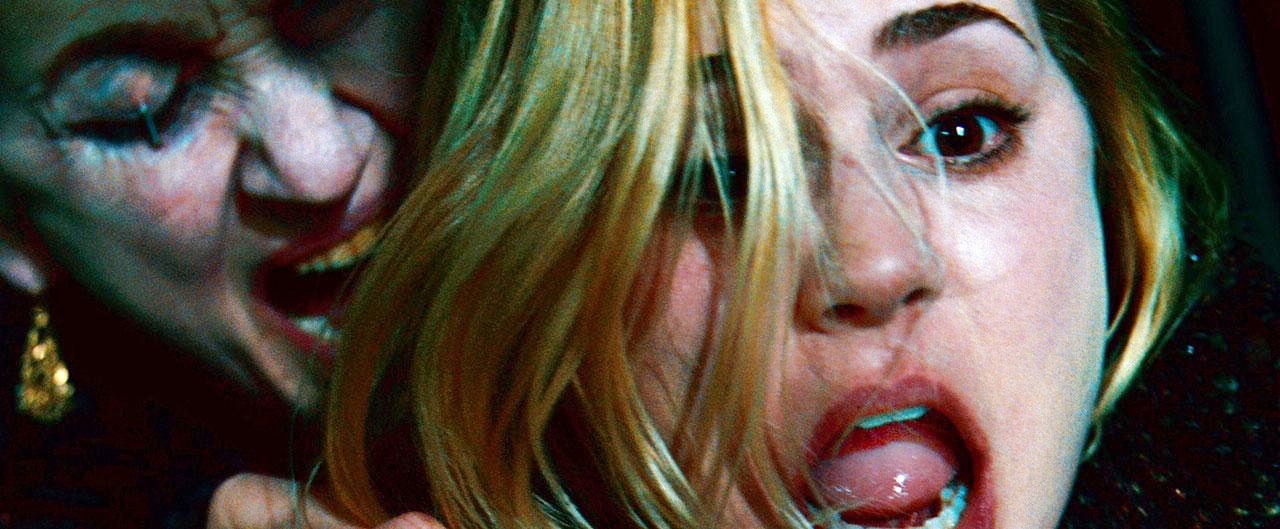 79.
Drag Me to Hell
(2009)
From the original review: "A loving throwback to the director's Evil Dead days, and an audience film if there ever was one, [it] delivers a solidly entertaining two hours of low-budge comic mayhem, if you're in the mood for it. It doesn't really aspire to be anything more than what it is — a B-movie carnival funhouse. But taken as such, Drag Me to Hell offers thrills, chills, and (gross-out) spills with plenty of Raimi's old-school tongue-in-cheek."

From the year-end list: "Besides being easily the most explicitly anti-gypsy film since Borat, Drag Me to Hell was also, in its own way, as much of a Great Recession cautionary tale as Up in the Air. One hopes that when the Senate takes up financial services reform next year, our erstwhile reformers in that esteemed body will note what happened to Alison Lohman when she, against all better judgment, decided to do the bidding of the Banks"
Drag Me to Hell isn't up to the caliber of Sam Raimi's magnum opus, Evil Dead 2. But it's in the same goofy-scary key, even without Bruce Campbell around this time. Basically Drag Me to Hell works because it's unabashedly no more or less than what it aspires to be — a fun, turn-your-brain-off, midnight B-movie. And taken as such, it's pretty darned entertaining.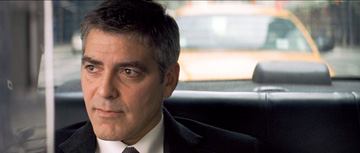 78.
Michael Clayton
(2007)
From the original review: "An intelligent, well-made throwback to the conspiracy-minded thrillers of the 1970s (such as The Parallax View and Three Days of the Condor), first-time director Tony Gilroy's Michael Clayton is a withering and mostly plausible excursion into the ethical dead zone that can emerge at the top levels of the money game…It's an adult, believable thriller that's well worth checking out, and George Clooney, as per the norm, is excellent."

From the year-end list: "Clooney's impeccable taste in projects continues with this, Tony Gilroy's meditation on corporate malfeasance and lawyerly ethics (or lack thereof.)…A small film, in its way, but a worthwhile one."
Here's a movie that one could argue should be higher on the list. A study in grays, Tony Gilroy's Michael Clayton is an adult movie about conspiracy and compromise that has a lot going in its favor, including a solid anchoring performance by George Clooney and great work in the margins by Tom Wilkinson, Danny O'Keefe, and the late Sydney Pollack. I take off points for the convenient business with the horses and some of the artsy kerfuffling surrounding Tilda Swinton's character, but Michael Clayton is nonetheless a very good film.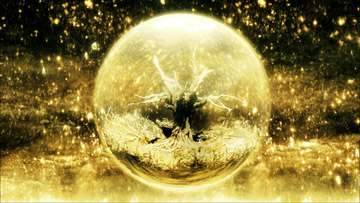 77.
The Fountain
(2006)
From the original review: "I found it a bit broad at times, particularly in the early going, and I definitely had to make a conscious decision to run with it. That being said, I thought The Fountain ultimately pays considerable dividends as a stylish, imaginative, and melancholy celebration of the inexorable cycle of life, from birth to death ad infinitum…I'm not sure you'll like it — it's very possible you'll love it — but I'm willing to bet, either way, that it'll stick with you."

From the year-end list: "Darren Aronofsky's elegiac ode to mortality and devotion was perhaps the most unfairly maligned movie of the year…Clearly a heartfelt and deeply personal labor of love, The Fountain — admittedly clunky in his first half hour — was a visually memorable tone poem that reminds us that all things — perhaps especially the most beautiful — are finite, so treasure them while you can."
Here's another one I haven't seen since that first screening in 2006, and I have a suspicion my positive reaction may not hold up so much on a second viewing. (Sitting next to Famke Janssen generally makes a movie seem better, no doubt.) Still, I admire The Fountain for what it tried to do, even if it doesn't all quite work at times. There's something to be said for a movie that so nakedly wears its heart on its sleeve.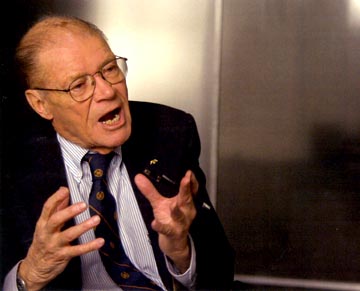 76.
The Fog of War
(2003)
From the original review: "As a documentary, The Fog of War sometimes gets clouded by its own cinematic devices…[but] the film works best when it's simply an engaging monologue by an intelligent, evasive, and often frustrating Cold Warrior as he muses over a life perhaps not-so-well lived. "

From the year-end list: "[A] spry McNamara succeeds in penetrating the fog of time to examine how he himself became lost in the maze-like logic of war. If you can withstand the frequent Phillip Glass-scored barrages, it's worth a see."
Robert McNamara may have left us this past July, but his ghost haunts us still. The Oughts saw America engaged in two long wars that have moved in directions their planners did not intend or anticipate, and that we continue to wage this very moment. And, like almost all wars in human history, they've both been easier to start than finish. With another conflagration on his mind, T.S. Eliot once wrote: "Between the Idea and the Reality falls the Shadow." Well, as McNamara and Errol Morris remind us here, when it comes to conflict, Between the Planning and the Execution lies The Fog of War. It's something we'd do well to remember in the decade to come.
Happy New Year, everyone. So unlike last year, when I took an extra month on account of my travels in New Zealand, the Best of 2007 Movie list seems ready to go out on schedule, and it's below. (If you've been reading all the reviews around here, I'm betting the top few choices won't be a surprise. Still, organizing the 5-15 section was more tough than usual this year.) At any rate, 2008 should be a big orbit around the sun in any event, what with grad school winding down and it being time — at last! — to pick a new president. So a very happy new year to you and yours, and let's hope the movies of the coming year will contain to sustain, amuse, baffle, and delight.
Top 20 Films of 2007
[2000/2001/2002/2003/2004/2005/2006]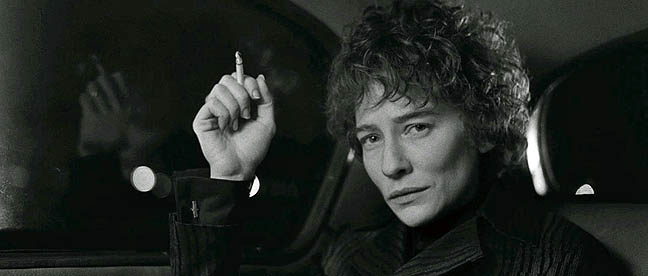 1.
I'm Not There
: "
There was a movie I seen one time, I think I sat through it twice.
" Admittedly, it was a wonderful confluence of my interests. Nevertheless, Todd Haynes' postmodern celebration of Bob Dylan, brimming over with wit and vitality and as stirring, resonant, and universal as a
well-picked G-C-D-Em progression
, was far and away my favorite film experience of the year. It seems to have slipped in a lot of critics' end-of-year lists (although
Salon's Stephanie Zacharek also put it up top
, and the
Sun-Times' Jim Emerson has been championing it too
), but so be it — You shouldn't let other people get their kicks for you anyway. A heartfelt, multi-layered, six-sided puzzle about the many faces and voices of Dylan, l found
I'm Not There
both pleasingly cerebral and emotionally direct, and it's a film I look forward to returning to in the years to come. Everybody knows he's not a folk-singer.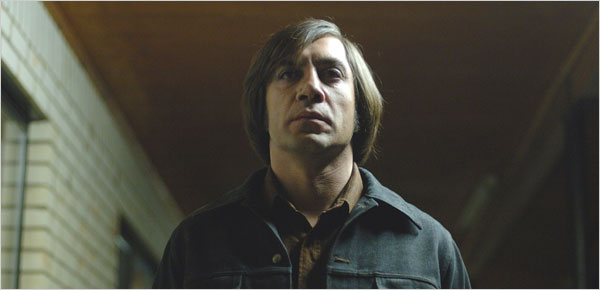 2.
No Country for Old Men
: It probably won't do wonders for West Texas tourism. Still, the Coens' expertly-crafted
No Country
works as both a visceral exercise in dread and a sobering philosophical rumination on mortality and the nature of evil. (And in his chilling portrayal of Anton Chigurh, Javier Bardem has crafted a movie villain for the ages.) People
sometimes refer
to Coen movies as "well-made" as a dig, as if the brothers were just soulless clinically-minded technicians. I couldn't disagree with that assessment more. Still,
No Country for Old Men
seems so seamless and fully formed, so judicious and economical in its storytelling, that it reminds me of Salieri's line in
Amadeus
: "
Displace one note and there would be diminishment, displace one phrase and the structure would fall
." A dark journey that throbs with a jagged pulse,
No Country for Old Men
is very close to the best film of the year, and — along with
Miller's Crossing
,
Fargo
, and
The Big Lebowski
— yet another masterpiece sprung from the Coens' elegant and twisted hive-mind. Bring on
Burn After Reading
.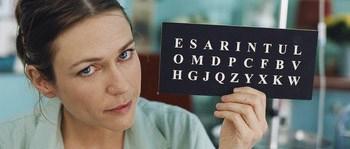 3.
The Diving Bell and the Butterfly
: Through the wonders of cinematic alchemy, Julian Schnabel took the sad real-life account of
Vogue
editor Jean-Do Bauby's horrific imprisonment within his own body and made it soar. No other film this year put the "locked-in" experience of taking in a movie as inventively in service of its story (although I kinda wish
Atonement
had tried.) Special kudos to Mathieu Almaric for conveying so much with so little to work with, and to Max von Sydow for his haunting turn as Bauby's invalid father. And, lest someone holds "arthouse foreign film" against it,
Diving Bell
is both much funnier and more uplifting than anyone might expect of a tale about hospital paralysis. Salut.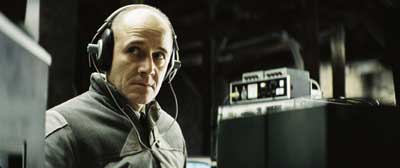 [3.]
The Lives of Others
: The one hold-over from 2006 on the list this year (I was pretty thorough about catching up
before posting last January
, although I still never did see
Inland Empire
),
The Lives of Others
is a timely and compelling parable of art, politics, surveillance, and moral awakening in the final days of the Stasi. In a way,
Lives
is an East German counterpart to
Charlie Wilson's War
, a story about how even small political acts of individual conscience can change the world, even (or perhaps especially) in a decaying Orwellian state. With a memorable central performance by Ulrich Muhe and a languid conclusion that ends on exactly the right note, the resoundingly humanist
Lives of Others
is a Sonata for a Good Man in Bad Times. We could use more of its ilk.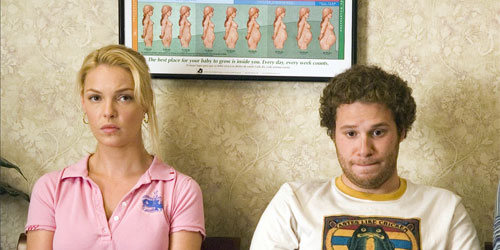 4.
Knocked Up
: Judd Apatow's sweet, good-natured take on modern love and unwanted pregnancy was probably the most purely satisfying film of the summer. As funny in its pop-culture jawing as it was well-observed in its understanding of relationship politics,
Knocked Up
also felt — unlike the well-meaning but overstylized
Juno
, the film it'll most likely be paired with from now herein — refreshingly real. As I said in my recent review of
Walk Hard
, an eventual
Apatow backlash
seems almost inevitable given how many comedies he has on the 2008 slate. Nevertheless, we'll always have
Freaks & Geeks
, and we'll always have
Knocked Up
.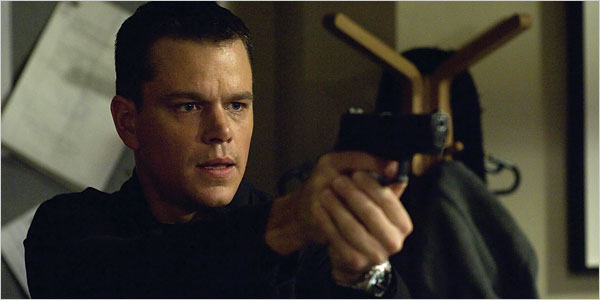 5.
The Bourne Ultimatum
: The third installment of the
Bourne
franchise was the best blockbuster of the year, and proved that director Paul Greengrass can churn out excellent, heart-pounding fare even when he's basically repeating himself. Really, given how much of
Ultimatum
plays exactly like its two predecessors on the page — the car chase, the Company Men, the Eurotrash assassin, Julia Stiles, exotic locales and cellphone hijinx — it's hard to fathom how good it turned out to be. But
Bourne
was riveting through and through…You just couldn't take your eyes off it. I know I've said this several times now, but if Zack Snyder screws up
Watchmen
(and I'd say the odds are 50-50 at this point),
the lost opportunity for a Greengrass version
will rankle for years.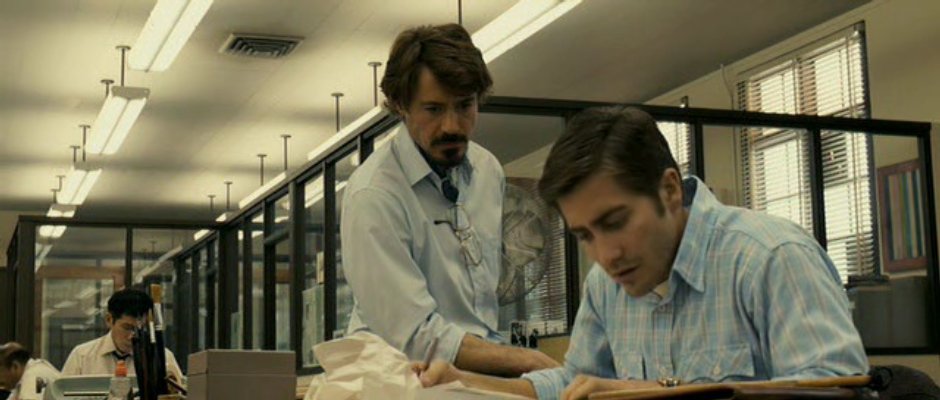 6.
Zodiac
: The best film of the spring. What at first looked to be another stylish David Fincher serial killer flick is instead a moody and haunting police procedural about the search for a seemingly unknowable truth, and the toll it exacts on the men — cops, journalists, citizens — who undertake it for years and even decades. Reveling in the daily investigatory minutiae that also comprise much of
The Wire
and
Law and Order
, and arguably boasting the best ensemble cast of the year,
Zodiac
is a troubling and open-ended inquiry that, until perhaps the final few moments, offers little in the way of satisfying closure for its characters or its audience. Whatever
Dirty Harry
may suggest to the contrary, the
Zodiac remains elusive
.
7.
28 Weeks Later
: Sir, we appear to have lost control of the Green Zone…Shall I send in the air support? Zombie flicks have been a choice staple for political allegory since the early days of Romero, but one of the strengths of Juan Carlos Fresnadillo's merciless
28 Weeks Later
— perhaps the best horror sequel since
James Cameron's Aliens
— is that it foregoes the 1:1 sermonizing about failed reconstructions and American hubris whenever it gets in the way of the nightmare scenario at hand. (Besides, if you wanted to see explicit muckraking about current events this year, there were options aplenty, from
In the Valley of Elah
to
No End in Sight
, although plenty of this year's politically-minded forays —
Rendition
,
Lions for Lambs
— looked rather inert from a distance.) There's little time for moralizing in the dark, wretched heart of
28 Weeks Later
: In fact, the right thing to do is often suicide, or worse. You pretty much have only one viable option: run like hell.
8.
In the Valley of Elah
: Paul Haggis' surprisingly unsentimentalized depiction of the hidden costs of war for the homefront,
Elah
benefits greatly from Tommy Lee Jones' slow burn as a military father who's lost his last son to a horrific murder. In fact, it's hard not to think of Jones' inspired performances here and in
No Country
of a piece. There was something quintessentially America-in-2007 about Jones this year. In every crease and furrow of this grizzled Texan's visage, we can see the wounds and weariness of recent times, the mask of dignity and good humor beginning to slip in the face of tragic events and colossal stupidity. Jones is masterful in
Elah
, and while Daniel Day-Lewis seems to be garnering most of the accolades for
There Will Be Blood
and Philip Seymour Hoffman stunned in three pics this fall (all on the list below), I'd put Jones' work here as the best of the year.
9.
There Will Be Blood
: Ah, the maddening
There Will Be Blood
. I just reviewed this one yesterday, so it's doubtful my opinion on it has changed much. But what Anderson's film reminds me of most at the moment (and not only for the Daniel Day-Lewis connection) is
Scorsese's Gangs of New York
, a movie I reviewed at the end of 2002 and then bumped up a few spots a week later when writing
the 2002 list
, thinking that its flaws would diminish over time. They haven't — if anything, they're just as noticeable as ever. So it may well be with
TWBB
. Even despite its somewhat unseemly pretensions to greatness, the first hour or so of
There Will Be Blood
, from the Kubrickian opening to the
Days in Heaven
-ish burning oil rig, is as powerful and memorable as you could ever want in a film. But
TWBB
loses its way, and the second half is a significantly less interesting enterprise, ultimately culminating in that goofy, illogical bowling alley ending. I'd characterize
Blood
as a significant step forward for PTA, and there's something to be said for getting even this close to a masterpiece. But he hasn't struck black gold yet.
10.
Hot Fuzz
: While I personally still prefer
Shaun of the Dead
, this fish-out-of-water, buddy-cop action spectacle proved the droll British team of Nick Frost, Simon Pegg, and Edgar Wright can't be considered one-hit-wonders (and that they're as savvy about certain pop culture tropes as their American colleagues in the Apatow camp.) And, while I didn't see
Elizabeth II: The Golden Age
,
Hot Fuzz
may well include the second-best Cate Blanchett performance of the year.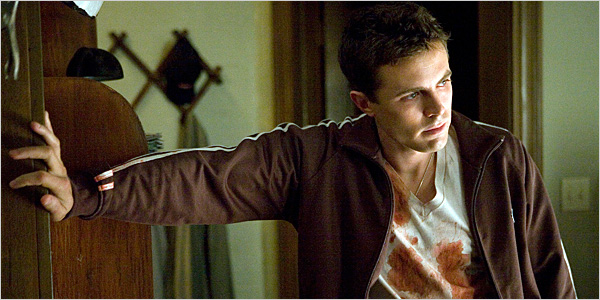 11.
Gone Baby Gone
: First-time director Ben Affleck acquits himself well with this chronicle of missing children and seedy n'er-do-wells in working-class Boston, wisely choosing to stick with a town and a leading man he knows like the back of his hand. His brother Casey holds his own, and crime author Dennis Lehane's original source material provides some compelling twists-and-turns throughout. And, as the drug-addled, quick-to-dis Townie mom who's lost her baby,
The Wire
's Amy Ryan gives arguably the Best Supporting Actress performance of the year (although she'll likely get some run from Blanchett's Jude Quinn.)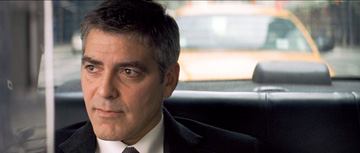 12.
Michael Clayton
: Clooney's impeccable taste in projects continues with this, Tony Gilroy's meditation on corporate malfeasance and lawyerly ethics (or lack thereof.) The bit with the horses still seems a convenient (and corny) happenstance on which to hang such a major plot point, and I found Tilda Swinton to be overly mannered and distracting for much of the film's run. But most else about
Michael Clayton
, from Sidney Pollack's Master of the Universe to Michael O'Keefe's snide, unctuous #2 to Tom Wilkinson's last scene to Clooney not rebounding as well to events as, say, Danny Ocean, rang true. A small film, in its way, but a worthwhile one.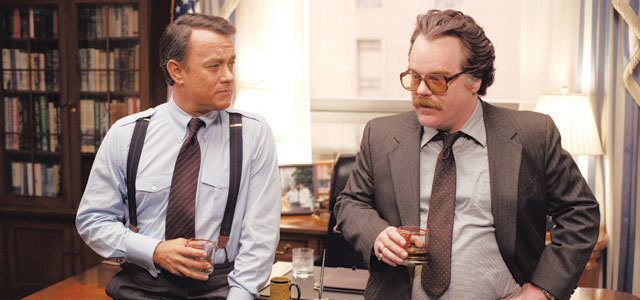 13.
Charlie Wilson's War
: Another one I wrote on in the past 24 hours, so I don't have much to add. Perhaps the best thing about Mike Nichols and Aaron Sorkin's adaptation of Crile's book is that it "gets" politics like few recent Washington thrillers I can think of. Philip Seymour Hoffman shows impeccable comic timing as the gruff Gust Avrakotos, and he works very well with Hanks here, who's gone from being overexposed a few years ago back to a guy I wouldn't mind seeing more of, particularly if he continues along the Alec Baldwinish character actor path
Wilson
sometimes suggests could be his future.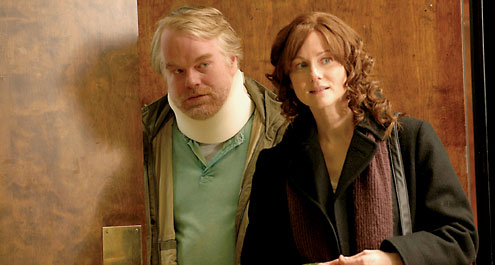 14.
The Savages
: I actually thought about putting Tamara Jenkins'
The Savages
higher on this list, and few other movie endings this year hit me in the gut quite like this one. But, there are definite problems here, such as the wheezy Gbenga Akinnagbe subplot, which compel me to keep it here in the mid-teens. Still, this comedy about an ornery lion in winter, and the battling cubs who have to come to his aid, is a worthwhile one, and particularly if you're in the mood for some rather black humor. As Lenny the senescent and slipping
paterfamilias
, Philip Bosco gives a standout performance, as does Hoffman as the miserable Bertholdt Brecht scholar trapped in deepest, darkest Buffalo.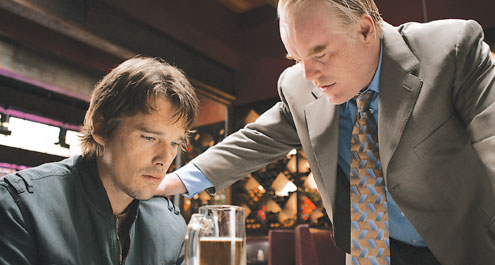 15.
Before the Devil Knows You're Dead
: Now,
Before the Devil
is a movie I did end up seeing twice, on account of Brooklyn friends who were looking to catch it, and the film didn't bring much new to the table on that second viewing. Still, Sidney Lumet and Kelly Masterson's lean family tragedy benefits from several excellent performances — most notably by Hoffman, Ethan Hawke, Marisa Tomei, and Albert Finney, but also in supporting work by Amy Ryan, Michael Shannon, Brian O'Byrne, and Rosemary Harris — as well as a memorable Carter Burwell score. (Also, it's just a coincidence that the three Hoffman movies ended up in a row like this — Still, it's a testament to the man's ability that he seemed unique and fully formed in each. Then again, the only time I can think of that Hoffman was actually
bad
in a film was
Cold Mountain
, which was pretty glitched up regardless.)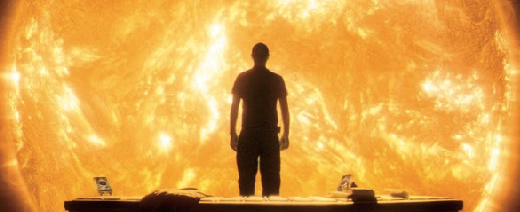 16.
Sunshine
: Along with
There Will Be Blood
, Danny Boyle and Alex Garland's exasperating
Sunshine
is the other film this year that saw an amazing first hour become undone by breathtakingly poor choices on the back end. Unlike the halting, confused slide of
TWBB
, though, the moment where
Sunshine
slips the rails is clear-cut and irrefutable: It's when what had been a heady science fiction tale about a near-impossible mission to the heart of the sun became instead an unwieldy space-slasher flick, i.e. basically an
Armageddon
variation on
Jason X
. The wreckage this subplot makes of what had been a superior
hard-sci-fi
film is more than a little depressing…Still, for that first hour,
Sunshine
is really something, perhaps the best realistically-portrayed outer space voyage we've seen on-screen in years.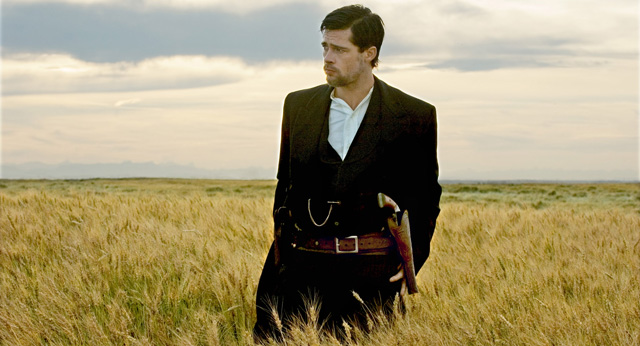 17.
The Assassination of Jesse James by the Coward Robert Ford
: Andrew Dominik's sprawling psychological western about the end of the West and the early days of American celebrity-worship is every bit as ambitious and flawed as PTA's
There Will Be Blood
. Still, maybe it's the often stunning Roger Deakins cinematography, or the lively character actors (Sam Rockwell, Jeremy Renner, Garret Dillahunt) in the margins of the film, or maybe it's even the terrible omniscient voiceover, which is every bit as distracting as the similarly ham-handed one in
Little Children
, and so goofy at times it verges on endearing. Whatever it is, I warmed to
Jesse James
more than I probably should, and for whatever reason I feel more willing to forgive it its considerable problems. If you blinked, you probably missed its theatrical run…but maybe it'll find new life on DVD, when the 160-min running time won't seem so off-putting.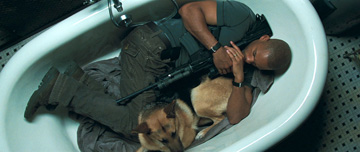 18.
I am Legend
: When the film focused on Will Smith and his dog fighting blood-sucking and badly rendered CGI Infecteds (whose level of social deevolution changed back and forth solely to accommodate turns in the plot), Francis Lawrence's
I am Legend
could seem pedestrian and forgettable. But, when the movie focused on Will Smith and his dog fighting interminable loneliness in an eerily abandoned New York City, which was most of the first two-thirds of the film,
I am Legend
was a surprisingly melancholy and resonant blockbuster. What can I say? This one hit me where, and how, I live.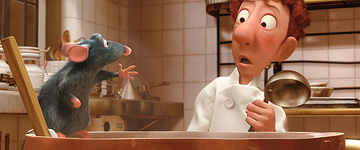 19.
Ratatouille
: There's no review of this one up — I actually only saw it on DVD last week. And yet, while
Ratatouille
is a visual marvel (and Brad Bird and the PIXAR gurus don't seem to make bad films), I found this nowhere near as inventive or entertaining as their last collaboration,
2004's The Incredibles
. (I'd put this one at about the level of
Cars
.) Now, this may in part be due to the fact that I have much more interest in comic book conceits than the culinary arts. (I'd even go so far as to say that I find many foodies — particularly those who blather on endlessly about Parisian cuisine — kind of insufferable.) Still, even given my relative lack of interest in the subject matter,
Ratatouille
bugged me. If "anyone can cook," as Chef Gustave proclaims, why is no one's input ever important but the rat? If it's bad to make money selling pre-cooked (and affordable) food to the teeming masses, as Ian Holm's character tries to do, why is it any better to do what Remy does? (And why should we care then when he and Gustave Jr. move into a deluxe apartment in the sky? I thought this enterprise wasn't about making money.) In short, I thought
Ratatouille
wanted to have it both ways, cloaking a rather elitist, even snobbish story in the trappings of democratic tolerance. And the closing monologue by Peter O'Toole's Anton Ego, which I thought ostensibly tried to make the movie critic-proof, irked me too. But, all that aside, it does look real purty.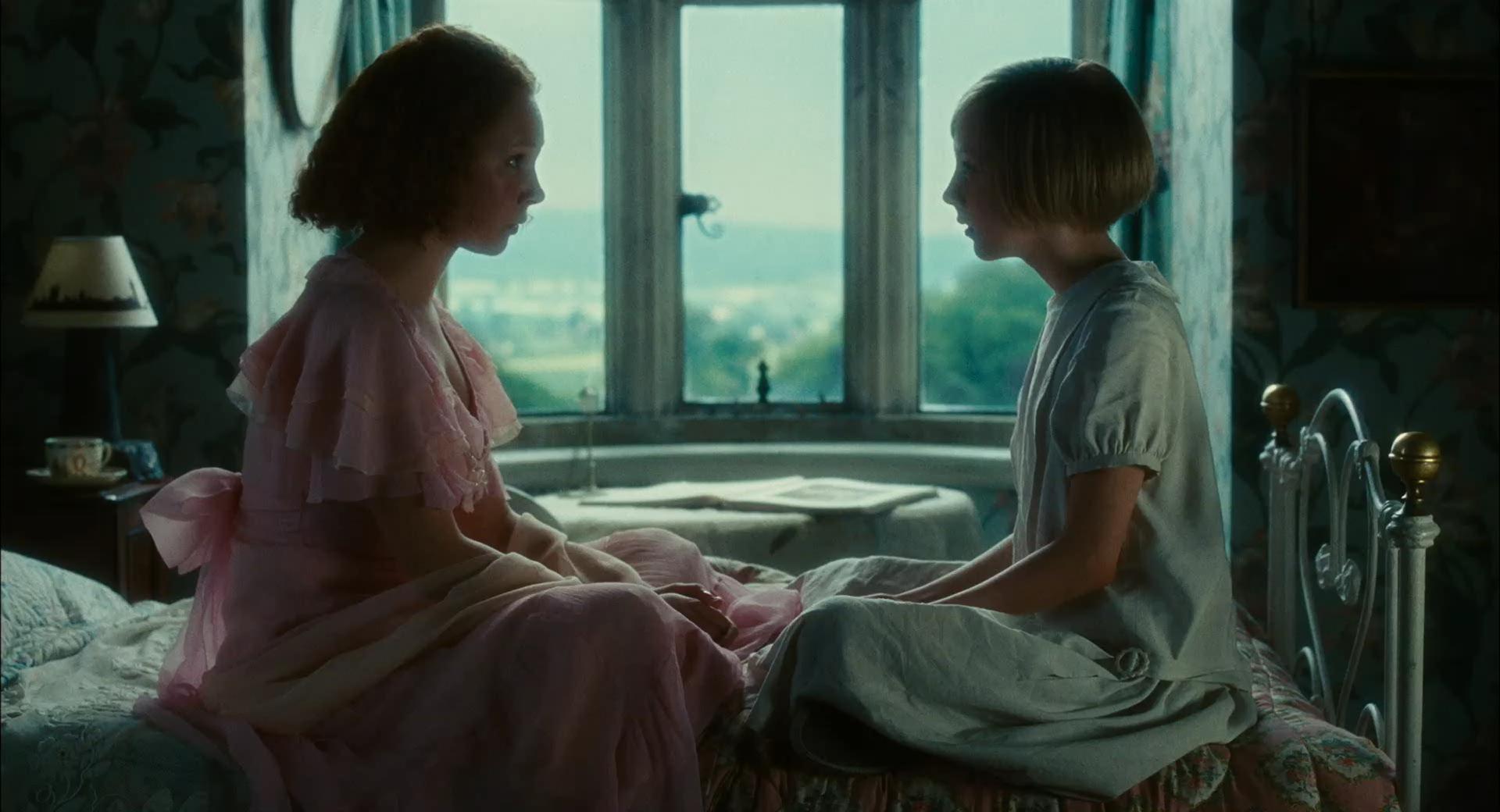 20.
Atonement
: There were several contenders for this last spot on this list, including
Harry Potter and the Order of the Phoenix
,
The Simpsons Movie
, and
Jason Reitman's Juno
. But in the end I went with Joe Wright's take on Ian McEwan's novel, partly because people I trust who haven't read the book beforehand haven't shared my issues with the film. If nothing else,
Atonement
looks ravishing, and it features breakout performances by James McAvoy, Romola Garai, and Saiorse Ronan. Still, in a year that saw
No Country
and
Diving Bell
, I wish Wright had been less conventional in its approach to the story, and found a way to do the gloomy, misanthropic ending of McEwan's novel justice.
Most Disappointing: The Golden Compass, Grindhouse, Spiderman 3, Southland Tales
Worth a Rental: 3:10 to Yuma, Beowulf, Eastern Promises, Harry Potter and the Order of the Phoenix, Juno, Live Free or Die Hard, Lust, Caution, Ocean's 13, The Simpsons Movie, Stardust, Superbad, Walk Hard: The Dewey Cox Story
Don't Bother: 300, Across the Universe, American Gangster, The Darjeeling Limited, Interview, The Invasion, Margot at the Wedding, The Mist, Pirates of the Caribbean 3: At World's End, Transformers, You Kill Me
Best Actor: Tommy Lee Jones, In the Valley of Elah; Daniel Day-Lewis, There Will Be Blood
Best Actress: Ellen Page, Juno
Best Supporting Actor: Javier Bardem, No Country for Old Men
Best Supporting Actress: Amy Ryan, Gone Baby Gone; Cate Blanchett, I'm Not There
A Good Year For:
Casey Affleck (Assassination of Jesse James, Gone Baby Gone)

Judd Apatow (Knocked Up, Superbad, Walk Hard)

Josh Brolin (American Gangster, Grindhouse, In the Valley of Elah, No Country)

Michael Cera (Superbad, Juno)

Garret Dillahunt (No Country for Old Men, Assassination of Jesse James)

Full-Frontal Parity (Diving Bell, Eastern Promises, I'm Not There, Walk Hard)

Philip Seymour Hoffman (Before the Devil, Charlie Wilson's War, The Savages)

Tommy Lee Jones (In the Valley of Elah, No Country for Old Men)

Man's Best Friend (I am Legend, The Savages)

Pregnant Hipsters (Knocked Up, Juno)

Seth Rogen (Knocked Up, Superbad)

Amy Ryan (Before the Devil, Gone Baby Gone)

Texans (No Country for Old Men, Charlie Wilson's War)

The Western (3:10 to Yuma, Assassination of Jesse James, No Country for Old Men, There Will Be Blood)
A Bad Year For:
The Beatles (Across the Universe, Walk Hard)

Josh Brolin's PETA standing (American Gangster, No Country for Old Men)

Great Cities (28 Weeks Later, I am Legend)

Kidman/Craig Pairings (The Invasion, The Golden Compass)

The Male Derriere (Charlie Wilson's War, Margot at the Wedding)

Standard-Issue Music Biopics(I'm Not There, Walk Hard)
Unseen
:
Away from Her
,
Black Book
,
Black Snake Moan
,
The Brave One
,
Breach
,
Control
,
Elizabeth II: The Golden Age
,
Enchanted
,
Grace is Gone
,
The Great Debaters
,
Goya's Ghosts
,
The Host
,
Into the Wild
,
Joe Strummer: The Future is Unwritten
,
The Kingdom
,
The King of Kong: A Fistful of Quarters
,
The Kite Runner
,
Lars and the Real Girl
,
La Vie En Rose
,
Lions for Lambs
,
Love in the Time of Cholera
,
A Mighty Heart
,
The Namesake
,
No End in Sight
,
Once
,
The Orphanage
,
Persepolis
,
Redacted
,
Rendition
,
Rescue Dawn
,
Reservation Road
,
Romance and Cigarettes
,
Shoot 'Em Up
,
Sicko
,
Sweeney Todd
,
Talk to Me
,
This is England
,
We Own the Night
,
The Wind that Shakes the Barley
,
Wristcutters: A Love Story
,
Year of the Dog
,
Youth Without Youth
2008: Be Kind, Rewind, Cassandra's Dream, Cloverfield, The Curious Case of Benjamin Button, The Day the Earth Stood Still, Funny Games, Harold and Kumar Escape from Guantanamo, Harry Potter and the Half-Blood Prince, Hellboy 2: The Golden Army, In Bruges, The Incredible Hulk, Indiana Jones and the Kingdom of the Crystal Skull, Iron Man, James Bond 22, Jumper, Leatherheads, My Blueberry Nights, The Chronicles of Narnia: Prince Caspian, Revolutionary Road, Run, Fat Boy Run, Speed Racer, Star Trek, Valkyrie, Wall-E, Wanted, The X-Files 2…let's see, am I missing anything…?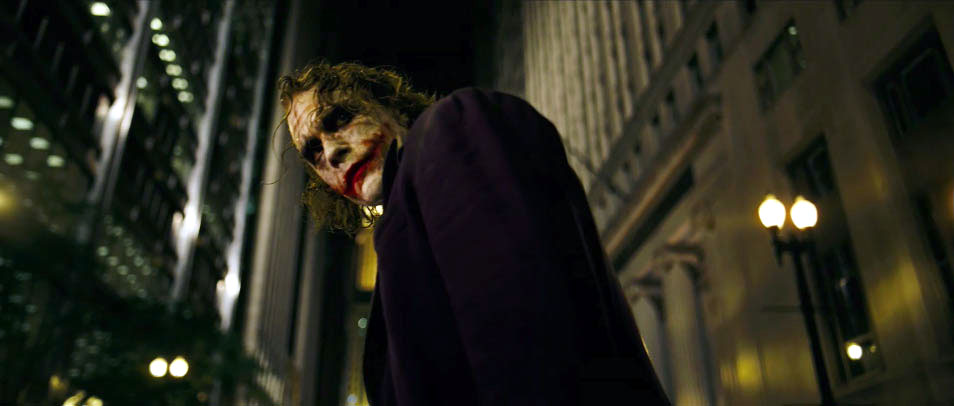 Welcome, 2008. I'll see y'all on the other side.