Lots of scores to settle and cold dishes served in the trailer bin of late…
Antebellum musician Solomon Northrup (Chiwetel Ejiofor) finds himself way down on the wrong side of the Mason-Dixon line in our first look at Steve McQueen's 12 Years a Slave, also with Benedict Cumberbatch, Paul Dano, Michael Fassbender, Paul Giamatti, Lupita Nyong'o, Sarah Paulson, Brad Pitt, and Alfre Woodard.
Some strange musical cues here, including the themes from Pearl Harbor and The Wolfman (the latter used to better effect in the original, still-creepy Tinker Tailor teaser). In any case, I liked Hunger and Shame less than most, but I'd be up to give this a go.
Please Hammer Don't Hurt 'Em: Josh Brolin discovers to his dismay that he can check in but never leave in the red-band trailer for Spike Lee's remake of Park Chan-wook's Oldboy, also with Elizabeth Olsen, Sharlto Copley, Samuel L. Jackson, Michael Imperioli, Lance Reddick, and James Ransone. I'm still trying to un-watch the original — some things involving octopi and tongues I wish I never saw in that there film.
One good remake deserves another: Deserve's still got nothing to do with it as Ken Watanabe fills Clint Eastwood's shoes for Sang-il Lee's Yurusarezaru mono, the Japanese remake of Unforgiven, also with Akira Emoto, Koichi Sato, and Yuya Yagira. From The Seven Samurai to The Magnificent Seven, there's a long and fertile history for this sort of cultural exchange, so I'd watch it.
What I likely won't be watching is Sergei Bodrov's fantasy epic Seventh Son, based on a series I haven't heard of called The Wardstone Chronicles, even if it does have Jeff and Maude Lebowski operating on opposite sides of the ball. (Between this and R.I.P.D., Bridges seems to be in full "paying for an extension to my house" mode these days.)
I thought at first this might be based on Susan Cooper's The Dark is Rising, but then I remembered they already made a lousy adaptation of that a few years ago. In any case, also along for the ride: Ben Barnes, Kit Harington, Alicia Vikander, Djimon Hounsou, Jason Scott Lee, and Antje Traue.
When bad things happen to his brother (Casey Affleck), Christian Bale goes vigilante to take down the local ne'er-do-well (Woody Harrelson) in the first trailer for Scott Cooper's Out of the Furnace, also with Zoe Saldana, Willem Dafoe, Forrest Whitaker, and Sam Shepard. (TL;DR: Bale meets Death Wish meets Winter's Bone.) Alrighty then.
When bad things happen to his brother (Matt Barnes), Ryan Gosling goes vigilante to take down the local ne'er-do-well (Vithaya Pansringarm) in the newest trailer for Nicholas Winding Refn's Only God Forgives.
Along with presumably another hyper-catchy soundtrack like Refn and Gosling's Drive, this also has the added benefit of Kristin Scott Thomas apparently doing her "Ben Kingsley in Sexy Beast/Ralph Fiennes in In Bruges" turn. As with Oldboy, I expect this to be hyper-violent, tho'.
And finally Wong Kar-Wai, Yuen Woo Ping, Tony Leung, and Zhang Ziyi band together to tell the story of Ip Man (again) in the newest trailer for The Grandmaster. This still looks to me like an unnecessary remake of the third Matrix movie, but you can't fault the pedigree involved.
Update: One more down the pike today: Benedict Cumberbatch channels Julian Assange, and has some Social Network-style angst with his partner Daniel Bruhl, in the first trailer for Bill Condon's The Fifth Estate, with Anthony Mackie, David Thewlis, Alicia Vikander, Peter Capaldi, Carice van Houten, Dan Stevens, Stanley Tucci and Laura Linney. Linney's smarmy "truth, justice, and the American way" line is wince-inducing, but otherwise this could be promising.
Update 2: Blanchett, meet Blanche DuBois? After Madoff-y husband Alec Baldwin becomes only the second person in America to be prosecuted for misdealings during the financial crisis, Cate Blanchett learns how the other half lives in the first trailer for Woody Allen's Blue Jasmine, with Sally Hawkins, Bobby Cannavale, Andrew Dice Clay(?), Michael Stuhlbarg, and (hopefully) the Woodster's new best friend, Louis C.K.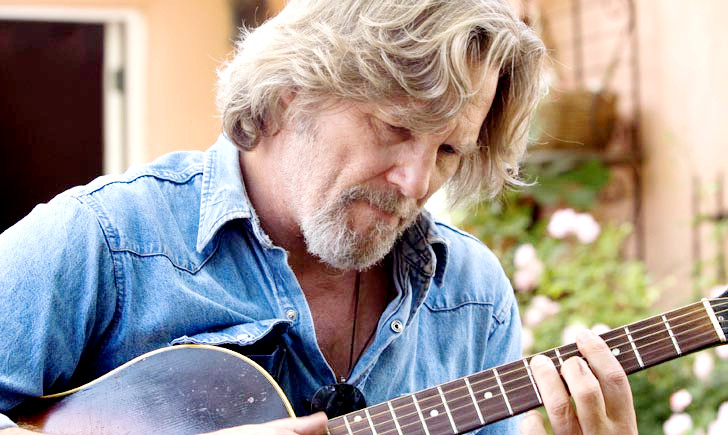 Ok, so maybe Texas is a Country for Old Men. A kissing cousin to 2008's The Wrestler and a close nephew to 1983's Tender Mercies, Scott Cooper's Crazy Heart, which I caught last night while fighting off a nasty cold, is, well, thoroughly ok. If you see it, you won't feel cheated. If you don't, well, you haven't missed all that much.
Like its main character Bad Blake, a former country-and-western star now way past his sell date, the movie sorta grows on you in its middle hour with its sly, drawling wit. But, taken as a whole, we've heard this particular song — Old Guy in a Rut slouches toward a New Leaf — quite a few times recently, in The Wrestler, Gran Torino, The Visitor, About Schmidt. And, as such, there's not really enough new here to recommend the experience, not even the admirable (and likely Oscar-procuring) performance by the consistently excellent Jeff Bridges.
Here, Bridges is a washed-up country singer and (barely-)functioning alcoholic, not unlike Robert Duvall (who also appears here as Bad's bartender pop) in Tender Mercies. Left behind, financially speaking, by his ex-sidekick and protege Tommy Sweet (Colin Farrell, playing it nu-country), Bad now ekes out a living as a King of the Road: In his long-suffering '78 Suburban, Bad drives hundreds of miles a week to play run-down bars and out-of-the-way bowling alleys with pick-up bands for petty cash. (In fact, Bad's first line is something along the lines of "Ugh, another g*dd**n bowling alley." — So, yes, the Dude is rolling again, although now he's been pretty-well fused with Sam Elliot's Cowboy.)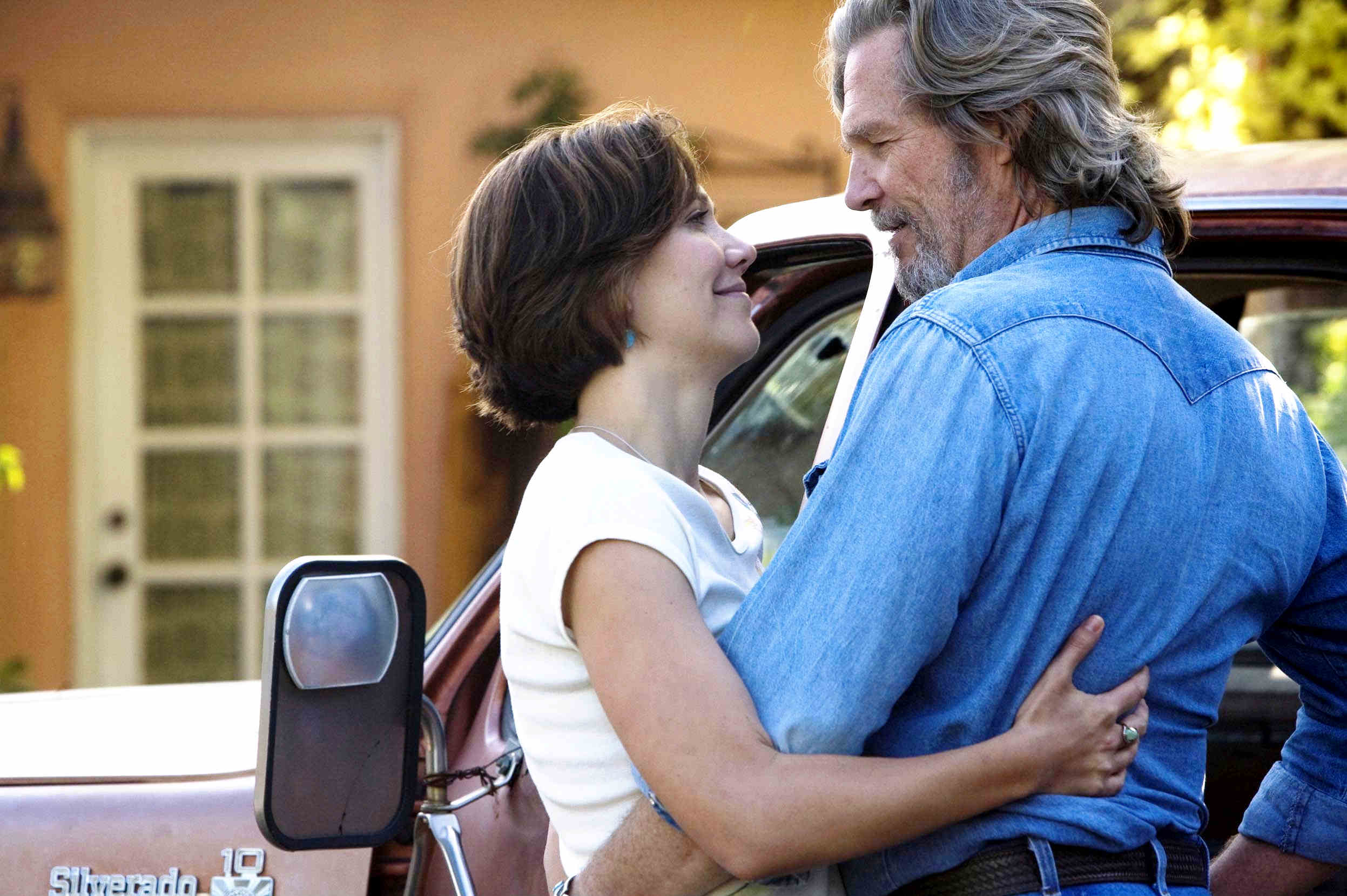 Anyway, it's a godforsaken living and no mistake, and it's either made slightly better or considerably worse by Bad's trademark penchant for McClures (re: cheap) whiskey, not to mention his tendency to smoke like a chimney. And so he rambles on through Texas and the Southwest, nursing his grudges and his booze as best he can. Until one day, he makes the acquaintance of a bright-eyed new ladyfriend (Maggie Gyllenhaal) and her young son Buddy (Jack Nation) — (More shades of Tender Mercies here, which, by the way, is a movie I saw in English class in high school and didn't much care for. But, given my age, it could've been a pearls-before-swine type of thing.) Will Bad take this opportunity to change his ways, maybe mend some fences with both his former apprentice and the son he left behind years ago? Well, old habits die hard, and at least so far, the bottle's never let him down.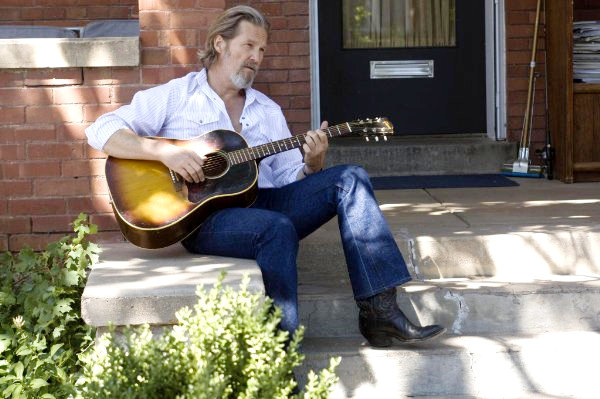 For most of its run, Crazy Heart is decently entertaining from moment to moment, although I suppose folks who don't dig bar-band-type country may well get sick of some of the extended musical scenes. And, until the last half-hour or so, when the movie bogs down in both child-in-peril cliches and rehab platitudes — it ain't much fun once he quits drinking — I felt like this flick was slow-paced but pretty engaging. It mostly follows a tried-and-true chord progression, sure, but the film still plays it lively and switches up the melody enough to make it seem like you were experiencing something new.
But by the end, when everything falls into order just a little too tidily, Crazy Heart loses its rhythm and starts to feel more than ever like just a country-style cover version of The Wrestler — or worse, like The Wrestler for folks who wanted a little more sugar to ameliorate that film's downer ending. (And weirdly enough and compounding the Wrestler similarities, it looks like Bridges will be the Mickey Rourke to Colin Firth's Sean Penn in this year's Oscar race. That is, of course, Clooney notwithstanding, and despite the fact that I'd probably still go with Sam Rockwell in Moon.)
Speaking of which, Bridges is a consistently great actor who by now deserves an Oscar for something. But I'm not necessarily sure that the collection of boozehound, Leaving Las Vegas-y tics on display here is really what I'd honor him for. It's not a bad performance by any means — To the contrary, Bridges rings true throughout. (And in fact, the Dude isn't even all that bad a country singer. Just don't ask him to play the f**king Eagles.) But, however much Bridges wisely underplays his character, Bad's story here feels so thrice-told and Oscar-baitish at times that I found it hard to feel too much for the guy. There's a Devil in the Bottle? There's a Tear in My Beer? If that ain't country, I don't know what is.