What do stars do? Well, apparently, they mince around in petticoats. Although, like Knocked Up, Matthew Vaughn's well-meaning but uneven Stardust is probably best enjoyed as a date movie, preferably with a large crowd of similar Princess Bride-leaning folk, I went ahead and caught an empty matinee of said fantasy yesterday afternoon, as it's the last mainstream summer outing (with the possible exception of Ratatouille) I had any interest in seeing before the fall film deluge.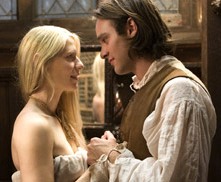 And, well, I wanted to like it, being a fan of both the genre and of Vaughn's first feature, the sharp Brit gangster flick Layer Cake, and Stardust has its moments, scattered here and there — In fact, I think it eventually even comes off better than the sum of its parts. But, for most of its run, I thought the film overshot its intended target of whimsy and landed on the far side of twee. The movie's two leads — Charlie Cox and Claire Danes — are affectionately engaging, and Michelle Pfeiffer chews up the scenery with aplomb as this fairy tale's most wicked witch. But, to be honest, there're just too many notes, and the film barely hangs together as a whole. If anything, Stardust reminded me of Terry Gilliam's (superior) The Adventures of Baron Munchausen, an ambitious and episodic attempt at high fantasy that doesn't quite work. But, then again…as the Dylan song goes, true love tends to forget.
Much of the action of Stardust takes place, Ian McKellen's authoritative voiceover informs us early on, in the enchanted realm of Stormhold, which happens to be connected to our mundane world via a hole in the wall near the sleepy English village of…uh, Wall. In said village, eighteen years after his father indulged in a happy dalliance over on the Other Side, a shopboy named Tristan (Cox) decides he will woo the town beauty (Sienna Miller) by tracking down a fallen star for her in what he first presumes is a nearby field. (Would he feel the same if he knew about her Steve Buscemi daddy issues?)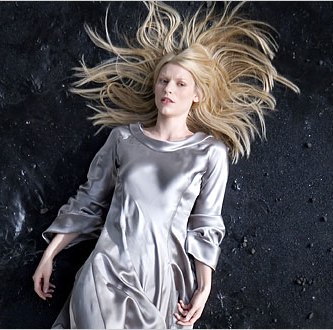 The problem is, this star isn't the hunk of smoldering space rock one might expect, but a delicately shimmering and seriously annoyed girl named Yvanne (Danes), who's just been randomly pelted out of the sky by a large, translucent ruby. This magical gemstone, recently sent aloft by the spirit of King Peter O'Toole (still looking like Berkeley), holds the key to the kingdom, so to speak, and thus all of the monarch's living (and dead) heirs are mercilessly tracking it down. But Stardust is much too complicated for only one MacGuffin — Three wicked witches (most notably Pfeiffer) also seek out this fallen star, in order to cut out her glowing heart and restore their vanished youth. So, by the time our hero arrives on the scene via a teleporting "Babylon Candle" (as with a lot of fantasy, there's a lot of setting up of the ground rules here), he discovers he's now in a much bigger pickle than he bargained for…and, eventually, that love has a funny way of sneaking up on you when you least expect it.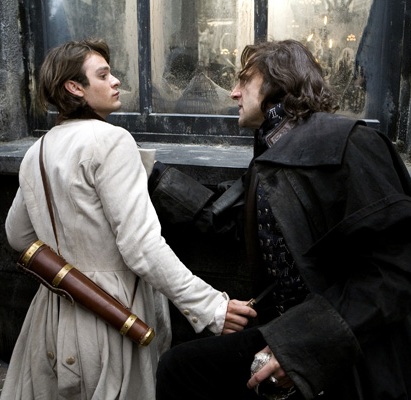 As I said, Stardust's problems are myriad. For one, a lot of what should come across as sly, understated British humour a la Douglas Adams, Terry Pratchett, or (naturally) the author here, Neil Gaiman, is instead telegraphed and overdirected to feel like a poke in the eye. (See, for example, the poisoning of the archbishop scene.) For another, the film aims to be wryly dark at times — there's quite a bit of fun with reading entrails — but we're still in Belle & Sebastian, Lisa Frank lunchbox territory a lot of the time. (I'm looking at you, unicorn.) For yet another, Stardust is burdened with one of the most bombastic and intrusive scores in recent memory. (Ilan Eshkeri did great work with Layer Cake, but this is just bad.)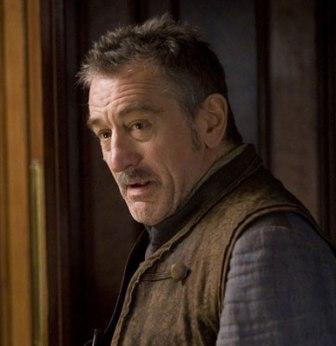 And then there's De Niro, preening in a supporting role as the cross-dressing buccaneer Capt. Shakespeare. I know De Niro is lauded as one of the greatest actors of his generation, and I've got Raging Bull sitting on my coffee table at the moment to prove it. But, lordy, is he terrible here. Making Elton John seem as in the closet as Larry Craig, De Niro's wildly over-the-top performance is a flat-out cringeworthy embarrassment. It plays like he's never met a gay person in his life, or as if some abrasive guy at a party was doing an impression of De Niro doing an impression of Liberace. (Along those lines, The Office's Ricky Gervais, in an extended cameo, seems like he's playing his character in Extras here — he even gets in Andy's unfortunate catchphrase. Waking Ned's David Kelly and the Lock Stock boys are hanging around too, but the funniest cameo is probably Mark Williams, a.k.a. Arthur Weasley, as an ornery old goat of an innkeeper.)
All that being said, I thought the movie did manage, somehow and despite itself, to stick the landing: However caustic and subversive Stardust pretends to be at first, it's ultimately turns out a rather staid and traditional fairy tale about the enchantment of true love. And, with that in mind, I found myself willing to forgive the film most of its substantive flaws — and there are many — by the time the inevitable coronation coda rolled. However cynical I get as the years go by, it seems, like Fox Mulder, I want to believe.