A few other trailers that popped up via Comic-Con '14…
Reborn as Tom Hardy, Australia's most notable post-apocalyptic survivor looks to need a hand or three from Charlize Theron in
the first trailer for George Miller's long-anticipated Mad Max: Fury Road
, also with Nicholas Hoult, Rosie Huntington-Whiteley, and Zoe Kravitz. Eh, ok…looks like
The Road Warrior
with better production values.
Meanwhile, the survivors of
the enjoyable first film
look to go all
Smokin' Aces
on Powers Boothe in a new
red-band trailer for Robert Rodriguez's Sin City: A Dame to Kill For
, with Mickey Rourke, Jessica Alba, Rosario Dawson, Bruce Willis, Jaime King, Joseph Gordon-Levitt, Eva Green, Dennis Haysbert, Martin Csoskas, Christopher Lloyd, Ray Liotta, Juno Temple, Stacy Keach, Christopher Meloni, Jeremy Piven, and Lady Gaga. Not particularly inclined to
throw any more money at Frank Miller
, but the first one was good fun.
Update
: One more: Julianne Moore and the late Phillip Seymour Hoffman briefly discuss the political ramifications of one Katniss Everdeen in the
most recent teaser for Francis Lawrence's The Hunger Games: Mockingjay Pt. I
, with Jennifer Lawrence, Josh Hutcherson, Donald Sutherland, Liam Hemsworth, Woody Harrelson, Sam Claflin, Elizabeth Banks, Jeffrey Wright, Stanley Tucci, Toby Jones, Gwendoline Christie, and Natalie Dormer. Alrighty then – Not bad, but I thought the two
recent addresses
by President Snow
were savvier (and creepier) marketing.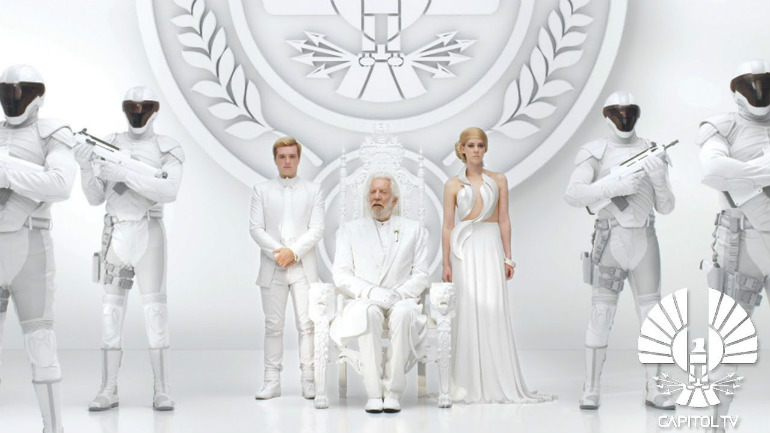 In the trailer bin, Mickey Rourke, Bruce Willis, Jessica Alba, Rosario Dawson, Jaime King, and Powers Boothe return to old haunts in the trailer for Robert Rodriguez and Frank Miller's Sin City: A Dame to Kill For, now also with Josh Brolin, Joseph Gordon-Levitt, Eva Green, Dennis Haysbert, Stacy Keach, Ray Liotta and Jeremy Piven. I quite enjoyed the first one back in 2005, but it's been awhile, and Miller's only gotten crazier in the duration. We'll see.
He wore a mask for all of one film — For his next trick, he (apparently) never gets out of the car: Tom Hardy goes for a portentous drive in the atmospheric trailer for Stephen Knight's Locke, also with Tom Holland, Olivia Colman, Andrew Scott (a.k.a. Sherlock's Moriarty), Ruth Wilson (Luther's Alice), Ben Daniels, and Alice Lowe. Yeah, ok.
In another moody one-man show of sorts, Jake Gyllenhaal has a bit of a doppelganger problem in this look at Denis Villeneuve's Enemy, also with Melanie Laurent, Sarah Gadon, and Isabella Rossellini. Let's just hope it doesn't fly off the rails in the final act like Villeneuve and Gyllenhaal's Prisoners.
And finally, tear off your own head: it's a doll revolution: Domnhall Gleeson tries to grok his bandmate Michael Fassbender's penchant for papier mache in the quirky trailer for Lenny Abrahamson's Frank, also with Maggie Gyllenhaal, Scoot McNairy, Carla Aza and Francois Civil. But will Fassbender go the full Dredd?
Hello again, and a happy New Year's Eve to you and yours. Well, I thought this Best of the Decade would end up being four parts, but now it's looking like five. The recaps for this last twenty-five got so long that MT seems to be consuming the bottom of the entry as I write.
So, with that in mind, here's #'s 25-11 for the Oughts, with the top ten of the decade to follow in due course. If you're new to this overview, be sure to check out part 1, part 2, and part 3 before moving on to the…
Top 100 Films of the Decade: Part IV: 25-11
[The Rest of the List: 100-76 | 75-51 | 50-26 | 25-11 | 10-1]
[2000/2001/2002/2003/2004/2005/2006/2007/2008/2009]
25.
Donnie Darko
(2001)
From the original review: "All in all, this is a marvelously genre-bending film with wonderful anchoring performances by the Gyllenhaals. I think I liked this movie much more for not knowing a lot about it going in, so I won't mention the particulars here. But it's definitely worth seeing. Extra points for the soundtrack, which with 'Head over Heels,' 'Love will Tear Us Apart,' and 'Under the Milky Way'…reminded me more of my own high school experience than any other film I can remember. (The Dukakis era setting helped, since that was my own eighth grade year.)"
I almost took this movie out of the top 25 on account of its association with Southland Tales and The Box, and even the director's cut of this film, which snuffs out a lot of this movie's weird magic by slathering it in needless Midichlorian-style exposition. As I said in my recent review of The Box, Donnie Darko seems to be a clear and undeniable case where studio intervention saved a movie.
Nevertheless, part Philip K. Dick, part John Hughes, Darko was a touching coming-of-age story (thanks in good part to Mary McDonnell and Holmes Osborne as Donnie's cranky but loving parents), a decently funny satire about the vagaries of small-town life (think Sparkle Motion, "sleep-golfing," and the Love-Fear axis), and a trippy sci-fi/psychological thriller. (Was Donnie really talking to a demon-rabbit from the future, or was he just off his meds? The original version muddles this question a lot better than the Kelly cut.)
Whether or not Richard Kelly just got struck by lightning here, everyone else involved clearly brought their A-game to this production. Two Gyllenhaals got on the Hollywood board with this flick, although Maggie would have to wait for Secretary to really break out. The Michael Andrews score contributed mightily to the proceedings, as did the Gary Jules cover of "Mad World," which got a lot of run in the Oughts, from Gears of War to American Idol. And there are plenty of quality performances in the margins, from the late Patrick Swayze riffing on his image, to Beth Grant typecasting herself for the decade, to Katharine Ross coming back for one more curtain call. Fluke or not, the original version of Donnie Darko was one strange and memorable bunny, alright.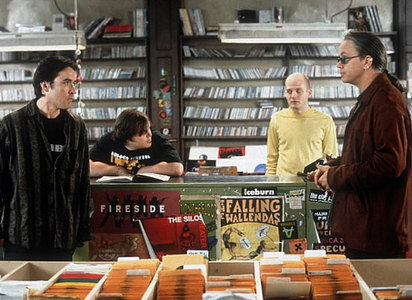 24.
High Fidelity
(2000)
From the year-end list: "An excellent adaptation of a great book, even if I preferred the Elvis Costello britrock emphasis of Hornby's tome to the indie Subpop scene of the movie."
"Charlie, you f**king b**ch! Let's work it out!" Arguably John Cusack's finest hour (although 1999's Being John Malkovich is right up there, and I know many might cite the Lloyd Dobler of old), Stephen Frears' adaptation of Nick Hornby's High Fidelity has continued to grow on me over the years. If it counts as one of David Denby's slacker-striver romances (see the discussion of Knocked Up at #40), it's definitely the one that hits closest to home for me.
The first thing people usually remember about this movie is all the Jack Black/Todd Louiso banter in the record store. ("It's a Cosssssby sweater!") And it's true — All of that stuff is both really funny and all too telling about the elitism and obsessiveness inherent to the fanboy mentality — "Don't tell anyone you don't own 'Blonde on Blonde'! It's gonna be okay." Besides, let's face it, this entire end-of-the-decade list is really just an extended High Fidelity-style Top 5 (and I had a great time back in July organizing my history books chronologically, a la Rob's record collection.)
Still, as with the book, High Fidelity's killer app is really the dispatches filed from Rob's romantic life, as he ponders what went wrong with his Top 5 Crushes gone awry. ("We were frightened of being left alone for the rest of our lives. Only people of a certain disposition are frightened of being alone for the rest of their lives at the age of 26, and we were of that disposition.") There's a lot of truthiness throughout High Fidelity, from Rob's catastrophic hang-up on Charlie (Catherine Zeta Jones) to his eff-the-world rebound with an equally besotted Sarah (Lili Taylor), to his single-minded infatuation about whether his ex, Laura (Iben Hjejle), has slept with the loathsome new boyfriend, Ian (fellow Tapehead Tim Robbins in a great cameo) yet.
In short, I'd argue High Fidelity gets the inner-male monologue closer to right than any flick this side of Annie Hall. In the immortal words of Homer J. Simpson, it's funny because it's true.
23.
In the Mood for Love
(2000) /
2046
(2004)
From the original review: "Since I spent Friday evening watching In the Mood for Love — a tale of a romance-that-almost-was, told in furtive hallway glances — and 2046 — a broader and more diffuse disquisition on love and heartache — back-to-back, here's an