A busy day traffic-wise here at GitM: In a speech before the Knesset today, Dubya compared Obama to Sen. William Borah of Idaho (and not in complimentary fashion, although that case could be made too.) Here's GWB: "Some seem to believe we should negotiate with terrorists and radicals, as if some ingenious argument will persuade them they have been wrong all along. We have heard this foolish delusion before. As Nazi tanks crossed into Poland in 1939, an American senator declared: 'Lord, if only I could have talked to Hitler, all of this might have been avoided.' We have an obligation to call this what it is –- the false comfort of appeasement, which has been repeatedly discredited by history."
Now, as it turns out, Sen. Borah was the subject of my undergraduate thesis and features prominently in my dissertation. So, notwithstanding the self-serving idiocy and sad invoking of Godwin's Law in Dubya's words, I do want to take a moment to defend Sen. Borah, before — just as Philip Roth Cheneyed up Burton Wheeler — he disappears down the memory hole and is reinvented as simply a kneejerk reactionary. (I know Dubya brought him up to bash as a weak-kneed surrender-monkey, but I've also read several left-leaning comments out and about today that make note that Borah was a Republican, and thus belongs in Dubya's camp. He really doesn't.)
However wrong he was about Hitler in his final years, and obviously he was very, very wrong (although not perhaps as wrong as George Prescott Bush), Sen. Borah is neither the apostle of appeasement nor the GOP stooge that Dubya and folks pushing back would respectively make him out to be today. With La Follette and Johnson, Borah was one of the leading progressives in the Senate for decades, and one of its strongest civil liberties advocates in the years after World War I. In fact, if Dubya wants to ponder aloud the words of Borah, may I suggest the following?
"It may seem incredible to many, but to me the most vital problem in American politics at the present time is the preservation of the great guarantees of civil liberty, found in our constitution, and so long supposed to be secure and indispensable…One of the most common traits of the political pharisees – the man who is always professing great devotion to the Constitution and always betraying it, or disregarding it – is that of constantly expressing the fear that the people may have their minds poisoned by false doctrines." – Borah to the American Legion, 1921.
"Everybody is in favor of the Constitution when it favors them, but too many are willing to trample upon it when it gets in their way. The war disclosed that the great principles and guarantees of the Constitution are vital to a free people and at the same time are easily disregarded in an hour of passion or crisis." — Borah to S.S. Bailey, 1921.
"I have no use for the 'reds,' nor for the lawless nor for the anarchists, but I have infinitely more respect for the man who stands out and is willing to suffer and sacrifice for his cause than for the miserable hypocrite who professes to be an American and is at the same time perfectly willing that every guarantee in the Constitution shall be trampelled under foot.

The men who are destroying American institutions and who are a menace to American principles are not the 'reds,' nor the anarchistic…but rather the men who, professing like Augustus the Great, to preserve our Constitution, are subtly and with sinister and selfish purposes, undermining them.

" — Borah to Frank Morrison, 1921.

But, civil liberties aside, what should we take from Sen. Borah's unfortunate remarks about Hitler (which he made at the age of 75, less than a year before his death?) Well, to me, it might suggest that age can cloud the judgement of all of us, even long-standing Senate mavericks much-beloved by the media. It's just a good thing that ancient, venerable lion of the Senate didn't win the election of 1936, eh?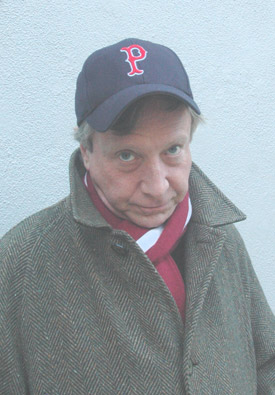 "The Obama campaign has yet to reach bottom in its race-baiter accusations…They promise to continue until they win the nomination, by any means necessary." Taylor Marsh, Ph.D? A Clinton supporter from Day One, he at first dismissed Obama as merely the newest in a long tradition of "beautiful losers," like Adlai Stevenson and Bill Bradley. (If you come 'round here often, you can probably guess that didn't sit too well with me. In fact, it's basically the same argument recently made by friend and colleague David Greenberg, before he went the way of the Great White Hope.) Well, if today's TNR piece is any indication, historian Sean Wilentz only knows how to lose ugly. Despite the fact that Wilentz has been ranting worse than Krugman for most of this election cycle, I've been inclined to give him a pass, partly as a professional courtesy of sorts to a well-esteemed historian of whom I once thought quite highly, and partly because of his well-publicized Dylan fandom. Well, no more. Wilentz has been writing increasingly blatant pro-Clinton spin pieces throughout the campaign, which is his wont as a Clinton supporter, I suppose. But here he's penned a shrill and intemperate screed which, frankly, is more embarrassing than anything else. It's the type of angry, weirdly conspiratorial rant you'd expect to be written by an anonymous, and possibly drunk, Salon poster, not one of the more venerable American historians in the profession.
Am I overstating the case? Well, let's take a look at some of the spleen-venting on display here: "After several weeks of swooning, news reports are finally being filed about the gap between Senator Barack Obama's promises of a pure, soul-cleansing 'new' politics and the calculated, deeply dishonest conduct of his actually-existing campaign. But it remains to be seen whether the latest ploy by the Obama camp–over allegations about the circulation of a photograph of Obama in ceremonial Somali dress–will be exposed by the press as the manipulative illusion that it is." Calculated, deeply dishonest conduct? Ploy? Manipulative illusion? Tell us what you really think, Prof. Wilentz.
And that's just the first paragraph. It gets worse. Check out this unsightly sentence: "As insidious as these tactics are, though, the Obama campaign's most effective gambits have been far more egregious and dangerous than the hypocritical deployment of deceptive and disingenuous attack ads." Riiight. I really started to buy your case after that fifth negative adjective or so.
I'd spend time refuting Wilentz point for point if I thought he was trying to make a reasonable case here. But he spends most of the article just shrieking "race baiter race baiter race baiter!", punctuated with occasional whiny, Clintonesque accusations of pro-Obama media bias. (One of the many targets of Wilentz's wrath, Frank Rich, has recently pointed out the problems with that line of argument.) But, in general terms, in order to buy what Wilentz is selling here, you'd have to believe all of the following: