After about a half hour or so of stilted, mind-numbing, make-you-want-to-claw-your-eyes-out exposition,
Louis Leterrier's interminable remake of Clash of the Titans
, for some reason or another, takes a brief moment to
badmouth Bubo, the metal owl
from the 1981 version of the film. Well, say what you will about that
goofy Harry Hamlin-Burgess Meredith-Lawrence Olivier flick
and its Minervan comic-relief droid — At least it had heart.
This whiteboy-angsty retread of Titans, on the other hand, basically has no pulse whatsoever. It's just a lumbering, CGI-ridden box office monstrosity not unlike its Cloverfield-ish Kraken, and one that could desperately use the same spark of life Zeus ostensibly once infused in mortal men. You remember that godawful tag line from the first trailer — "Titans will Clash"? Well, the FX processors notwithstanding, that's about the level of effort put forth by this movie, as in none at all. Granted, Clash isn't quite as awful as last month's woeful Alice in Wonderland, but it's definitely in the same lo-rent ballpark.
This iteration of Clash begins with a starfield and the demi-goddess Io (Gemma Arterton, late of Quantum of Solace, soon of Prince of Persia) in full expository mode, a la Virginia Madsen at the start of Dune. (Or, for that matter, Cate Blanchett in Fellowship — Leterrier explicitly bites from PJ's Tolkien trilogy several times here — See also all the very LotR-like pans of Perseus & co. walking through Glorious Nature to wherever they're going next.) So, anyways, this backstory is pretty standard — Zeus defeats the Titans, he, Poseidon and Hades divvy up the universe, etc. etc.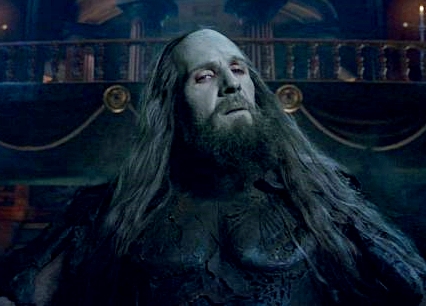 And eventually, along comes Perseus (Sam Worthington, more on him in a bit), a son of Zeus found lost at sea as a babe by a fisherman (Pete Postlethwaite, paying the mortgage). Unlike earlier iterations, this Perseus grows up a sullen, wrathful sort, and particularly after Hades (Ralph Fiennes, wasted) drowns his entire family as an afterthought to a fly-by shooting of sorts. Bent on revenge for these murders, Perseus soon enlists on a suicide mission to defeat Hade's powerful pet, the fearsome Kraken — which, thanks to a bit of inopportune blasphemy by Cassiopeia, the queen of Argos (Polly Walker, wasted), will either be destroying the city or devouring its sensitive-soul, Peace Corps-ish princess, Andromeda (Alexa Davalos, unremarkable) in ten days time.
So this glum, grim, and altogether peeved demigod sets out with a team of soldiers — let's just go ahead and call them the body count — to find a way to stop the Kraken, which may or may not include fending off giant scorpions, battling Calibos (Jason Flemyng), bartering with witches, and wrangling with Medusa (Natalia Vodianova). And, given the subject matter, it's almost weird how boring all of this turns out to be. Partly because Perseus' fighting style throughout is basically "run-in-the-other-direction-from-the-CGI-thingy." Partly because the script…well, sucks. It's just bad one-liners and lazy exposition all the live-long day. And partly because, aside from a pair of Asterix-and-Obelix-style hunters who tag along for the ride (Ashraf Barhom and Mouloud Achour), nobody's having any fun whatsoever here. It's all grimacing and cursing the Gods for this, that, or the other thing. Just deadly dull stuff.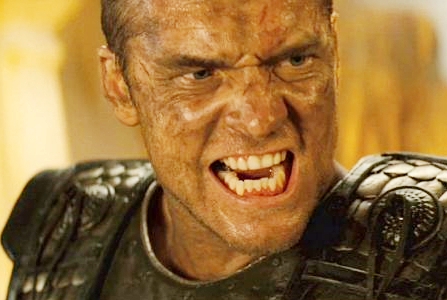 Is this innate boringness Sam Worthington's fault? Well…maybe. I said after the also-terrible Terminator: Salvation that Worthington "has presence, and I could see him being a A-lister if given the right material." But after Avatar and this flick, I'm revising that statement. He's had three bites at the apple now, and, while I suspect some female or gay readers may disagree — and making some allowances for the fact that, all three times, he probably spent a good bit of his days on set reacting to a green tennis ball — he's really starting to come across as a charisma-free zone to me.
But, that being said, everybody here, with the possible exception of Casino Royale's Mads Mikkelsen, seems devoid of charisma here, even usual stalwarts like Liam Neeson and Fiennes (both phoning it in, as is brother Poseidon, Danny Huston — But, to be fair, Huston only has one line.) True, handsome/pretty stiffs like Worthington and Arterton so far seem to be shapely blanks no matter what film they're in. But somehow or another, this movie has the power of Medusa over everyone involved: It just seems to suck the life right out of people. My advice, if it's not too late: Don't attempt to look this one in the eyes. By the Gods, save yourselves and turn away.