He's had some hits in recent years. (
Match Point
,
Vicky Christina Barcelona
.) And he's definitely had some misses. (
Scoop,
Cassandra's Dream
.) But, if you haven't caught it yet,
Woody Allen's ex-pat trifle Midnight in Paris
is more than just the Woodster's
most profitable movie ever
. It's the best film he's put out in at least a decade, and I suspect it'll probably be one of the Best Picture contenders come Oscar time next spring.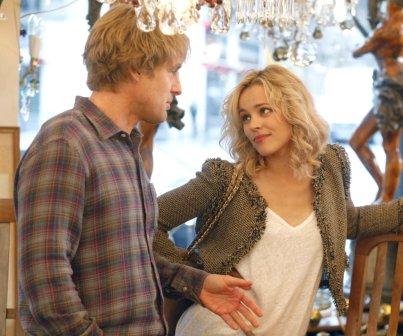 Much like Manhattan, this film begins with a love letter, in the form of a languid montage, to its setting. While (naturally) a jazz ditty plays, we spend the first five minutes or so of the film ambling through the streets, parks, and cafes of the City of Lights, soaking up the Parisian ambience. (This is one of the many reasons I could see Midnight In Paris making a great double bill with Richard Linklater's Before Sunset, which opened similarly.) As it happens, wandering aimlessly around this city is a favorite hobby of our protagonist, Gil (Owen Wilson), a successful Hollywood screenwriter looking to find inspiration for his first novel in the old corners of gay Paree. Unfortunately, his fiancee Inez (Rachel McAdams) doesn't share this proclivity: She prefers cabs, shopping, and expensive jewelry. (If that doesn't tell you what to expect from her character, her tea party parents — Kurt Fuller and In the Loop's Mimi Kennedy — should close the deal.)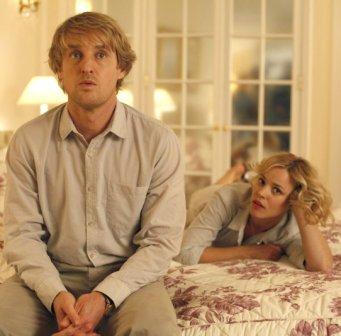 And so it is that one night, while Inez is out dancing with a know-it-all acquaintance (Michael Sheen), Gil happens to hitch a ride in a vintage automobile and finds himself at what appears to be a costume party. The thing is, the guy on the piano (Yyves Heck) looks exactly like Cole Porter, the couple he falls in with — the Fitzgeralds of New York — just happen to be called Scott (Tom "Loki" Hiddleston) and Zelda (Allison Pill), and the gruff guy at the coffee shop (Corey Stoll) they take him to is the spitting image, in word and deed, of Ernest Hemingway. Apparently in Paris, the past isn't even past… or at least once it's past midnight.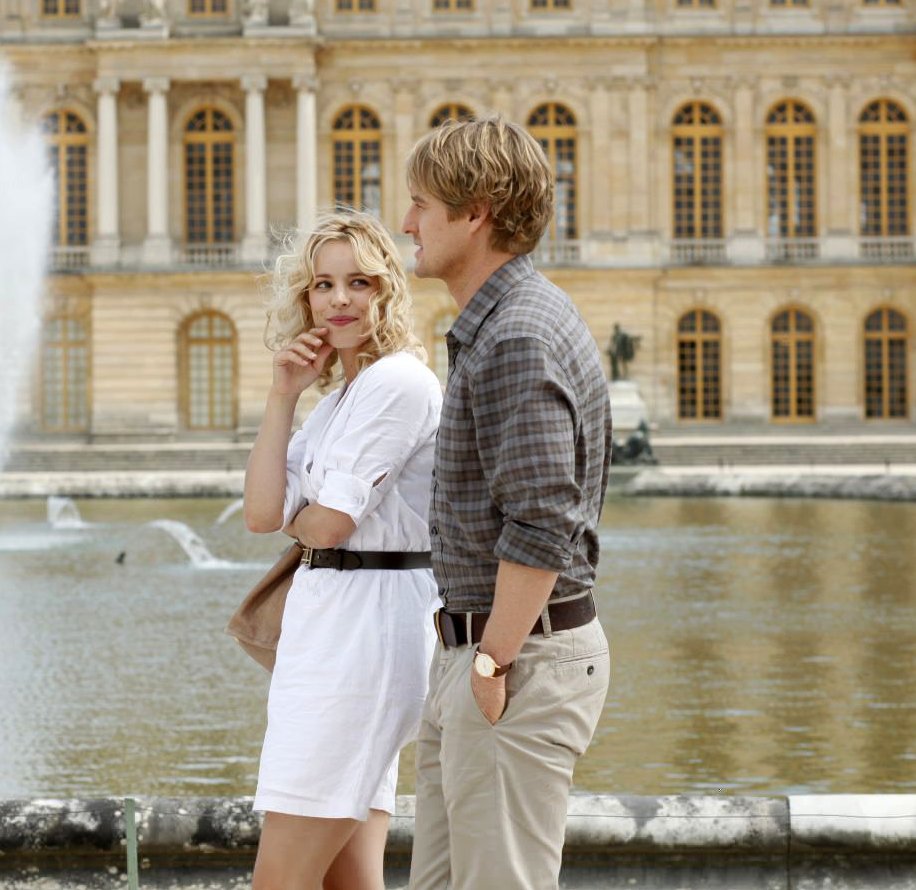 So, yes, somehow the Lost Generation has been found, and soon enough Gil is relishing the movable feast: He's getting book tips from Hemingway and Gertrude Stein (Kathy Bates), talking rhinos with Dali (Adrien Brody), running movie ideas by Bunuel (Adrien de Van), and falling in love with one of Picasso's muses, the lovely Adrianna (Marion Cotillard). All the while, Gil begins to ignore his "real" life in the 21st century as too humdrum and mundane. After all, how you gonna keep Gil on the screenwriting farm after he's seen Gay Paree? But, if the 21st century isn't good enough for Gil, why should those madcap 1920's be good enough for Adrianna? Nostalgia infects us no matter what our time, and so we beat on, borne back ceaselessly into the past…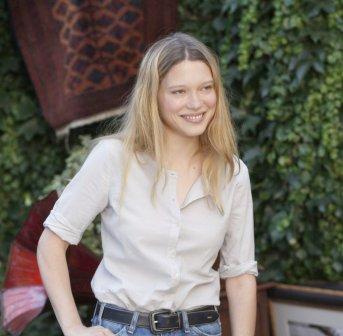 As Allen's fans have already figured out by the second reel, Woody is repeating himself here somewhat. (After a career as long and prolific as his, it's to be expected!) Replace nostalgia with love of the cinema, and Gil's time-traveling to the era he idolizes isn't too far afield from Mia Farrow's romance with matinee idol Jeff Daniels in The Purple Rose of Cairo. (For that matter, everything involving Michael Sheen's pompous academic is set-up for another variation of the Marshall McLuhan joke from Annie Hall.) And Allen has always been one for high-culture namedropping in his writing and films. It's just that this time, the likes of T.S. Eliot, Man Ray, Josephine Baker, and Alice B. Toklas are actual cameos rather than just allusions.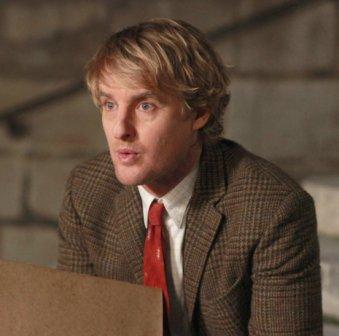 So, yes, Allen may have trod this ground before, but Midnight in Paris nonetheless works, for several reasons. For one, Owen Wilson — an actor I've never really felt one way or the other about — is one of the best Allen analogues to come down the pike in awhile. He manages to capture Woody's usual collection of neuroses while coming across as more charming and self-effacing then Allen really can anymore. For another, the movie doesn't aspire to deep philosophical truths about relationships and/or the meaning of life (like, say, the existentialism pervading Match Point and Crimes and Misdemeanors). It has some insightful things to say about the nature of nostalgia, and otherwise just aims to show us a good time. As they say in the closest thing we've got to Paris stateside, NYC notwithstanding, laissez les bons temps rouler.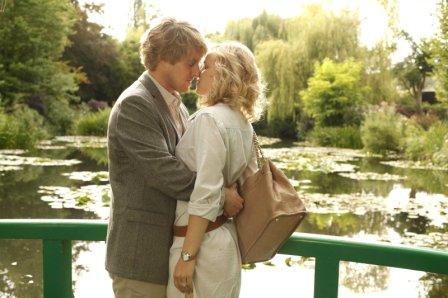 Hello again, and a happy New Year's Eve to you and yours. Well, I thought this Best of the Decade would end up being four parts, but now it's looking like five. The recaps for this last twenty-five got so long that MT seems to be consuming the bottom of the entry as I write.
So, with that in mind, here's #'s 25-11 for the Oughts, with the top ten of the decade to follow in due course. If you're new to this overview, be sure to check out part 1, part 2, and part 3 before moving on to the…
Top 100 Films of the Decade: Part IV: 25-11
[The Rest of the List: 100-76 | 75-51 | 50-26 | 25-11 | 10-1]
[2000/2001/2002/2003/2004/2005/2006/2007/2008/2009]
25.
Donnie Darko
(2001)
From the original review: "All in all, this is a marvelously genre-bending film with wonderful anchoring performances by the Gyllenhaals. I think I liked this movie much more for not knowing a lot about it going in, so I won't mention the particulars here. But it's definitely worth seeing. Extra points for the soundtrack, which with 'Head over Heels,' 'Love will Tear Us Apart,' and 'Under the Milky Way'…reminded me more of my own high school experience than any other film I can remember. (The Dukakis era setting helped, since that was my own eighth grade year.)"
I almost took this movie out of the top 25 on account of its association with Southland Tales and The Box, and even the director's cut of this film, which snuffs out a lot of this movie's weird magic by slathering it in needless Midichlorian-style exposition. As I said in my recent review of The Box, Donnie Darko seems to be a clear and undeniable case where studio intervention saved a movie.
Nevertheless, part Philip K. Dick, part John Hughes, Darko was a touching coming-of-age story (thanks in good part to Mary McDonnell and Holmes Osborne as Donnie's cranky but loving parents), a decently funny satire about the vagaries of small-town life (think Sparkle Motion, "sleep-golfing," and the Love-Fear axis), and a trippy sci-fi/psychological thriller. (Was Donnie really talking to a demon-rabbit from the future, or was he just off his meds? The original version muddles this question a lot better than the Kelly cut.)
Whether or not Richard Kelly just got struck by lightning here, everyone else involved clearly brought their A-game to this production. Two Gyllenhaals got on the Hollywood board with this flick, although Maggie would have to wait for Secretary to really break out. The Michael Andrews score contributed mightily to the proceedings, as did the Gary Jules cover of "Mad World," which got a lot of run in the Oughts, from Gears of War to American Idol. And there are plenty of quality performances in the margins, from the late Patrick Swayze riffing on his image, to Beth Grant typecasting herself for the decade, to Katharine Ross coming back for one more curtain call. Fluke or not, the original version of Donnie Darko was one strange and memorable bunny, alright.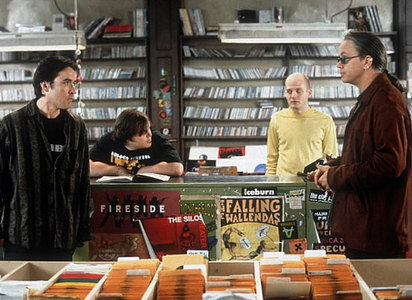 24.
High Fidelity
(2000)
From the year-end list: "An excellent adaptation of a great book, even if I preferred the Elvis Costello britrock emphasis of Hornby's tome to the indie Subpop scene of the movie."
"Charlie, you f**king b**ch! Let's work it out!" Arguably John Cusack's finest hour (although 1999's Being John Malkovich is right up there, and I know many might cite the Lloyd Dobler of old), Stephen Frears' adaptation of Nick Hornby's High Fidelity has continued to grow on me over the years. If it counts as one of David Denby's slacker-striver romances (see the discussion of Knocked Up at #40), it's definitely the one that hits closest to home for me.
The first thing people usually remember about this movie is all the Jack Black/Todd Louiso banter in the record store. ("It's a Cosssssby sweater!") And it's true — All of that stuff is both really funny and all too telling about the elitism and obsessiveness inherent to the fanboy mentality — "Don't tell anyone you don't own 'Blonde on Blonde'! It's gonna be okay." Besides, let's face it, this entire end-of-the-decade list is really just an extended High Fidelity-style Top 5 (and I had a great time back in July organizing my history books chronologically, a la Rob's record collection.)
Still, as with the book, High Fidelity's killer app is really the dispatches filed from Rob's romantic life, as he ponders what went wrong with his Top 5 Crushes gone awry. ("We were frightened of being left alone for the rest of our lives. Only people of a certain disposition are frightened of being alone for the rest of their lives at the age of 26, and we were of that disposition.") There's a lot of truthiness throughout High Fidelity, from Rob's catastrophic hang-up on Charlie (Catherine Zeta Jones) to his eff-the-world rebound with an equally besotted Sarah (Lili Taylor), to his single-minded infatuation about whether his ex, Laura (Iben Hjejle), has slept with the loathsome new boyfriend, Ian (fellow Tapehead Tim Robbins in a great cameo) yet.
In short, I'd argue High Fidelity gets the inner-male monologue closer to right than any flick this side of Annie Hall. In the immortal words of Homer J. Simpson, it's funny because it's true.
23.
In the Mood for Love
(2000) /
2046
(2004)
From the original review: "Since I spent Friday evening watching In the Mood for Love — a tale of a romance-that-almost-was, told in furtive hallway glances — and 2046 — a broader and more diffuse disquisition on love and heartache — back-to-back, here's an